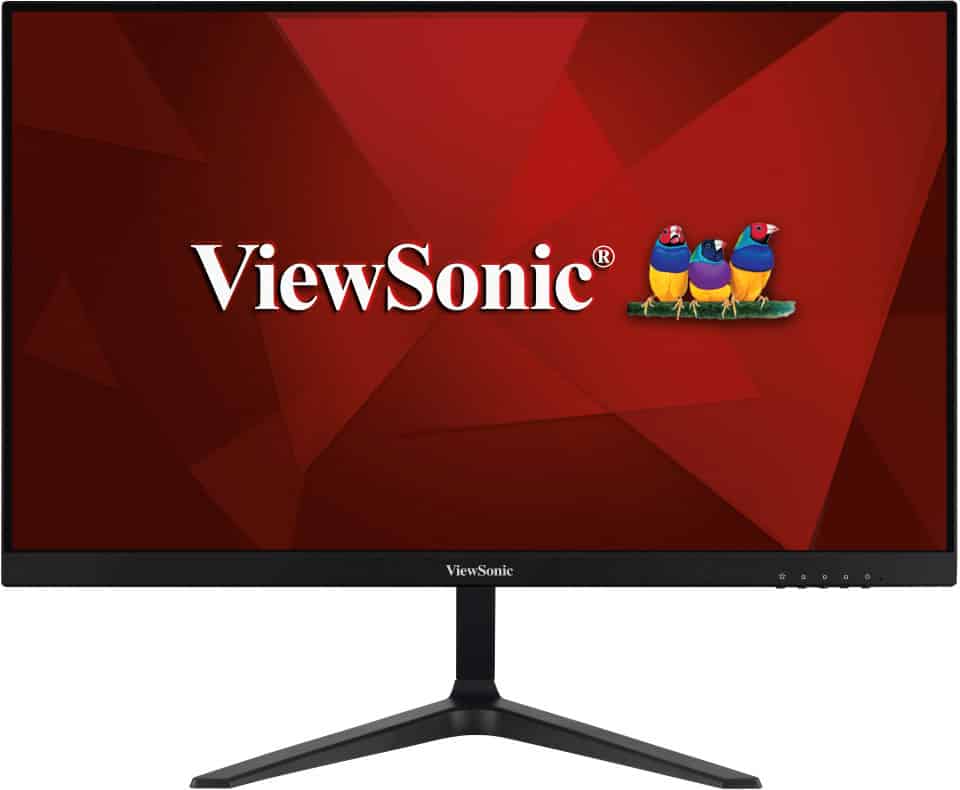 The ViewSonic VX2418-p-mhd is a suitable choice if you care about raw gaming display performance more than anything else. It's a barebones model by today's standards, but its high refresh is still the most considerable upgrade you can get if you are coming from an older display. Let's see if the ViewSonic VX2418-p-mhd can punch beyond its value-oriented price when it comes to imaging and gaming performance.

ViewSonic VX2418-p-mhd Specifications
Screen Size: 24 Inches
Resolution:1920 x 1080 FHD
Aspect Ratio: 16:9
Panel Technology: Vertical Alignment (VA)
Refresh Rate: 165Hz
Response Time: 1ms MPRT
Contrast Ratio: 3000:1 (Static)
Brightness: 250 cd/m²
Speakers: Yes (2 x 2 Watts)
Stand: Height – No
Stand: Tilt – Yes
Stand: Swivel – No
Stand: Pivot – No
VESA Compatibility: Yes (100 x 100)
Connectivity: HDMI 1.4 x 2, DisplayPort 1.2 x 1, 3.5mm Jack x 1
Dimensions (W x H x D): 21.2" x 16.8" x 8.9"
Weight: 8.3 lbs

Design and Features
The ViewSonic VX2418-p-mhd sports a simplified design that makes it look like an office variant instead of one for gaming. The monitor has a clean , matte black chassis which is easy to maintain and protect from dust and fingerprints. The display is bezel-free on three sides but it still has inner borders.
It's a slim monitor, but its not as sleek as premium offerings when it comes to its dimensions and the thickness of cabinet. It needs under nine inches of depth when fully assembled, although its base leaves a lot of space in between the legs. Its not too heavy at 8.3 pounds, so it can be used as a portable display for your LAN parties with your buddies.
Its build quality is great considering that it's a budget model that has lesser features. The plastics used are durable even if there is minimal flexing if you squeeze the panels hard enough. The stand offers good stability even if its limited so the screen doesn't wobble unless you strike it accidentally.
One downside with the ViewSonic VX2418-p-mhd and most budget monitors are the OSD buttons. They work perfectly, but it takes more time to get to a specific setting and it can get confusing at times. Joysticks are better, but its understandable in this case since you can't argue with the very affordable price point.
The stand included with the package only offers tilt, but its surprisingly stable and solid so it should suffice. The base takes up a bit of space, but its legs are thin enough to leave plenty of space for your peripherals. You can use VESA mounts instead, but its only necessary in some instances such as when space is limited.

The ViewSonic VX2418-p-mhd can only offer the basic connectivity options since it's a budget model. You only get a DisplayPort 1.2 slot and two HDMI 1.4 connectors, plus a 3.5mm analog audio jack. Other gaming models have extras like USB ports, but its not worth paying beyond a limited budget.
However, its nice to find a pair of built-in speakers with the monitor even if it lacks the other extras mentioned above. They don't get loud enough for entertainment use, but they can be used for basic tasks like conference calls. Its always nice to have extra features like this from a package that costs less.
Display and Performance
The ViewSonic VX2418-p-mhd sports a 24-inch VA panel with a 1920 x 1080 resolution, a 165Hz refresh rate, and a 1ms response time. The backlight has a 250 cd/m2 typical output while the contrast ratio is listed at 4000:1. This model doesn't support HDR since it isn't equipped for it, but that's understandable due to its lower price.
24-inch 1080p monitors won't be the massive upgrade for many since it's a common format for displays used at work or in school. They key here is its high refresh rate which makes it great at producing smoother visuals in games. You don't get more visual space and sharpness, but at least you won't struggle with visibility and legibility.
The ViewSonic VX2418-p-mhd renders 100% sRGB and 80% DCI-P3 which means its vibrant enough for games and daily use. However, its not accurate out of the box since the deltaE average reached 4.31. some colors are over saturated, but that isn't as big of an issue if you are only gaming and using it for media.
Calibrating the ViewSonic VX2418-p-mhd reduced its deltaE average to a more acceptable 2.14 which balances the color errors. However, you need a colorimeter to ensure that you get an improvement like this, and those don't come cheap. Buying the gadget is only practical if you do color critical work or if you have a prosumer display to use it on.
Its backlight only managed 221 cd/m2 at 100%, so it can't fight off glare in bright or well-lit environments. However, its contrast reached an impressive 3566:1 at 80% brightness and you don't normally see that on budget displays. It can produce deep blacks and rich colors, but its not ideal for use in rooms with big windows.
The biggest downside of the ViewSonic VX2418-p-mhd is its slower pixel response time which makes it prone to blurring. Using its overdrive feature helped, but it cannot completely eliminate the trails in fast-paced or contrasting transitions. This is a known limitation of VA monitors and only Fast IPS with lower contrast ratios are your option to avoid it.
The ViewSonic VX2418-p-mhd is compatible with both FreeSync and G-Sync, but you have to activate them manually. This duality is great to have since GPU stocks and pricing aren't stable, so you might be stuck with one brand for some time. Input lag sits at 4ms at 165Hz, so its fast and responsive enough for competitive games.
Thoughts on the ViewSonic VX2418-p-mhd
The ViewSonic VX2418-p-mhd is a decent choice if you don't want to spend too much on a gaming monitor. Its cheap and it doesn't offer a lot of features, but its high contrast 165Hz screen works great for games. It provides the bare essentials of a gaming monitor that was meant to uplift your playing experience with smooth visuals.
However, you are sacrificing a lot by going with this monitor instead of a fast IPS option like the AOC 24G2. Sure, its contrast is higher, but you're missing on better color consistency and features such as an ergonomic stand. It's a decent buy, but there are very competitive options in the market that can rain on its parade.
Pros:
Affordable
Superb Contrast
Decent Color Coverage
FreeSync and G-Sync Compatible
Cons:
Tilt-Limited Stand
Prone to Blurring
Limited Brightness
About the Author: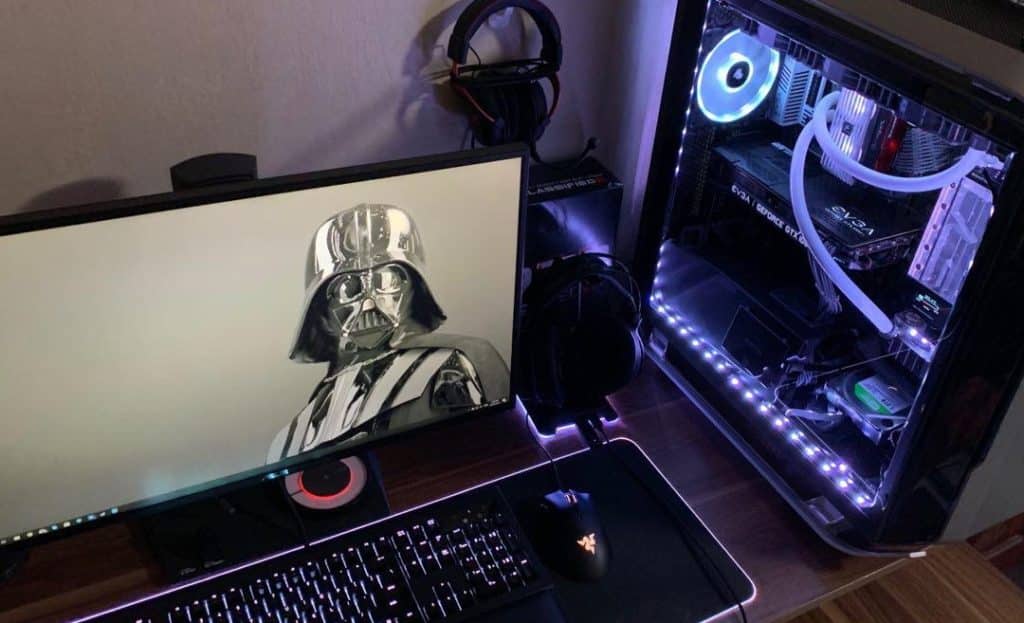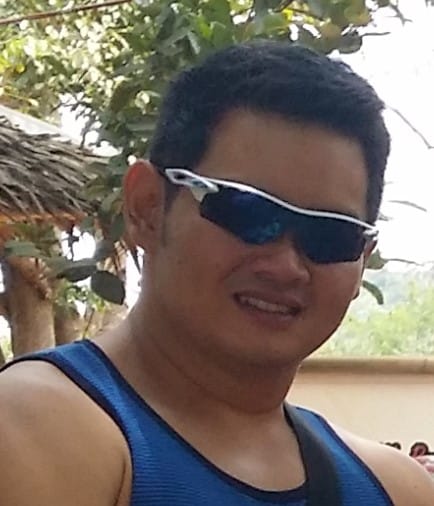 Paolo is a gaming veteran since the golden days of Doom and Warcraft and has been building gaming systems for family, friends, and colleagues since junior high. High-performance monitors are one of his fixations and he believes that it's every citizen's right to enjoy one. He has gone through several pieces of hardware in pursuit of every bit of performance gain, much to the dismay of his wallet. He now works with Monitornerds to scrutinize the latest gear to create reviews that accentuate the seldom explained aspects of a PC monitor.