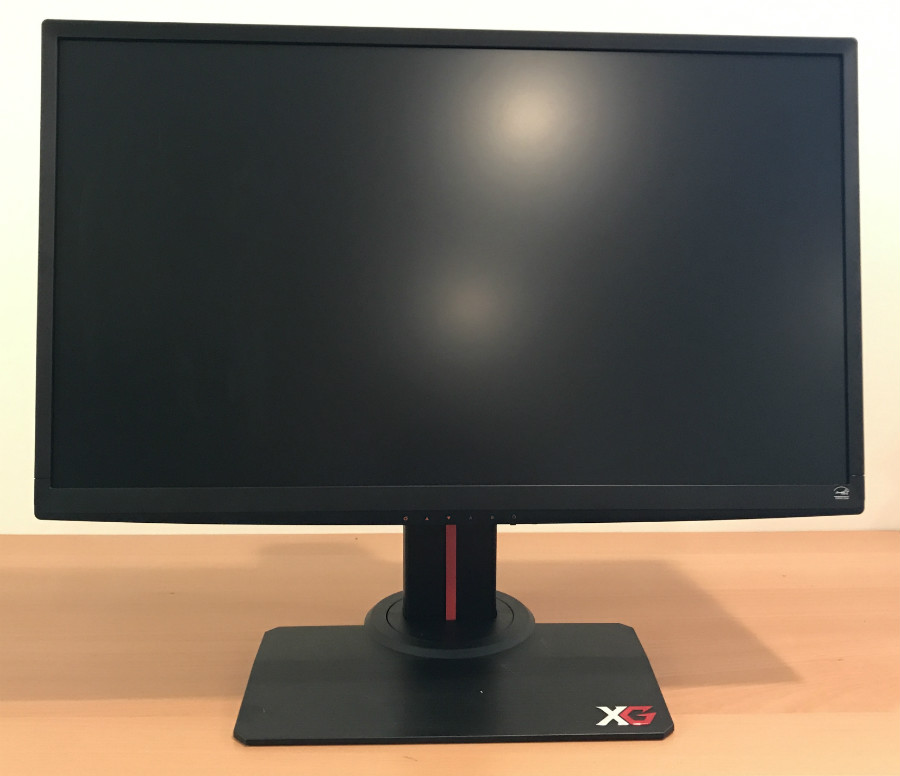 The ViewSonic XG2530 is an all-new take on 240Hz competitive gaming monitors from the makers of the acclaimed XG2401 which outshone some of the bigger brands offerings in performance. This model comes with an array of premium features and a functional appearance and physique, making it just as good, if not better than some of the 240Hz offerings we've seen. The ViewSonic XG2530 competes in an exclusive, but highly aggressive niche of the display market, and let's see how it stacks up.

ViewSonic XG2530 Specifications
Screen Size: 25 Inches
Resolution: 1920 x 1080 FHD
Aspect Ratio: 16:9
Panel Technology: Twisted Nematic (TN)
Refresh Rate: 240Hz
Response Time: 1ms
Contrast Ratio: 1000:1 (Static)
Brightness: 400 cd/m²
Built-in Speakers: None
Stand: Height – Yes (4.72 Inches)
Stand: Tilt – Yes (-5°/+15°)
Stand: Swivel – Yes (-45°/+45°)
Stand: Pivot – Yes (0°/+90°)
VESA Compatibility: Yes
Connectivity: DisplayPort 1.2 x 1, HDMI 1.4 x 1, HDMI 2.0 x 1, USB 3.0 x 3, 3.5mm Headphone Jack
Dimensions with Stand(WxHxD): 22.21"x 19.83" x 10"
Weight: 14.94 lbs

Design and Features
We love how the ViewSonic XG2530 looks simplified and easy on the eyes despite hiding a high-performance pedigree under the hood. The whole product has a matte black finish except for the rear panel which has a leather-like textured aesthetic. Bezels are nonintrusive and within reasonable limits, giving you a clean, unobstructed view of the 24.5-inch screen.
The rear of the cabinet features an X-shaped design which may or may not appeal to some, but this side is mostly irrelevant because you will spend all your time looking at the front. The bulge is free from the ugliness of I/O layouts since the latter is neatly tucked in a down firing position. The thickness of the body sits at only 2-inches making it compact and lightweight, but the whole device will take up 9.5 inches of depth on your desk.
The ViewSonic XG2530 is packed with connectivity options for your every demand. With it, you get a DisplayPort 1.2, a port each for HDMI 1.4 and 2.0, plus three USB 3.0 ports for accessories. There are also 3.5mm mini jacks for audio pass through, plus a pair of 2 Watt speakers which sound tinny and only suitable for notification pings.  The package comes with every cable you need for immediate operation, so you won't need to rush out to find a DP or USB wire for your devices.
Construction quality is superb as expected, and we did not notice any flexing, creaking, or uneven seams on the whole product. The stand is reinforced with metal plates all the way up to the base, making it durable and stable enough the keep the whole thing standing still. Ergonomics are excellent and complete so that users can adjust height, tilt, swivel, and pivot for any configuration.
The decorative aesthetics such as the red stripe on the upright and the XG logo on the thin base are limited to this part. This doesn't make the product gaudy or over designed; a consideration we prefer above over-designed models. Lastly, the mechanism is removable to reveal VESA 100 x 100 mounting holes, and since the ViewSonic XG2530's cabinet is only 2-inches thick, it's easy to flush-mount it to your wall.

Display and Performance
The ViewSonic XG2530 features a 24.5-inch 1080p TN panel with a blazing 240Hz refresh rate, 1ms response time, and 1000:1 contrast ratio. The module used is an AU Optronics model with support for 8-bit color amongst the other specs mentioned. We have seen this same screen model in other 240Hz models like the AOC Agon AG251FZ, which is the closest competitor for this unit.
The ViewSonic XG2530 despite having a TN screen with only a 6-bit+FRC color interface, is still capable of excellent color. Our Datacolor Spyder5 Elite tests reveal 99% coverage of the sRGB gamut. There are minor errors in the greens and blues of the color temp, but in actual usage, these are too small to affect the vibrancy of the screen.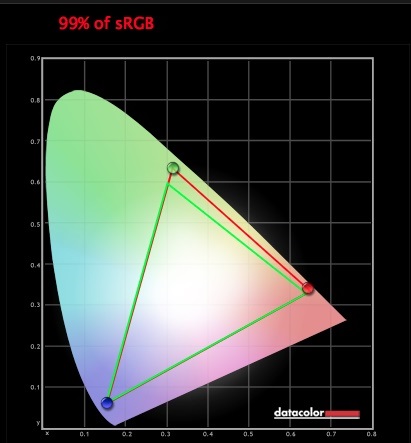 Gamma sits at 2.3 in its default state, although with minimal calibration and increase in backlighting, it can improve to 2.23 for a slightly lighter appearance. Setting the brightness to 25-35 on the OSD will reduce it back to 2.3, but this option is much more comfortable for extended use. On the other hand, the contrast will also drop to 800:1 which is decent for most usage, so expecting better will point you in the direction of VA panels. The black equalizer feature does have a substantial effect in improving visibility in low light scenes, but we only recommend using 1 or 2 since adding too much will induce crushing on the blacks in images.
What's great about playing around with these settings is that the OSD is easier to access because ViewSonic deemed it necessary to rearrange it and use specially shaped OSD keys. According to our source, older OSD menus and sub menus are illogical in order and cluttered, so they tried something new with good results. The OSD itself is feature packed, and although we prefer personal calibration, there are some noteworthy features.
Users can create three custom profiles in the OSD, but there are also other preset filters for FPS, RTS, or MOBA. The one that stands out is the ColorX option which drops color vibrancy and image quality so the device can favor faster performance. The actual usability of the latter largely depends on personal preference, plus there is that thing where these presets lock all the other adjustment options. Of course, the ViewSonic XG2530 is still responsive and at its peak when calibrated, so you can always go that route.
As if at 240Hz TN screen isn't enough for snappy images, the ViewSonic XG2530 also includes a Rampage Response feature which is similar to overdrive tools found on competitor models. But unlike the other overdrive options we tested before, the effectiveness of Rampage Response corresponds with the level you select without inducing advanced ghosting at the highest setting. Although the benefits diminish the higher your refresh rate goes, this feature cuts down blur substantially, and we recommend leaving it at Ultra Fast all the time.
The ViewSonic XG2530 is as fast as any of the E-Sports monitors out there since it only has 8.2ms of input lag according to our tests and calibration. While that score is a bit lower than other models, it shouldn't affect anybody's gameplay unless they are extra sensitive. In our Overwatch playthrough, we did not notice any delays from mechanical input to screen display. However, there is a small issue unique to this title which happens when users switch between color modes, and it gets stuck while in the game. Alt-tabbing or selecting the preset before launching Overwatch solves this, so that isn't something buyers should worry about.
The native 240Hz refresh rate with the help of Rampage Response at maximum plus with excellent color reproduction made the cartoony graphics of the title pop from the screen with a smoothness we cannot describe.240Hz is something users have to see for themselves to judge if it provides significant improvement. But if you would take our word for it, a monitor of this caliber is well worth the money if you are into fast-paced action.
Finally, the ViewSonic XG2530 is FreeSync equipped model, meaning it will be more affordable than the likes of the Asus PG258Q which carries "G-Sync tax" with its cost. FreeSync functions from a range of 47Hz all the way up to 240Hz, so buttery smooth gaming is guaranteed all the way up to the max. 1080p is relatively easy for a lot of GPUs, but maxing the ViewSonic XG2530 all the way to its limits might prove difficult for some.
Thoughts
The ViewSonic XG2530 is a fantastic 240Hz gaming monitor with distinction in all that matters for a product of this pedigree. The design is simple yet functional, while the performance in color and responsiveness are made to impress. In our opinion, this model makes it even harder to choose if you are in the market for a 240Hz competitive display, although choosing this one is a no brainer.
For starters, the ViewSonic XG2530 is the cheapest of the lot while its main competitors start $50 more. Although we cannot deny that the other options have nifty extras, when it comes down to practicality, the ViewSonic XG2530 already has everything you need covered. The upcoming release of AMD RX Vega cards also makes a better case of choosing this model, since the new cards will pair nicely with 240Hz and the FreeSync feature in this monitor.
Note: For more information on the ViewSonic XG2530 plus the company's latest products and offers, you may visit their website here.