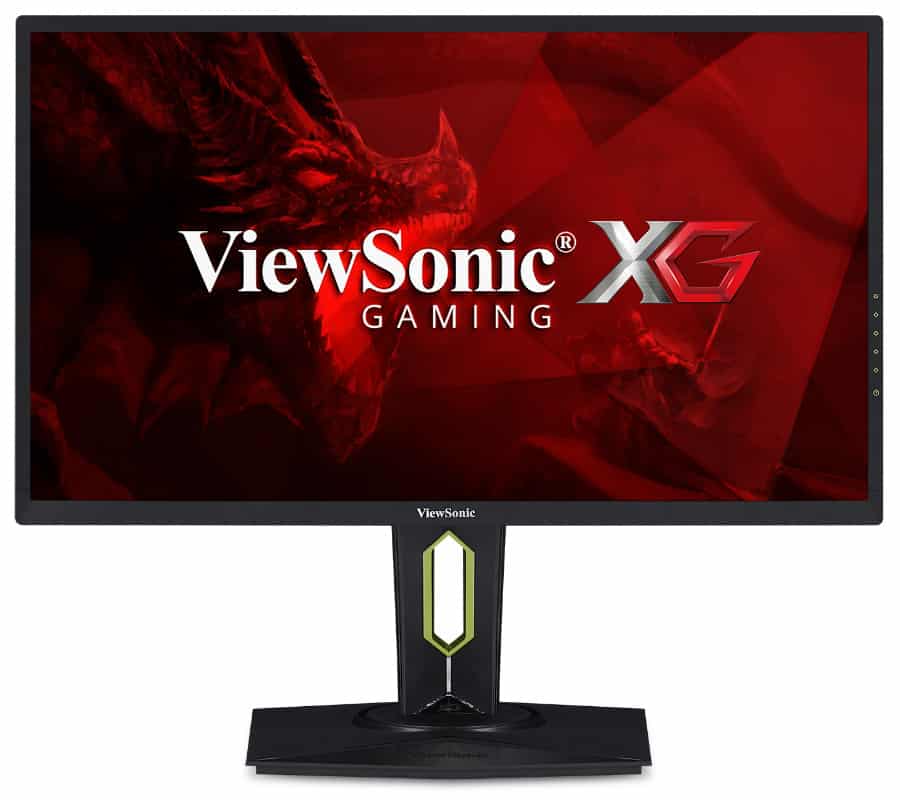 The ViewSonic XG2560 will soon arrive on shores to address the need for an E-Sports grade gaming monitor that can take advantage of Nvidia's adaptive sync solution for smooth performance. Like the previous ViewSonic XG2530, we reviewed, this new model promises excellent capabilities and features for enthusiasts who are after responsiveness above all else. The ViewSonic XG2560 makes a lot of sense in a Nvidia-dominated PC gaming era, but can it match or overtake its competition's prestige?

ViewSonic XG2560 Specifications
Screen Size: 25 Inches
Resolution: 1920 x 1080 FHD
Aspect Ratio: 16:9
Panel Technology: Twisted Nematic (TN)
Refresh Rate: 240Hz
Response Time: 1ms
Contrast Ratio: 1000:1 (Static)
Brightness: 400 cd/m²
Built-in Speakers: None
Stand: Height – Yes (4.72 Inches)
Stand: Tilt – Yes (-5°/+15°)
Stand: Swivel – Yes (-45°/+45°)
Stand: Pivot – Yes (0°/+90°)
VESA Compatibility: Yes
Connectivity: DisplayPort 1.2 x 1, HDMI 1.4 x 1, HDMI 2.0 x 1, USB 3.0 x 3, 3.5mm Headphone Jack
Dimensions with Stand(WxHxD): 22.21"x 19.83" x 10"
Weight: 14.94 lbs

Design and Features
The ViewSonic XG2560 adopts a sleeker design with a more premium feel that its FreeSync sibling while retaining the functionalities we all can't live without. The chassis has a preferred matte black finish which helps to avoid smudging and fingerprints, making it easier to maintain the new look of the device. Another positive aspect of this product is it does include thin single stage bezels for distraction-free gaming, although that aspect is always expected of modern variants.
The ViewSonic XG2560 utilizes light green accents instead of the usual black and red to depict its G-Sync exclusivity. This color is used sparingly on the cable tidy hole and on the button labels for a refreshing new look, although some PC builders who want specific colors for a matching setup might look elsewhere.
We've associated the brand with excellent build quality, so there is no doubt that the ViewSonic XG2560, like its siblings, is built like a tank. The included stand looks durable as ever without forgoing flexibility; allowing users to tilt, swivel, pivot, and raise the display according to their desires. There is also a VESA bolt pattern you can use if aftermarket mounting solutions are preferred.
Connectivity on the ViewSonic XG2560 is still limited thanks to G-Sync' s proprietary nature, but there still are a few extras to sweeten the deal. Aside from the usual DisplayPort 1.2 and HDMI, there are also four USB 3.0 slots (2 on side hub and 2 on the main panel) for convenience. A pair of 3-Watt speakers and a 3.5mm jack comes standard with the package for your basic audio needs.
Display and Performance
The ViewSonic XG2560 sports a 24.5-Inch TN panel with a 1920 x 1080 resolution from AU Optronics. This module is capable of a 240Hz refresh rate, 1ms response time and a static contrast ratio of more or less 1000:1 which are typical of today's E-Sports gaming monitors. A 6-bit+FRC color interface is also specified along with a 400cd/m2 WLED backlight for standard sRGB gamut output.
One of the features we love on ViewSonic's newer models is their Rampage Response tool that helps to eliminate ghosting. After testing numerous models that come with an Overdrive feature, we've found this brand's implementation to be one of the best. Turning it up all the way to its max setting did not induce advanced ghosting in our tests, essentially eliminating all of the artifacts our eyes were able to notice.
There is also a Low Input Lag feature to reduce latency when the game gets too intense which can lower the delays to less than a frame or two. Smooth and responsive gaming can be expected with this formulation of specs, closing the gap between the relatively new ViewSonic XG2560 and its already proven competition.
The ViewSonic XG2560 includes a G-Sync module for use with a Nvidia GPU unlike the XG2530 which is FreeSync compatible without any add-ons. This feature adds a hefty premium to the monitor which is estimated to release at around $570, although its abilities are magical. G-Sync will support your visuals from 30Hz all the way up to 240Hz, ensuring that your games will be tear-free and buttery smooth all the time.
Thoughts on the ViewSonic XG2560
The ViewSonic XG2560 is another excellent upcoming gaming monitor for Nvidia users who require a robust and reliable G-Sync monitor for competitive gaming. We have little reason to doubt this product's success in the market, although some could find the price tag to be too steep. But if you think about it, ViewSonic has always come up with lower prices plus, in retrospect, the closest competitors started at $600 when they arrived.
The ViewSonic XG2560 is almost ready for shipment and is expected to arrive by February of this year in the US. Availability across the globe is still unknown, but we are sure the release date will follow shortly in most of the continents. Keep checking this page for the latest prices and availability for this premium gaming monitor.