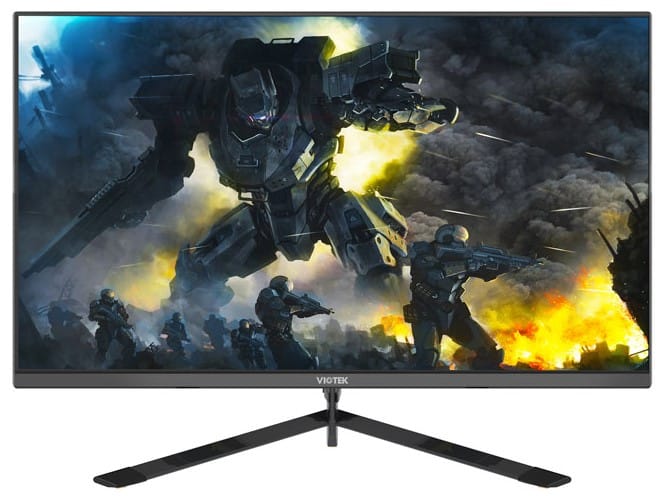 The Viotek GFT27DB offers the best value per dollar proposition in the extremely competitive QHD gaming monitor category where premium brands reign. The brand's offerings often provide reasonable performance values, giving the masses more options when shopping for practical, yet well-equipped display products. The Viotek GFT27DB's three hundred buck-price point makes it very attractive, but can it meet the standards set by its high-end competition?
Viotek GFT27DB Specifications
Screen Size: 27 Inches
Resolution:2560 x 1440 QHD
Aspect Ratio: 16:9
Panel Technology: Twisted Nematic (TN)
Refresh Rate: 144Hz
Response Time: 1 ms
Contrast Ratio: 1000:1 (Static)
Brightness: 220cd/m²
Built-in Speakers: Yes (2 x 2 Watts)
Stand: Height – Yes
Stand: Tilt – Yes
Stand: Swivel – Yes
Stand: Pivot – Yes
VESA Compatibility: Yes 75 x 75
Connectivity: DisplayPort 1.2 x 1, HDMI 1.4 x 2, HDMI 2.0 x 1, DVI x 1, 3.5mm Jack
Dimensions with Stand(WxHxD): 24.3" x17.5" x 7.9"
Design and Features
The Viotek GFT27DB adopts a simpler, yet refined overall design which we prefer over the brand's previous offerings which attempted to add more decorative appearances. The device has a nice and clean matte black finish which always makes any device more presentable. The face is bezel-free thanks to a dual stage design, but take note that you will still see panel borders when its in use.
The Viotek GFT27DB's chassis is relatively thin and flat save for a hexagonal bulge at the center which looks unique and appealing. Build quality for this model has certainly improved compared to its predecessors since the device feels more durable and attractive. We did not notice any wobbling or creaking from the monitor's parts, indicating that quality control has ramped up.
The only aspect of the Viotek GFT27DB that got left in the past is its use of four OSD buttons instead of the preferred joystick. The menus and submenus are a bit clunky and limited compared to refined versions from brands like LG, so having to use the buttons can be a chore. It takes some time to get used to, but the monitor doesn't have a complete array of calibration tools so its likely that this part will not see regular use.
The Viotek GFT27DB's minimalism extends to its stand which is composed of thin bars arranged in a Y-shape layout. The mechanism provides good stability, but its limited to tilt which is detrimental to the user's setup choices. You can, however, buy a 75 x 75 VESA adapter or monitor arm, but the added cost will defeat the value proposition of this model.
We love the Viotek GFT27DB's connectivity layout since it includes more than you would expect from its premium competition. The panel consists of DisplayPort 1.2 and three HDMI ports with two at version 1.4 and the third at 2.0. There are no older standards such as DVI or VGA, but having three HDMI slots opens up more uses for this device.
Viotek also did not forget to include a pair of 2-watt speakers which enhances the value per dollar spent. However, the pair doesn't sound like they are meant for gaming or music and movies since they distort a lot and have a very minimal bass response. Trust us; you are better off with a headset or a separate device with more juice and clarity.
Display and Performance
The Viotek GFT27DB sports a 27-inch TN panel with a 2560 x 1440 resolution, 144Hz refresh rate, and 1ms response time. A contrast ratio of 1000:1 is typical, but the 220 cd/m2 backlight is considerably weaker than most offerings. The brand also advertises that this model to have extensive gamut coverage which reaches beyond the boundaries of regular sRGB displays.
27-inch QHD monitors are a sight for sore eyes since they offer the best balance between the level of detail and speed. The screen gives you a large FOV with increased sharpness, but it won't tax your GPU as much as a 4K variant. Having a screen like this helps to avoid the need for scaling or anti-aliasing which when reduced will release a boost in framerate.
The Viotek GFT27DB's TN panel is capable of excellent vibrancy with sRGB gamut coverage reaching 100% with some extensions in some shades. The monitor also showed 90% DCI-P3 coverage which is great, but it does induce a downside. This model isn't factory calibrated to correctly display this kind of output, so the screen's shades show deviations which average at DE 3.5.
What you will see is a highly saturated screen which doesn't compare to the natural warmth of true sRGB monitors which are ideal for photo editing. The extra pump in color is great for games, but it can be annoying at times when for example, orange shades appear more reddish than they should be. Tweaking through the OSD isn't beneficial, so if you want a more balanced look, you will need to get a colorimeter which again, breaks the value per dollar proposition.
The TN panel in the Viotek GFT27DB has an excellent contrast ratio for a TN-based display, reaching up to 970:1 at 40% brightness or lower. Yes, we recommend lowering the brightness since it goes all the way up to 340 cd/m2 which is far from the claimed 220 cd/m2. It's excellent that value options have these "hidden talents," but the lack of fine tuning adds a penalty to overall image quality.
Panel uniformity is excellent since TNs are not usually prone to light leakage or clouding. The screen appears a bit dimmer on the sides, but only a colorimeter will be able to notice the difference. Color uniformity is superb as well due to each quadrant staying within DE 2.7 from the ideal D65 standard.
Motion handling also isn't an issue since the pixel response time for the Viotek GFT27DB falls in line with high-end variants such as the PG278QR. Most users will not need to apply excessive overdrive, but there is an option to put it to high to further clarify the image. The latter mode will induce overshoot, but its a small price to pay since it creates lesser visual disturbance in fast-paced play.
The Viotek GFT27DB is a FreeSync gaming monitor, but the brand is also advertising G-Sync compatibility for this variant. However, it's not one of the certified monitors so it could be a hit or miss depending on a mix of variables which are still difficult to determine at this time. Input lag sits at 4.2ms, ensuring that your inputs and commands are always on-point in the heat of battle.
Thoughts on the Viotek GFT27DB
The Viotek GFT27DB is a fantastic choice if you want a high-refresh 1440p display that packs superb performance without costing an arm and a leg. The extra gamut coverage surprised us since this is a TN-based model, but Viotek should have fine-tuned the monitor prior to its release. The design sits well with our tastes since it isn't too gaudy like most modern offerings we've recently come across.
But the issue with the Viotek GFT27DB is it needs to break its awesome value if you want to truly maximize its potential. Buying a VESA mount is a must if you want better control over viewing angles, plus the color output can only be optimized with a colorimeter. Overall, it's a great and practical choice, but you do have to live with some penalties if you want to avoid the premium added by bigger brand names.