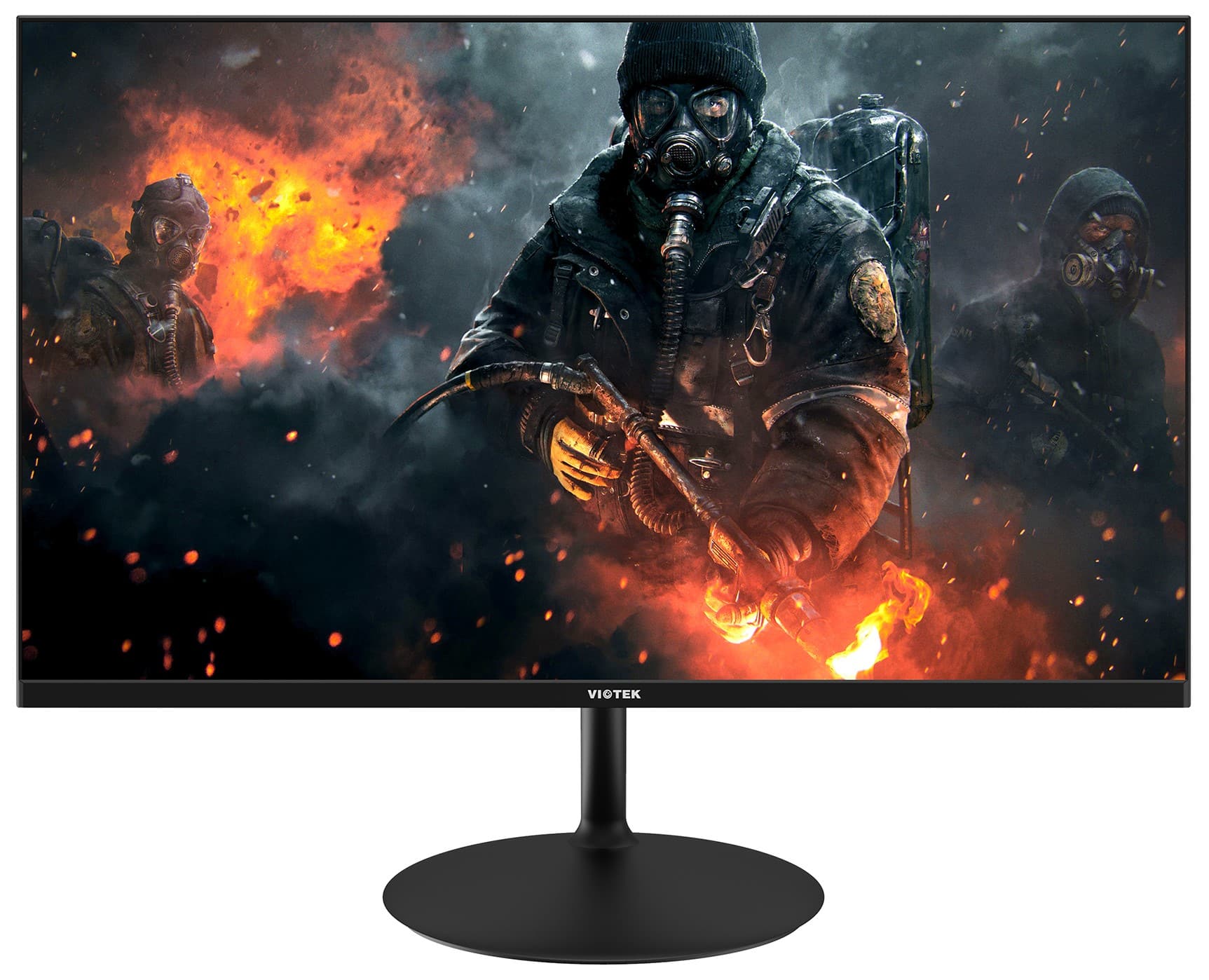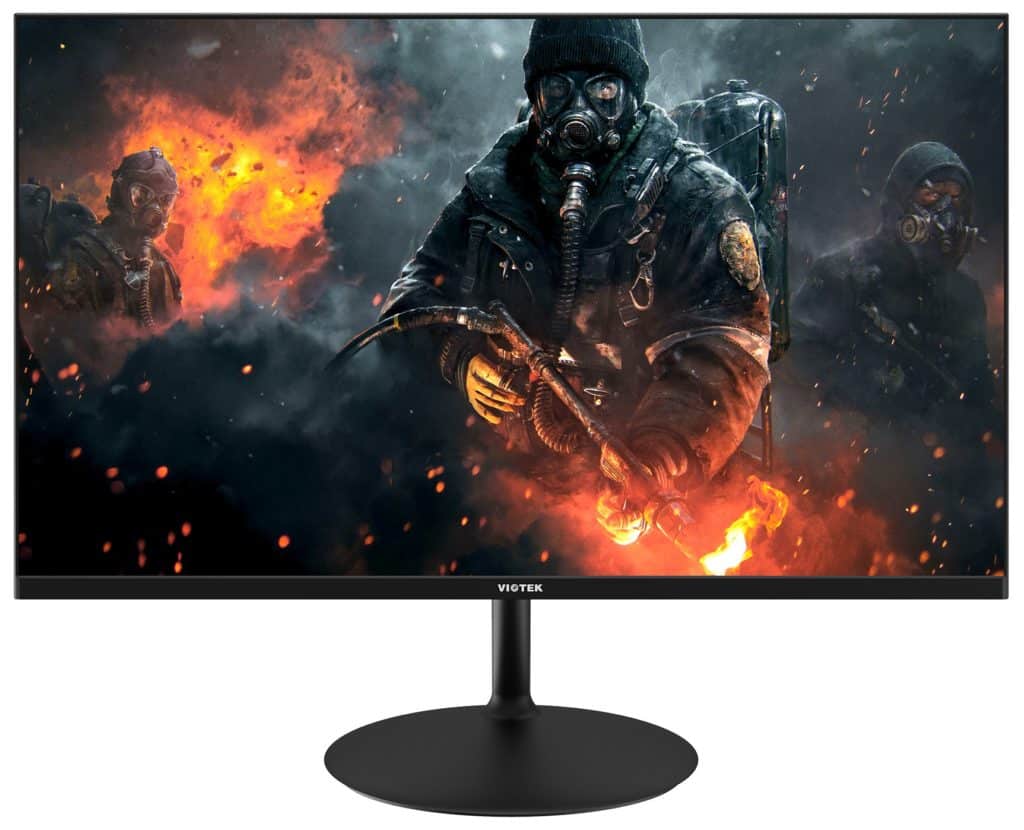 Pros:
Sub $150 Price Tag
Sleek and Slim Design
High Contrast VA Panel
FreeSync/G-Sync Compatible
Cons:
Poor Default Color Calibration
Slow Pixel Response Time – Prone to Blurring
Slightly Higher Input Lag
Under-equipped OSD
The Viotek GFV24C is one of the few sub-$150 gaming monitors that offer a 144Hz refresh rate along with FreeSync and G-Sync compatibility. The product uses a VA panel so you can expect a slower pixel response time, but you also gain richer colors and contrast in return. The Viotek GFV24C seems like it's a unicorn monitor due to its unbelievable price, but let's check out what it can really do.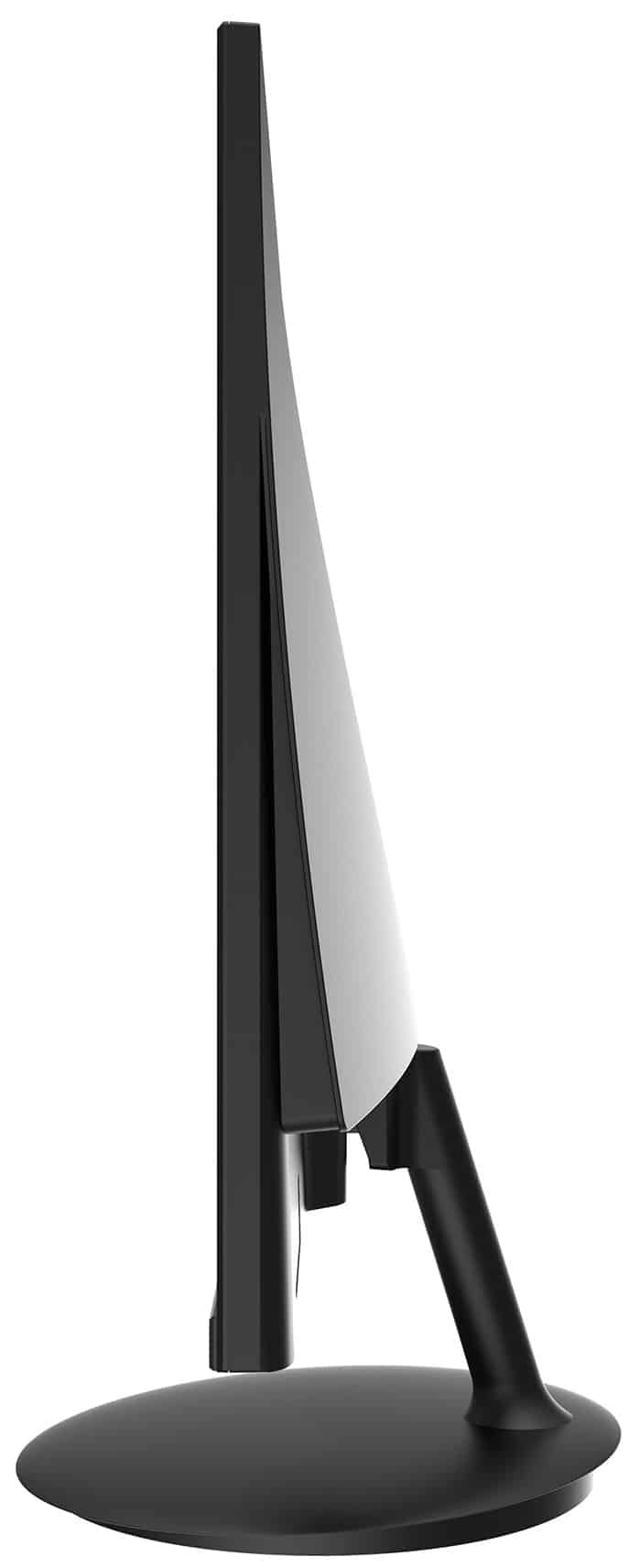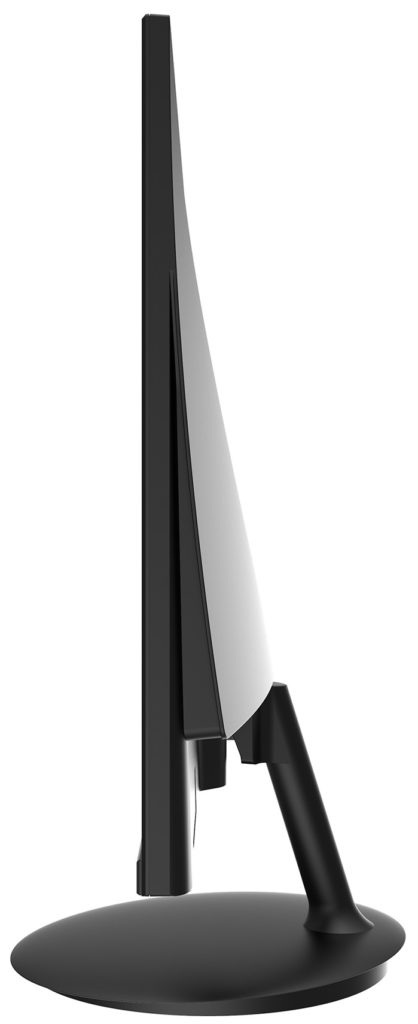 Viotek GFV24C Specifications
Screen Size: 24 Inches
Resolution: 1920 x 1080 FHD
Aspect Ratio: 16:9
Panel Technology: Vertical Alignment (VA)
Refresh Rate: 144Hz
Response Time: 4ms
Contrast Ratio: 3000:1
Brightness: 220 cd/m²
Speakers: No
Connectivity: DisplayPort 1.2 x 1, HDMI 1.4 x 2, 3.5mm Jack x 1
Stand: Height – No
Stand: Tilt – Yes
Stand: Swivel – Yes
Stand: Pivot – No
VESA Compatibility – Yes(75 x 75)
Dimensions (WxHxD): 21.3" x 16.44″ x 8.14"
Weight: 5.7 lbs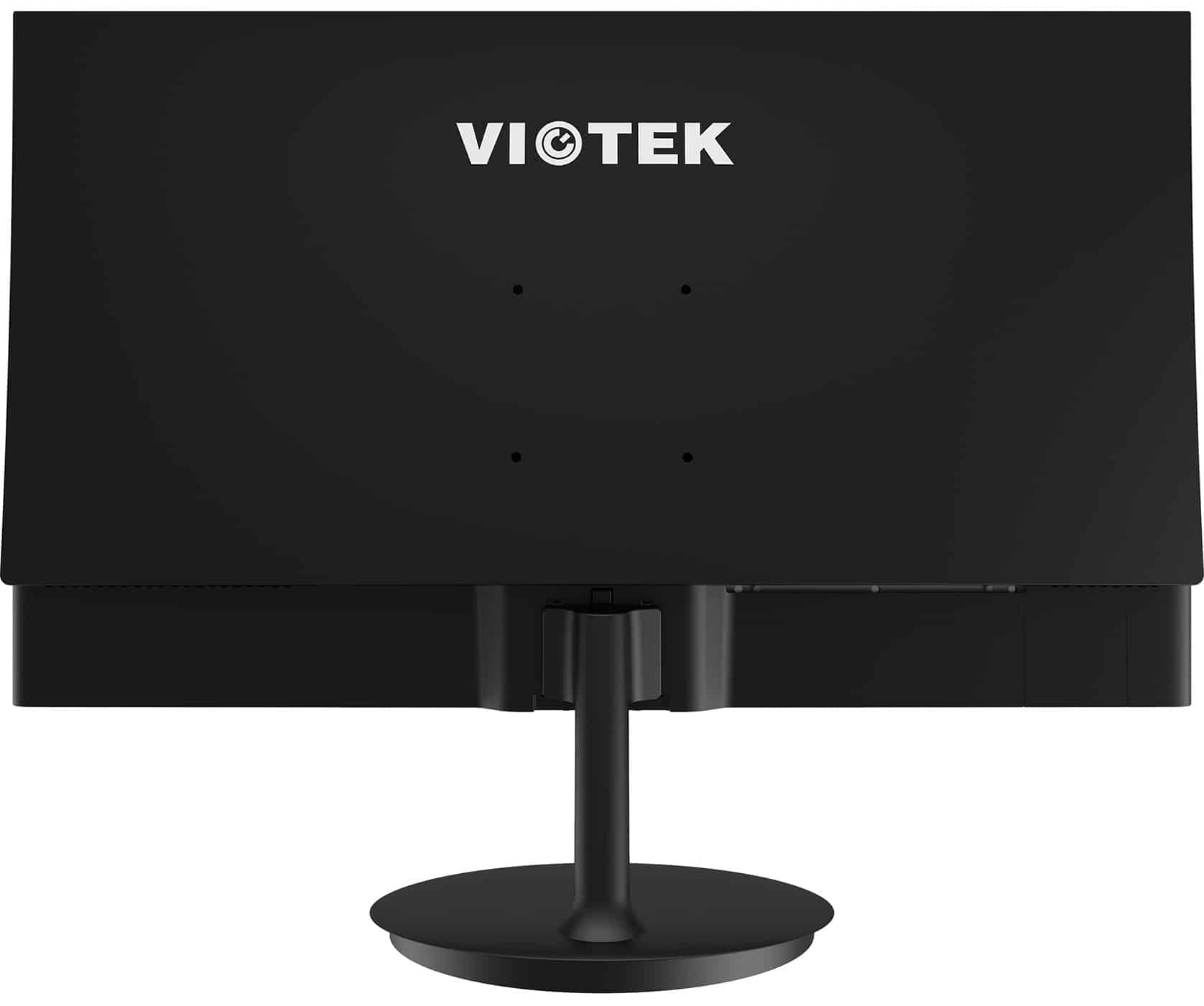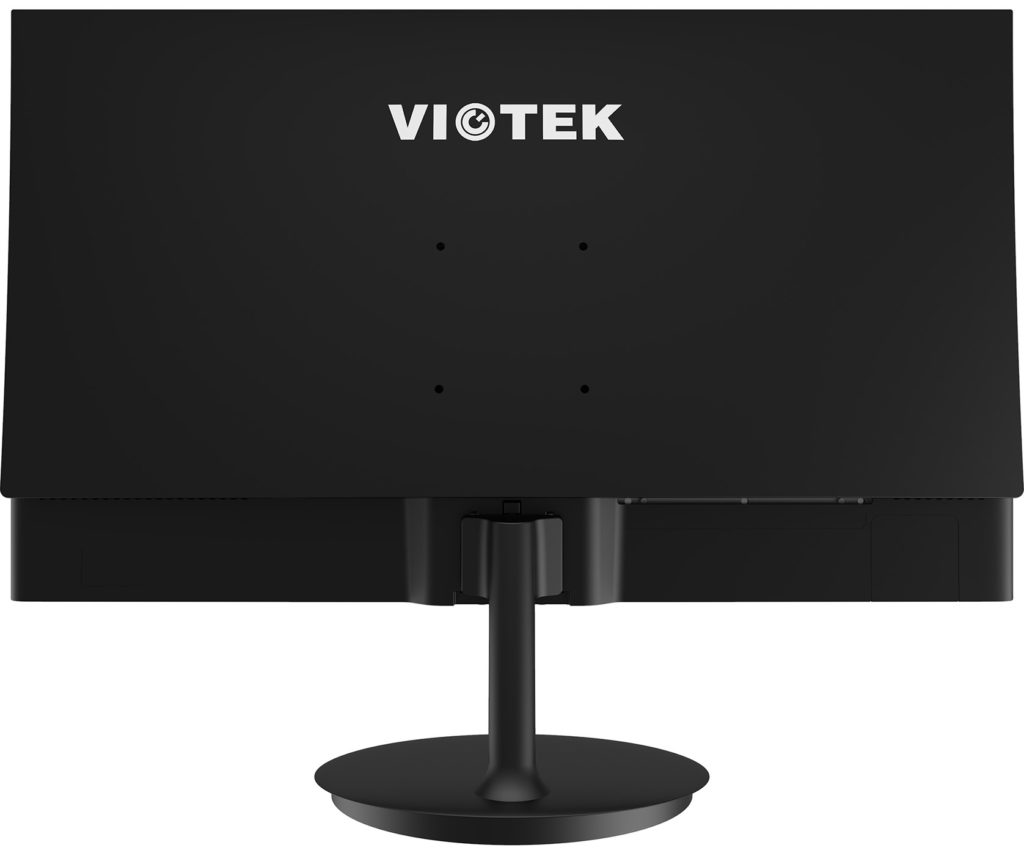 Design and Features
The Viotek GFV24C gets a refreshingly sleek look that is in stark contrast with the brand's gaudy and aggressive gamer designs. The chassis has a clean matte black aesthetic that helps resist dust and smudges while giving the device a timeless appeal. The display is bezel-free on three sides, but you will still see thin panel borders when its in use.
The Viotek GFV24C's most notable physical characteristic is its modest proportions which let you slide it into a tight spot. The device needs eight inches of depth since its base is circular, but the chassis itself is quite thin and ideal for flush mounting. You could easily mistake the monitor for a Lenovo offering since it's so thin and lightweight.


Build quality for the Viotek GFV24C could use some strengthening in some key areas, particularly the pillar that supports the chassis. The plastic design allows the device to wobble with minimal force, but it should stand ok if you leave it alone. The monitor also feels fragile since its lightweight, but it shouldn't easily crack under normal circumstances.
The Viotek GFV24C doesn't have OSD buttons which are usually reserved for more premium offerings. You have to deal with a button layout that is centrally located under the bottom bezel which, at times, can be annoying to use. There are no labels, and it's easy to wrongly press one unintentionally, especially while gaming in the dark.
The included stand on the Viotek GFV24C only offers tilting adjustments so your setup options are limited. It's forgivable at this price range, but Viotek could have used something stronger and more stable for the monitor. Thankfully, this part is completely removable in favor of 75 x 75 VESA mounts, but that adds cost that may put you in range of a higher-tiered model.
There are no valuable extras such as USB ports on the Viotek GFV24C, but its decently equipped with video inputs that can accommodate most of your gaming devices. The layout includes DisplayPort 1.2 and dual HDMI 1.4 for host devices, along with a 3.5mm jack for audio peripherals. You can use the monitor for a gaming PC and up to two gaming consoles to further extend its value as an upgrade.
There are no speakers with the Viotek GFV24C, but that's ok since most built-ins are usually too weak for gaming or entertainment purposes anyway. The device is already too cheap by today's standards, and we feel it would be too much to ask considering what you get for the price point.
Display and Performance
The Viotek GFV24C sports a 24-inch VA panel with a 1920 x 1080 resolution, 144Hz refresh rate, and 4ms response time. The backlight is a bit low at 220 cd/m2, while the static contrast ratio sits at 3000:1 like most VA monitors. These specs aren't top of the line, but the product is suitable if you want to play games with smoother and engrossing colors.
The 24-inch size and 1080p resolution of the Viotek GFV24C is a match made in heaven and it still is accepted as the universal standard for computer displays. The pixel density doesn't offer increased sharpness or level of detail, but pictures and game graphics are still pleasing to look at. Video enhancements such as Anti-Aliasing can take care of the slightly rougher edges, so you are still golden for a few years if you go with this option.
The Viotek GFV24C covers 97% of the sRGB gamut which is decent for typical monitors, but a bit low for a variant that uses VA modules. What's disappointing with it, however, is the default accuracy that exceeds DeltaE 4.1. You can calibrate the monitor to a better score of around DeltaE 1.2 along with a more balanced color temperature.
The Viotek GFV24C also doesn't have gamma presets in the OSD which would help tremendously in correcting the washed-out look of the display since the default profile sits at around 1.9. The backlight is decent for night time use at 230 cd/m2, but you don't get a good adjustment range which could again help with the image quality. Contrast, on the other hand, is fantastic at 3100:1, providing gamers with good grayscale performance and very low black luminance.
Panel uniformity for the Viotek GFV24C was super as well since there are no backlight leaks or clouding issues on the display. The variances between each segment of the display are too little to notice, and only a colorimeter can accurately distinguish the difference. But as always, do take this description lightly since there are manufacturing tolerances that make every VA module unique from the other.
Pixel responsiveness is another weakness presented by the Viotek GFV24C since its prone to blurring and smudges during gameplay. The monitor doesn't have a controllable overdrive setting in the OSD, so the only way to minimize this issue is to stabilize your framerate at 144FPS. Doing so lessens the transition time, but we still won't recommend the product for anything fast-paced.
The Viotek GFV24C is a FreeSync gaming monitor, but it also tested to be compatible with G-Sync for Nvidia GPU users. It's always great to buy a display product that will not lock your buying options with one GPU brand. Input lag is slightly higher at 10ms for a 144Hz display, but it won't be an issue unless you play competitive titles.
Thoughts on the Viotek GFV24C
The Viotek GFV24C is an excellent value option if you are after a 144Hz gaming monitor that won't deplete your wallet. We like the sleek and sophisticated design, but the device could use some improvements in build quality and stability. The VA panel also produces an impressive contrast ratio, but that's about it as far as image quality is concerned.
There are too many weaknesses packaged with the tempting price of the Viotek GFV24C, starting with its poor default color output. The monitor also isn't agile enough to reduce blurring and ghosting, while input lag is slightly higher than almost every 144Hz monitor out there. We only recommend the Viotek GFV24C as a second device or for ultra-budget gaming, but there are countless choices with more to offer in the market.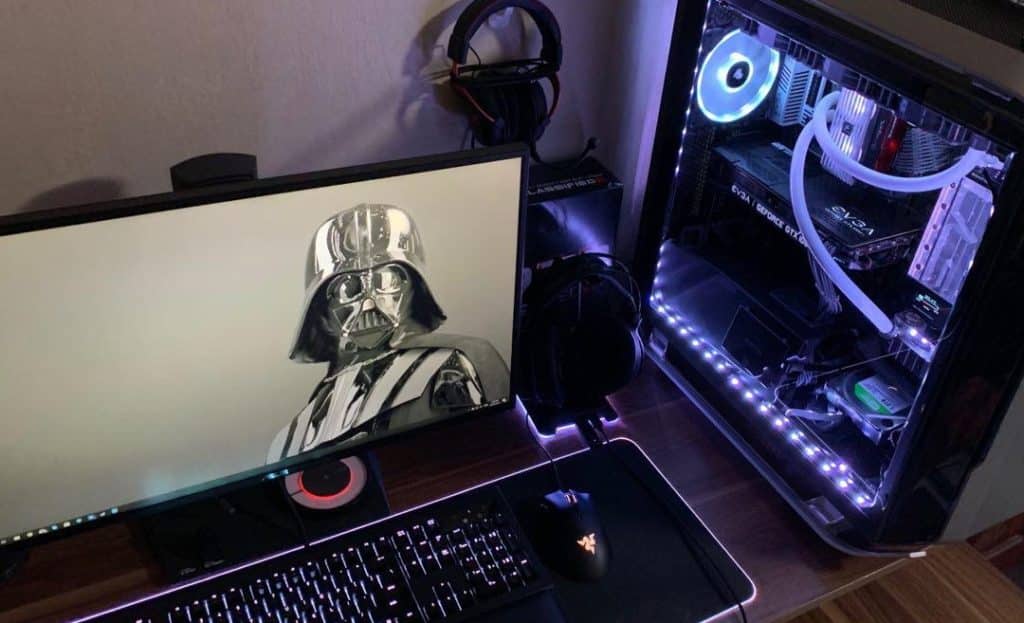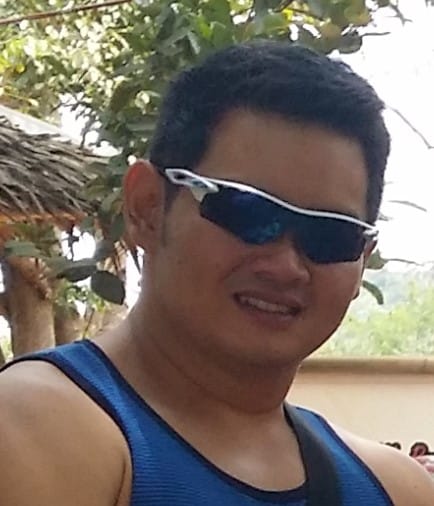 Paolo is a gaming veteran since the golden days of Doom and Warcraft and has been building gaming systems for family, friends, and colleagues since his junior high years. High-performance monitors are one of his fixations and he believes that it's every citizen's right to enjoy one. He has gone through several pieces of hardware in pursuit of every bit of performance gain, much to the dismay of his wallet. He now works with Monitornerds to scrutinize the latest gear to create reviews that accentuate the seldom explained aspects of a PC monitor.