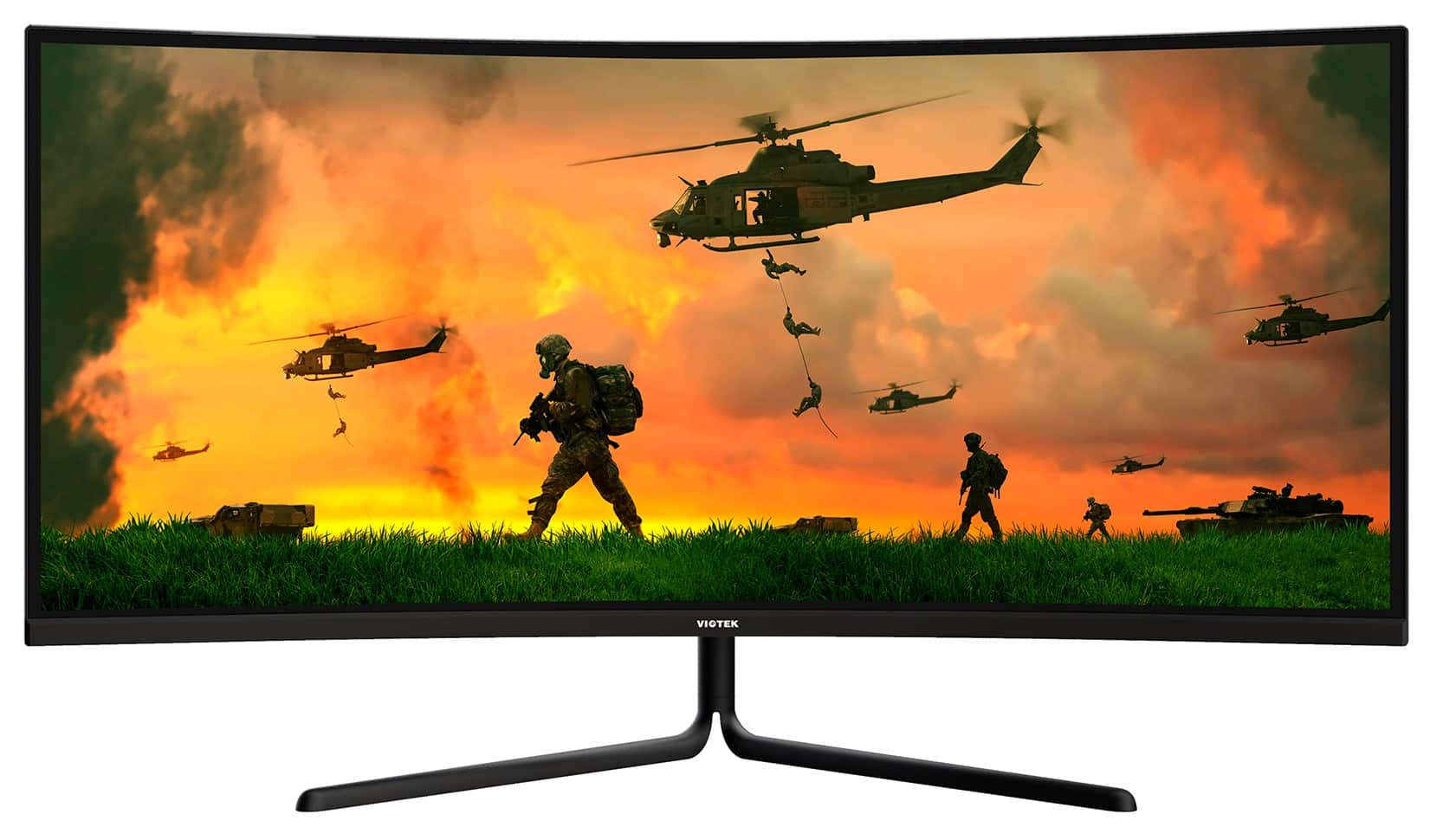 The Viotek GNV34DB is the most affordable ultrawide monitor you can buy right now for immersive and casual gaming. It is not as fast as other budget models like the Gigabyte G34WQC, but it's at least a hundred bucks cheaper than the closest alternative. Let's check if the Viotek GNV34DB is a great pick or if you should just spend the extra on the higher-spec models.

Viotek GNV34DB Specifications
Screen Size: 34 Inches
Resolution: 3440 x 1440 UW-QHD
Aspect Ratio: 21:9
Panel Technology: Vertical Alignment
Refresh Rate: 144Hz
Response Time: 5ms
Contrast Ratio: 3000:1 (Static)
Brightness: 300 cd/m²
Built-in Speakers: No
Stand: Height – No
Stand: Tilt – Yes
Stand: Swivel – No
Stand: Pivot – No
VESA Compatibility: Yes (75 x 75)
Connectivity: DisplayPort 1.2 x 1, HDMI 2.0 x 1, HDMI 1.4 x 2, 3.5mm Audio Jack x 1
Dimensions (W x H x D): 31.84" x 17.88" x 8.88"
Weight: 15.48 lbs

Design and Features
The Viotek GNV34DB is virtually identical to the GNV34DBE when it comes to design and aesthetics. The monitor wouldn't look out of place in an office setting with its matte black finish, although its red accent at the back has always meant that it's a gaming model. The display is bezel-free on three sides, but there are panel borders which are barely noticeable while gaming.
The Viotek GNV34DB's dimensions are modest in its category, but its still bigger than most monitors due to the width. You might need to rearrange your speakers and other peripherals to accommodate this device. It doesn't weigh a lot at 15.48 pounds but trying to balance an ultrawide is slightly more difficult if you are setting up alone.

It's made mostly out of plastic, but the Viotek GNV34DB's build quality is surprisingly decent, unlike the older models. The housing doesn't flex crack easily, plus there are no cosmetic defects on the monitor's parts. The metal stand looks good and feels durable even if there is a slight wobble if you accidentally nudge the screen.
Another noticeable feature of the Viotek GNV34DB is its LED ring at the back which surrounds the VESA attachment point. However, it only glows in red and it isn't bright enough to cast a background glow or bias light behind your monitor. We always like attractive add-ons like this, but we also think that they should be functional and useful for gamers and users.
The Viotek GNV34DB is a low-budget gaming model, so it's understandable that it's lacking a few creature comforts like OSD joysticks. The buttons are labeled and easy to locate, but it takes some practice to master their functions compared to a joystick. Thankfully, the Viotek GNV34DB's OSD doesn't have a lot of submenus and its layout is very easy to understand.
The stand included with the Viotek GNV34DB only offers so it's quite limited when it comes to finding a comfortable view. You only need to center curved screens like this to your position, but the monitor's vertical can be an issue for taller users. A VESA mount will solve this limitation, but remember that you have to spend more money if you don't have one yet.
The Viotek GNV34DB has a decent amount of connectivity features starting with its DisplayPort 1.2 as the primary. You also get a single HDMI 2.0 and two HDMI 1.4 slots for secondary devices, along with a 3.5mm port for headphones. There are no extras like USB ports or speakers, but that's understandable since this is a budget model.
Display and Performance
The Viotek GNV34DB boasts a 34-inch VA panel with a 3440 x 1440 resolution, a 100Hz refresh rate, and a 5ms response time. The backlight has a 300 cd/m2 while its contrast is listed at 3000:1 like most VA panels. This model doesn't offer special features like HDR since it's an affordable SKU, but there are other things that matter more when it comes to its value per dollar spent.
1440p ultrawides like the Viotek GNV34DB are a joy to use for both gaming and productivity. It offers a wide area that you can manipulate for multitasking and it offers a more comprehensive FOV in games that support the resolution. You don't sacrifice sharpness and detail with this model since it still has more pixels per inch than a regular 1080p variant.
The Viotek GNV34DB covers 100% sRGB and around 85% DCI-P3 which are excellent for its price range. However, the colors are all over the place due to the high deltaE average of 4.01 which shows us that the monitor isn't calibrated. This is fine for most uses, but some shades will look oversaturated if you know what you are looking at.
Calibrating the Viotek GNV34DB reduced its dE average to 1.97 which isn't perfect, but still superb for the price. However, colorimeters are quite expensive compared to the cost of the monitor itself, so we can't recommend them. Adjusting the screen according to your preference is a much better way to do it if you are only gaming.
The Viotek GNV34DB's backlight fell a bit short since it only reached 295 cd/m2, but that's plenty for gaming and daily use. The screen's contrast was a bit better since it maxed out at 2568:1 at 60% brightness. The screen works great at producing deep blacks and rich colors, so it's a better choice for immersive gaming versus IPS.
Panel uniformity for the Viotek GNV34DB did not turn out so well since there were noticeable deviances on its quadrants. Clouding issues on the corners of the monitor become visible in dark scenes, while white backgrounds show the variances in the backlight's spread. Take note that this varies between every monitor due to tolerances, so there are better units out there.
Responsiveness is another weakness of the Viotek GNV34DB when it comes to fast-paced and contrasting transitions. The screen shows some noticeable blurring in these particular settings, so using its overdrive is necessary. However, we can only recommend its Medium level since pushing it to the maximum will induce noticeable overshoot.
The Viotek GNV34DB is compatible with both FreeSync and G-Sync, so you don't have to worry about your GPU's brand. This duality extends its value further since it won't lock you to one GPU brand when the time to upgrade comes. Input lag sits at 8ms at 100Hz, so most users won't have to worry about delays.
Thoughts on the Viotek GNV34DB
The Viotek GNV34DB offers excellent value if you consider what it has to offer at its very low price point. The ultrawide monitor isn't perfect, but its 100Hz refresh rate, rich colors, and contrast, plus its G-Sync and FreeSync compatibility make it a great choice for immersive and casual gaming. Viotek has also been improving its lineup's overall quality, so feedback has steadily been rising as well. 
However, enthusiasts who often choose special monitors such as ultrawides might dislike the Viotek GNV34DB's limitations. It is indeed the cheapest gaming variant in its segment, but newer models like the Gigabyte G34WQC offer considerable improvements at a slightly higher price. It's a decent choice for budget-conscious gamers, but we recommend spending the extra if you can on the newer 144Hz models we have now. Pros:
Most Affordable 1440p Ultrawide
Good Vibrancy and Gamut Coverage
FreeSync Compatible G-Sync Monitor
High Contrast
Cons:
Poor Default Accuracy
Uniformity Needs Improvement
Stand is Limited to Tilt
-About the Author: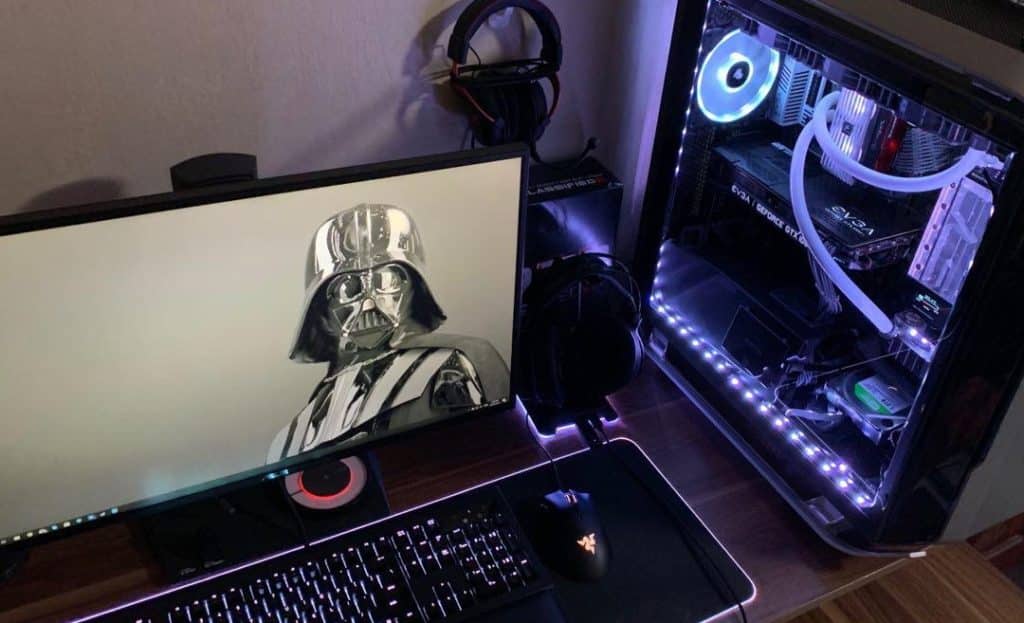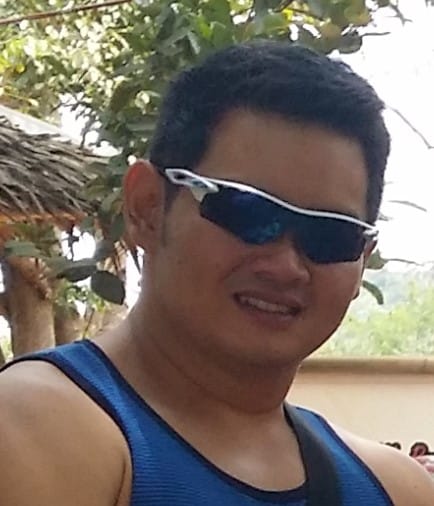 Paolo is a gaming veteran since the golden days of Doom and Warcraft and has been building gaming systems for family, friends, and colleagues since his junior high years. High-performance monitors are one of his fixations and he believes that it's every citizen's right to enjoy one. He has gone through several pieces of hardware in pursuit of every bit of performance gain, much to the dismay of his wallet. He now works with Monitornerds to scrutinize the latest gear to create reviews that accentuate the seldom explained aspects of a PC monitor.