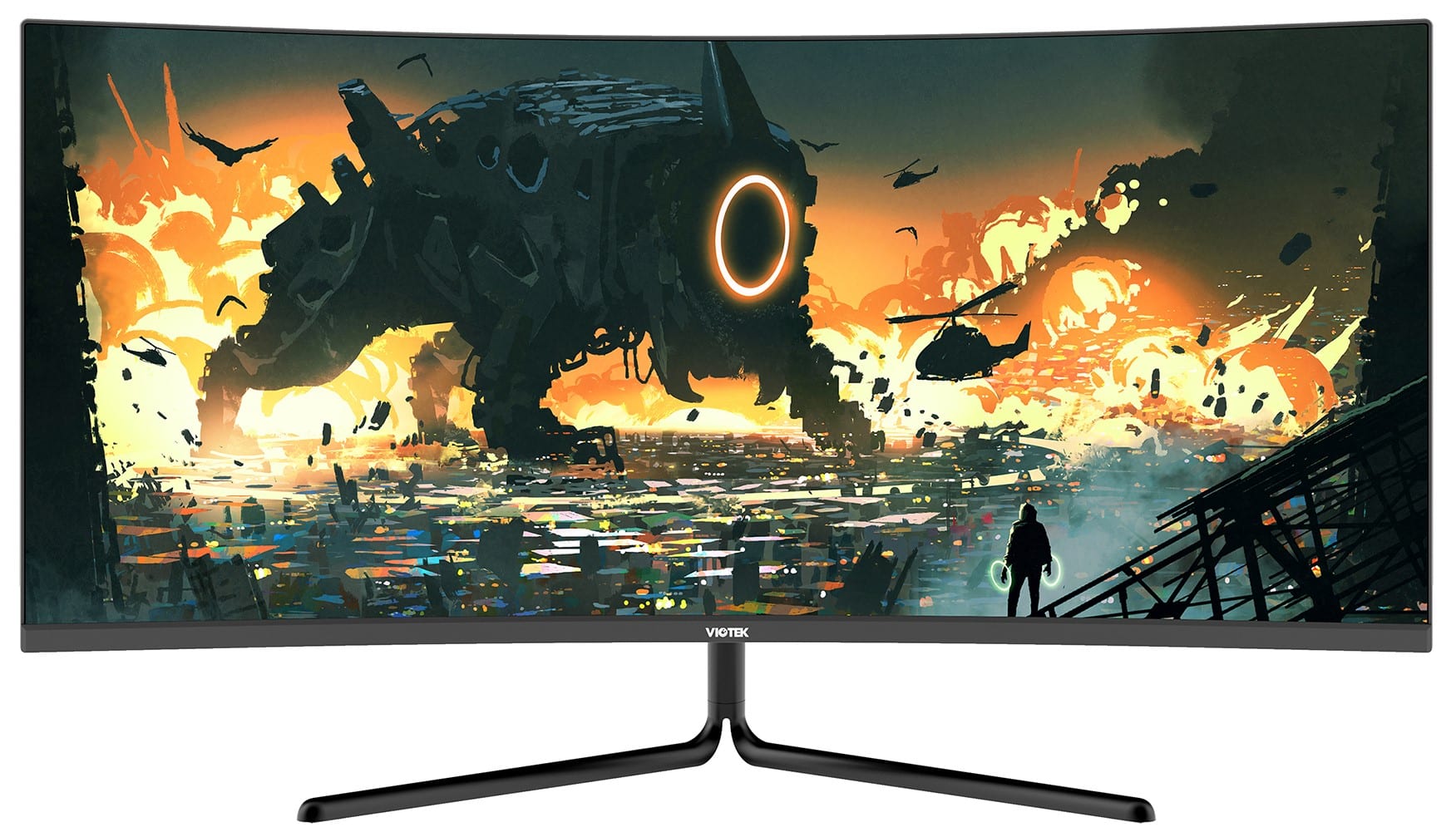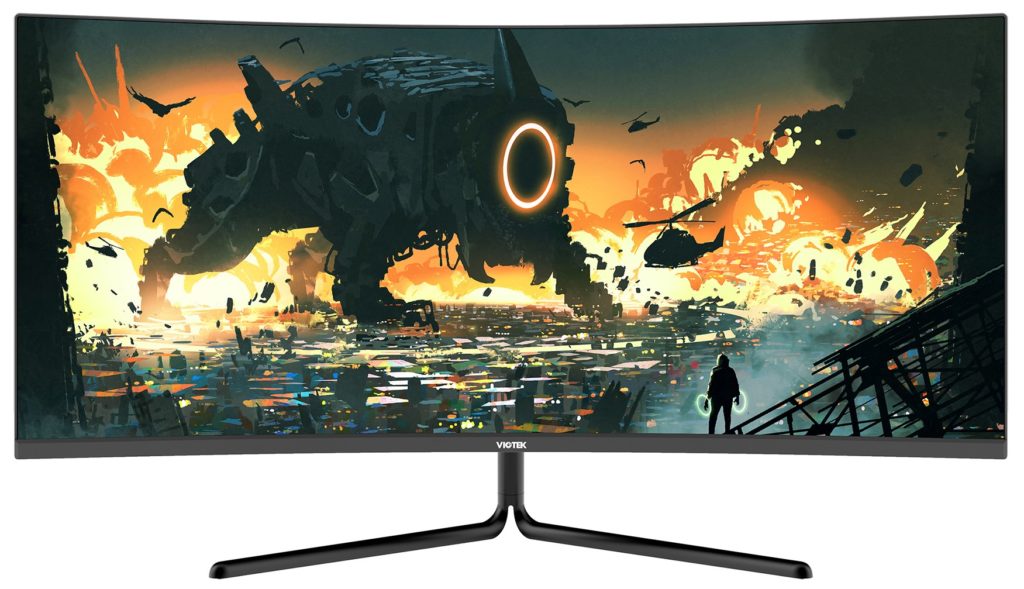 The Viotek GNV34DBE challenges the current market with its incredibly low price that already includes a 3440 x 1440 144Hz screen. Monitors that offered this specification like the LG 34GK950F used to cost almost half a grand, so these are indeed exciting times if you are upgrading your gaming display. The Viotek GNV34DBE is one of the most enticing ultrawide monitors out now, but let's check out its pros and cons.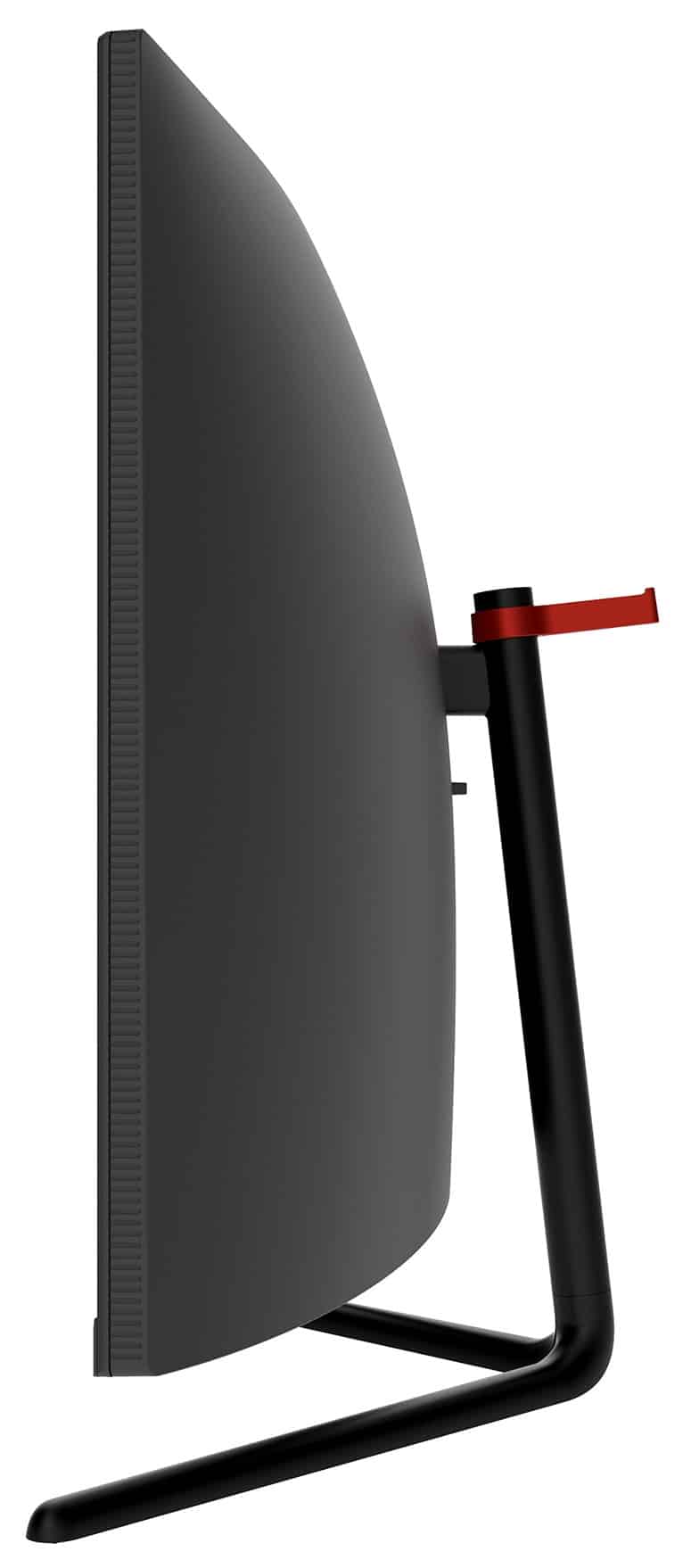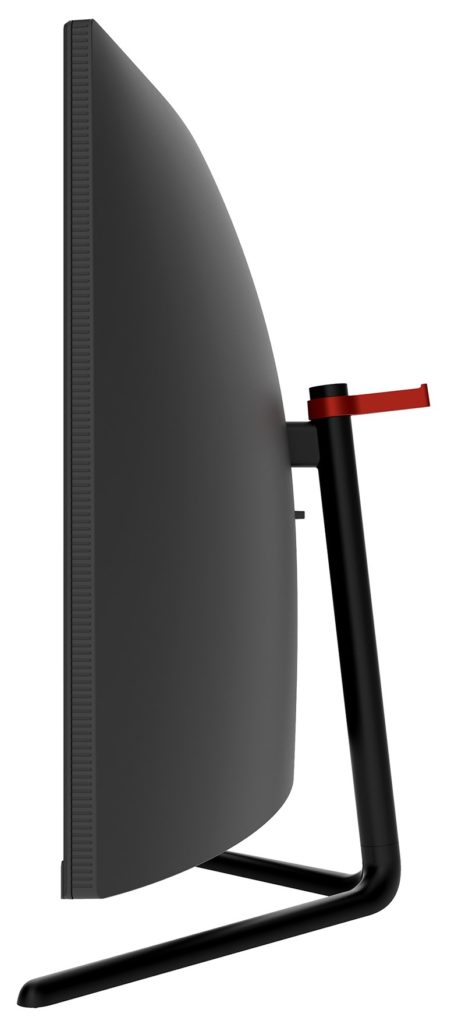 Viotek GNV34DBE Specifications
Screen Size: 34 Inches
Resolution: 3440 x 1440 UW-QHD
Aspect Ratio: 21:9
Panel Technology: Vertical Alignment
Refresh Rate: 144Hz
Response Time: 4ms
Contrast Ratio: 3000:1 (Static)
Brightness: 300 cd/m²
Built-in Speakers: No
Stand: Height – No
Stand: Tilt – Yes
Stand: Swivel – No
Stand: Pivot – No
VESA Compatibility: Yes (100 x 100)
Connectivity: DisplayPort 1.4x 2, HDMI 2.0 x 2, 3.5mm Audio Jack x 1
Dimensions (W x H x D): 31.81" x 17.80" x 9.49"
Weight: 16 lbs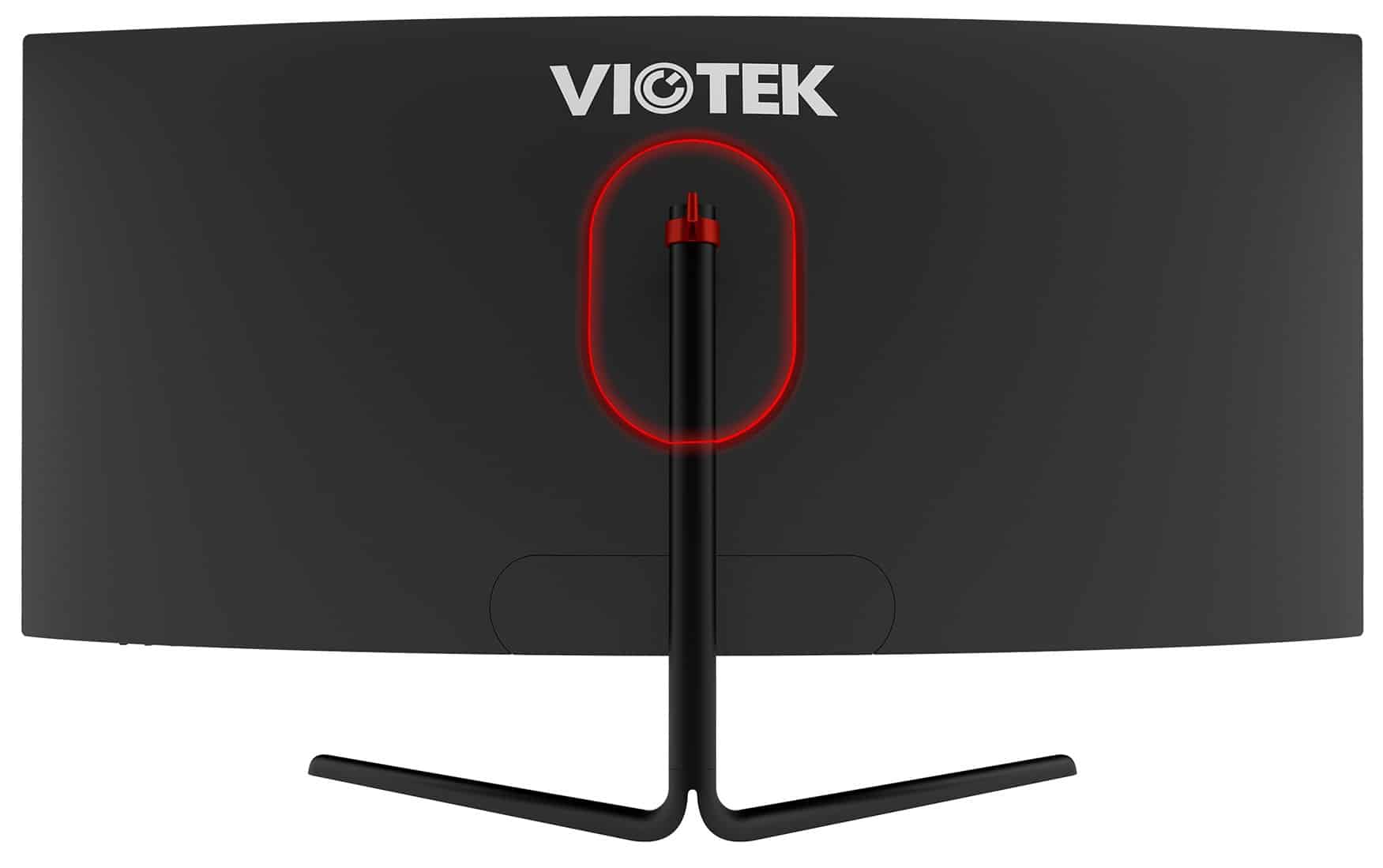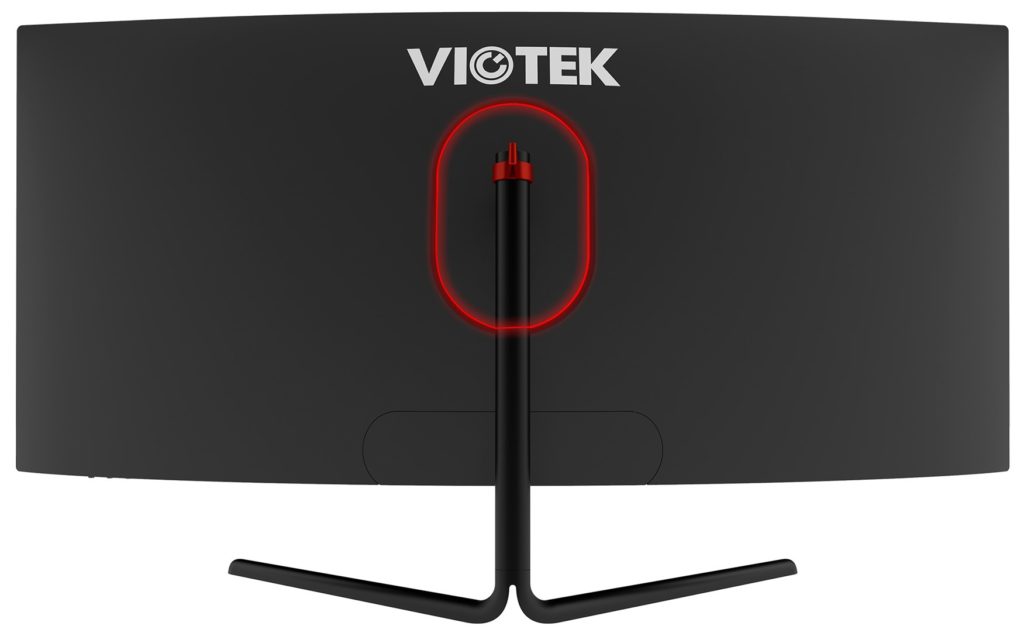 Design and Features
The Viotek GNV34DBE isn't as garish-looking as some of the brand's gaming products, and we think that's a good thing so it can satisfy a wider audience. The monitor has a matte black finish accented with a red LED ring at the rear. The screen is bezel-free on three sides, but you will still see panel borders when the display is in use.
It is important to take note of the Viotek GNV34DBE's massive size which dwarfs monitors most are used to. its almost three feet wide, but it is somewhat short so it sits low thanks to the stand which doesn't include vertical travel. We like that Viotek GNV34DBE managed to stay below 10 inches for depth with a wireframe stand which we hope isn't too intrusive on most gaming setups.


Build quality for the Viotek GNV34DBE is decent, but some aspects like the thickness of the plastic housing are noticeable if you have a premium variant to compare it with. However, it won't be an issue for most since the device has plenty of durability. There are no noticeable defects on the monitor's parts, but its stand can be wobbly at times.
One downside to buying affordable monitors is most of the time, you have to deal with pesky OSD buttons instead of joysticks. This is the case for the Viotek GNV34DBE, but we think its not a big deal if you look at its $450 price tag. Joysticks are more convenient, but it is worth mastering a few clicky keys if you save massive bucks on a QHD ultrawide gaming display.
But the biggest downside to the Viotek GNV34DBE is its tilt-only metal stand which severely limits your setup options. It is sturdy, but the small attachment point creates wobble that can become noticeable if you are a heavy typer or if you press the OSD buttons. The display also rides a bit short, so it would be nice to be able to raise the screen so taller users won't have to slouch.
It's a good thing that the device is VESA compatible via adapters, so you can swap this part out for a much better solution. Buying one raises the price a bit, but we think it's still practical to spend on a more stable mount which should outlast the device.
We like that the Viotek GNV34DBE includes two DisplayPort 1.4 and dual HDMI 2.0 slots for your convenience. This layout allows you to connect multiple devices, although some like gaming consoles do not support the native resolution and refresh rate. There are no USB ports, but it is forgivable for a QHD ultrawide monitor that's this cheap.
The Viotek GNV34DBE doesn't have speakers to help with lowering its price and its frame as slim as possible. Built-ins aren't usually missed on gaming displays due to their limited capabilities, but it would be nice to have them as a backup. This model is also great for working at home, where a decently-loud pair could become useful for conference calls.
Display and Performance
The Viotek GNV34DBE boasts a 34-inch ultrawide VA panel with a 3440 x 1440 resolution, 144Hz refresh rate, and 4ms response time. The contrast ratio goes up to 3000:1 like most VA panels, but the backlight is limited to 300 cd/m2 with a maximum of 350 cd/m2 for HDR content. This model advertises HDR compatibility, but its backlight lacks the necessary output and properties for DisplayHDR certification.
QHD ultrawides are great for both productivity and gaming since the pixel density offers the perfect balance between sharpness and visibility. You won't need scaling with this model, while graphics and images will have clean edges and lesser need for post-processing like anti-aliasing. Its difficult to maximize the refresh rate even with some upper-class GPUs but reducing some graphics settings with virtually no penalty to the look of your game is doable.
The Viotek GNV34DBE has a deeper curve than previous ultrawide models. The 1500r radius can make it seem that the monitor is wrapping itself around you if you sit close, but it can sometimes distort images or document files. This characteristic makes it fantastic for immersive gaming, but we still prefer flatscreens for working and editing.
The Viotek GNV34DBE delivers fantastic vibrancy with its 120% sRGB and 82% DCI-P3 coverage that provides punchy tones. Unfortunately, default accuracy sits with a delta E average of 3.76 which is too high, making discolorations noticeable. Its also worth noting that this model doesn't have an sRGB filter, so you can't tighten its color rendering for editing tasks.
Calibrating the device lowers the deltaE average to around 2.05 which is more acceptable and balanced. You do need a colorimeter to achieve these, so meticulous users who do not have access to the gadget might want to look elsewhere. Manual calibration nets smaller gains with a deltaE average of 3.12 which is decent, but still above the threshold for color errors.
The Viotek GNV34DBE slightly exceeded its brightness specification at 305 cd/m2 for SDR and around 353 cd/m2 for HDR content. The screen's contrast reached a mighty 2940:1 at 50% brightness, providing strong performance in black luminance and saturation. Some black crush can happen in dark scenes, but it's a minor flaw that we'll gladly accept in exchange for deep blacks in those titles.
Panel uniformity for the Viotek GNV34DBE test unit is excellent since there are no leaks and considerable variances in the backlight's spread. The corners are slightly dimmer than the center, but it's difficult to notice when a lot is happening on the screen. Take note that this aspect may vary between every unit since each one is unique due to manufacturing tolerances.
The Viotek GNV34DBE offers fantastic motion handling for a VA panel thanks to its 144Hz refresh rate and capable overdrive. Setting the latter to its high setting virtually cures all trails and ghosting, so fast-paced games will still look good. It is not as fast as TN or the new IPS models we've tested, but its output is indeed surprising for a VA-type screen.
The Viotek GNV34DBE is a FreeSync monitor, but it's not certified by Nvidia for G-Sync compatibility. However, the test unit works flawlessly with both VRR implementations, so Nvidia users with more powerful GPUs like the RTX 2080 Ti can enjoy tear-free gaming with this affordable beast. Input lag sits at around 6ms at 144Hz, so there is no need to worry about delays or "de-synced" instances while playing your favorite games.
Thoughts on the Viotek GNV34DBE
The Viotek GNV34DBE is a compelling choice if you want a fast gaming ultrawide without spending a small fortune. The monitor has its flaws, but its superb gaming performance is tough to beat at the sub-$500 price point. The monitor has one of the best motion handling results we've seen for VA ultrawides, plus it's compatible with both FreeSync and G-Sync.
However, there are a few limitations you have to live with if you choose to save your cash and go with the Viotek GNV34DBE. Its image fidelity can be tough to tweak if you don't have a colorimeter, while its lack of creature comforts such as its stand's adjustability can be a deal-breaker. The Viotek GNV34DBE is one of the best gaming ultrawides for the money, but be ready for some limitations that are packaged with a low price point.
Pros:
Wide Gamut Coverage
FreeSync and G-Sync Compatible
Low Input Lag and Pixel Response Time
High Contrast Ratio
Affordable
Cons:
Difficult to Calibrate (Requires Colorimeter For Best Results)
Limited HDR Capabilities
No USB-A Ports
Stand Limited to Tilt
About the Author: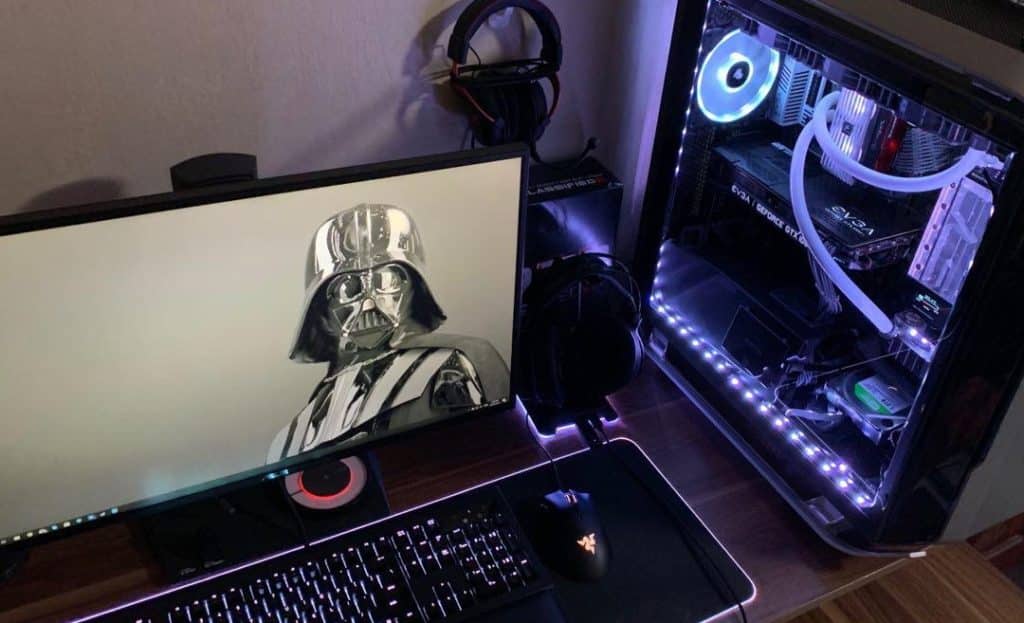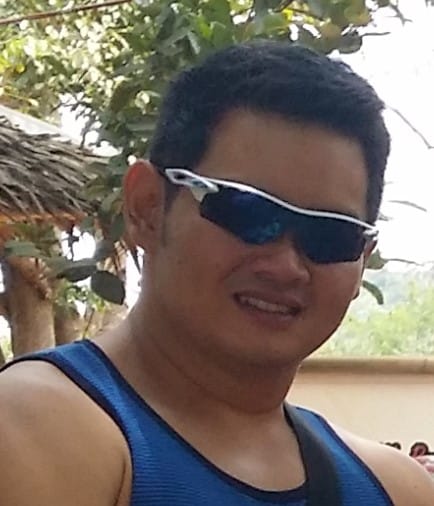 Paolo is a gaming veteran since the golden days of Doom and Warcraft and has been building gaming systems for family, friends, and colleagues since his junior high years. High-performance monitors are one of his fixations and he believes that it's every citizen's right to enjoy one. He has gone through several pieces of hardware in pursuit of every bit of performance gain, much to the dismay of his wallet. He now works with Monitornerds to scrutinize the latest gear to create reviews that accentuate the seldom explained aspects of a PC monitor.