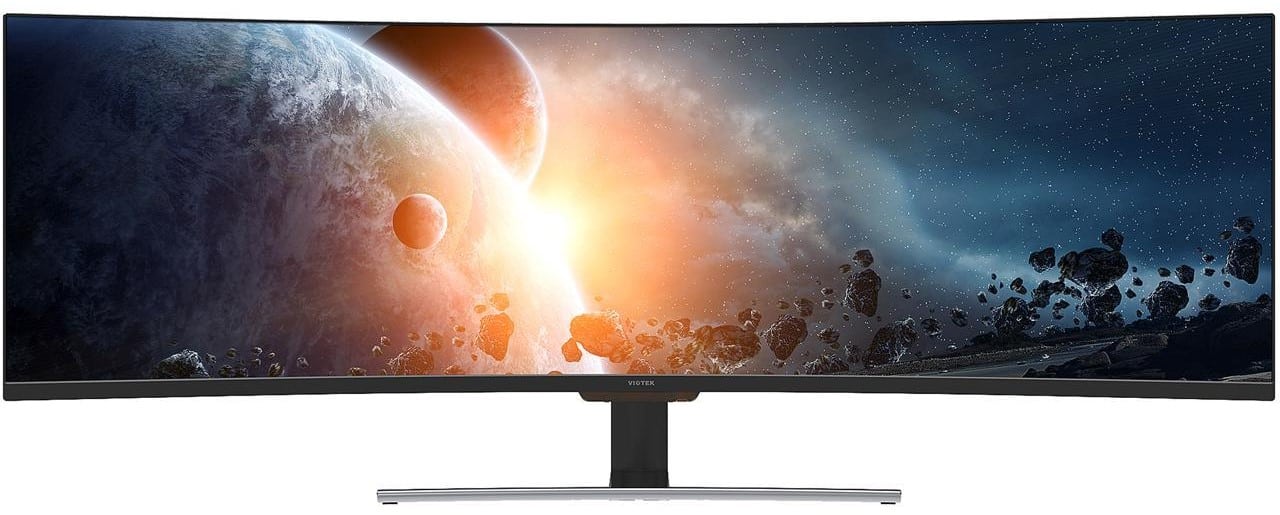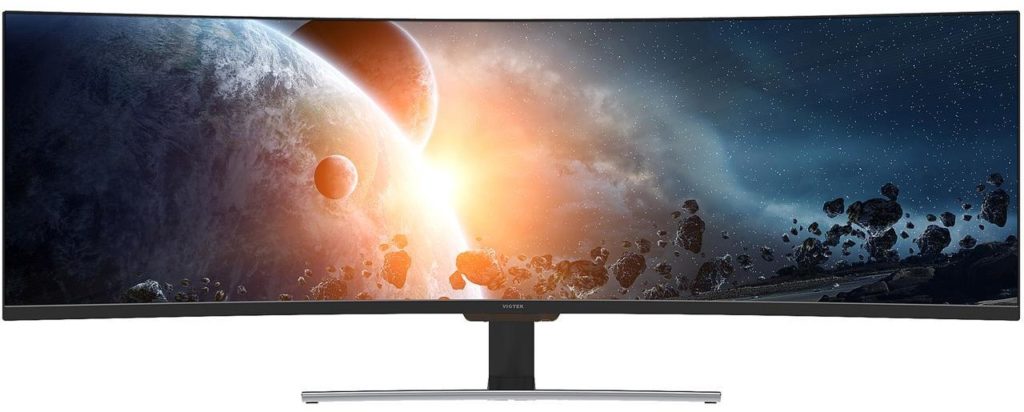 The Viotek SUW49C makes immersive gaming and swift multitasking possible for more users with its lower price point that is at least $250 cheaper than its competitors. The monitor's dual FHD resolution is great if you want expansive views or lots of room for workflows, plus it's great for gaming since it goes up to 144Hz. The Viotek SUW49C offers impressive specs without asking too much, so let's see what kind of performance numbers it can provide.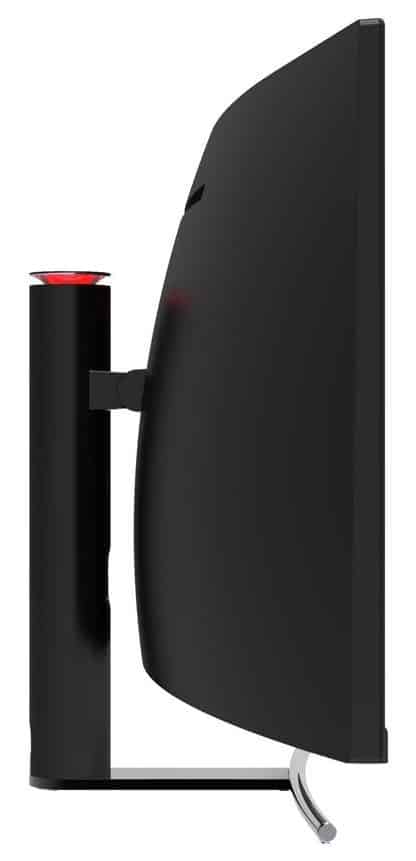 Viotek SUW49C Specifications
Screen Size: 49 Inches
Resolution: 3840 x 1080 DFHD
Aspect Ratio: 32:9
Panel Technology: Vertical Alignment (VA)
Refresh Rate: 144Hz
Response Time: 4ms
Contrast Ratio: 3000:1 (Static)
Brightness: 320 cd/m²
Speakers: Yes
Stand: Height –No
Stand: Tilt – Yes
Stand: Swivel – No
VESA: Yes (75 x 75)
Connectivity: DisplayPort 1.2 x 1, HDMI 2.0 x 1, HDMI 1.4 x 1, DVI x 1, 3.5mm Jack
Dimensions with Stand (WxHxD): 47.2" x 17.76" x 9.5"
Weight: 25.2 lbs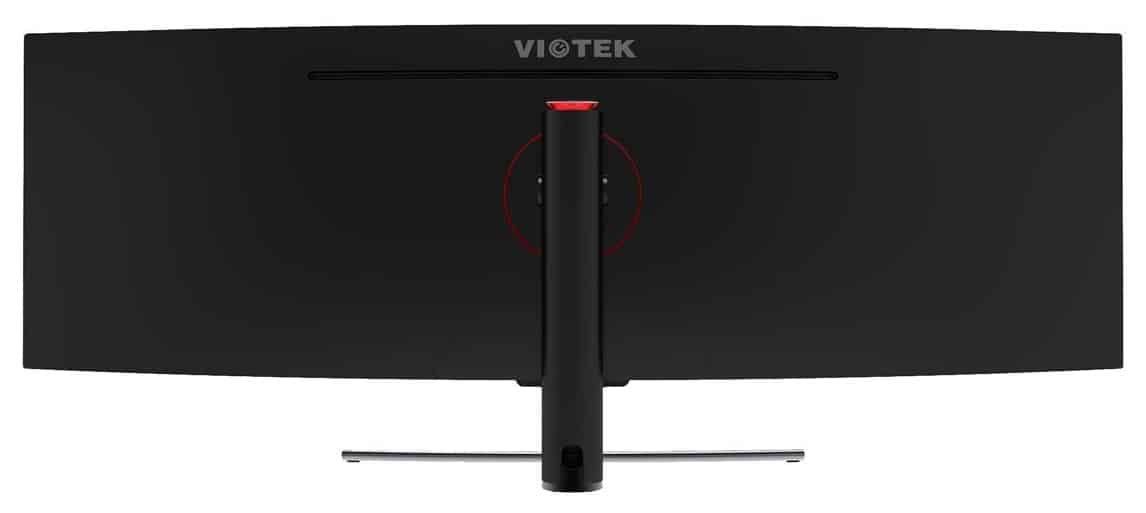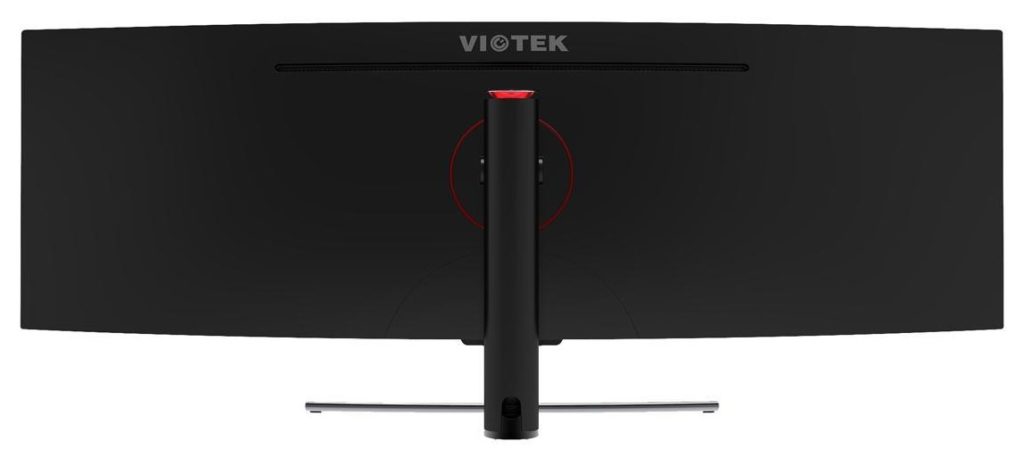 Design and Features
The Viotek SUW49C was conceived to look plain and simple so it looks clean to allow the user to focus on its massive screen. The monitor has a matte black chassis and a chrome accent on the lip of its base which gives a more business-oriented vibe than gaming. The screen is bezel-free on three sides, but panel borders are still visible when it's powered on.
You have to remember that the Viotek SUW49C is a massive monitor since it requires four feet of width from your desk. You should also consider its weight since the monitor weighs over 25 pounds, so glass desktops aren't ideal. The base thankfully doesn't have a large footprint so you can place your peripherals such as speakers or stream decks in the blank spots surrounding it.
Build quality for the Viotek SUW49C is reasonable since its plastics are durable enough to prevent cracking and flexing. Some edges have minor imperfections, but there are no noticeable physical defects on the device in general. The stand holds the cabinet's weight well, but it wobbles as soon as you touch the body since the attachment point is quite small.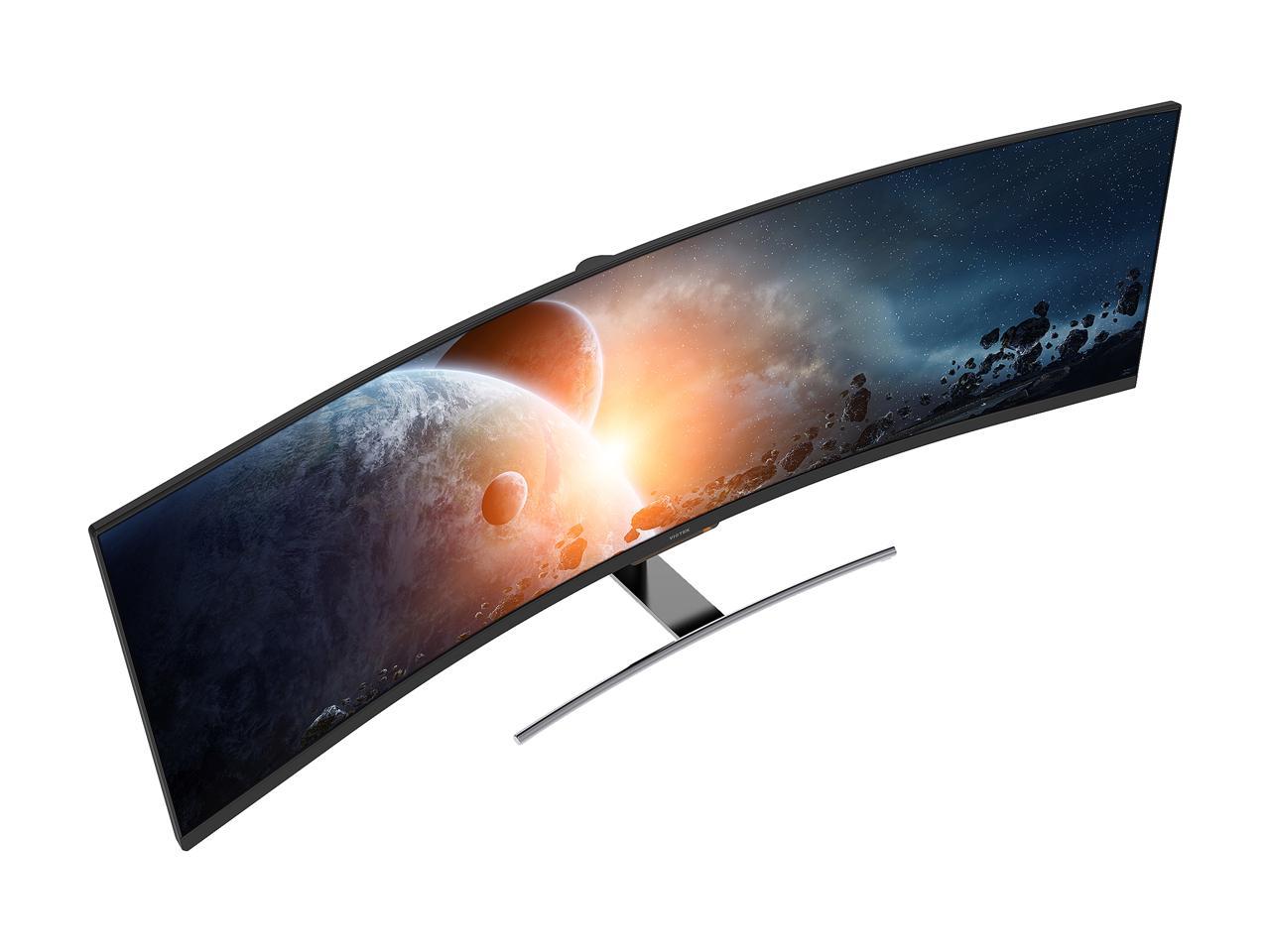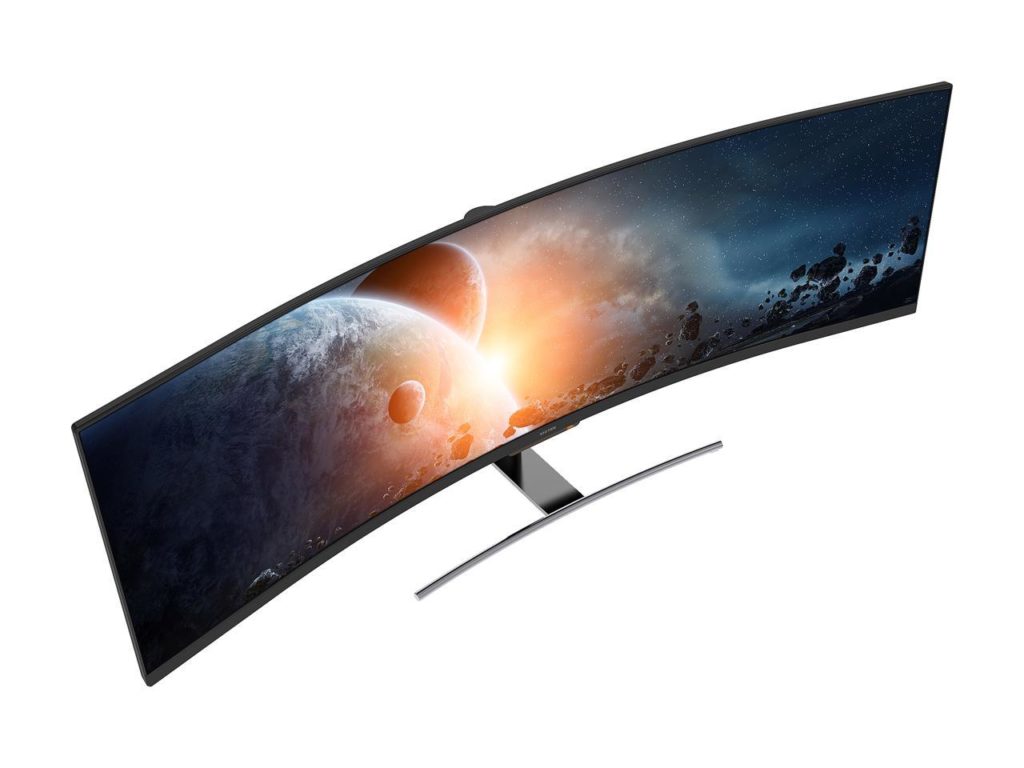 One of the things we disliked on the Viotek SUW49C is its use of the classic four-button combination for its OSD. The layout is conveniently located at the center of the cabinet's bottom, but it is still difficult to use if you haven't mastered the key's functions. Joysticks are preferable, but many will find this forgivable since calibrating it won't be as common in the long run.
Thankfully, the Viotek SUW49C includes a remote which you can use to manipulate its features which have more options. It's awkward to use when you are sitting in front of the display, but its better and more user-friendly than the monitor's buttons.
The Viotek SUW49C also has some lighting features on its back for additional flair and customizability. The tip of the stand's pillar has RGB LEDs that add a gentle glow to your setup, but there is no way to control the colors on a granular scale. The lighting can only be manipulated via the OSD since it doesn't work with any software-based implementations.
The connectivity layout on the Viotek SUW49C offers DisplayPort 1.2, HDMI 1.4, and DVI for video inputs. Its strange to see DVI here since most would use DisplayPort to get the maximum refresh rate of the display. There is also a 3.5mm jack for speakers, but there are no USB ports which would come in handy for productivity use.
The Viotek SUW49C does have a pair of speakers, but they sound tinny and distort as soon as you raise the volume. Built-ins like this usually have no value for gaming or entertainment, but they can be useful for work-related use such as teleconferencing. But even if it's hard to argue with the price, we think Viotek should have included better speakers.
Display and Performance
The Viotek SUW49C boasts a 49-inch DHFD 32:9 VA panel with a 3840 x 1080 resolution, 144Hz max refresh rate, and 4ms response time. The backlight is rated at 320 cd/m2, while the contrast ratio sits at 3000:1 like most VA panels. This model mentions HDR capabilities on its main product page, but it doesn't have the necessary specs to achieve considerable improvements.
The Viotek SUW49C's display is directly comparable to two 1920 x 1080 monitors side by side but without the bezels in between. Many users will be familiar with the pixel density so they won't struggle with visibility when reading walls of text or viewing tiny objects. It's also a bit more demanding on the GPU for games, but the upper mid-tier cards should be able to push out enough frames to maximize the refresh rate.
The Viotek SUW49C offers around 110% sRGB coverage which is excellent if you want eye-popping hues and bright tones. However, accuracy by default isn't great since the deltaE average is a bit high at 3.24, while the color temperature exceeded the 6500K point. This is understandable since the monitor wasn't tuned for tighter accuracy, but it was designed to push out as much vibrancy as it can.
Calibrating the monitor can improve the dE average to an excellent 0.89 which is already acceptable for editing purposes. However, colorimeters can be expensive, so buying one is only necessary if you need the monitor to perform for content creation and design aside from gaming. But if its only for the latter, then you can get away with a few minor tweaks to get a balanced image.
The backlight on the Viotek SUW49C reaches 395 cd/m2, putting it within range of DisplayHDR 400 territory. The contrast reaches a maximum of 4230:1 at 50% brightness, enabling the device to produce deep blacks and rich levels of saturation. Black crush can happen when dark images are displayed, but its common on VA panels with very high ratios.
Panel uniformity for the Viotek SUW49C is dismal since the sides are noticeably dimmer than the center of the screen. Adjusting the brightness can reduce the visibility of the variance, but they are still noticeable in darker images. Take note that this aspect varies due to manufacturing tolerances, so there are better samples out there.
Responsiveness is peculiar on the Viotek SUW49C since it cannot use its overdrive feature when its at 144Hz mode. The monitor performs better at 120Hz with its overdrive activated since its less prone to persistence at this setting. The monitor isn't ideal for competitive gaming, but it is nice to use for games with massive viewpoints such as Warzone which would also benefit from a blur-free performance.
The Viotek SUW49C is a FreeSync monitor, but it also works with Nvidia's G-Sync Compatible Mode. This capability is excellent for users who upgrade their GPUs often since it won't be necessary to buy another monitor if they switch GPU brands. Input lag sits at 6ms which isn't the fastest, but you still won't feel ay delays while gaming.
Thoughts on the Viotek SUW49C
The Viotek SUW49C offers excellent value if you need a super ultrawide screen for immersive gaming or for better productivity. The screen pumps out vibrant images with a rich contrast ratio, but it needs a bit of tweaking to fix its lack of factory tuning. The monitor falls short when it comes to HDR performance, but there aren't a lot of identical units that can brag about this in particular.
The main issue with the Viotek SUW49C is its aspects where corners were cut to help it make the price point. The stand provided could be better when it comes to stability, and better-sounding speakers would be beneficial for its main objective. It's a great value option if we're talking about screen size and specs, but you have to live with a few limitations that might make more expensive options like the Samsung C49HG90 more attractive.
Pros:
Vibrant Colors and Deep Contrast
Low SRP for its Class
FreeSync/G-Sync Compatible
Affordable
Cons:
Weak HDR Performance
Dismal Default Accuracy
Tilt Only Stand
-About the Author: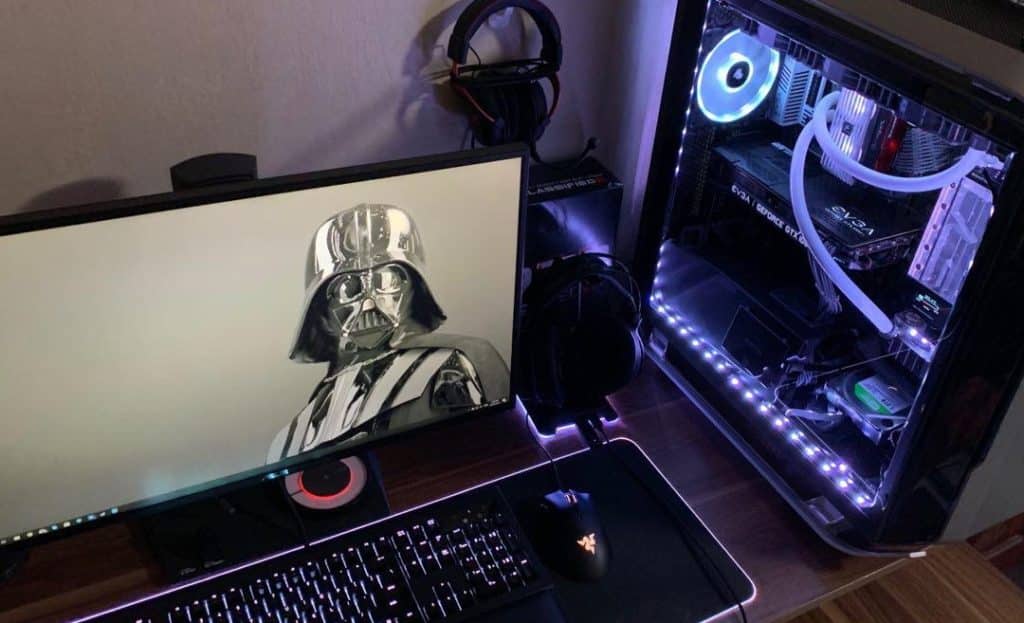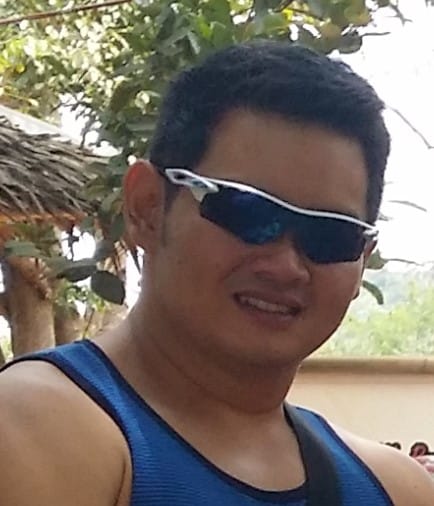 Paolo is a gaming veteran since the golden days of Doom and Warcraft and has been building gaming systems for family, friends, and colleagues since his junior high years. High-performance monitors are one of his fixations and he believes that it's every citizen's right to enjoy one. He has gone through several pieces of hardware in pursuit of every bit of performance gain, much to the dismay of his wallet. He now works with Monitornerds to scrutinize the latest gear to create reviews that accentuate the seldom explained aspects of a PC monitor.