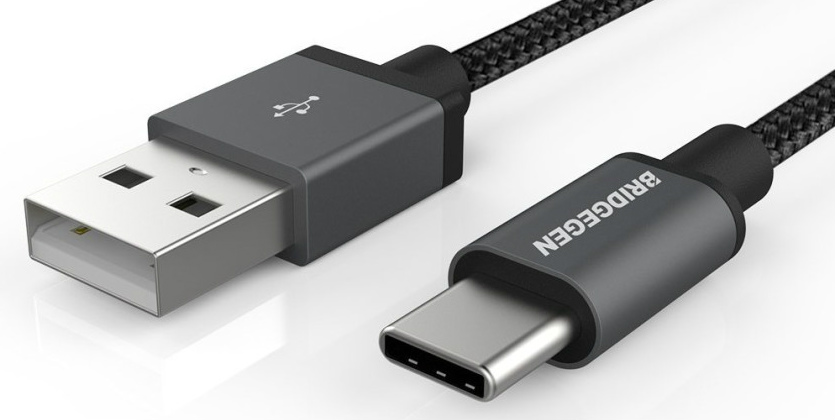 USB (Universal Serial Bus) is an integral part of our lives. It is the most successful connection platform we have ever had since the 90s. Nowadays, it is rare to see an electronic device that does not support this standard, especially it's latest iterations and technologies. The tech is so common, we rarely notice or think about its presence in our devices and how it has shaped the future of gadgets and our way of living in the digital age. Despite its continuous existence and integration, USB technology has been continually evolving to enhance its coverage and capabilities to expound on the convenience it offers. So the tech's latest physical iteration, the USB Type-C, or more commonly known as USB-C, is setting itself to change every point of its assimilation from speed forever down to the dimensional aspect. Read our best USB C monitors guide.
USB Types
Since its first appearance in the 90s, all of the standards used only two categories of connectors; namely Type-A and Type-B.
Type-A is the typical and original form we know of, and it is commonly seen on host devices such as laptops and chargers. It has that distinct, rectangular shape and can only be inserted in the same position into a female Type-A slot. There are mini and micro versions of this connector, but those are not as common as the ones found on the Type-B end. Even up to today, the latest USB version still uses this standard form for uniformity and maximized compatibility with almost all types of peripherals needing a connection to host devices thus giving the description Universal in USB.
Type B, on the other hand, is the kind we regularly see on the other end of the cable. This type is also the connector that we commonly see to have the different form factors, from the squarish type head we usually see on printers. Then there is the mini version we see on some digital cameras and older generation tablets, and the regularly-seen mini connector, which we see on phones and most modern devices. This type is where we can find proprietary connectors such as Apple's Lightning connector, but if you take not of the opposite end, it still has a Type-A plug for flexibility.
Lastly, as this article's title suggests, we come to the latest iteration in the form of the Type-C connector. This kind closely resembles the Type-B micro plug mentioned earlier but adopts similar circular sides as compared to the micro's slanted ones. Unlike Type-A and Type-B which we typically find on most cables, Type-C is much more versatile because it is reversible. Most type C compatible cables do not need a single position to insert into a port, and you can use either end to connect to the host and the peripheral or vice versa. Power is also bi-directional so one device can charge the other whenever it is applicable. Most Type-C cables are also USB version 3.1 standard compliant, meaning they can transfer data with speeds up to 40gb/s (short or active cables, Thunderbolt 3) and transfer power up to 100 watts. Soon, we could see laptops selling without their proprietary power bricks and plugs, or we can also witness the elimination of HDMI and DisplayPort since Intel's Thunderbolt technology relies on Type-C connectors. This tech is capable of 8k resolution and a plethora of other protocols not found on previous versions. It is safe to say that Type-C cables will become the standard of the future, and the USB Implementers Forum boldly labels it as capable of serving the market for 20 years.
USB Type C in all aspects is smaller and thinner than the conventional USB connectors. While standard plugs are quite slim by reasonable standards, the receptacles needed to hold them still require some vertical space to be able to attach a female connector. This train of thought translates to thicker or wider devices, and USB-C counters this by being smaller and thinner than most. The digital device market's direction of going thinner will mostly benefit from this since the current limitations in thickness is partly affected by conventional USB connectors. Apple has already begun to set the pace with their latest and thinnest Macbooks, as they have set the standard with USB 1.1 in their Macs of the 1990s. This feature is however not exclusive to them; other computer giants are also members of the USB Implementers Forum, such as Dell and Microsoft. Devices that have USB-Integration are slated for a late 2016 or early 2017 release, we may see a lot of these thinner yet versatile and more powerful products on shelves soon.
USB Type C and its Applications
We have only begun to scratch the surface of Type-C and its predicted unlimited uses, but already some companies have started to integrate the technology into their products such as Apple's latest Macbook. There are also mobile devices that are starting to adopt this standard, giving us a peek of the convenience and powerful capabilities this connector will provide in the not so distant future. Type-C cables may end up replacing old wall chargers or eliminating the old proprietary power bricks and cords for mobile devices such as laptops and netbooks. Their versatile, lightning-fast speed and bi-directional power delivery capabilities may end up replacing all sorts wires we see today. Situations wherein you find a charging port for your device but do not have the proper cables will be a thing of the past as with all the other typical hindrances of proprietary devices  Type-C is also backward compatible, meaning devices still on the older can still be used or charged via an adaptor. The real downside to this is you might end up spending a lot of cash to purchase more cables or adapters to integrate everything into this technology, but as mentioned, the convenience offered here could serve you for the next 20 years or so.
As for monitors, we have begun to see products having Thunderbolt 3 capabilities instead of the regular DisplayPort for 4k operation with high refresh rates. This design is mostly seen on high-end products and Apple certified products. You can find some these examples in the reviews section of Monitornerds such as the Dell UP3017Q and the LG Ultrafine 5k monitor we have previously evaluated. While these monitors totally do not rely on USB-C or Thunderbolt 3 for power and signal input, their inclusion is merely a signal of what is coming. As with most devices that release on transitionary periods, they still make use of the standard options widely used so as not to shock the consumers into buying new tech. But in the future, we could see monitors being powered and receiving input signals via a single USB-C cable, since it is capable of handling 100w (Monitors typically run from 20 to 80w), and can also provide up to 8k of resolution. Cable tidy holes may become a thing of the past as well. Cable clutter may as well be a thing of the past. If there are multiple devices running connections to your monitor for multi-streaming, it will be much easier and cleaner to arrange cables of the same thickness as compared to the old style of having to tie the different wires together which most of the time, usually result in looking like a mix of various types of pasta. Cabinets and frames may also end up being as thin as a slice of pastrami since the type-C is noticeably smaller in all dimensions as compared to a regular HDMI port or a type Type-A receptacle.
Our Conclusion about USB Type-C 
The benefits and outcomes of adopting USB type-C into modern devices are nearly infinite, and it would be difficult to state them all here without actually witnessing them. As mentioned, we have only begun to taste the crust of the pie and not a whole slice of it. Even the famed 3.5mm audio jack is threatened into extinction thanks to the flexible capabilities of Type-C. We have so much to benefit from this technology, even if it is an aspect of our machines that rarely even notice. Although before celebrating and opening your arms for tomorrow's tech, one fundamental question remains; how durable is the Type-C connector? We have seen even the thicker type-A and HDMI connectors fold or break with minimal force. This downside is a yet to be seen and until its actual proliferation into the public, it is hard to say. One thing is for certain; we have a lot of benefits to look forward to in this little piece of the future that starting to push us further away from yesterday's technological marvels.