The Acer CM2241W is the entry-level variant in the ConceptD lineup that isn't cheap but packs great performance that's suitable for prosumer use. WUXGA monitors aren't common and less preferred due to the flood of 1440p and 4K monitors, but its still a great option if you want extra vertical space and a level of visibility that's easier on the eyes. The Acer ConceptD CM2 is asking for $399.99, so let's check out if every dollar spent will be worth it.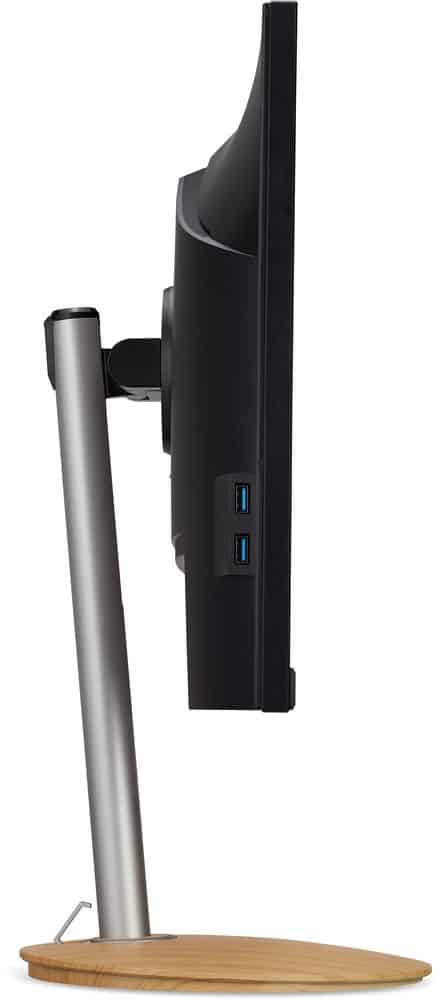 Acer CM2241W Specifications
Screen Size: 24 Inches
Resolution:1920 x 1200 WUXGA
Aspect Ratio: 16:10
Panel Technology: In-Plane Switching (IPS)
Refresh Rate: 75Hz
Response Time: 4ms
Contrast Ratio: 1000:1 (Static)
Brightness: 320 cd/m²
Built-in Speakers: Yes (2 x 2 Watts)
Stand: Height – Yes
Stand: Tilt – Yes
Stand: Swivel – Yes
Stand: Pivot – Yes
VESA Compatibility: Yes 100 x 100
Connectivity: DisplayPort 1.2 x 1, HDMI x 2, USB 3.0 x 4, Audio Jack x 1
Dimensions with Stand(WxHxD): 21" x 15.33" x 9.20"
Weight: 12.13 lbs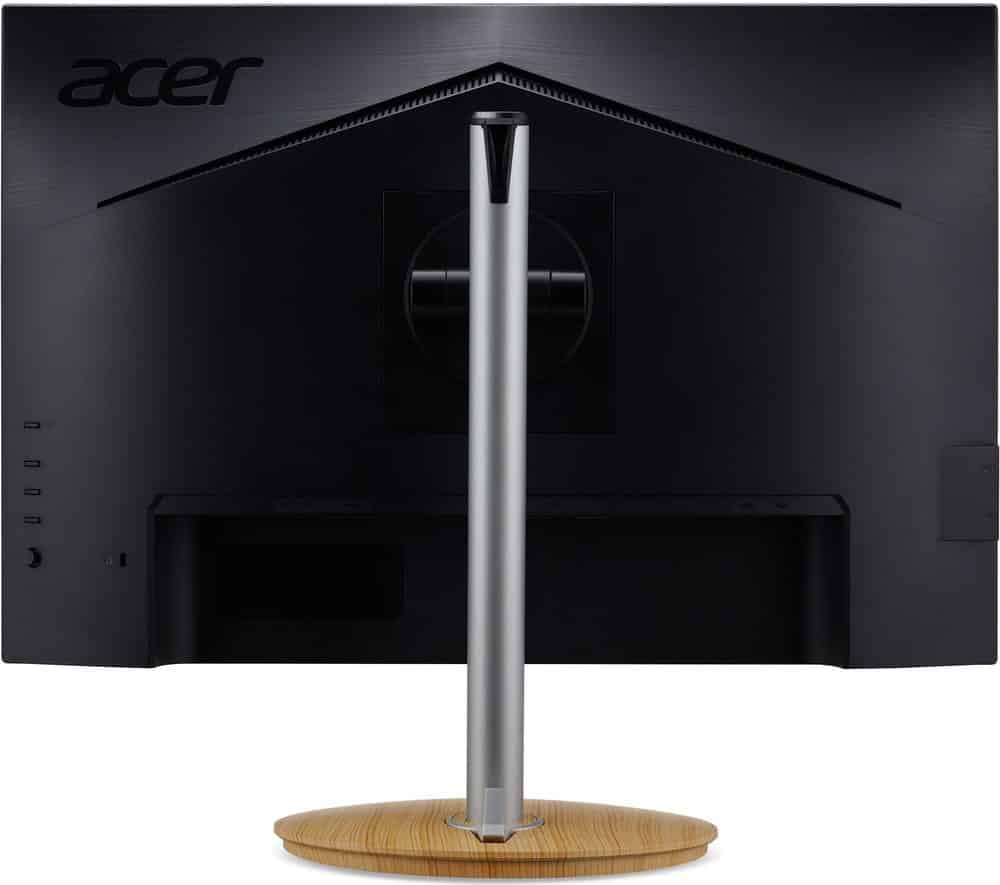 Design and Features
The Acer CM2241W features the ConceptD minimalist design that you currently won't see on any other monitor in the market. The chassis has a matte black finish that's accented with a brushed aluminum stand fixed to a wood-textured base. The display is bezel-free on three sides, but you will still see very thin inner borders when it's in use.
Its worth noting that the Acer CM2241W is slightly beefier than similar monitors due to its design and the materials used to build it. The device weighs in at a little over 12 pounds and it needs almost ten inches of depth when fully assembled. The base with a metallic pillar is mostly to blame here, but it does a good job of keeping the display upright at tall times.
Build quality for the Acer CM2241W is solid and there are no immediately noticeable defects such as sharp edges or uneven seams on the body. The plastics used are thick and solid, while the base with metal reinforcement is rock solid and stable. The monitor doesn't shake even if you type heavily or try to press the monitor's controls, and the mechanism will hold the view angle you've set almost permanently.
The Acer CM2241W uses a joystick for the OSD, but there are shortcut keys that correspond to some essential settings like color presets and the screen's brightness. The former makes navigation towards a specific sub-menu easy and quick, but we think it's handy that Acer added shortcut keys for the most commonly accessed features.
You get a fully adjustable stand with the Acer CM2241W as mentioned, so getting a perfect view angle is as easy as peas. The mechanism offers tilt, swivel, pivot, and height adjustments so there are many possibilities if you are building your workstation with this model. You can also use VESA mounts, but it isn't entirely necessary and you will lose the aesthetic value of the wood and metal combo as well.
The Acer CM2241W's connectivity is more than enough for daily use, but we were hoping to see USB-C with it at this price range. The layout at the rear includes DisplayPort 1.2 and two HDMI slots, along with a 3.5mm jack and two USB 3.0 ports for downstream and upstream. There is also a USB hub with two receptacles at the side which you can use for thumb drives as long as the monitor's upstream port is connected to your PC.
The Acer CM2241W manages to squeeze in a pair of 2-watt speakers for basic audio appreciation. Having this feature is great at this time where work from home setups and teleconferencing are common. However, we expected a better pair with more power and clarity from Acer since this is one of their flagship lines that are not cheap.
Display and Performance
The Acer CM2241W sports a 24-inch IPS panel with a 1920 x 1200 resolution, 75Hz refresh rate, and a 4ms response time that can be boosted to 1ms VRB. The backlight is rated at 320 cd/m2, while the contrast ratio sits at 1000:1 like most IPS panels. the monitor puts emphasis on color quality and wide gamut coverage that's Pantone validated for maximum accuracy.
1920 x 1200 is like a taller 1080p monitor, so most users who are accustomed to the latter won't struggle with this display. You don't get a lot of extra space, but the extra pixels on the vertical will add some headroom that can come in handy when processing documents or editing portraits. It looks less wide for gaming, but that isn't an issue since the ratio is still 16:10 and is far better than the older 4:3 screens.
The Acer CM2241W is capable of fantastic color quality covering 100% of sRGB, 96% DCI-P3, and 99% Adobe RGB. The screen's average accuracy sits at deltaE 0.46 out of the box, so there is no need to calibrate it save for adjusting the brightness according to your needs. The screen's color temperature is pleasantly balanced, so it doesn't look too warm or cool when viewing white backgrounds.
The only time we would recommend for users to calibrate the Acer CM2241W is if they receive a unit that deviates from these results or if their preference is slightly different from the default. This model is already fine-tuned from the factory with brilliant results, so we reckon most wouldn't bother with the extra cost of a colorimeter. However, do take note that there factors that can make some units produce different measurements so we cannot guarantee that every CM2241W will perform identically in this regard.
Contrast, on the other hand, isn't strong for the Acer CM2241W which only managed 976:1 at 50% brightness. The screen isn't capable of deep blacks and it can look slightly washed out especially when viewed in the dark. The screen's gamma is perfectly at 2.2, so scenes don't look over or underexposed despite these circumstances.
Panel uniformity for the Acer CM2241W is excellent since there are no leaks or clouding issues that could affect color temperatures and contrast in some quadrants. The panel looks even from the center to the edges, and the only deviances present cannot be detected without a colorimeter scan. This aspect is another that can vary between every unit, so there could be some out there that would exhibit worse symptoms.
The Acer CM2241W isn't a gaming monitor, but it still has a capable overdrive which you can use sparingly to limit blurs and ghosting. The 75Hz refresh rate isn't a lot, but it also helps by adding a hint of smoothness to some sequences. This monitor isn't ideal for competitive play, but you can get away with some titles that tend to have slower paces all throughout.
The Acer CM2241W supports FreeSync and G-Sync works if you force it via the Nvidia Control Panel. Most wouldn't need adaptive sync at this resolution and refresh rate, but it is nice to have for modern titles like Red Dead Redemption which can still test your GPU to its limits at 1920 x 1200. Input lag sits at 10ms, so there is no need to worry about delays or de-synced instances while enjoying your favorite title.
Thoughts on the Acer CM2241W
The Acer CM2241W is a fantastic monitor when it comes to color quality and accuracy since it pretty much reaches most of its claims in vibrancy and gamut coverage. The screen comes pre-calibrated to professional standards, so you can get your money's worth if you are looking at an editing display that doesn't cost a fortune. Gaming performance is also surprisingly decent and better than what competitors like the Asus PA24AC can offer.
However, we think Acer could have offered more for the high price point they've set for the Acer CM2241W. Most would expect USB-C connectivity at this price point, along with some upgraded speakers that have better clarity. It's a great monitor, but most of the dollars you spend only pay for the color qualities and the premium design.
Pros:
Attractive Contemporary Design
Wide Gamut Coverage
Excellent Color Accuracy by Default
FreeSync/G-Sync Compatible
Pantone Validated
Cons:
Expensive
Stuck with 2-Watt Speakers
No USB-C
 -About the Author: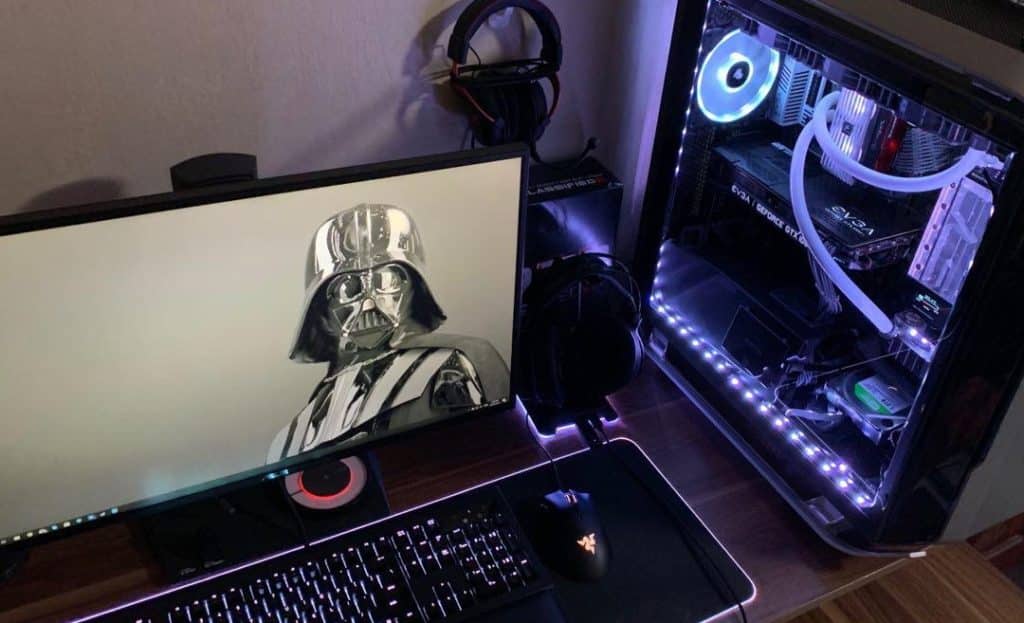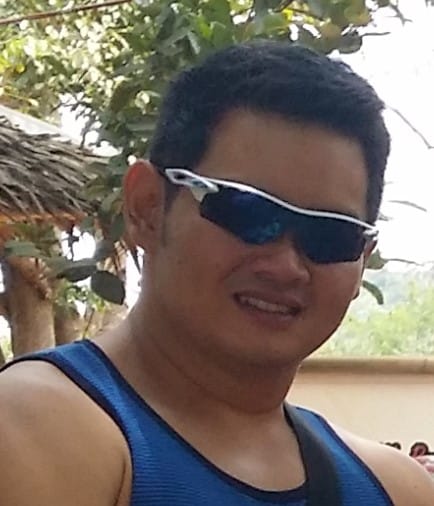 Paolo is a gaming veteran since the golden days of Doom and Warcraft and has been building gaming systems for family, friends, and colleagues since his junior high years. High-performance monitors are one of his fixations and he believes that it's every citizen's right to enjoy one. He has gone through several pieces of hardware in pursuit of every bit of performance gain, much to the dismay of his wallet. He now works with Monitornerds to scrutinize the latest gear to create reviews that accentuate the seldom explained aspects of a PC monitor.