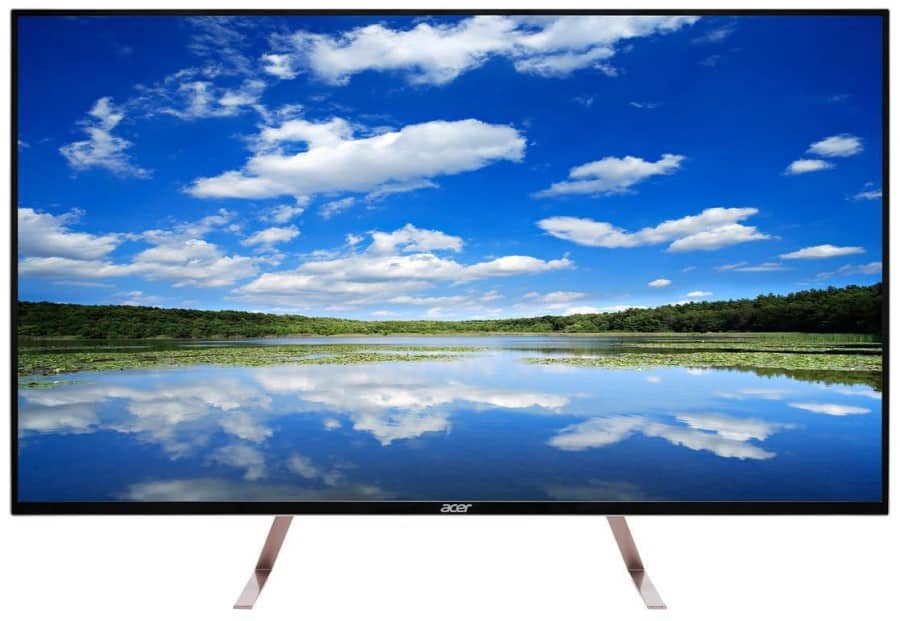 The Acer ET430K is a reasonably-priced 4K IPS monitor that's the size of a regular LCD TV minus its known quirks such as high input lag. The device is relatively affordable compared to similar models such as the Dell P4317Q, but the versatility offered by the massive screen remains the same. Let's check if the Acer ET430K can provide excellent value for both entertainment and professional applications which can utilize its imposing size.

Acer ET430K Specifications
Screen Size: 43Inches
Resolution:3840 x 2160UHD
Aspect Ratio: 16:9
Panel Technology: In-Plane Switching (IPS)
Refresh Rate: 60Hz
Response Time:5ms
Contrast Ratio: 1000:1
Brightness: 350 cd/m²
Built-in Speakers: Yes (2 x 7Watts)
Stand: Height – No
Stand: Tilt – Yes
Stand: Swivel – No
Stand: Pivot– No
VESA Compatibility: Yes (100 x 200)
Connectivity: DisplayPort 1.2 x 2, Mini DP 1.2 x 1, DP Out x 1, HDMI 2.0x 2, 5mm Jack
Dimensions With Stand(WxHxD):03″ x25.71″ x 9.57″
Weight: 25 lbs

Design and Features
The Acer ET430K is a beautifully-designed monitor with clean and sleek lines and a nonintrusive metallic stand. The chassis comes in matte white at the rear, but the thin bezels up front are done in matte black. It's fantastic that Acer managed to reduce the borders considerably, giving users an even better and wider view of the massive display.
The Acer ET430K's control layout consists of a few buttons and a joystick which makes OSD navigation convenient. They are located at the rear and bottom corner of the chassis, but it could be difficult to reach them since the display is wider than the usual. It would be better for monitors of this size to have the controls at the center so you don't have to swing over to reach them.
Placement could be an issue with the Acer ET430K since its more than three feet wide. You can, however, use ledges meant for TVs since the device will only consume ten inches of depth which is minimal as far as monitor bases go. You can also opt for VESA mounting, although the bolt holes will require an unconventional 100 x 200 adapter.
Build quality for the Acer ET430K is pretty solid despite its lower price point in its respective bracket. The stand looks like it will create some wobbling, but the display stood firm as long as you left it alone. There are no uneven seams or gaps in the plastics due to excellent quality control on the brand's part.
But alas, the metallic stand on the Acer ET430K can only offer tilt adjustments since the display is so large. You'd have to employ a VESA mount with a 100 x 200 adapter as mentioned, but finding one that supports a display of this size is a chore. Most won't need height adjustments anyway since the display is quite tall at a little over 25 inches.
The Acer ET430K has a multitude of connectivity options which makes it suitable for multi-client applications. The panel includes two Displayport 1.2 slots, A mini DP 1.2 and a DP 1.2 out slot, plus two HDMI 2.0 slots. There are no USB connectors, but that's a minor complaint considering you can attach a multitude of PCs and gaming consoles onto this product.
There is also a pair of 7-watt speakers on the Acer ET430K which sounds comparable to what most LCD TVs offer. The pair is sufficient for watching videos and playing games, but you'd want a headset if you are after better details or immersion.
Display and Performance
The Acer ET430K sports a 43-inch IPS panel with a 3840 x 2160 resolution, 60Hz refresh rate, and a 5ms response time. A 350 cd/m2 backlight supports the screen which is also rated with a 1000:1 contrast ratio like most IPS monitors. These are not gaming-grade specs, but 4K gaming is still typically played with similar specifications since the 144Hz variants are still too expensive to run.
4K UHD's magical pixel pitch diminishes considerably at this size since it has to spread out to a larger area. However, you still get around 102 PPI with models like the Acer ET430K which is pretty close to a 27-inch QHD model's 109 PPI. Images are still relatively sharp at close range, but we recommend sitting back a bit farther than you usually would.
The Acer ET430K posts superb color qualities starting with a 97% sRGB gamut coverage which is more than decent for regular use. Color accuracy sits at a solid delta E average of 2.06, which means tweaking isn't necessary for many users. However, color temp is slightly biased towards the cooler side so you might miss some of the warmth of sRGB screens.
Contrast for the Acer ET430K's hits a maximum of 1190:1 which gives us decent blacks and richer colors. Gamma is slightly off at 2.15, but the deviation is too low to notice when using the monitor for typical tasks or games. You can calibrate this model with a colorimeter to improve its overall color temperature and gamma, but the cost of an additional gadget is not totally warranted.
Panel uniformity could use some improvements since the right and left quadrants, especially those on the upper parts, have slightly noticeable deviations. The backlight is pushed to its limits in trying to diffuse its output over such a large area, but each unit could be different in this regard. Color uniformity is only minimally affected, with Delta E between the sections staying within 2.6 from the D65 standard.
The IPS panel on the Acer ET430K is slower than usual since it's affected with pixel persistence. You have to set its overdrive to the middle setting to get rid of the flaw, but there are still some trails you have to live within fast-paced scenes. We don't recommend opting for the full overdrive speed since it will induce overshoot which is detrimental to the overall image quality.
The Acer ET430K does not have FreeSync so you can't rely on buttery smooth frames in gaming. You are going to need a powerful GPU to keep the framerate level to avoid tearing, plus you can't utilize G-Sync functionality with this device. But on a positive note, the monitor's input lag is limited to 10ms, so you will not feel any delays from your inputs to the screen.
Thoughts on the Acer ET430K
The Acer ET430K is a well-rounded display that's highly suitable for multi-client use. The screen has excellent imaging qualities, but there are a few flaws which gamers will dislike, such as the slow pixel response time. It's still suitable for casual play, especially with consoles, but you miss out on FreeSync support for smoother visuals.
We love the Acer ET430K's design for its aesthetic and functional aspect, although it could use a more flexible stand. However, finding a device is highly unlikely since devices like this are too large for ergonomic stands. But as soon as you look at the price and the size of the monitor, you will find that these misgivings are somewhat forgivable.