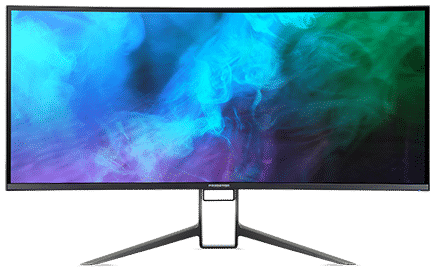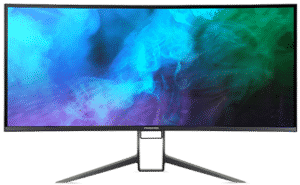 The Acer Predator X38S offers improved specifications that were missing on its already premium predecessor that offered gorgeous eye candy. It aims to elevate performance with a better backlight and a faster response time for smoother visuals and convincing HDR performance. Let's see if the Acer Predator X38S is a worthy upgrade and if it should be your next glamorous monitor for work and play.

Acer Predator X38S Specification
Screen Size: 38 Inches
Resolution: 3840 x 1600 WQHD+
Aspect Ratio: 21:9
Panel Technology: In-Plane Switching (IPS)
Refresh Rate: 175Hz
Response Time: 0.3ms MPRT
Contrast Ratio: 1000:1 (Static)
Brightness: 450 cd/m² (750 cd/m² Peak)
Built-in Speakers: Yes (2 x 7 Watts)
Stand: Height – Yes
Stand: Tilt – Yes
Stand: Swivel – Yes
Stand: Pivot – No
VESA Compatibility: Yes (100 x 100)
Connectivity: DisplayPort 1.4 x 1, HDMI 2.0 x 1, USB 3.0 x 5, USB 3.2 x 4, 3.5mm Audio Jack x 1
Dimensions (WxHxD): 35.31″ x 19.21″ x 12.17"
Weight: 15.48 lbs

Design and Features
You'd know that the Acer Predator X38S is from Acer's premium gaming line just by looking at it and its aesthetic details. The device has a matte black finish with a gunmetal base so it doesn't look too aggressive like the Asus offerings. The display is bezel-free on three sides, but you still have thin inner borders which are almost unnoticeable unless you look at them directly.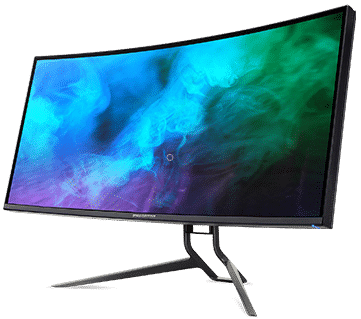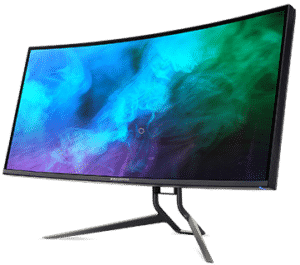 Its size is no joke, so you have to ready your desk or maybe buy a new one to accommodate the device. It needs a little over a foot of depth and it's three feet wide, so it can be difficult to place on your station if you have other big peripherals like bookshelf speakers. it is not the heaviest monitor, but extra care is necessary when handling it since it's easy to get unbalanced due to the size.
The X38S' build quality is excellent since it hails from the brand's high-end line of gaming monitors. The plastic panels are thick and sturdy, and there were no cosmetic defects or imperfections on any of its parts. The included stand is very stable and firm so the massive screen won't sag or shake while you are gaming or working.
The Acer Predator X38S has an OSD joystick with hotkeys for your convenience. It has plenty of features and settings to tinker with, so a snappy and responsive controller is necessary so navigation doesn't take too long. It would have been better if it was located under the bottom bezel instead of the back near the right-hand side of the screen so it would be easier to reach.
The stand included with the Acer Predator X38S offers tilt, swivel, pivot, and height adjustments for your convenience. It doesn't pivot, but that's acceptable since ultrawide monitors are not normally used for portrait viewing. You can also use VESA mounts, but it is only necessary if space is limited or if you have other monitors in your setup.
Its connectivity layout isn't the best-equipped in the market now since it has a G-Sync module just like its predecessor. You only get a standard layout that includes DisplayPort 1.4 and HDMI 2.0, plus four USB 3.0 ports and a 3.5mm jack. That's all you will ever need, but adding USB-C is a popular trend now, especially for the expensive models.
What we liked about the monitor is its powerful built-in speakers with 7 watts of power each. They aren't particularly great-sounding, but they are better and louder than most built-ins so they can be used for casual purposes like movies or music. Other premium models are still stuck with low-powered pairs which are silly considering their respective price points.
Display and Performance
The Acer Predator X38S boasts a 38-inch UWQHD+ IPS panel with a 3840 x 1600 resolution, a 175Hz maximum refresh rate, and a 0.3ms boosted response time. the backlight has a typical 450 cd/m2 output with a 750 cd/m2 peak, while the contrast is listed at 1000:1 like most IPS panels. This model is certified for HDR 600 as opposed to the X38P which is limited to HDR400.
The 38-inch screen offers a lot of room and sufficient sharpness to make games look crisper and cleaner. It's easier to read and browse with this monitor compared to a 4K screen since its pixel pitch is looser, so it is more comfortable to use. However, you will still need a meaty GPU to maximize the screen's refresh rate, especially with newer titles.
The Acer Predator X38S renders more than 100% sRGB and around 95% DCI-P3 for stunning color in games and movies. It is also pre-calibrated with a dE average of 1.12 which is excellent for a gaming variant. Most users won't need to tweak the screen except for a few basic settings like brightness, so it is good to go right away.
Calibrating this beast of a monitor reduced its dE average to 0.41 which is even better than what some of its competitors can offer. A score like that makes it suitable for editing and content creation, so it's an ideal choice if you do color-critical work and game at the same time. However, you need a colorimeter to achieve this and those don't come cheap or readily accessible.
Its backlight reached 491 cd/m2 at 100% and it peaked at 741 cd/m2 when it is HDR mode is active. Its contrast ratio sits at 1077:1 at 40% brightness, but the monitor's simple local dimming feature can expand that in some instances. However, it has limitations brought about by its specifications such as its black depth which is better on VA and high-end IPS panels with mini LEDs.
It's capable of improvements thanks to these numbers and its local dimming, but it is not as tightly controlled as a monitor with mini-LEDs. Some scenes look improved with better depth, but haloing can happen as well since each dimming section can sometimes spill out to the next. You need to get a higher model if you want to avoid this, but it's a minor issue if you ask us.
Panel uniformity could be better for the test sample since it had backlight leaks on the left and right edges of the screen. They show up as clouding on dark scenes and they can sometimes add to the haloing issue when the screen is doing its HDR thing. Note that this can vary between every unit, so there are better monitors out there in this regard.
The Acer Predator X38S is indeed a fast IPS gaming variant since it barely shows any blurring in quick transitions. Some trailing can become noticeable when HDR is active, but it's a minor issue compared to the haloing that happens with monitors that have limited local dimming zones. Setting its overdrive to its Normal level is your best bet since anything higher will induce visible overshoot.
The Acer Predator X38S is a G-Sync gaming monitor, but it's also compatible with FreeSync just like its predecessor. This comes in handy now since GPUs are hard to find at the right price, so you might be stuck with one brand until the shortage ends. Input lag sits at 4m,s at 175Hz, so there is no need to worry about delays while gaming.
Thoughts on the Acer Predator X38S
The Acer Predator X38S is an excellent gaming monitor if you want an extra-large screen with the same speed and finesse as an E-Sports model. Its well-designed with attractive specifications such as its superb accuracy and appreciable HDR performance. It's suitable for gamers who want immersion and the ability to become useful for professional use.
However, the Acer Predator X38S is very expensive and you can already buy a 4K 144Hz HDR variant with the money it requires. It's also going to be better at HDR if it had the accuracy and control of mini LED backlights, but those will make it even more expensive. It's a great high-end display, but it won't be everyone's pick due to the high cost.
Pros:
Excellent Color and Accuracy
Fast and Responsive
Attractive and Durable Design
HDR
Cons:
Expensive
Limited Availability
About the Author: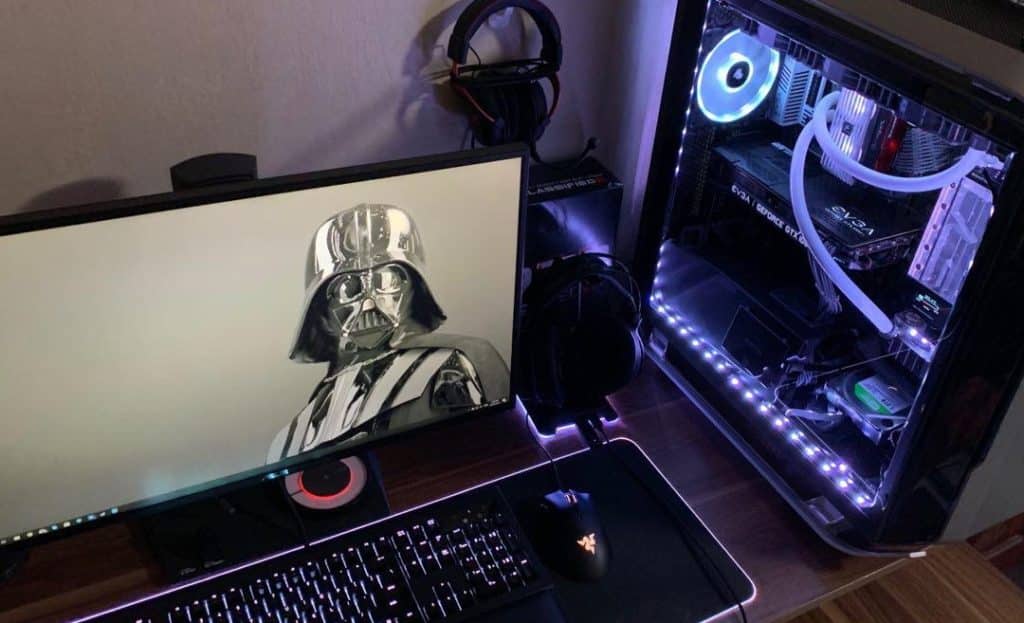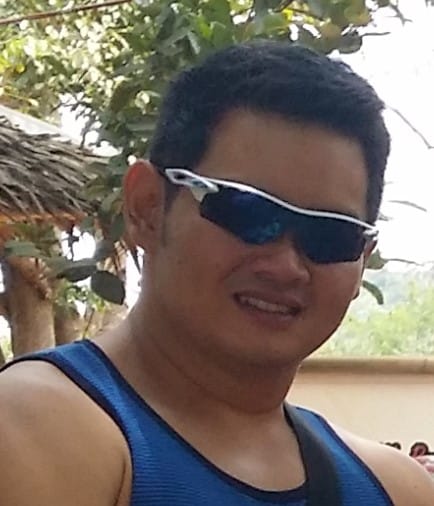 Paolo is a gaming veteran since the golden days of Doom and Warcraft and has been building gaming systems for family, friends, and colleagues since junior high. High-performance monitors are one of his fixations and he believes that it's every citizen's right to enjoy one. He has gone through several pieces of hardware in pursuit of every bit of performance gain, much to the dismay of his wallet. He now works with Monitornerds to scrutinize the latest gear to create reviews that accentuate the seldom explained aspects of a PC monitor.