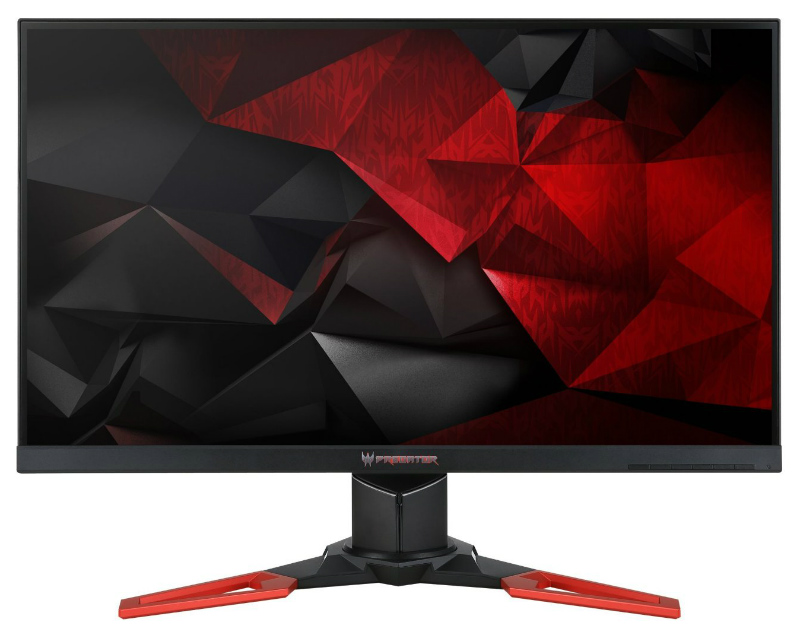 Review of Acer Predator XB271HU
When Acer isn't busying itself with the other aspects of the Predator lineup that aren't monitors, it's rather focused on keeping its gaming display competition on their toes. The idea behind the Acer XB271HU was a pretty great one, being a move to outfit a monitor with some of the best tech available while still keeping it both under $1000 and agile enough to meet the space and orientation requirements of the average desktop. The Predator XB271HU edges above most over gaming displays by discarding the limited TN paneling for a much more advanced IPS panel. Being a 27" WQHD 2560×1440 IPS panel that runs at a blistering 165hz refresh rate, this XB1 is already ticking a lot of boxes on my list. As with all Predator monitors, the XB271HU comes with an impressive list of features, with every single one of them focused entirely on gaming.
The Design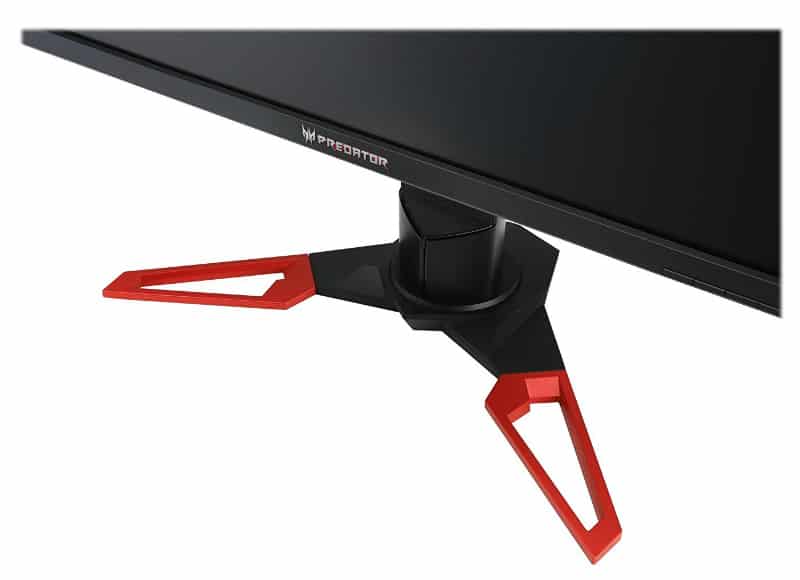 The Acer XB271HU struts the iconic Predator stylings that it happens to share with the entire XB1 series. The sharp angles and accents on the stand help the XB271HU soak up attention on your desk, while still leaving a pretty small footprint, landscape-wise. The attractive stand is topped with a display frame that's almost bezel-less, making for a rather futuristic, almost alien, overall aesthetic. The monitor has quite a few orientation options, making it comfortable to setup in almost any environment. It's got an elevation controller as well as a 90-degree swing to either side, enabling you to orient the screen to a portrait setup. It also has a forward-backward tilt of about 35-degrees and a total rotational swivel of 60-degrees.
The Acer XB271HU also comes with rather basic support for audio-display input connection ports, with one being an HDMI port and the other a DisplayPort. There's also a USB 3.0 port, which can be used, but you wouldn't really get the most out of it regarding higher refresh rates. Hidden in the case are a pair of stereo surround speakers that do an okay job, but to really let them sound good, you've got to have the rear of the monitor setup so that it's facing a surface that would let the sound bounce back towards you.
This XB1, much like the others, also has a small, neat row of physical buttons towards the bottom right. The buttons have the basic navigation functions and menu options, but also sport a hotkey mode, where they can be used to switch presets and overclock/default the monitors refresh rate, etc. with the press of a single button.
The XB271HU also features a gap towards the bottom of the stand. This gap is rather intentional and not just there to make the display look pretty (and it needs no help in that department). You can use this gap to thread all of your cables through, and it makes the very real struggle of cable management a little less of a struggle.
The Display of Acer Predator XB271HU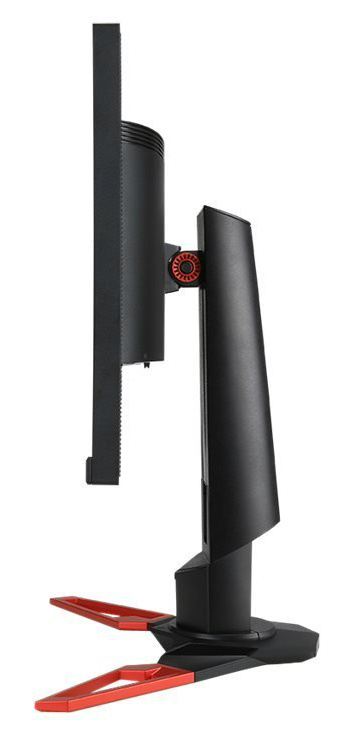 The display on the XB271HU is a little bigger than the usual 24" monitors that are aimed at gamers, but still under that 32" mark that sets the classes apart. The most prominent and what might be biggest step up from the other sub 30" inch WQHD gaming monitors is the IPS panel that's on this monitor. The IPS panel makes for better color recreation as well as much better contrast and clarity. The sharp WQHD resolution wraps it all up into an awfully nice package. This display runs at a resolution of 2560×1440 and 27", it has a pretty nice pixel density of 108ppi. The contrast rating is at a rather sharp 1000:1, creating quite a bit of depth between colors and gradients as well as blacks and light.
Keeping in mind that this is a gaming monitor, things like response time and refresh rate become much more important. Acer knew this as well, imbuing the XB271HU with a 4ms Grey to Grey response time and 165hz refresh rate. The monitor normally sits at a pretty impressive 144hz, but with the push of a button, that rate can make the jump from 144hz to 165hz, making for a velvety smooth gaming session that is also incredibly responsive.
With a 16.7 million sRGB color range, the XB271HU recreates color pretty great. It's nowhere near what the best professional image and video editing monitors output, but for a gaming monitor, it's just right. The display also gets pretty bright, outputting around 350cd per meter squared, making sure that you see every edge and get to take advantage of that great contrast rating.
Let's take a look at that extensive feature list I'd mentioned earlier. The feature you might find yourself making the most use out of would be G-sync unless you've got a graphics card that isn't from Nvidia. The Acer XB271HU comes with its very own, dedicated Nvidia G-Sync module preinstalled. G-Sync is Nvidia's take on adaptive sync technology, which eliminates screen tearing while not impacting performance at all. Another perk that came of Acer teaming up with Nvidia would be the implementation of Nvidia's ULMB (ultralow motion blur) tech on the XB271HU, which keeps ghosting and motion blur at a minimum. Ghosting and motion blur are both a bit of a rather pesky problem on most IPS panels.
The finalize the feature list, we've got two of Acer's labels that they throw on all their gaming monitors. One is its EyeProtect tech, which keeps blue light emissions to a comfortable low while keeping the screen flicker free; this makes for rather a comfortable viewing and prevents eye strain for those extended gaming sessions or video binges. The second of the two features is Acer's GameView suite. GameView can be accessed from the hotkeys on the monitor and offers several gaming aids that help, depending on the situation, that is. The suite includes the option to use crosshairs that you can activate and they're intended to make hip firing a bit easier, as well as a menu to configure and set profiles to use your hotkeys with
Verdict
Great desktop size at 27".
WQHD resolution IPS panel.
144hz refresh rate with 165hz overclock.
Impressive Predator design and great stand orientation options.
Dedicated Nvidia G-Sync module.
The Acer XB271HU is a beast of a monitor that boasts a 27" display size and a 2560×1440 resolution. With colors and contrast that goes easy on the eyes, this monitor uses its IPS panel well, delivering an incredibly smooth and immersive experience for the price of $920. An easy recommendation for a great bang for the buck, premium gaming 165hz, 27" WQHD monitor.