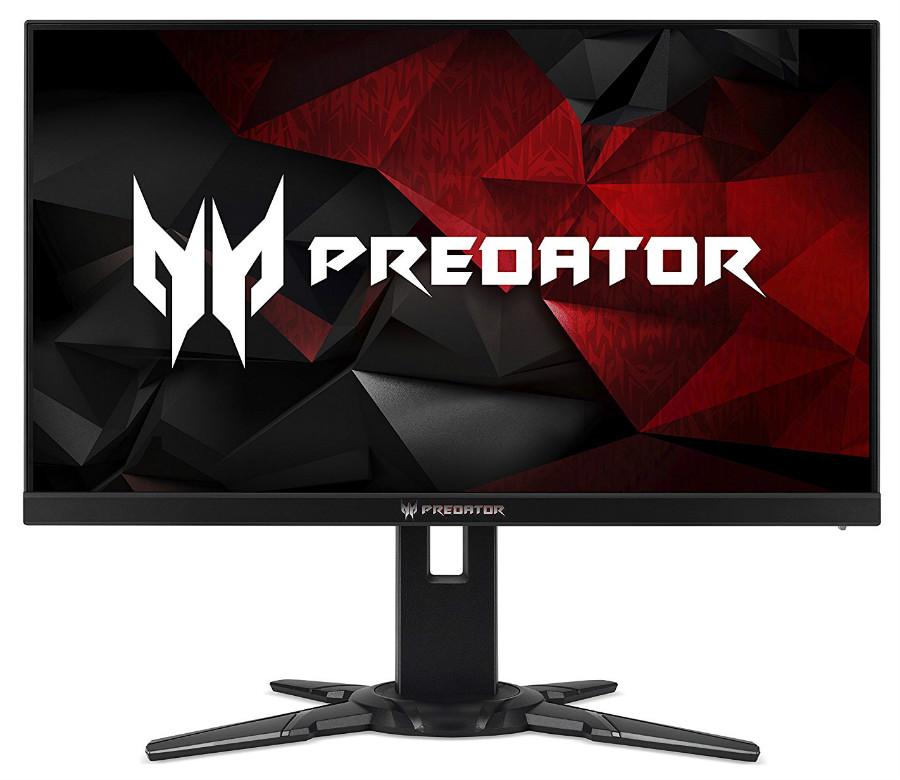 The Acer XB272 offers blazing fast graphics at 240Hz with G-Sync in a 27-inch form factor and 1080p native resolution. E-sports events and titles are preferably played at 1080p, plus a lot of midrange GPUs are optimized to provide high frames, so the significance and success of this model in the market are there. There already are a lot of more modern options out there, but the Acer XB272 looks like it has the performance to compete with its upmarket siblings.

Acer XB272 Specifications
Screen Size: 27 Inches
Resolution: 1920 x 1080 FHD
Aspect Ratio: 16:9
Panel Technology: Twisted Nematic (TN)
Refresh Rate: 240Hz
Response Time: 1ms
Contrast Ratio: 1000:1 (Static)
Brightness: 400 cd/m²
Built-in Speakers: Yes
Stand: Height – Yes (4.5 Inches)
Stand: Tilt – Yes (-5°/+20°)
Stand: Swivel – Yes
Stand: Pivot – No
VESA Compatibility: Yes 100 x 100
Connectivity: DisplayPort 1.2 x 1, HDMI 1.4 x, USB 3.0 x 5, 3.5mm Jack
Dimensions with Stand(WxHxD): 24.17" x 20.63" x 10.55"
Weight: 16.56 lbs

Design and Features
The Acer XB272 adopts the recent Predator aesthetic treatment we have seen from models like the Acer XB271HU without the gaudy reds. The newer generation will mostly come in a matte black finish from the cabinet up the feet of the base. The face is bezel-free on three sides as well, although there are visible panel borders which shouldn't pose a distraction when gaming.
One thing we did notice on the Acer XB272 is the pronounced bulge on the back which presumably includes the power brick inside. Although the layout is clean looking, Acer did not bother to add accents like other brands which are unnecessary either way. This side also includes the OSD buttons plus the navigation joystick accessible on the right-hand side.
The included stand on the Acer XB272 still has the familiar x-shaped base mated to an ergonomically equipped upright. You can adjust height up to 4.5 inches, or you can tilt and swivel the screen for maximized comfort in viewing. If in case the limitations set by the design does not fit your requirements, you can remove the mechanism and opt for a VESA compatible wall mount or armature.
Since this is a G-Sync monitor, the accompanying proprietary module applies a limit to the available connectivity options on the Acer XB272. You only get DisplayPort 1.2 and HDMI 1.4 for video input, but there are audio out jacks and USB slots on the hub located on the side of the monitor. Owners can use this feature for accessories or gaming headsets without having to turn the screen over.
Display and Performance
The Acer XB272 sports a 27-inch TN panel with a 1920 x 1080 resolution, 240Hz refresh rate, and 1ms response time. Color accuracy ratings are projected at around 95% to 99% sRGB coverage which is typical with TN panels, although the focus here is the speed and responsiveness. Competitive gaming relies more on the latter, after all, while eye candy is only secondary.
The screen on the Acer XB272 has a backlight output of 400cd/m2 which should allow a wide range of adjustment for assorted users. Reaching a balanced contrast should also be easier despite the limitations set by TN technology, although these need to be tested with a colorimeter for validity. All of these results should formulate into decent imaging performance with a focus on responsiveness to make this product ideal for competitive gaming.
1080p at 27-inches might also appear loose or less crisp than 1440p and 4K offerings at the same size, although there are benefits to it. Primarily, it would be easier to reach higher FPS results with a myriad of GPUs from different tiers depending on optimization, so the blur-free fluidity of higher refresh rates are within reach for more people. FHD still is clear for gaming even at 27-inches, plus it is the universal format for E-sports titles and events, so gamers in trainer will most probably choose this monitor.
Of course, gaming with a large screen like the Acer XB272 is a fantastic experience by itself, but this model includes G-Sync for buttery smooth graphics. You only need an updated Nvidia GPU model to pair with this beast, and you are good to go. Although G-Sync still has a limited functional range of 30Hz to 144Hz, so if you get anything above that, it becomes useless. Either way, it's a nice to have feature for demanding titles like Mass Effect Andromeda where even the mightiest GPU cannot produce frames that reach 100Hz at the most.
Thoughts
The Acer XB272 presents a decent option for E-Sports gamers who would rather have a larger screen to enjoy but also want to avail of 240Hz refresh rates. The latter was previously exclusive to 25-inch variants, so this model opens a new window for gamers with tastes that fit the facts above. The brand is reliable when it comes to these premium gaming displays, so we have little reason to doubt its placing in this niche of the market.
The only hindrance we see is the pricing which now encroaches 1440p G-Sync territory, and possibly 4K gaming monitors. The $680 price tag is too steep for a 1080p display, but that is the premium cost of having the fastest refresh rates and the exclusivity of G-Sync. Of course, the choice is always up to users and their varying requirements and budgets. The Acer XB272 is now available through the links above and below if you want to take a crack at it, but we will follow up with a review once a unit becomes available.