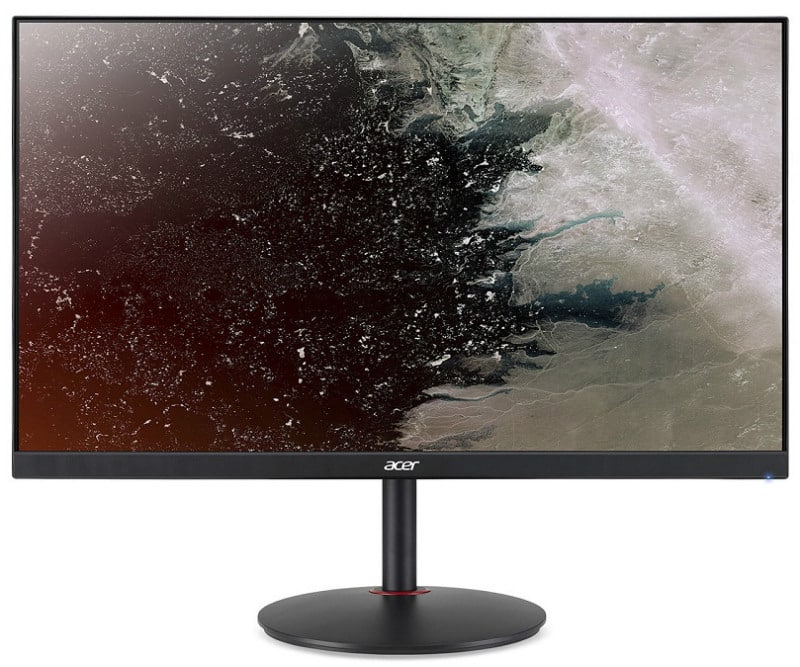 The Acer XV273K offers a stunning 4K 144Hz IPS coupled with HDR400 and FreeSync while sitting at a far more reasonable price than its G-Sync counterparts. This monitor is part of the Nitro Series we wrote about earlier which aim to provide fantastic gaming performance at reasonable prices. The Acer XV273K sacrifices a few essential features so it can sink under the $1000 mark, making it the most exciting 4K 144Hz monitor yet.
Acer XV273K Specifications
Screen Size: 27 Inches
Resolution: 3840 x 2160 4K UHD
Aspect Ratio: 16:9
Panel Technology: In-Plane Switching (IPS)
Refresh Rate: 144Hz
Response Time: 4ms
Contrast Ratio:1000:1
Brightness: 400cd/m²
Stand: Height – No
Stand: Tilt – Yes
Stand: Swivel –No
VESA Compatibility: Yes
Connectivity DisplayPort 1.4 x 1, HDMI 2.0 x 1, USB 3.0 x 2(TBC)

Design and Features
The Acer XV273K from the Nitro series of monitors sports a more modest design which may attract more users when it releases. The chassis is finished in matte black save for the red ring on the circular base. The monitor is borderless on three sides thanks to the dual-stage treatment which has become a constant trend in newer displays.
However, with that simplicity comes a few downsides if you compare the Acer XV273K to the XB273K. Some creature comforts such as a fully-ergonomic stand are not included in the package. We're not sure how to feel about this limitation, considering the monitor is still worth a considerable amount despite its budget-oriented positioning.
But we can guess from the initial images alone that the Acer XV273K will be tall enough for most users. The cabinet has a considerable allowance between the bottom bezel and the base, meaning vertical adjustments might be unnecessary for most. It's also worth noting that you can remove the included stand in favor of a VESA-compatible mount.
The final specifications for the Acer XV273K's I/O panel are still unannounced at the time of this writing. But since the monitor offers a 4K 144Hz output, we're pretty sure that the engineers will include a DisplayPort 1.4, HDMI, and a few USB ports. DP 1.4 is a crucial requirement for monitors like this since it has the necessary bandwidth to produce 4K at 144Hz.
Display and Performance
The Acer XV273K a 27-inch AU Optronics AHVA or IPS panel with a 3840 x 2160 resolution, 144Hz refresh rate, and 4ms response time. The contrast ratio specified is lower than the Acer X27 at 1000:1 along with a dimmer backlight which can only achieve 400cd/m2. This product, like the Acer XB273K, is only certified for VESA's HDR400 standard which is the bare minimum for monitors and TVs.
At least we can expect the Acer XV273K to be compatible with HDR10 content and titles to add a nice touch to the already bleeding-edge output. It's not as brilliant nor amazing as the HDR1000 variants, but there will be considerable improvements we can all appreciate. We'd be happy to see slightly more realistic lighting effects, vibrant colors, and improved visibility in any setting.
The Acer XV273K is a FreeSync monitor which means it can only use the mode if paired with an AMD GPU. The tech's functional range is estimated to be at 48Hz to 144Hz with LFC, but that can change during the actual launch. It's worth mentioning that you are going to need a lot of GPU firepower to maximize this monitor, and choices from AMD are limited.
This model can still offer a lot of mileage for Nvidia GPU users since you can use the monitor's Virtual Response Boost instead of FreeSync. The latter gets locked out in exchange for an accelerated pixel response time which lessens ghosting and blurring in fast-paced sequences. We'd like to think that 4K 144Hz is the future standard for high-profile E-Sports competitions so this add-on could be useful in the long run.
Thoughts on the Acer XV273K
The Acer XV273K is the most exciting 4K 144Hz out of the bunch since it has a reasonable three-digit price tag. The monitor more or less offers identical performance with its more expensive G-Sync counterpart who has a half-grand lead in pricing. We're looking forward to testing the monitor's capabilities such as its HDR400 compatibility and the VRB Overdrive feature.
We could see the Acer XV273K on retailer shelves as early as November or December of this year with a launch price of $899. But as well all know, 4K 144Hz monitors are fairly new and very much prone to delays, so the dates could be pushed to next year. Keep checking this page and its links for the latest information on this cutting-edge gaming monitor.