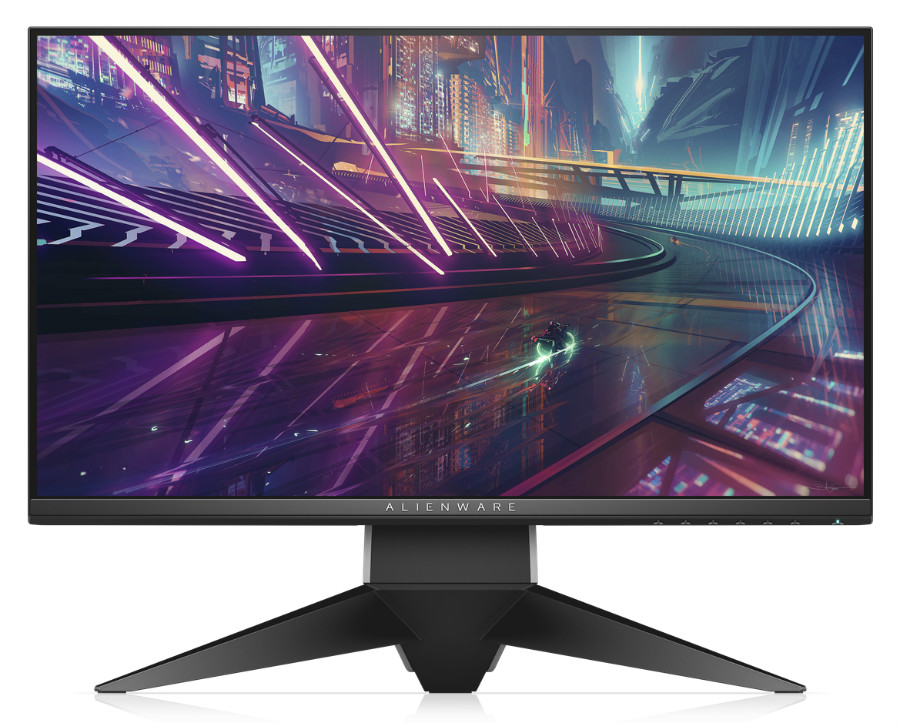 Check Availability
The Alienware 25 AW2518HF is a blazing fast, 1080p E-Sports monitor designed to compete with the likes of the Asus PG258Q with its hair-raising 240Hz refresh rate. The brand name behind this product has been synonymous with ultra-premium gamer-grade systems designed to offer built computers for enthusiasts who want power and aesthetics and are willing to spend to extra cash. What's great about the Alienware 25 AW2518H is that the product will ship in both G-Sync and FreeSync flavors, essentially offering gamers the option to choose between the two without compromising specs and capabilities.

Alienware 25 AW2518HF Specifications
Screen Size: 25 Inches
Resolution: 1920 x 1080 FHD
Aspect Ratio: 16:9
Panel Technology: Twisted Nematic (TN)
Refresh Rate: 240Hz
Response Time: 1ms
Contrast Ratio: 1000:1 (Static)
Brightness: 400 cd/m²
Built-in Speakers: None
Stand: Height – Yes
Stand: Tilt – Yes
Stand: Swivel – Yes
Stand: Pivot – Yes
VESA Compatibility: Yes
Connectivity: DisplayPort 1.2 x 1, HDMI 1.4 x 1, USB 3.0 x 4, 3.5mm Headphone Jack

Design and Features
The Alienware 25 AW2518HF sports a futuristic aesthetic with a matte black and silver scheme, sharp angles, and sleek lines. Like the similar models in the market, this product's face is mostly bezel-free except for the bottom strip and the expected black borders of the panel. The bottom part houses the neat, Alienware logo while the OSD buttons hide under the casing.
The most striking part of the package is the robotic-looking stand which seems as if it was taken from a space fantasy movie. The general concept of the mechanism is similar to the helix stand from Asus Gen. 2 monitors. This part will offer height, swivel, tilt, and pivot adjustments for easy access to a comfortable view.
The Alienware 25 AW2518HF will ship with standard connectivity features which are enough for typical setups. The down firing I/O layout will include DisplayPort 1.2, HDMI 1.4, four USB 3.0 slots, and a headphone jack plus another for audio passthrough. There is no word if the G-Sync and FreeSync variant will share identical layouts. If they do, it shouldn't present an issue, or a deal breaker since a gaming monitor like this will probably see two host devices at the most.
If the spaceship-ish design of the stand doesn't appeal to you, you can fully remove it to reveal VESA mounting holes. Frankly, if you dig this monitor, the stand completes the look without forgetting function. Finally, as icing on the cake, the Alienware 25 AW2518HF includes LED lighting on its back panel. The three strips and the alien head logo look like they are limited to Alienware Teal, but it shouldn't be impossible to expect RGB functionality.
Display and Features
The Alienware 25 AW2518HF sports a hyper-fast 1080p TN panel with a 240Hz refresh rate, 1ms response time, and 400cd/m2 brightness. This module is most probably similar to the AU Optronics unit found on other 240Hz E-Sports screens such as the Asus PG258Q and the AOC Agon AG251FZ. If that's the case, then these aren't your ordinary panels regarding color performance and accuracy which are rated as excellent for TNs on the other models.
Another significant aspect of the panel on the Alienware 25 AW2518HF is its ability to post sub 4ms input lag results. All of the similar models pass this mark with honors, and we can all expect the two models to sit in between or within a fraction of a millisecond with the others. In theory, sub-4ms means that your screen has zero delays, making it ideal for competitive gaming.
As mentioned, the Alienware 25 AW2518HF ships in two flavors with this SKU serving as the FreeSync variant while the Alienware 25 AW2518H is the G-Sync version. From experience, both technologies work seamless wonders for gaming, although some would argue that a perfect strobing utility for motion blur has more use at high-refresh rate gaming. G-Sync is also known to incur a 2% performance penalty, but the difference is too little for anyone to notice.
There are still some enthusiasts who doubt the practical benefits of a 240Hz refresh rate, which as we have seen from recent products, incurs a $200 to $300 premium over 144Hz options. All we can say about is that you have to see it for yourself to see the difference, plus going back to a slower display will be felt. 240Hz also allows further elimination of blurring and ghosting, and we couldn't imagine gaming without high-speed cycles and VRR tech smoothening in this day and age.
Thoughts
We love the Alienware 25 AW2518HF's design which builds upon successful formulas and then enhanced with the Alienware aesthetic treatment. If this model uses a similar or newer module found on outstanding E-Sports products like the Asus PG258Q, then we have little reason to doubt that this will be a hit with the enthusiast crowd. Alienware is a brand owned by Dell so that we can expect a robust build quality with premium materials.
The biggest downer here is the price; the Alienware 25 AW2518HF with FreeSync will retail for more than $400 on launch while the G-Sync equipped counterpart will sell for more. Alienware isn't known for wallet-friendly products, but if this new 240Hz stunner performs on par or better than its mainstream counterparts, we can't see why anyone willing to pay the premium for the exclusivity shouldn't get these two products.