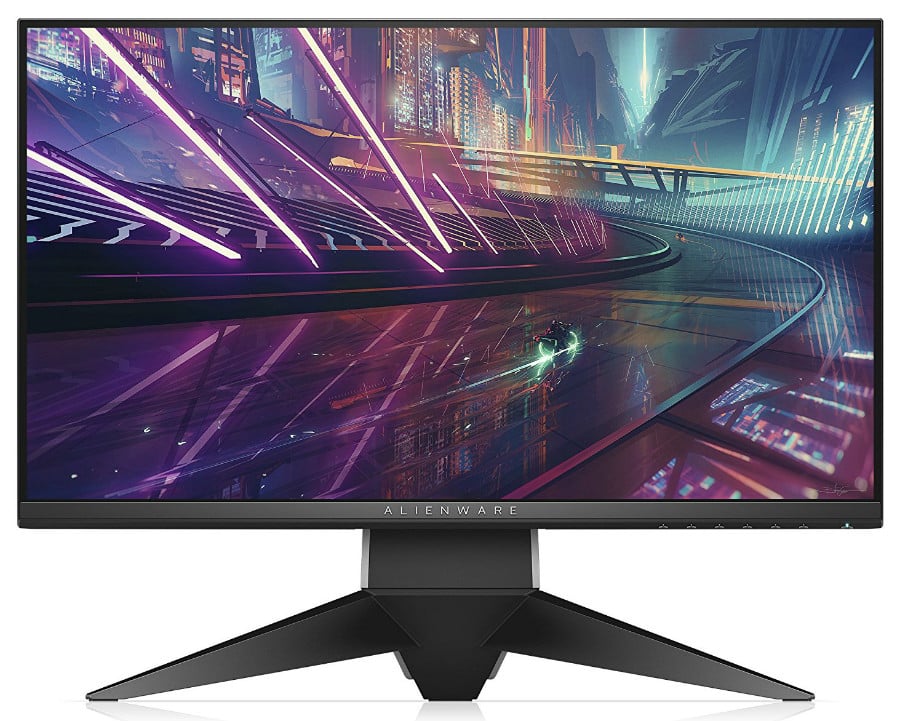 The Alienware AW2518H aims to offer bleeding-edge performance with its 240Hz refresh rate and G-Sync that combines to create buttery-smooth visuals. Some may dislike the low FHD resolution of this model, but gamers who look for every advantage in speed and responsiveness look to these types of gaming monitors. The Alienware AW2518H has tough competitors like the Asus PG258Q and the Acer XB252Q, and we'd like to see how this premium display stacks up.

Alienware AW2518H Specifications
Screen Size: 25 Inches
Resolution: 1920 x 1080 FHD
Aspect Ratio: 16:9
Panel Technology: Twisted Nematic (TN)
Refresh Rate: 240Hz
Response Time: 1ms
Contrast Ratio: 1000:1 (Static)
Brightness: 400 cd/m²
Built-in Speakers: None
Stand: Height – Yes
Stand: Tilt – Yes
Stand: Swivel – Yes
Stand: Pivot – Yes
VESA Compatibility: Yes
Connectivity: DisplayPort 1.2 x 1, HDMI 1.4 x 1, USB 3.0 x 4, 3.5mm Headphone Jack
Design and Features
The Alienware AW2518H sports a unique, futuristic design that is distinctly Alienware thanks to its contemporary edginess and premium feel. Thin bezels are surrounding the screen which is just 5mm on three sides and 14mm at the bottom that hides the panel's inner borders. When the monitor is in use, it is nearly impossible to notice these plastic strips, so your gaming is mostly unobstructed.
The matte black and silver plastics are top-notch since they provide the unmistakable identity of Dell and Alienware products while being robust and damage resistant. Tilting or holding the chassis did not produce creaking or flexing, and movements felt smooth and easy to adjust. It is important to note that this device requires snap-on assembly upon unboxing, and although the cabinet directly attaches to the stand, care is still needed.
The rear panel of the cabinet is split into three sections by three angular lines that include RGB LED strips. These, along with the Alienware logo on the top corner can illuminate in twenty different colors that you can access in the OSD. The effect this feature had wasn't overbearing, plus it adds a nice bias-lighting effect to help keep your eyes comfortable.

One of the most striking features of the Alienware AW2518H is its angular metal stand that has a few nifty features. The upright is hollow to allow cable pass-through without hassle, plus it offers four inches of height adjustments for convenience. You can also tilt, swivel, or pivot the screen to your liking, so finding the sweet spot is easy as peas. We can't imagine any reason for anyone to prefer using aftermarket mounts for the Alienware AW2518H, but it can be done easily since it is VESA compatible.
The Alienware AW2518H's I/O layout is restricted to DisplayPort 1.2 and HDMI 1.4 by the built-in G-Sync module, but it does include other options. There are two USB 3.0 slots on the main panel which also comes with a removable cover, plus two more on a hub on the bottom bezel. We like the placement of the latter which also comes with a headphone jack since it is convenient and comfortable to reach.

Display and Performance
The Alienware AW2518H boasts a 24.5-inch TN panel with a 1920 x 1080 resolution, native 240Hz refresh rate, 1ms response time,  and 1000:1 contrast ratio. The panel used is the same module from AU Optronics you will find on the Asus PG258Q and the AOC AG251FZ which both have excellent performance ratings despite the handicaps in resolution and panel tech. This type of screen aims for speed and responsiveness more than it does eye candy for fast-paced games like E-Sports titles.
However, there are some slight differences with the Alienware AW2518H in imaging scores when compared with similar competitor models. Gamut is a bit off at Delta E 2.6 which creates oversaturation that affects accuracy and drops it to Delta E 3.15. On the other hand, gamut volume is at a healthy 98% which puts this device on par with the AOC AG251FZ, so there should be no difference in color range in all types of content.
These differences are due to Dell sticking with the BT.1886 spec for gamma instead of the regular 2.2 power function. This, along with a contrast ratio of 950:1 provides an excellent image setting for gamers who sometimes prefer the darker tones of gamma at 2.4 in other models. It also doesn't present any issues in content, since games and movies are mastered in BTG.1886 as well.
Upon testing the Alienware AW2518H with Destiny 2, we noticed some improvements in perceived contrast and shadow detail. To avoid loss of visibility in darker scenes, try to find a sweet spot in the range of 30% to 60% brightness. Users have a lot of room to play with the backlighting since this device is capable of nearly 420cd/m2 at 100%.
Panel uniformity is superb, as expected from this cream of the crop module from AU Optronics. We did not record screen deviations that went over 10% on the review model, so there was no immediately noticeable skewing when viewing content. Colors and backlighting were solid all throughout the display unless you shift the screen which reveals the poor viewing angles of TN panels.
Our EVGA GTX 1080 Ti FTW3 provided a peak output of 190FPS in Destiny 2 with the game's highest graphics settings engaged. This production is phenomenal and overkill for most gaming situations, but there are times when frames would dive to 130FPS in intense scenes such as the final fight with Dominus Ghaul. This is where the Alienware AW2518H's G-Sync module comes in, which, despite the vast difference between max and lowest FPS ratings, did not allow tearing to ensue.
The Alienware AW2518H is as responsive as its 240Hz gaming cohorts since it only posted an input lag score of 4.75ms, which is ideal for E-Sports FPS titles. We did not notice any delays in input to on-screen action, and most of the lapses when we got fragged came from our limited mechanical skills. Just be sure to turn off V-Sync and set limits to your FPS range so as not to disable G-Sync and receive massive latency issues while duking it out with your opponents.
Thoughts on the Alienware AW2518H
The Alienware AW2518H is as excellent as the rest of the lot in the 1080p 240Hz segment, and the differences aren't noticeable enough to say that one is better than the other. For its primary purpose, this monitor's combination of 240Hz refresh rates and G-Sync work wonders to improve your competitive gaming experience. To be honest, we like the Alienware AW2518H's design the best for its mix of sophistication, subtlety, and futurism.
There are a few complaints such as the differences in colorimeter results which are negligible and beneficial for most gamers, although we know the meticulous will disagree. The only thing to consider in getting this is its high-price which hovers above the Asus PG258Q which was most expensive at some point. The Alienware AW2518H merely is too expensive at regular price, although if you catch it at a discount, don't hesitate and pull the trigger on this bad boy.