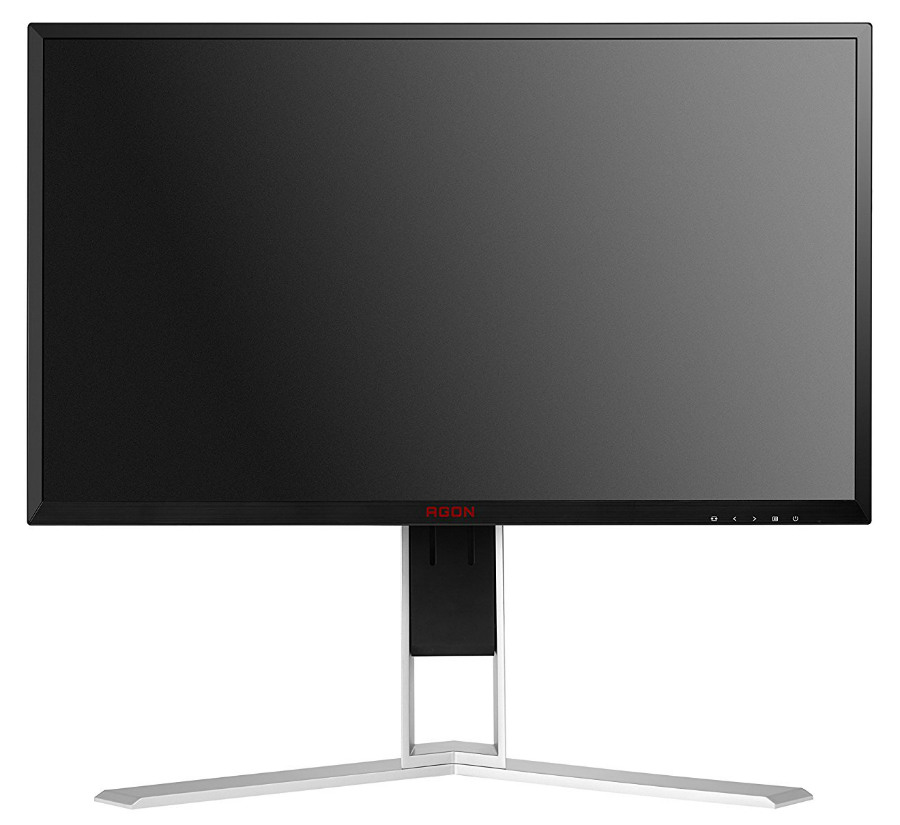 The AOC Agon AG251FZ was built to provide lightning fast refresh and response rates without forgetting all the sophistications expected from a top of the line gaming monitor. Like its Agon cousins, it would be easy to mistake this product as a luxury model instead of a cutting-edge display with fantastic pedigree and quality. But from reading the specs and looking closer at each aspect, it would be instantly apparent that this gaming display is a beast.

AOC Agon AG251FZ Specifications
Screen Size: 24.5 Inches
Resolution: Full HD 1080p
Aspect Ratio: 16:9
Panel Technology: Twisted Nematic Film (TN)
Refresh Rate: 144Hz
Response Time (Gray to Gray): 1 Milliseconds
Contrast Ratio: 1000:1
Brightness: 400 cd/m²
Built-In Speakers: Yes (2 x 3 Watts)
Stand: Height: Yes (5.12 inches)
Stand: Tilt: Yes – 3.5°/+21.5°
Stand: Swivel – Yes -20°/20°
Stand: Pivot – Yes
VESA Compatibility: Yes (100×100)
Connectivity: HDMI x 2, DisplayPort x 1, DVI x 1, D-Sub x 1, 4 x USB 3.0, 3.5mm Audio Jack
Weight: 14.33lbs
Dimensions: With stand: 22.31"  x 21.46" x 8.59″

Design and Features
The AOC Agon AG251FZ looks like a minimalist work of art from the slim profiles to the metallic accents used to excellent effect. The matte black finish mates with the bloody red accent on the back, although this treatment isn't visible on the front which has thin bezels. Only the bold Agon logo on the bottom strip along with the OSD labeling, giving an overall clean look for the product.
The rear where most of the features are found presents a distinct reversed chevron which functions as the cabinet's bulge where all the internals and features are to be found. Connectivity ports are hidden underneath the edges in down firing positions, mostly clearing the back from holes and perforations. Video inputs including two HDMI ports, DisplayPort 1.2, DVI and D-Sub are located on the right wing while USB 3.0 slots are on the opposite from the back view.
There is also a USB hub for convenience to the side accessible on the right from the front which includes the audio jacks and two USB 3.0 ports with one having fast charging capabilities. Just above it sits the folding headset hanger, which is a minor feature but a favorite since it helps keeps your cans at bay. Thanks to having FreeSync and its hardware restriction-free implementation, connectivity is generous and able to cover just about everything you need plus more.
The included stand is a work of art from the material choice to the architectural appeal it implies. Whats fantastic about this part is it provides a lot of stability due to its weight, plus it has a wide-reaching boomerang base which distributes the heft quite well. You get height, tilt, swivel, and pivot for ergonomics, and most of the articulation points have demarcations, so favorite positions are easily remembered.
The top hole serves as a carry handle if you want to bring this monitor to LAN parties, while the lower one serves as a cable tidy orifice. One thing we didn't like about the latter is its size, as it was too loose to hold wires in place, making cable management almost non-existent. While generally, it is an excellent design, if you wish to opt for VESA mounts, you can remove the mechanism entirely to reveal 100 x 100 bolt holes.
Our favorite feature from the package is the nifty remote accessory for conveniently navigating the already well-laid out OSD. The buttons give you easy access to the sub menus, plus there are customizable hot keys for your saved presets and options. All in all the AOC Agon AG251FZ feels heavily armed for hardcore gaming, and it's built to last thanks to first-rate craftsmanship and premium materials.
Display and Performance
The AOC Agon AG251FZ sports a 25-inch TN panel with a 1920 x 1080 resolution, 1ms response time, 1000:1 contrast ratio, and a whopping 240Hz refresh rate. Specs and initial views of the screen dictate that most of its imaging capabilities are typical to the current TN modules we have seen, except for the extra high refresh rate which at the moment is only available for a few select models.
The color performance of the AOC Agon AG251FZ isn't as high as we expected since the default setup as revealed by our DataColor Spyder5 Elite had an unusually high Delta E of 5.2 and only 97% sRGB coverage. Although contrast was excellent at over 900:1, the screen appears too bright while grayscale performance suffers a bit. These scores result in a setting more suited for no holds barred gaming, although we know most would prefer a maximized output for better imaging.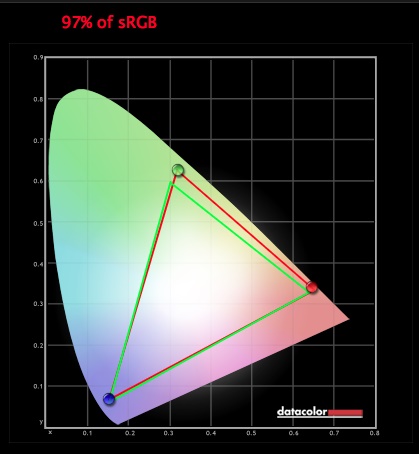 Thankfully, it's easy to correct these errors by just lowering the brightness to around 30% and setting the Gamma Mode to 3 while in User mode. Using the included filters will lock some OSD features like color temp adjustment, so be sure to select the latter. Some tweaking to the RGB channels will also help users get a Gamma score of 2.1 and a minimal Delta E of .8 which are excellent scores for a TN screen. Contrast should remain constant at 900:1 for the most part, but remember, these results will vary from unit to unit and GPU to GPU.
Although the gamut coverage for the AOC Agon AG251FZ is slightly lower than its competitors like the ViewSonic XG2530 we recently reviewed, it would be difficult to discern the difference which is only noticeable if you have them together and look hard enough. TN panels, after all, have limited vibrancy capabilities so we cannot expect a huge difference between similar modules with differing implementations.
Despite these complaints which are quickly alleviated with some effort put into testing and calibrating, the AOC Agon AG251FZ is sensational in responsiveness or input lag. This model clocks in at only 3.6ms of delay at its peak with the Low Input Lag option under Game Settings turned on. Without the latter, the timing drops to 5.1ms which is still excellent, but we are sure everybody would want the fastest setting for hardcore gaming sessions.
Blurring on the AOC Agon AG251FZ's screen also isn't an issue, since TN technology is natively fast enough to avoid these problems. If you, however, notice any artifacts or interlacing, you can use the Overdrive feature found in the OSD. Although we only recommend users to stay at the Strong level at 240Hz for optimal performance, some who would opt for lower speeds like 144Hz or even 60Hz shouldn't go above the Medium option.
Finally, to complete the AOC Agon AG251FZ's gaming prowess, the company chose to imbue it with FreeSync with a functional range of 48Hz to 240Hz. Gamers are protected from stuttering and tears across the entirety of the screen's cycle, so as long as you have an AMD card, your gaming will be buttery smooth. 1080p won't make most GPUs sweat bullets, but the 240Hz operation will push it to the limit, so it is best to have this option turned on.
Thoughts
The AOC Agon AG251FZ should top your shopping list if you are building an AMD based rig equipped with the latest Radeon GPU to get the most out of FreeSync. Although the price might seem a bit steep for most consumers, we think the product is well worth its price for its capabilities, build quality, and aesthetics.
Input lag results make it ideal even for the most talented gamers who are extra sensitive to minor delays. Although we have misgivings about the out of the box imaging performance, testing proved it can be corrected to reasonable levels for everyday use. Overall the AOC Agon AG251FZ is an excellent and well-made product, making it a must buy if you are in the market for a competitive monitor upgrade.