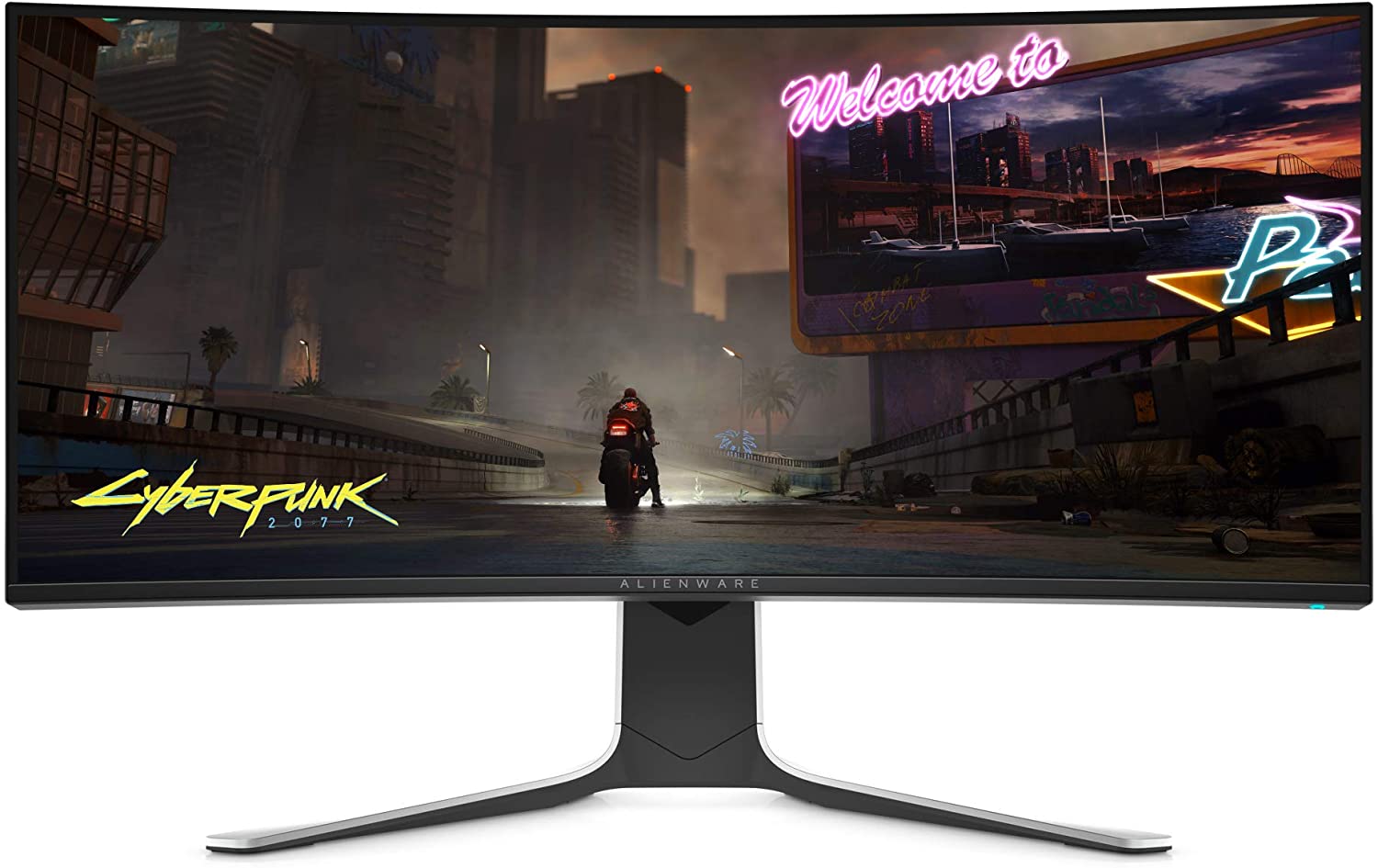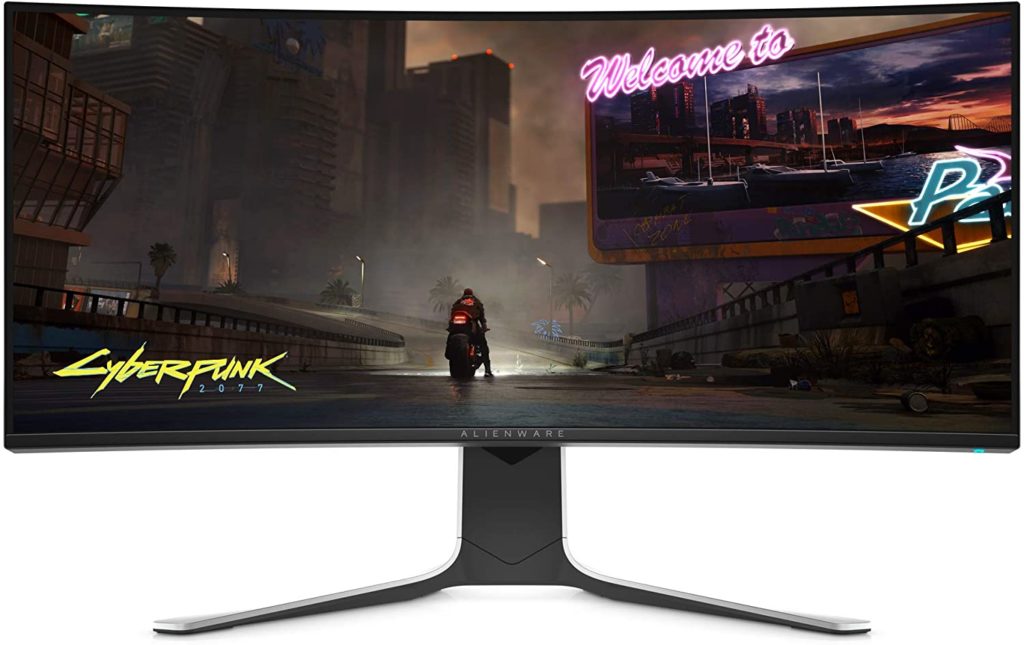 The Alienware AW3420DW is a uniquely designed, premium ultrawide monitor that offers a 120Hz and full G-Sync support for buttery-smooth gaming. This model is supposedly an improved successor to the AW3418DW which saw great success in a meticulous market that wants superb image quality and responsiveness. The Alienware AW3420DW is one of the most beautiful monitors you can buy in 2020, but does it have what it takes to overtake its established predecessor?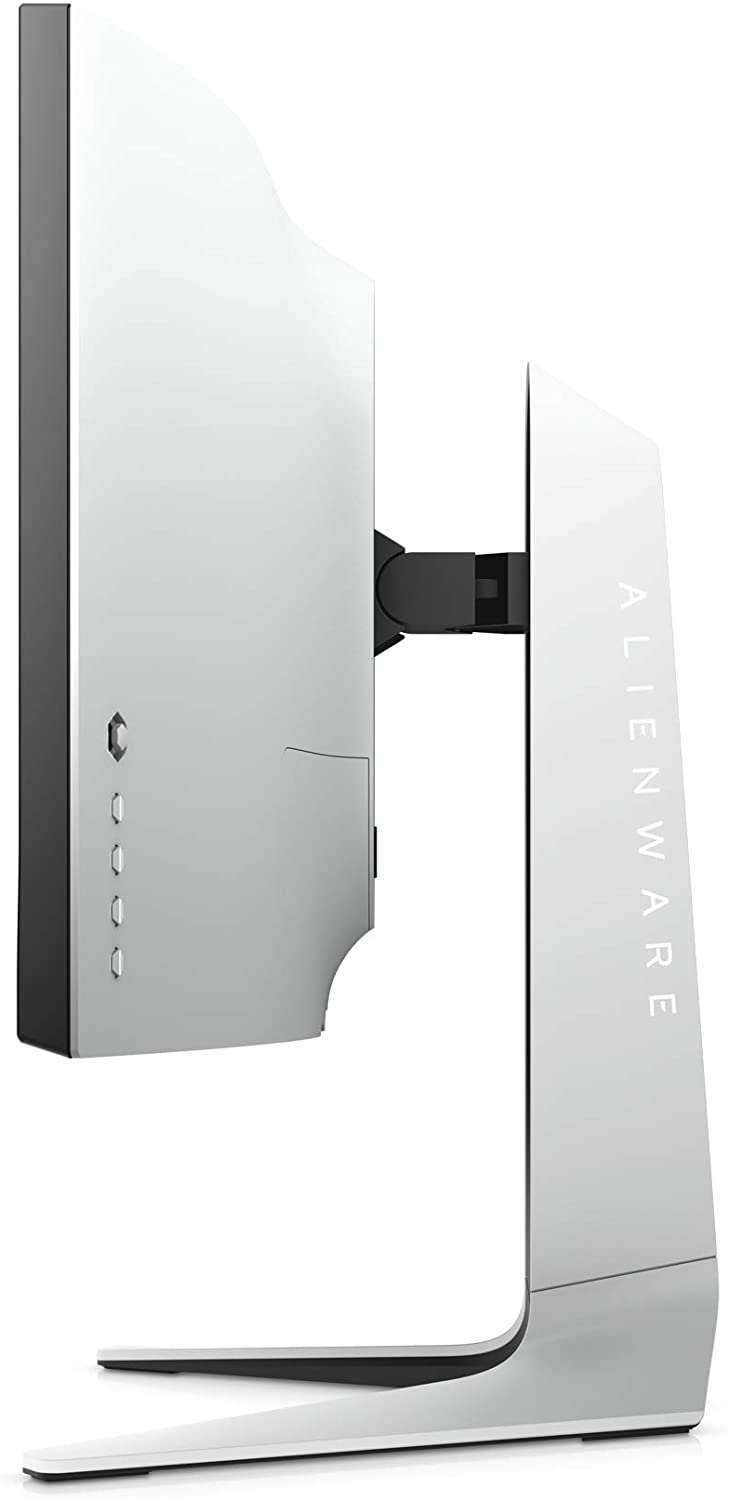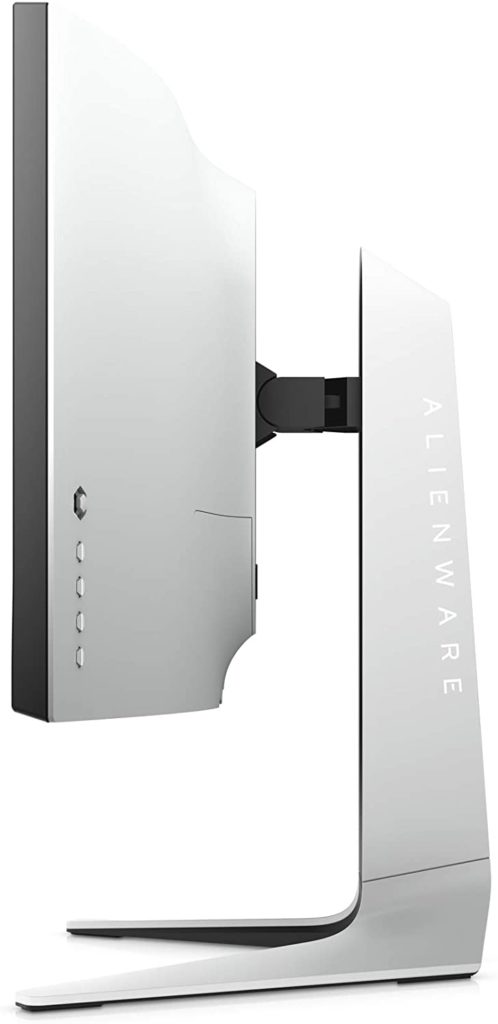 Alienware AW3420DW Specifications
Screen Size: 34 Inches
Resolution: 3440 x 1440 UW-QHD
Aspect Ratio: 21:9
Panel Technology: In-Plane Switching (IPS)
Refresh Rate: 120Hz
Response Time: 2ms
Contrast Ratio: 1000:1 (Static)
Brightness: 350 cd/m²
Built-in Speakers: No
Stand: Height – Yes (5.12 Inches)
Stand: Tilt – Yes (-4°/+35°)
Stand: Swivel – Yes
Stand: Pivot – No
VESA Compatibility: Yes (100 x 100)
Connectivity: DisplayPort 1.2 x 1, HDMI 1.4 x 1, USB 3.0 x 4, 3.5mm Audio Jacks
Dimensions (WxHxD): 32.01″ x 22.10″ x 10.77
Weight: 34.54 lbs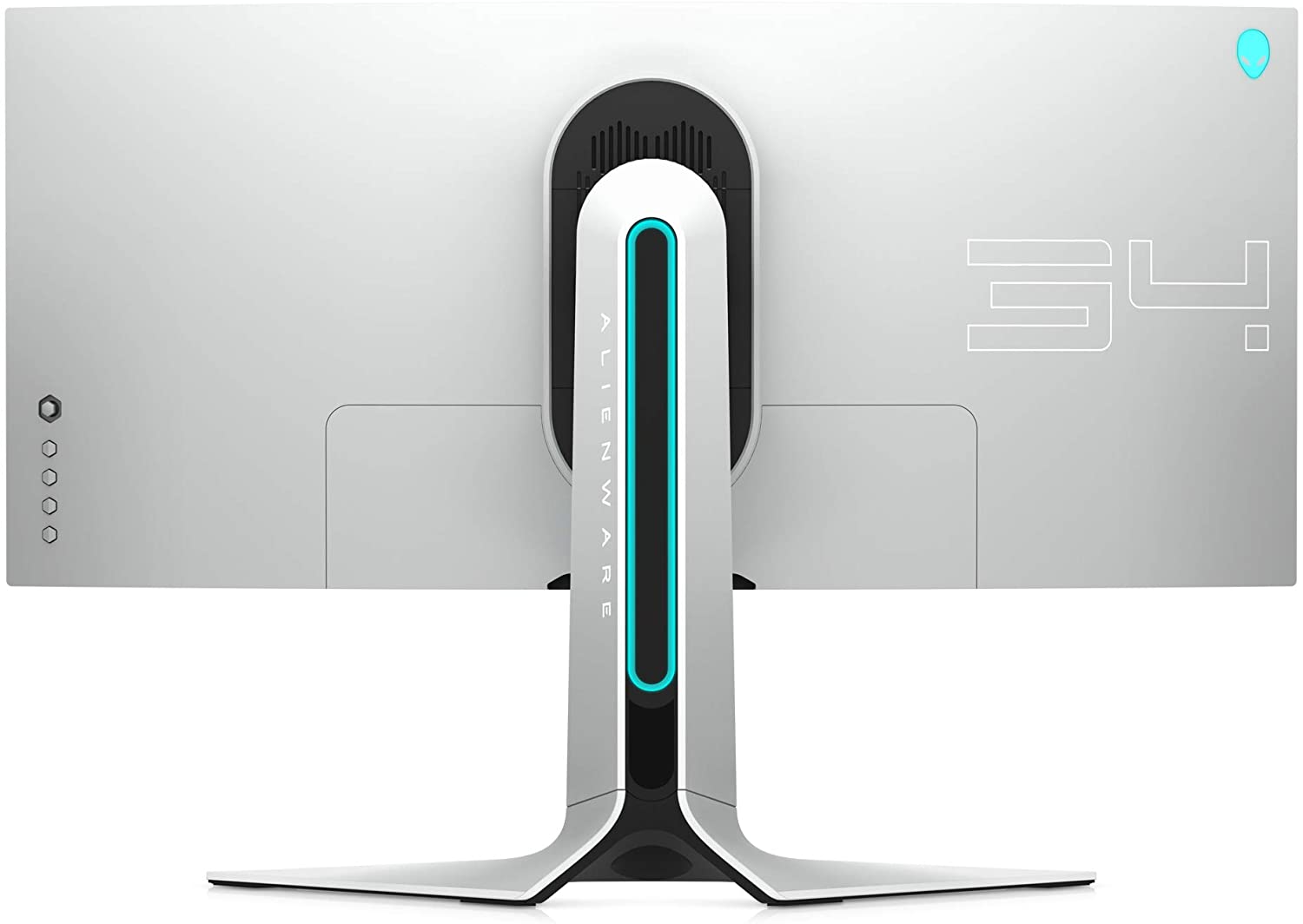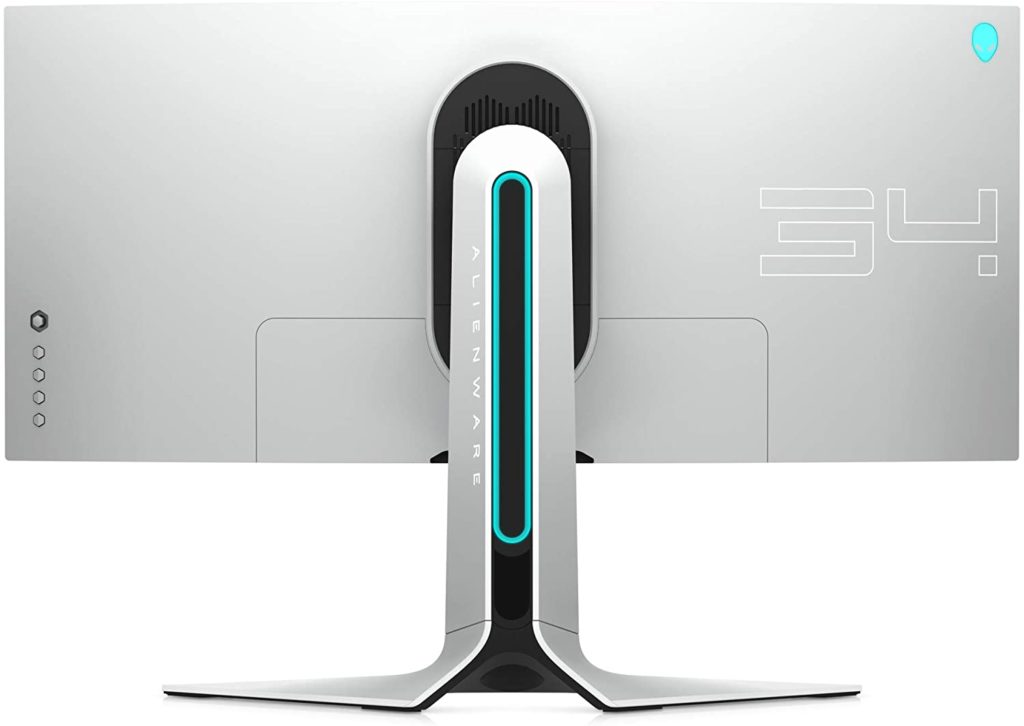 Design and Features
The Alienware AW3420DW suits up in a futuristic aesthetic that embodies its gamer-centric nature without removing the classy appeal. The device sports a matte white and black color combination that will make it look good with high-end builds, especially the white themed ones. The display is bezel-free on three sides, but you will still see panel borders which, to be honest, are barely noticeable against the large view.
The form of the Alienware AW3420DW makes it look bulky in some angles, but it actually has smaller dimensions than its predecessor. The device needs less than a foot of depth, but the boomerang-shaped base will allow you to place small peripherals such as stream decks in between the feet. You still need almost three feet of width for the model, so make sure that you have a desk that's wide enough if your unit sits on top.
Build quality for the Alienware AW3420DW is solid and reliable even if it uses a lot of plastics on its body. Each panel is perfectly molded, so there are no uneven gaps or uncut seams on any part of the monitor. We're also impressed that there is wobble on the device even if it weighs a lot, so the screen won't shake if you try to adjust its orientation or press the buttons at the rear.
The Alienware AW3420DW has an OSD joystick which makes navigation through the various settings easier than the regular buttons. They are located at the far side of the housing on the back, so you have to reach form them in case you need to adjust something in the OSD. Thankfully, most won't have to spend too long stretched out to reach the controls since they joystick will make things considerably quicker than pesky buttons.
Another distinct feature of the Alienware AW3420DW is its AlienFX lighting layout which places RGB LEDs on the stand's pillar and the alien head logo on the top corner. AlienFX can sync with over 145 games to match its colors to the images, or you can set your own theme with full RGB values. Unfortunately, the implementation isn't compatible with existing RGB ecosystems like ViewSonic's Elite RGB, so it will take a bit of effort to match your lighting with your build.
The Alienware AW3420DW comes with a flexible stand that allows you to tilt, swivel, and adjust the height of the display. The massive base provides excellent stability, while the thick upright with RGB LEDs do a good job of supporting the larger cabinet while adding some eye candy. You can swap this part out with a VESA mount, but we don't think it is necessary unless you need the extra space.


Connectivity for the Alienware AW3420DW is rather limited since it is a G-Sync monitor, so it includes the proprietary controller with its board. You only get DisplayPort 1.2 and HDMI 1.4 for video inputs, but thankfully, there is a total of five USB 3.0 slots on the monitor. There is a hub at below the bottom bezel at the center which includes two of the latter and a 3.5mm jack to make it easier for you to connect your devices.
There are no speakers with this model, but that's forgivable since an immersive monitor like the Alienware AW3420DW deserves an equally impressive audio device. However, it would be nice to have a premium pair like the ones found in LG's and Asus' MX ultrawides which are useful for music or even movies. They add value and make a high-end package more attractive, plus it makes sense since this device is quite expensive.
Display and Performance
The Alienware AW3420DW boasts a 34-inch IPS panel with a 3440 x 1440 resolution, 120Hz refresh rate, and a 2ms response time. The backlight is rated at 350 cd/2 while the contrast ratio sits at a typical 1000:1 like most IPS models. This model has a 1900r curve which isn't the deepest by today's standards but is appreciable due to the width of the screen.
The Alienware AW3420DW has a pixel density of 109 PPI, so it will appear considerably sharper and more detailed than regular PC monitors. The screen offers crisper images in games, but it's also great for productivity since you get more virtual space to work with. Its also a fact that small objects don't get miniaturized further like they are on 4K panels, so you don't have to use scaling or regularly squint to read something.
The Alienware AW3420DW is capable of 100% sRGB coverage which is excellent for gaming and entertainment purposes. However, the default color accuracy sits with an average DeltaE of 3.2 which you don't expect from a premium model like it. Color temperature is also warmer than the usual, so white backgrounds such as browsers will look slightly yellowish.
Thankfully, it is easy to calibrate the monitor with a few key adjustments to its color temperature settings in the OSD. You can achieve a DE of only .6 with this model along with a more balanced color temperature that is closer to the 6500K standard. It's worth putting in the extra effort in adjusting the monitor so you can enjoy a more balanced look for both games and productivity.
But the Alienware AW3420DW's biggest weakness is its contrast which struggled to reach its predecessor's 850:1 at 20% to 30% brightness. Gamma behaved identically in both default and calibrated states, sitting a few notches below 2.2, so the screen doesn't look too bright or dark in specific instances. However, blacks appear grayish especially when the monitor is used in the dark, lessening the satisfaction you get from a title's ambiance or environment.
Our favorite characteristic of the Alienware AW3420DW is its pixel response time which is ahead compared to similar IPS ultrawides in the market. Its still prone to blurring in light to dark transitions and vice versa, but setting its capable overdrive feature to its Fast level will correct these flaws. We don't recommend using the higher levels since they will introduce overshoot in return.
The Alienware AW3420DW is a G-Sync gaming monitor, unlike the AW2720H which supports both FreeSync and the former. This model will work great with top-end cards like the RTX 2080 Ti so most games will consistently run close to the maximum refresh rate. Input lag sits at 5ms, so there is no need to worry about delays while gaming.
Thoughts on the Alienware AW3420DW
The Alienware AW3420DW is an attractive piece of kit that will look great even if your build isn't following a specific theme. The unique design makes it stand out in its segment, but we wish Alienware would open its AlienFX lighting to work with other ecosystems such as Razer Chroma. The monitor is fantastic for its intended purpose, provided you have a powerful Nvidia GPU.
You also need to put in the extra effort to tweak the Alienware AW3420DW to correct its imaging quality flaws, especially in the color accuracy department. You also have to live with a low contrast monitor, so blacks will not be as satisfying to view compared to VA-equipped variants. The Alienware AW3420DW is a decent ultrawide gaming monitor, but it is not a compelling upgrade over its predecessor which now costs considerably less.
Pros:
Attractive Design with RGB
Excellent Build Quality
Great Post-Calibration Results
Responsive and Low Input Lag
Cons:
Expensive
Low Contrast Ratio
Poor Factory Calibration
About the Author: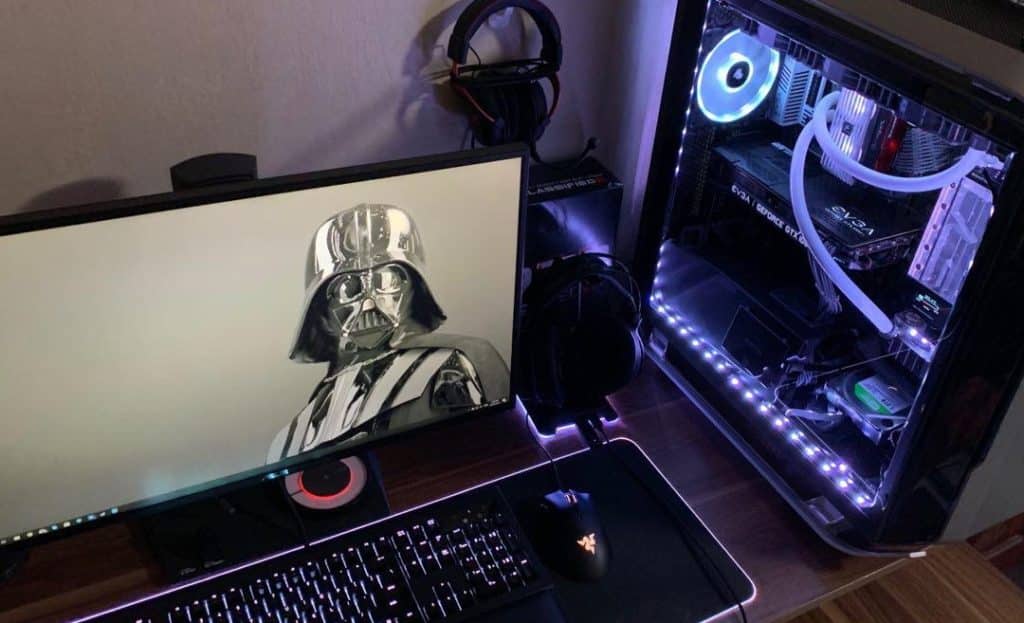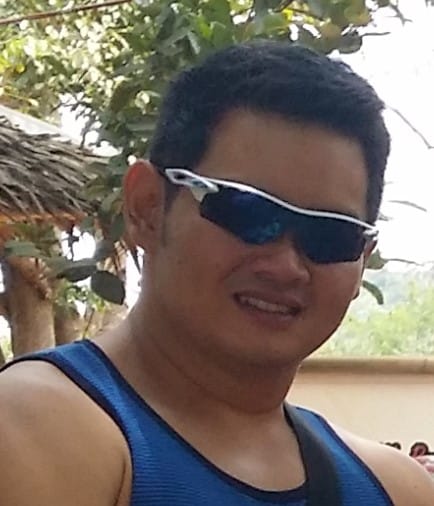 Paolo is a gaming veteran since the golden days of Doom and Warcraft and has been building gaming systems for family, friends, and colleagues since his junior high years. High-performance monitors are one of his fixations and he believes that it's every citizen's right to enjoy one. He has gone through several pieces of hardware in pursuit of every bit of performance gain, much to the dismay of his wallet. He now works with Monitornerds to scrutinize the latest gear to create reviews that accentuate the seldom explained aspects of a PC monitor.