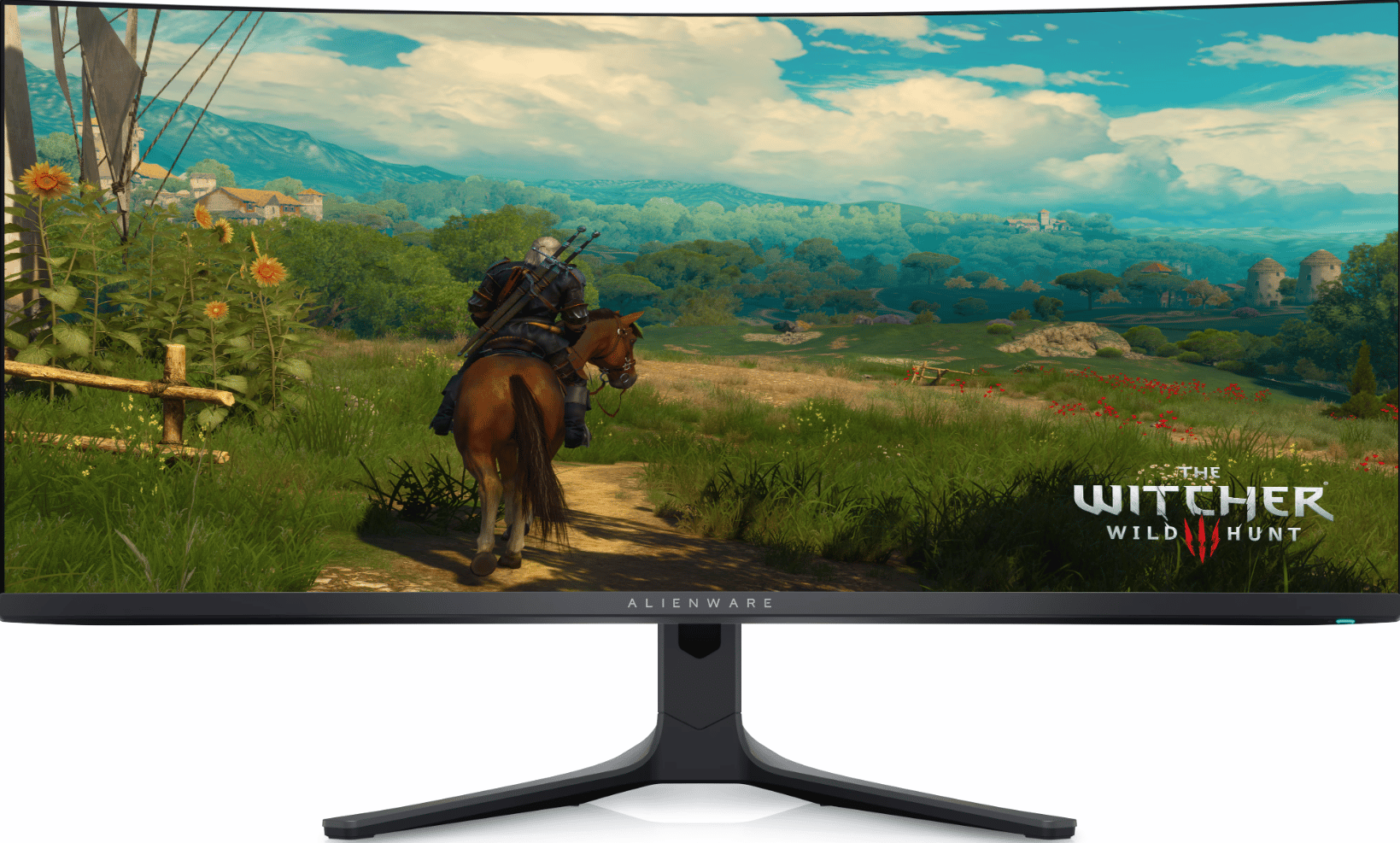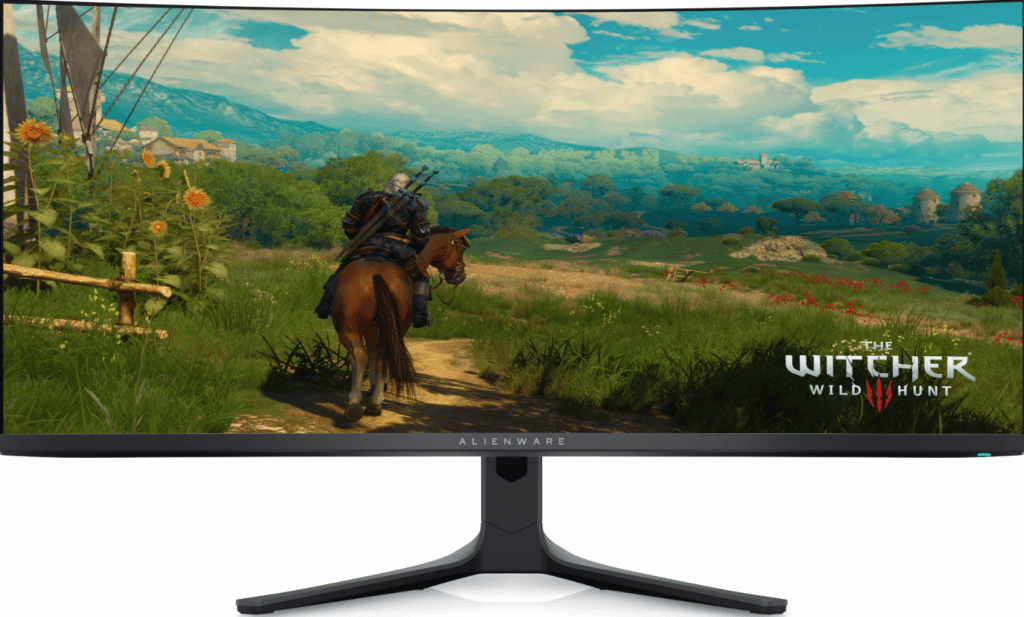 The Alienware AW3423DWF makes QD-OLED technology a bit easier to reach thanks to its lower MSRP versus the AW3423DW. There are subtle differences between the two, but you still get that glorious infinite contrast and HDR performance only OLED panels can provide. Let's check the Alienware AW3423DWF out to see what kind of performance we can get out of it.

Alienware AW3423DWF Specifications
Screen Size: 34 Inches
Resolution: 3440 x 1440 UW-QHD
Aspect Ratio: 21:9
Panel Technology: QD-OLED
Refresh Rate: 165Hz
Response Time: 0.1 ms
Contrast Ratio: 1000000:1
Brightness: 250 cd/m² (1000 cd/m² Peak)
Built-in Speakers: No
Stand: Height – Yes
Stand: Tilt – Yes
Stand: Swivel – No
Stand: Pivot – No
VESA Compatibility: Yes (100 x 100)
Connectivity: DisplayPort 1.4x 2, HDMI 2.0 x 1, USB 3.2 x 5, 3.5mm Audio Jack x 1
Dimensions (W x H x D): 32.1" 20.7" x 14.3"
Weight: 20.5 lbs

Design and Features
The Alienware AW3423DWF has minor aesthetic differences from its G-Sync counterpart, but it still looks like a top-shelf gaming monitor. This model has the Dark Side of the Moon finish, while its counterpart uses the Lunar Light white color. The screen is bezel-free on three sides, but you will still see inner borders when it's in use.
It is worth noting that this variant doesn't have the RGB LEDs on some parts like the stand. You still get the glowing logos on the chassis, but they can't produce light thas
We're all used to the overall sizes of 34-inch ultrawides, and this model isn't that different from the rest. However, it is still wide and deep enough to displace some of your peripherals such as large bookshelf speakers if you have a smaller desk. It weighs a little over 20 pounds so it's manageable, but we recommend asking for help in setting it up to avoid accidents.
The monitor's build quality is just as good as the AW3423DW and any of the brand's monitors. The plastics are thick and sturdy, plus you'll know that each part is reinforced and manufactured with precision. The included stand is stable and firm, so the large display won't sag or shake while you are in the middle of a gaming session.
The Alienware AW3423DWF has an OSD joystick under the logo on the bottom bezel so it is very easy to access. The monitor has plenty of settings and options, so a tactile tool is necessary so tweaking is painless and quick. Some premium options include a remote that will spoil you, but that isn't completely necessary for a desktop display.
The stand included in the package offers tilt, swivel, and height adjustments for your comfort and convenience. It's easy to get a comfortable viewing angle with the stock package so you don't have to spend more. It is compatible with VESA mounts, but those only become necessary in distinct instances.
Another difference this model has over the first one is its connectivity layout since it doesn't have a G-Sync module. You get two DisplayPort 1.4 slots, an HDMI 2.0 port, and four usable USB 3.2 slots for accessories. It also has a 3.5mm jack for headphones, but what it's clearly lacking is a USB-C slot which is usually found on high-end displays like it.
Another missing feature on this model is a pair of gaming-grade speakers which would have completed it in our books. The omission is forgivable since headsets will work better for immersion, but it is always nice to have a good backup. The Alienware AW3423DWF isn't cheap after all, so we know it could have offered a decent pair.
Display and Performance
The Alienware AW3423DWF boasts a 34-inch QD-OLED panel with a 3440 x 1440 resolution, a 165Hz refresh rate, and a 0.1 ms response time. The backlight has a 250 cd/m2 typical output and a 1000 cd/m2 peak while the contrast ratio is listed at a staggering 1000000:1 contrast ratio. This model is capable of HDR1000 performance thanks to the natural abilities of its panel type.
34-inch ultrawides are not as sharp as their 27-inch WQHD counterparts, but images and video still look detailed and cleaner. The extra pixel count is still there, but the bigger bonus here is the extra peripheral screen space you get with it. Ultrawides are sought after because of immersive gaming and their superb suitability for productivity and multitasking.
The Alienware AW3423DWF rendered more than 100% of sRGB and 99% of DCI-P3 for stunning colors in games and movies. It also has a default deltaE average of 1.51 so it is already color-accurate for most applications. Most users won't have to optimize the monitor's settings since Alienware already did a great job at the factory.
Calibrating it reduced the dE average to 1.19 which is better and more suited for editing and content creation. We've seen better results on IPS-based ultrawides, but this score is understandable due to the very wide gamut coverage. So, we don't recommend getting a colorimeter just for this model since it's already good enough by default unless your work needs the absolute best accuracy possible.
The QD-OLED panel's illumination reached 255 cd/m2 at 100% in SDR, but it shot up to 1015:1 when it's HDR mode kicked in. We couldn't measure contrast accurately, but it's safe to assume that this monitor is capable of infinite contrasts. Blacks are truly black and deep with it, especially if you use the monitor's True Black mode since it controls the per-pixel dimming better in dark scenes.
Panel uniformity for the test sample was perfect since there is no backlight to deal with on an OLED display. We didn't see any clouding issues as well, so dark scenes will look even more convincing on this monitor. The only issue with OLEDs is their susceptibility to burn-in, so you have to take extra care of them to avoid an imprint.
The QD-OLED in this monitor is capable of near-instantaneous pixel response time, so blurring and persistence aren't an issue in fast-paced scenes. There are some slight hints of it when the framerate mismatches the refresh, but they are mostly unnoticeable while you are gaming.
The Alienware AW3423DWF is a FreeSync monitor, but it's also compatible with Nvidia's G-Sync feature. This duality is a must-have feature now since both GPU brands have very capable offerings. Input lag sits at 4ms at 165Hz so the screen won't be sluggish or delayed in fast-paced play.
Thoughts on the Alienware AW3423DWF
The Alienware AW3423DWF is a fine choice if you want QD-OLED ultrawide awesomeness at a slightly lower price point. It has a few penalties compared to the G-Sync Ultimate version, but it is just as good in the aspects that matter most. It's well-built and designed, so it should be a good investment that will last a while.
However, it still lacks some features we expect from a monitor that costs over a grand, such as USB ports. There are also burn-in issues which will most likely happen if you leave your monitor turned on even if it is unused for extended periods. But overall, it's a fantastic choice and a good investment, just its like G-Sync sibling.
Pros:
Excellent Colors and Contrast
Attractive and Robust Design
Great HDR
Cons:
No USB-C and Speakers
Prone to Burn-in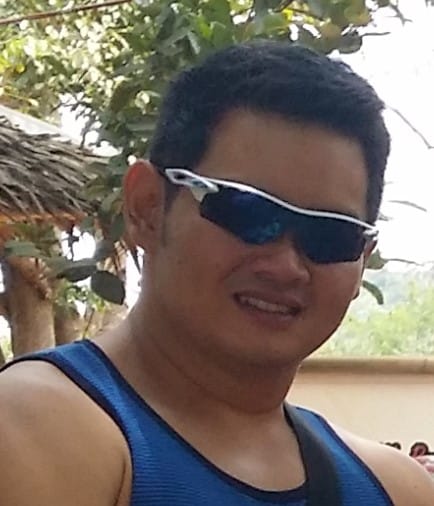 Paolo is a gaming veteran from the golden days of Doom and Warcraft. Since junior high, he has been building gaming systems for family, friends, and colleagues. High-performance monitors are one of his fixations; he believes that every citizen's right to enjoy one. He has gone through several pieces of hardware in pursuit of every bit of performance gain, much to the dismay of his wallet. He has also spent half a decade researching, reviewing, and writing about these products and now has over 1400 articles about the best gaming tech under his belt.