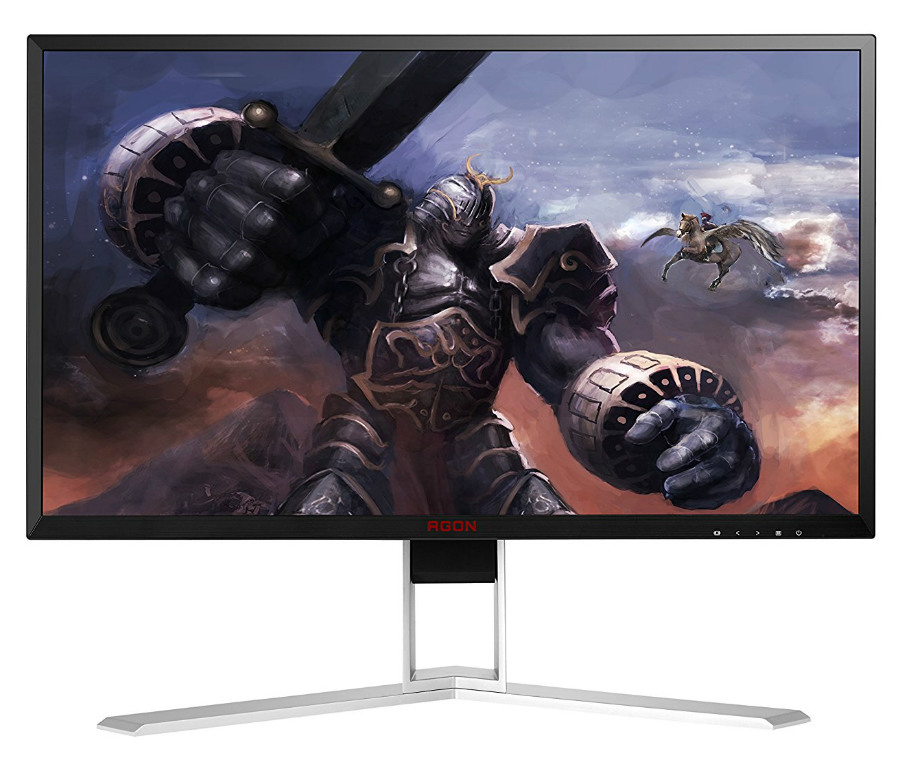 The AOC Agon AG271UG is one of five products released by AOC to compete in the cutthroat segment of high-tech gaming monitors. Priced a bit friendlier than its top ranking rivals, this 4K gaming display is enticing for gamers who want to dab in high-resolution gaming.

AOC Agon AG271UG Specifications
Screen Size: 27 Inches
Resolution: 3840 x 2160  UHD
Aspect Ratio: 16:9
Panel Technology: In Plane Switching (IPS)
Refresh Rate: 60Hz
Response Time: 4ms
Contrast Ratio: 1000:1 (Static)
Brightness: 300 cd/m²
Built-in Speakers: 2 x 2 watts
Stand: Height – Yes (5.11 Inches)
Stand: Tilt – Yes (-5°/+23°)
Stand: Swivel – Yes
Stand: Pivot – Yes
VESA Compatibility: Yes
Connectivity: DisplayPort 1.2 x 1, HDMI 1.4 x 1, USB 3.0 x 4,3.5mm Audio Jacks
Dimensions (WxHxD): 24.5″ x 17.1″ x 8.6"
Weight: 14.9lbs

Design and Features
We have to admit, AOC's Agon series of monitors have one of our favorite designs amongst the plethora of gaming monitors. The matte black surface with thin bezels up front provide a clean look, and apart from the red Agon logo and OSD Symbols upfront, there isn't much to see which is always a good thing.
Turning over to the rear reveals the red chevron accent which hides the AOC Agon AG271UG's I/O layout and air vents under its folds which make the product look neat and sophisticated. Although we can say that the combination is overused in a lot of gaming products, this model will still appeal to more mature tastes.
On the right-hand side of the cabinet, you will find a headset hanger which folds out to hold your cans in place. There is also a convenience panel which contains two USB 3.0 ports and a 3.5mm headphone/mic combo jack. The other connectivity options are below the chevron accent in a down firing position, and included are a DisplayPort, a lone HDMI port, and the rest of the USB slots. The two signal inputs are limiting, but this is a well-known imposition of the G-Sync module inside.
We cannot stress enough the importance of an ergonomic stand, and the AOC Agon AG271UG pulls it off perfectly. You get an all-aluminum structure with slim lines and a sturdiness which other plastic mechanisms will find difficult to beat. One thing we don't like about this design is it lacks a tighter cable management receptacle to hold your wires in place.
The flexibility on the AOC Agon AG271UG is a godsend since you get a full range of adjustments which includes height, tilt, swivel, and pivot. 27-inches can sometimes be a lot to handle for some, and the disparity between human anthropometrics expounds on the importance of these features even more.
The top of the stand is terminated by a carrying handle if in case you want to lug this product around which is surprisingly lightweight when compared to the similar-sized gaming monitors like our best overall display, the Asus ROG Swift PG278QR, which weighs in at around 16lbs. Removing the stand via a quick detach button reveals 100 x 100 VESA holes for aftermarket mounting options.
Display and Performance
The AOC Agon AG271UG presents a 27-inch IPS panel with a 3840 x 2160 native resolution, 60Hz refresh rate, and 4ms response time. These specs are typical nowadays since we are on the eve of witnessing 144Hz 4K gaming displays with HDR, but your AAA titles will still pop with excellent sharpness and clarity you can expect from 4K.
The IPS screen on this model looks bland out of the box, but with a little tinkering and testing, a performance of 99% sRGB coverage can be achieved. Delta E averaged at 1.06 which is excellent especially for gaming monitors. Brightness levels can exceed 350 cd/m2 if needed, despite the 300 cd/m2 listing on the AOC Agon AG271UG's spec sheet.
Contrast can also exceed 1080:1 depending on how bright you can use the screen, and while that result is acceptable, some blacks and dark scenes can appear grayish at times. In tests sessions with Battlefield 1, colors appear vibrant, and the differing shades of the scenery appear excellent and accurate, as expected from a high-quality IPS panel.
To sum up these descriptions, the overall performance and image quality of the AOC Agon AG271UG is similar, if not a bit better than the ViewSonic XG2700-4K which is one of our favorite 4K gaming monitors for its fantastic value and capabilities. You will find yourself in the professional 4K display segment if you look for something even better, and you might need to spend a bit more.
60Hz isn't a lot, but currently, for 4K monitors, that is the best you can get. Gaming on the AOC Agon AG271UG is satisfying if your GPU can muster enough power to keep frames at 60FPS, but even the most powerful GPUs will stutter once in a while. Thankfully, this model includes G-Sync to solve this issue, and once activated, the imagery flows smoothly without any fuss.
It is hard to notice any tearing or stuttering even if frames randomly dipped from 50FPS to 60FPS so that we can rate the AOC Agon AG271UG's implementation as superb overall. If there was one issue we noticed, it was some minor interlacing or blur trailing in some fast-paced scenes. Unfortunately, there is nothing you can do about these little misgivings even if this model comes equipped with an Overdrive feature.
Using that option, however, won't solve these flaws even if you choose the maximum level. In tests, we saw advanced ghosting artifacts if too much Overdrive is used, so we recommend using the medium setting on all types of usages.
Finally, the AOC Agon AG271UG is as responsive as most of the available 4K gaming monitors. We did not get a chance to measure actual results, but we can say that most users will not feel any delays and controls will be snappy. You will only feel a slight difference if you are upgrading from a 144Hz monitor, but even then, it shouldn't be enough to deter anybody from enjoying this excellent gaming monitor.
Thoughts
The AOC Agon AG271UG is an excellent 4K gaming specimen, even if gamers are now looking forward to 144Hz UHD displays and HDR. Still, if you are seeking to upgrade to a G-Sync equipped display in this flavor, we can still recommend this model especially since it includes a slightly more affordable price in the USA.
Of course, you have to live with some minor issues we witnessed like ghosting, but you have to remember, this isn't a high-refresh model. The build quality is excellent, and we love the design, so there is no question that the AOC Agon AG271UG is a good buy if you can swallow the G-Sync tax you have to pay to enjoy this product.  Just be sure that your GPU has enough juice to render in 3840 x 2160.