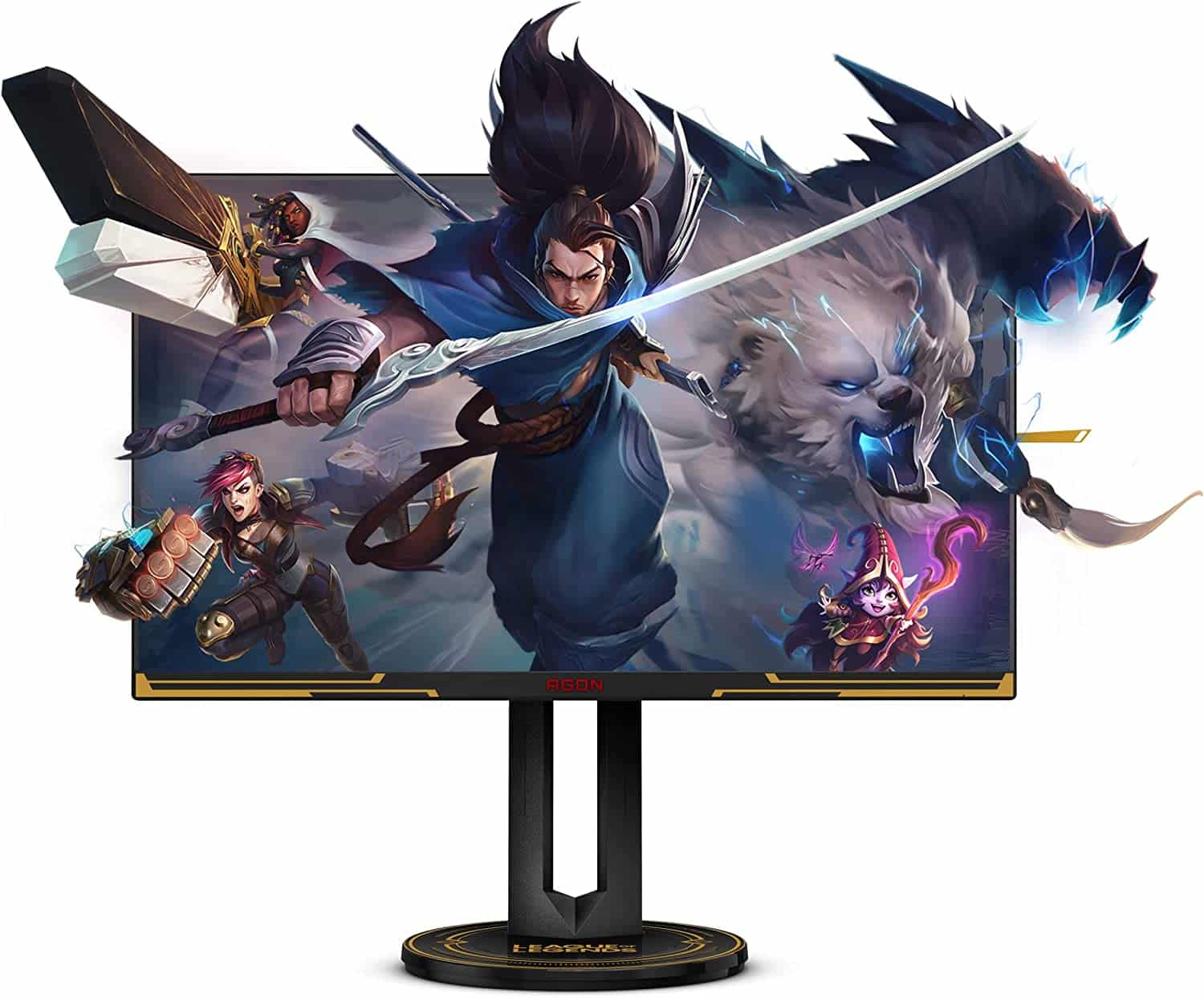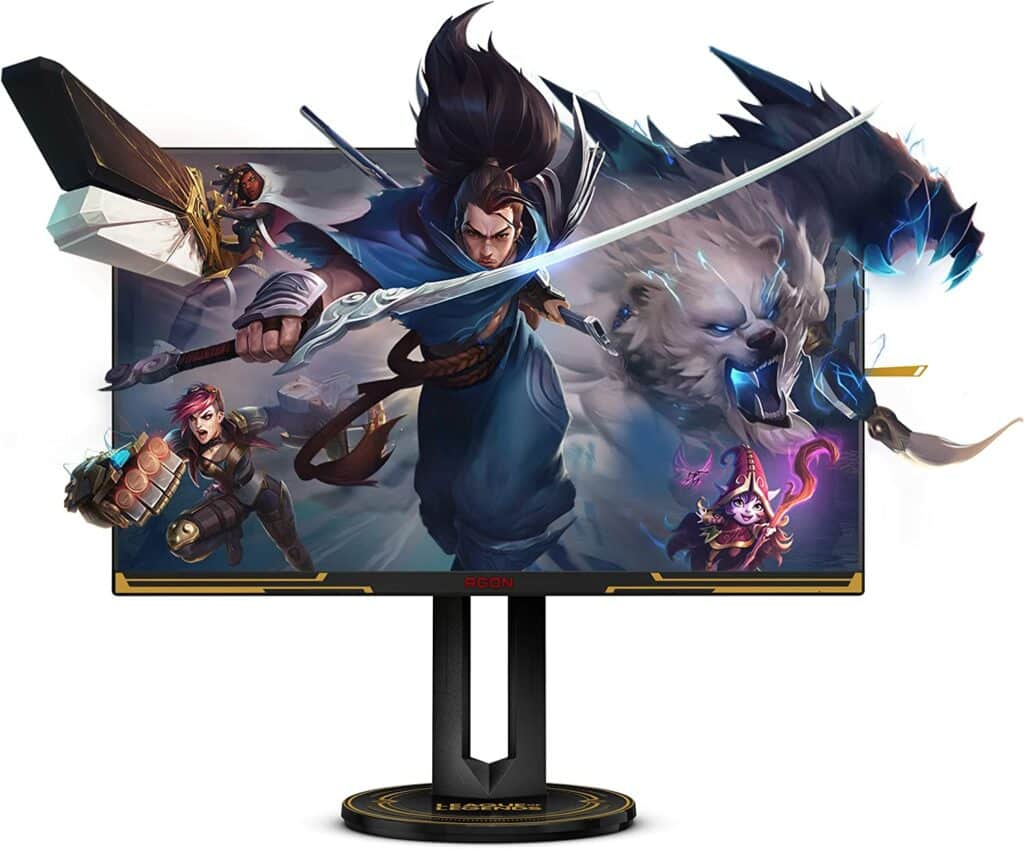 The AOC Agon AG275QXL is a specially crafted gaming monitor designed for League of Legends fans who want a fast and vibrant display. It features a fast IPS panel with a 170Hz refresh rate and a unique aesthetic that would set it apart from its compatriots like the Asus VG271AQL1A. Let's take a closer look at the AOC Agon AG275QXL to see what the buzz is about since it's almost always sold out.

AOC Agon AG275QXL Specifications
Screen Size: 27 Inches
Resolution: 2560 x 1440 QHD
Aspect Ratio: 16:9
Panel Technology: In-Plane Switching (IPS)
Refresh Rate: 170Hz
Response Time: 1ms
Contrast Ratio: 1000:1 (Static)
Brightness: 400 cd/m²
Speakers: Yes(2 x 5 Watts DTS)
Stand: Height -Yes
Stand: Tilt – Yes
Stand: Swivel – Yes
Stand: Pivot – Yes
VESA Compatibility: Yes (100 x 100)
Connectivity: HDMI 2.0 x 2, DisplayPort 1.4 x 2, USB 3.2 x 4, 3.5mm Jack x 1
Dimensions (W x H x D): 24.15" x 21.80" x 9.8"
Weight: 17.28lbs

Design and Features
The AOC Agon AG275QXL has a unique aesthetic that can be attractive for the right customers but polarizing for the others. The monitor has a matte black chassis with gold accents and RGB lighting that were meant to match the Hextech designs in the game. The display is bezel-free on three sides, but you will still see inner borders when it's in use.
It will be bigger than the monitor you use in school or at work, but it is not a giant by today's standards. It doesn't take up too much space on your desk, but it needs almost 10 inches of depth when it's assembled. The monitor is light enough to be portable, so it can easily be transported to a League of Legends competition or a LAN party.
It's not very expensive like other premium variants, but it still has excellent build and aesthetic quality. It didn't seem like the plastic panels would flex or break with moderate force, plus there were no cosmetic defects on any of its parts. The included stand is strong and stable so the monitor won't sag and shake while you are in the middle of a match.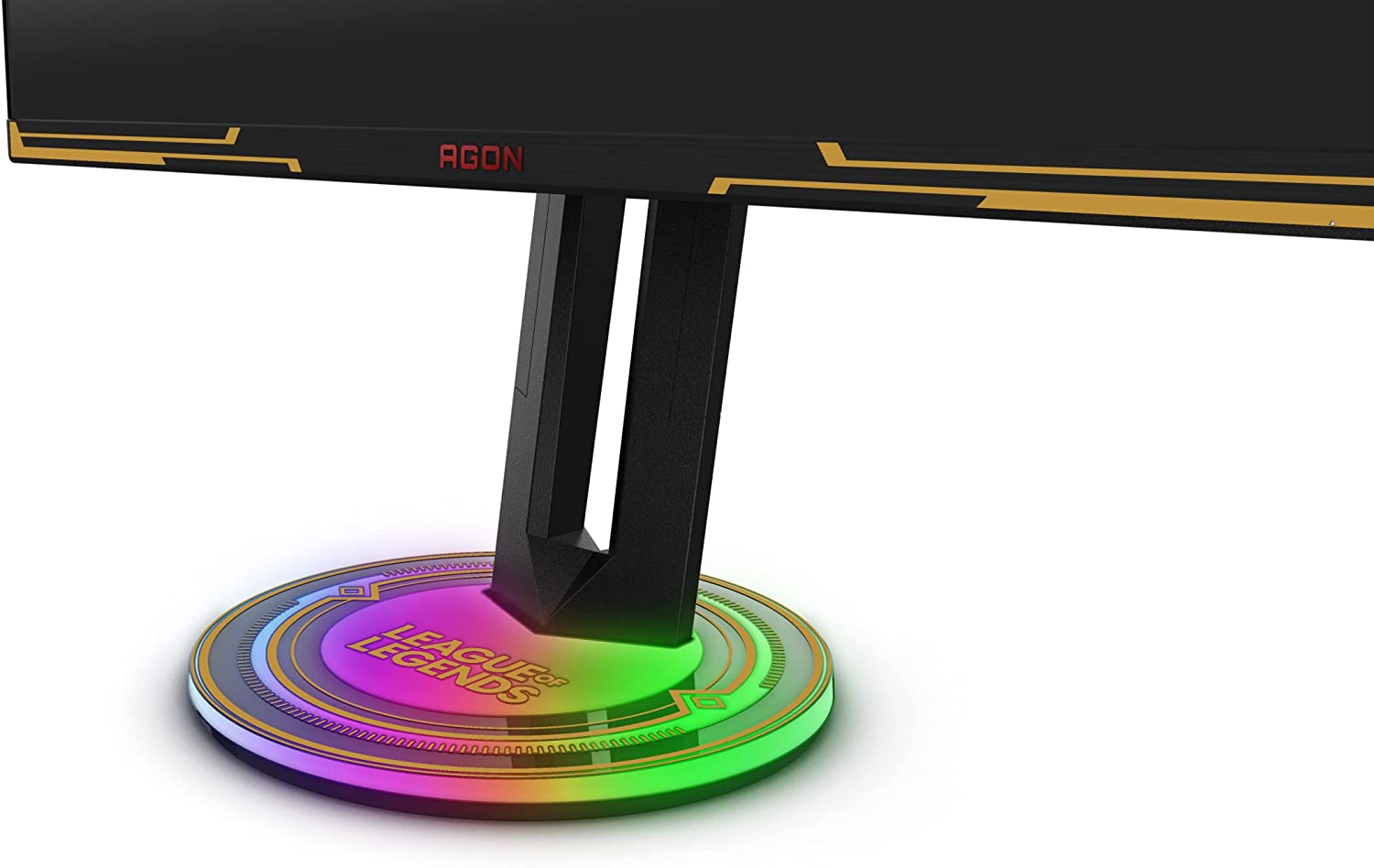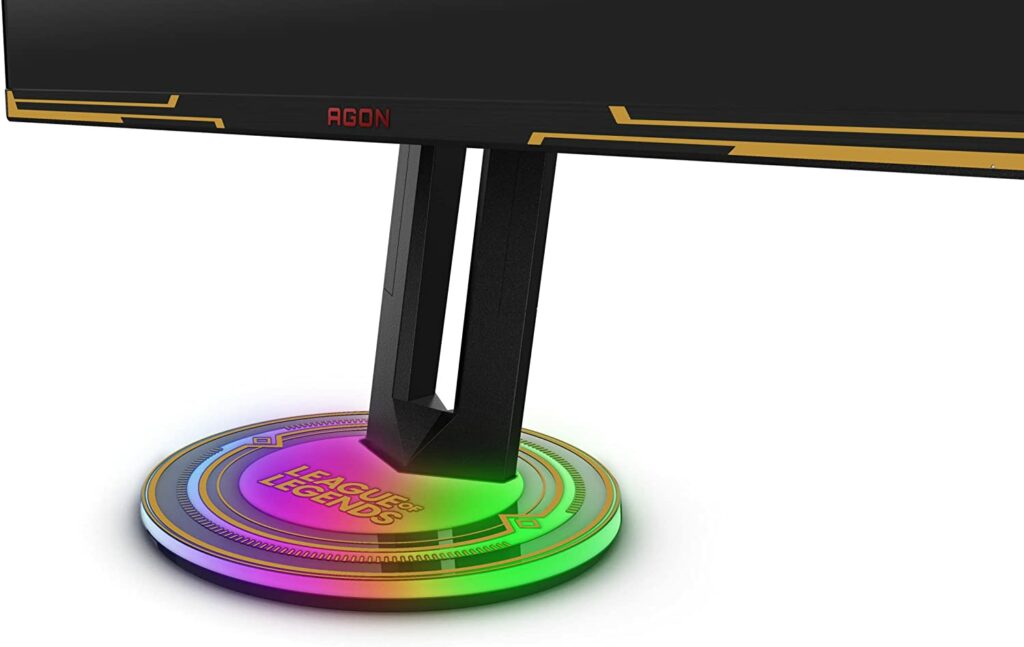 Another interesting feature of the AOC Agon AG275QXL is its LED lighting on its base and on the back panel. It's not compatible with most RGB ecosystems and other brands of gear, but you can control it easily via AOC's G-Menu app. It can be synced to League of Legends so it can match the colors of the screen and enhance the monitor's immersive capability.
The monitor also has an OSD joystick that's highlighted in gold at the back of its chassis. It is easy to access and use, unlike pesky buttons, especially for a monitor that has several presets and available tweaks to make the visual experience better. The monitor even has a color and design-matched puck to help you navigate the OSD in a quicker and more comfortable manner.
The stand included with the package offers tilt, swivel, pivot, and height adjustments for your comfort and convenience. This increases the monitor's usability, but we don't think it's practical to use this monitor as a portrait monitor. You can use VESA mounts, but you will lose the RGB lighting so it only is advisable if space is limited.


The AOC Agon AG275QXL's connectivity layout is basic compared to what some special offerings have. It offers two slots each for DisplayPort 1.4 and HDMI 2.0, plus four USB 3.2 slots and a 3.5mm jack for your peripherals. That's more than sufficient in most cases, but some already offer USB-C slots and the newer HDMI 2.1 standard for better flexibility.
It also has a pair of upgraded built-in speakers with 5 watts of power and DTS tuning for better overall performance. They sound better than the usual sets installed on most gaming monitors, but they cannot provide the immersive sound quality that can help you focus on your games and movies. Headsets will still be better, but it's always nice to have a decent set for secondary tasks.
Display and Performance
The AOC Agon AG275QXL sports a 27-inch IPS panel with a 2560 x 1440 resolution, a 170Hz refresh rate, and a 1ms response time. the backlight has a 400 cd/m2 maximum while the contrast is listed at 1000:1 like most IPS panels. It's certified for HDR 400, but we all know how limited that is since it doesn't include local dimming.
27-inch 1440p monitors are perfect for gaming since they are sharper and more detailed than a 1080p screen but not as demanding as a 4K variant. They give you more room to maneuver and increase your productivity. It's more demanding on a GPU than 1080p, but it doesn't take a lot to run the game it was made for anyway.
The AOC Agon AG275QXL rendered 100% sRGB and 93% DCI-P3 coverage for stunning colors in games and movies. Its default accuracy is fantastic since the deltaE is only at 0.87, unlike many gaming monitors out there with extended gamut coverages. It is pre-calibrated from the factory, so most gamers can use it right away.
Manually calibrating the AOC Agon AG275QXL reduced its deltaE average to 0.45 which is even better. However, that's not a considerable improvement for most uses, unless you want to use the monitor for professional editing and content creation. The gadget used to achieve this isn't cheap, so it will only become a practical addition if you will use the monitor to make money.
Its backlight reached 375 cd/m2 in SDR but it peaked at 405 cd/m2 when it's HDR mode is active. Its contrast only reached 980:1 at 50% brightness, so the screen is incapable of deep blacks like most IPS panels. It is HDR mode is also not that effective, so we know many will leave it unused just like with the rest of the HDR 400 monitors on the market.
Panel uniformity on the test sample had some minor backlight leaks at the top edge of the screen. It wasn't a problem while playing games, but putting on dark scenes or an all-black image revealed some clouding issues. Note that this can change with other AG275QXLs in the market due to manufacturing tolerances.
The AOC Agon AG275QXL is still prone to some blurring and persistence which can become noticeable if your sights are sensitive enough. It has an overdrive feature, but it's not perfect so it is incapable of completely clearing up the flaws without inducing overshoot. We can only recommend the Weak or Medium modes since the highest setting will induce reverse ghosting.
The AOC Agon AG275QXL is compatible with both FreeSync and G-Sync so AMD and Nvidia GPU users won't need to worry about tearing and stuttering. Both video card companies have excellent 1440p offerings, so going with a dual-compatible monitor will not tie you to either one. Input lag sits at 4ms at 170Hz, so there is no need to worry about delays while gaming.
Thoughts on the AOC Agon AG275QXL
The AOC Agon AG275QXL is a great gaming monitor with fantastic imaging performance and a unique aesthetic. It's also surprisingly affordable for a special edition monitor even if it includes decorative extras like the RGB lighting and the themed remote. It has all the right features, but it could use some upgrades to make it a bit more future-proof.
The biggest flaw of the AOC Agon AG275QXL apart from its poor HDR performance is its slower pixel response time. It was designed for League of Legends which is slower-paced compared to titles like CSGO, but blur-prone panels are inexcusable at this point. However, that's not a major issue if you are playing MOBAs, so it's still a superb pick.
Pros:
Great Color Accuracy (Default and Calibrated)
Low Input Lag
FreeSync/G-Sync Compatible
Great for All-Around Gaming
Cons:
Themed Aesthetics Not for Everyone
Prone to Blurring
Lacklustre HDR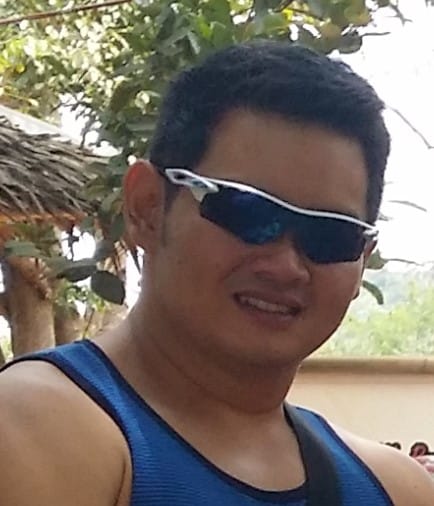 Paolo is a gaming veteran since the golden days of Doom and Warcraft and has been building gaming systems for family, friends, and colleagues since junior high. High-performance monitors are one of his fixations and he believes that it's every citizen's right to enjoy one. He has gone through several pieces of hardware in pursuit of every bit of performance gain, much to the dismay of his wallet. He now works with Monitornerds to scrutinize the latest gear to create reviews that accentuate the seldom explained aspects of a PC monitor.