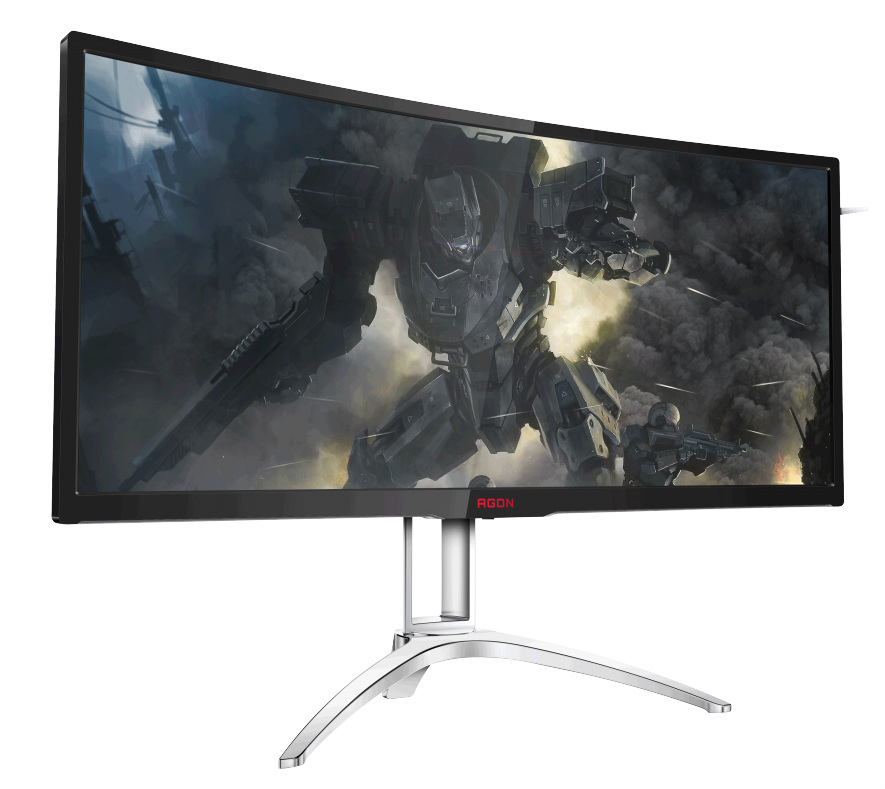 The AOC Agon AG352UCG offers a stunning, QHD Ultrawide with a 100Hz refresh rate and G-Sync that will enhance your gaming experience. The VA monitor with high contrast goes against tough to beat competitors like the Asus PG348Q and the Acer X34 which utilize IPS panels. Read on and take a peek at what the AOC Agon AG352UCG can do and why it is universally accepted as one of the value kings in the gaming monitor arena.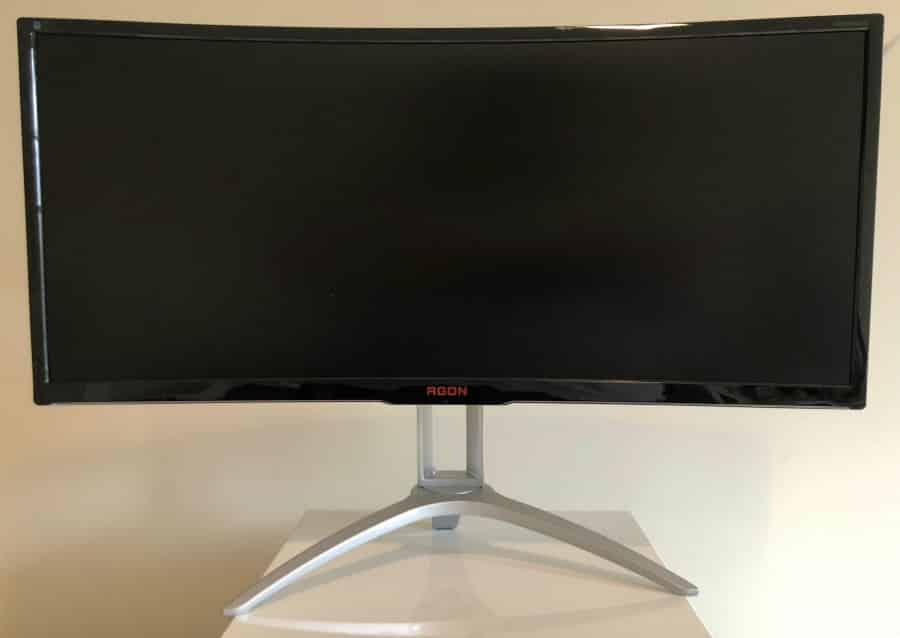 AOC Agon AG352UCG Specifications
Screen Size: 35 Inches
Resolution: 3440 x 1440  UW-QHD
Aspect Ratio: 21:9
Panel Technology: Vertical Alignment (VA)
Refresh Rate: 100Hz
Response Time: 4ms
Contrast Ratio: 2000:1 (Static)
Brightness: 300 cd/m²
Built-in Speakers: Yes 2 x 2 Watts
Stand: Height – 4.8 Inches
Stand: Tilt – Yes (-5.5°/+29°)
Stand: Swivel – Yes
Stand: Pivot – No
VESA Compatibility: Yes
Connectivity: DisplayPort 1.2 x 1, HDMI 1.4 x 1, USB 3.0 x 3, 3.5mm Audio Jacks
Dimensions (WxHxD): 33.35″ x 23.11″ x 10.49"
Weight: 26.02lbs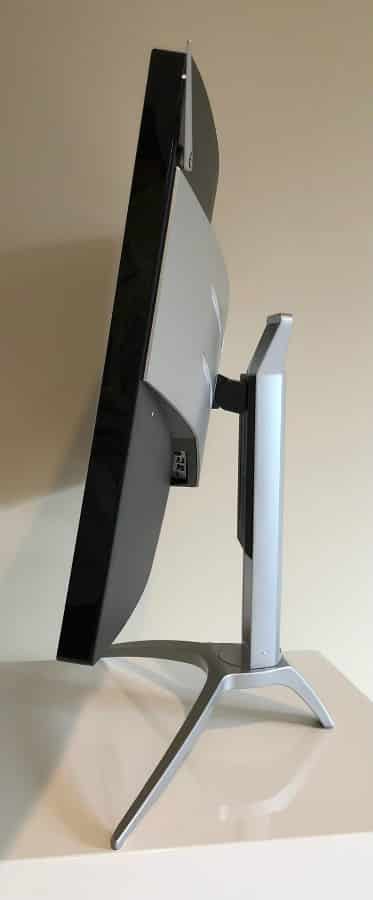 Design and Features
The AOC Agon AG352UCG doesn't look as sleek as its counterparts since it sports a tanky-looking design which gives it a non-modern, but durable look. There are .7-inch thick bezels at the top and sides, and a slightly thicker bottom strip with a red Agon logo emblazoned on the middle. This look isn't preferred, but it does a great job at hiding panel borders which is usually much more pronounced with VA screens.
You will find an LED lighting feature just below the bottom bezel which can change color and brightness or be turned off in the OSD. We're not a fan of glossy finishes since they scratch easily and attract dust, but it does add a unique flair to the AOC Agon AG352UCG which strives to be unique amidst a segment that's flooded with matte black and red schemes. Users need to keep a microfiber cloth handy to maintain the new look of the product.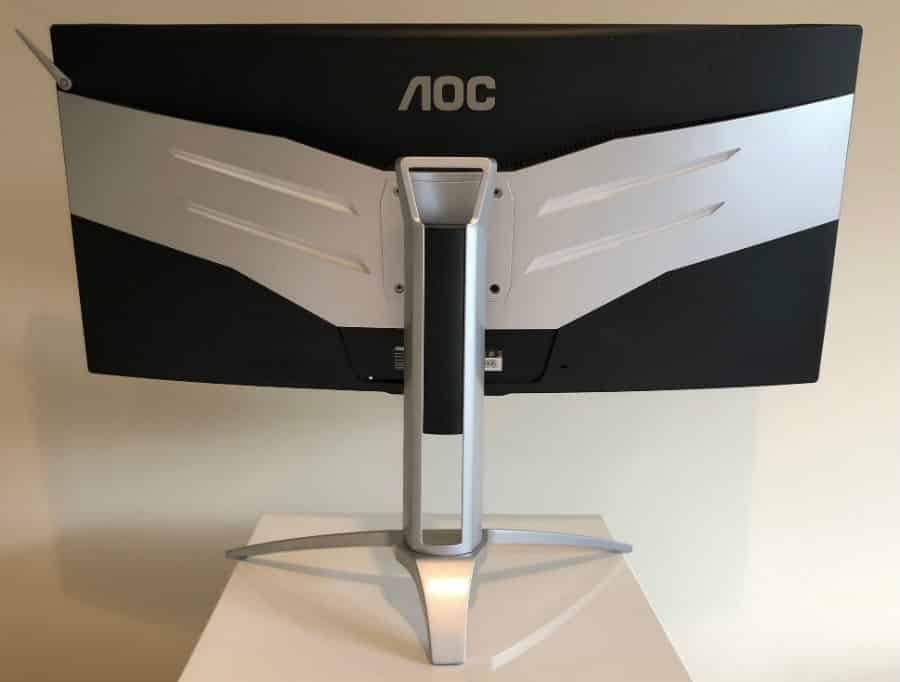 One of the most striking aspects of the AOC Agon AG352UCG's design is the aluminum wings which also comes decorated with LED strips. It may look overdesigned, but the LED adds bias lighting effects to a gaming setup in a dark room. Just like the LED on the bottom bezel, you can change color and brightness or you can turn it off in the OSD. There is also a folding headset hanger on the upper corner of the rear panel which we find very useful since virtually every person in the user demographics for this model will own a pair of cans.
As mentioned, the AOC Agon AG352UCG feels like its built like a tank. The monitor feels sturdy and stable once assembled, plus, the craftsmanship and material quality are topnotch. The sculpturesque metal stand offers excellent flexibility to allow users to smoothly adjust the display's height or angle depending on their individual needs.
Of course, if the included mechanism isn't appealing to you, you can remove it in favor of VESA mounting options. But in our opinion, most would find little reason to remove this well-designed feature simply because it offers easy adjustment with smooth movements while giving you the confidence that the cabinet won't topple over. The powder coated finish also adds a nice touch to match the simple aesthetic of the rest of the product.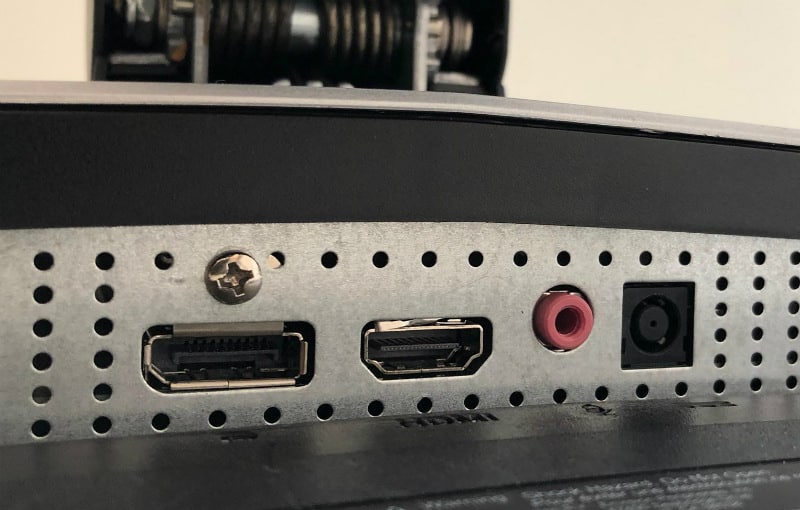 The AOC Agon AG352UCG is a G-Sync monitor so it comes with limitations associated with Nvidia's proprietary hardware and its requirements. Video inputs are limited to DisplayPort 1.2 and an HDMI 1.4 slot due to the pre-installed G-Sync controller. Other than that, you will find two USB 3.0 slots with fast charging and a 3.5mm jack for audio passthrough, and nothing else.
Display and Performance
The AOC Agon AG352UCG boasts a 35-inch VA panel with a 3440 x 1440 resolution, 100Hz refresh rate, and 4ms response time. A contrast ratio of 2000:1 is specified for the product along with a 300cd/m2 backlight for excellent visibility and grayscale performance. The screen is then topped off with a slightly gentler, 2000r curvature which increases the interesting effect of an ultrawide display.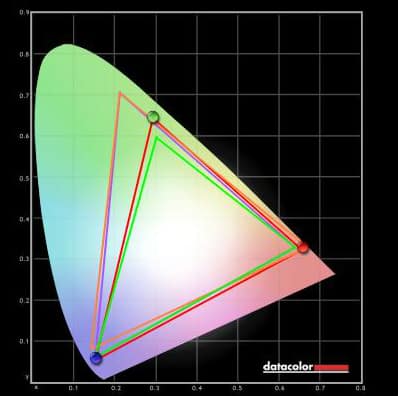 The color performance of the AOC Agon AG352UCG which easily exceeds 100% sRGB gamut coverage is brilliant for gaming. The extra vibrancy adds a certain pop to some images which aren't photography-level accurate but pleasing for gaming. Color errors can be minimized to DeltaE 1.3 with a colorimeter, although your mileage in this regard may vary from unit to unit.
We love the fact that the brand doesn't over exaggerate some of the AOC Agon AG352UCG's capabilities in its spec sheet. The claimed 2000:1 contrast ratio is very accurate since the screen can produce anywhere from 1900:1 to 2100:1 depending on brightness settings. The max brightness of 300:1 is another modest claim since the actual measurement suggested a peak of 370cd/m2, substantially extending the adjustment range of the screen.
Panel uniformity is excellent for our test model since deviances did not go over 10% for brightness and DeltaE 2.5 from the ideal D65 in color fidelity. Again, this aspect will vary from every individual unit, so be sure to check yours for any noticeable defects. Also, it isn't as prominent as a glaring display issue, but the 2000r curve exposes these minor differences in some angles.
The AOC Agon AG352UCG is an excellent ultrawide gaming monitor due to its 100Hz refresh rate and G-Sync functionality which combines to offer buttery-smooth visuals for Nvidia GPU users. We tested PUBG and Vermintide 2 with this monitor and a GTX 1080Ti which held together pretty well despite a lot of FPS dips during the testing. We didn't notice any tears, although there was a bit of ghosting in fast-paced sequences.
You can fix this by setting the overdrive level to its medium setting in the OSD. Take note that setting it to its maximum level will induce reverse ghosting or overshoot which is highly noticeable and detrimental to the effect of the display. Finally, the AOC Agon AG352UCG is as responsive due to its low input lag of  7ms so there will be no delays in control to screen transitions.
Thoughts on the AOC Agon AG352UCG
The AOC Agon AG352UCG is certainly an impressive gaming monitor thanks to the superb visual capabilities of its VA panel and its features. The excellent imaging qualities, G-Sync, and top-notch responsiveness all come together to create an immersive gaming experience you can't enjoy on 16:9 variants. The physical design may not be as attractive to some users, but it has its merits such as durability and built quality.
Another excellent facet of the AOC Agon AG352UCG is it is now one of the more practical choices for G-Sync-equipped ultrawides at its current price point. The Asus PG348Q and the Acer X34 have minor advantages such as a slightly faster pixel transition, but they cost at least a hundred bucks more. If you are in the market for a valuable ultrawide display, this option should at least make it to your top three.