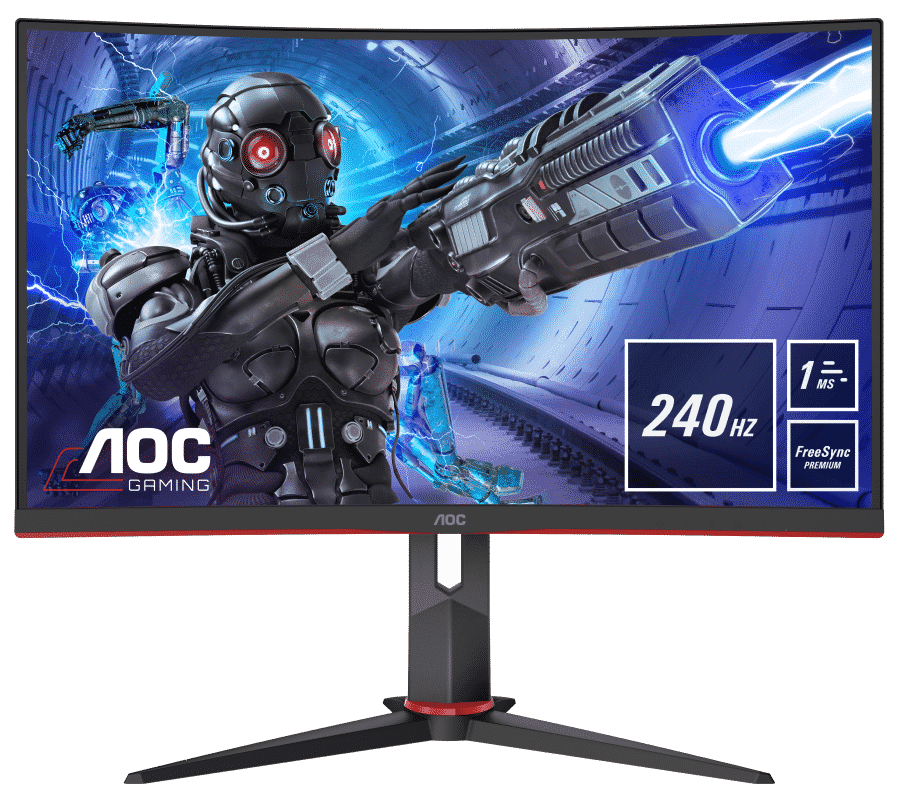 The AOC C27G2Z is another inexpensive gaming monitor that offers top-end specs such as its 240Hz refresh rate that usually comes with a higher price tag. AOC's G2 line of monitors has been rocking it so far with excellence in both pricing and performance, so they rarely stay available on retailer shelves in recent months. Let's see if the AOC C27G2Z is another top-notcher that you wouldn't want to miss.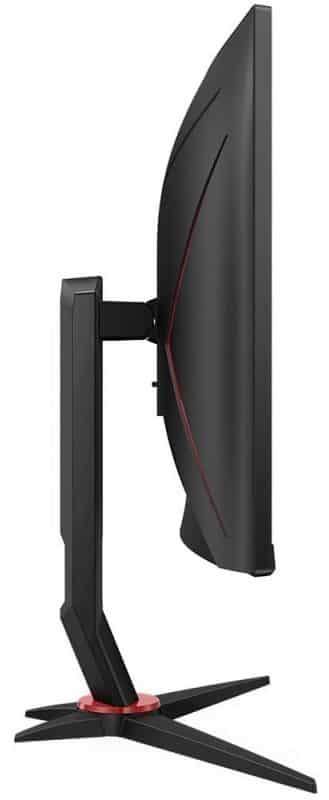 AOC C27G2Z Specifications
Screen Size: 27 Inches
Resolution:1920 x 1080 FHD
Aspect Ratio: 16:9
Panel Technology: Vertical Alignment (VA)
Refresh Rate: 144Hz
Response Time: 0.5ms (MPRT)
Contrast Ratio: 3000:1 (Static)
Brightness: 300 cd/m²
Speakers: No
Stand: Height -Yes
Stand: Tilt – Yes
Stand: Swivel – Yes
Stand: Pivot – No
VESA Compatibility: Yes (100 x 100)
Connectivity: HDMI 2.0 x 2, DisplayPort 1.2 x 1, 3.5mm Jack x 2
Dimensions (W x H x D): 24.10" x 15.69" x 8.95"
Weight: 11.9lbs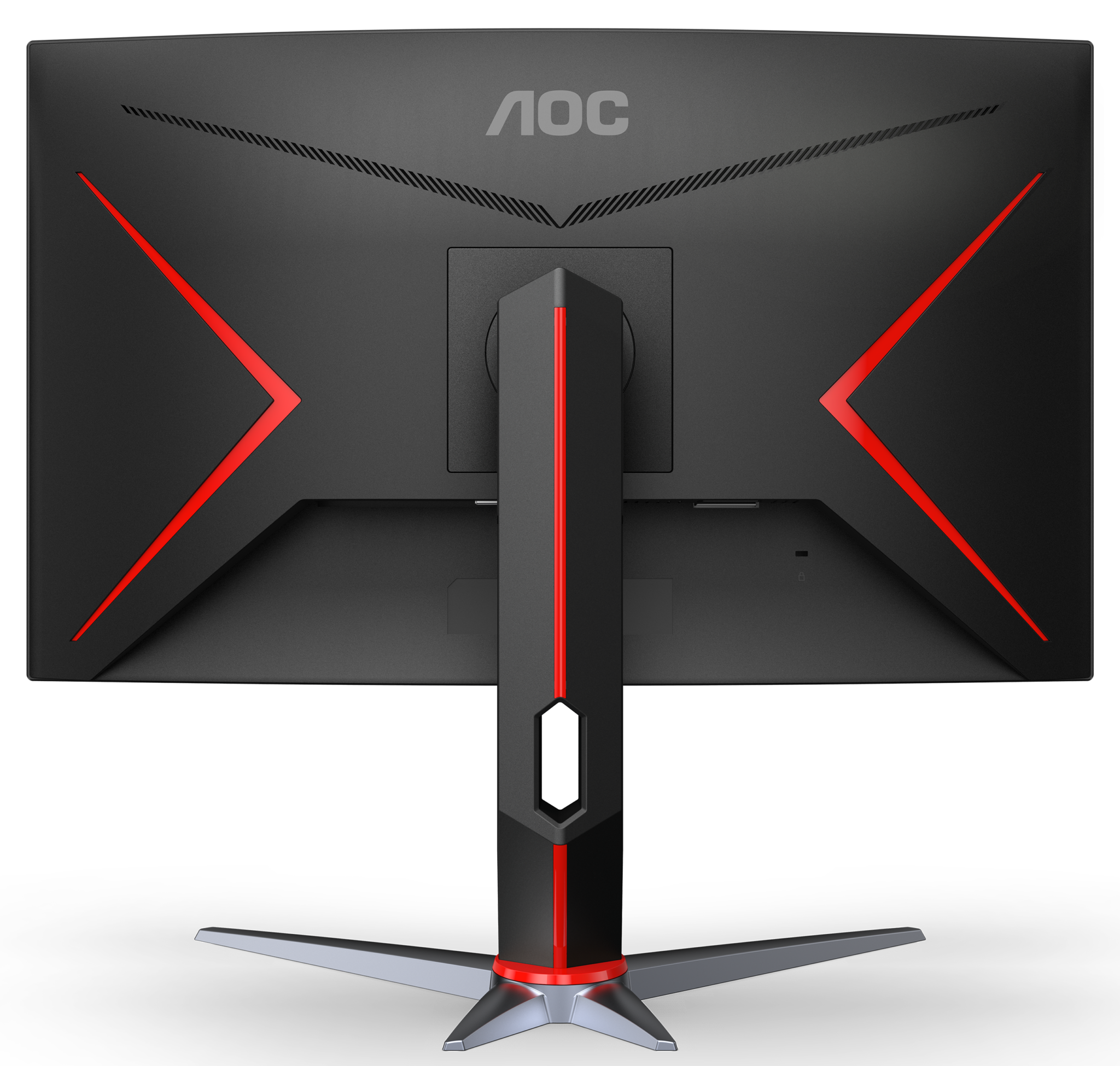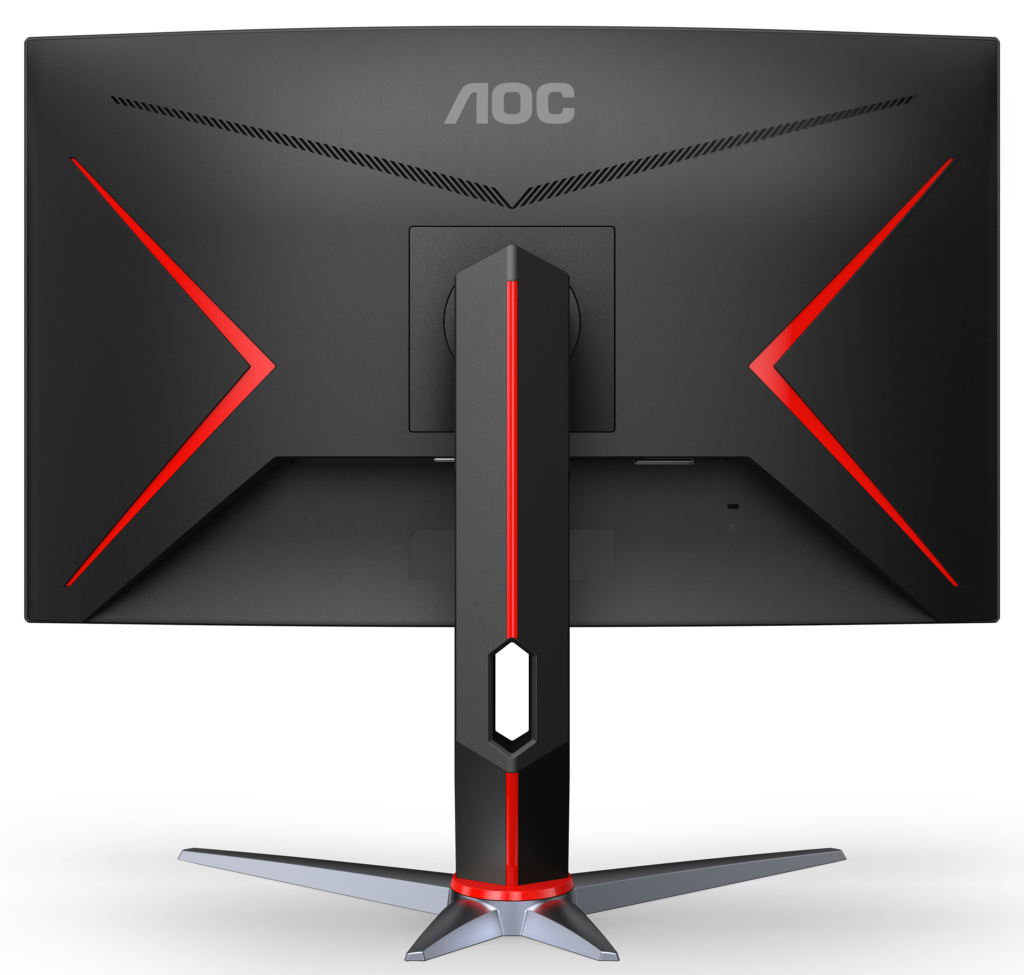 Design and Features
The AOC C27G2Z comes from the G2 line, so it isn't surprising that it looks identical to the 27G2 except for its 1500r curved surface. The monitor has a matte black chassis with red streaks, so even if its an aging gaming monitor color scheme, it doesn't look tacky from the front. The display is bezel-free on three sides, but you will still see panel borders when its in use.
The device is slightly larger than common computer screens you will commonly see, but the AOC C27G2Z manages to keep its footprint modest. It only requires a bit of depth, while the X-shaped base leaves some blank spaces which you can use for small peripherals. The monitor weighs less than 12 pounds, so it's still portable if you want to take it elsewhere or for when you attend a LAN party.

Build quality is excellent as well so the monitor feels very durable and executed with precision. The plastics feel sturdy enough to withstand a few hits while the panels fit each other perfectly without uneven seams. The monitor also doesn't wobble once fully assembled, so you can be assured that it won't shake or rumble when your inputs become a bit more intense.
What we dislike is the AOC C27G2Z still uses OSD buttons line up on the bottom of the bezel to access its functions. It's easily reachable, but it is confusing to use if you aren't familiar which what each one does in the OSD. The buttons are clicky and responsive, but we prefer joysticks to make adjustments painless for the user.
The AOC C27G2Z includes a flexible stand that provides height, swivel, and tilt adjustments so you can always get a comfortable view. You can't pivot the screen since it isn't ideal due to its curvature like most similar variants in the market. However, it is VESA-mountable so you can simply swap out its stand with a more flexible option that suits your needs.
The AOC C27G2Z includes DisplayPort 1.2 and two HDMI 2.0 slots so it can be used with more than just your PC. All of the slots support the 240Hz refresh rate, but we know some of the devices you can use with it like gaming consoles won't be able to push out frames to maximize the screen. There are no USB slots on this variant, but the European market gets an AOC C27G2ZU version that includes some.
The AOC C27G2Z doesn't have speakers unlike some of the models in its line up which enhances their value further. Its no biggie since the monitor is quite cheap for a 240Hz, while its intended users will most likely use headsets for better detail and immersion.
Display and Performance
The AOC C27G2Z sports a 27-inch VA panel with a 1920 x 1080 resolution, a whopping 240Hz refresh rate, and a 0.5ms MPRT response time. The backlight tops out at 300 cd/m2, while the contrast ratio sits at 3000:1 like most VA panels. VA screens can sometimes be less accurate than IPS, but its advantage in its contrast ratio means you get richer images and deeper blacks.
Full HD in a 27-inch screen looks less crisp than the usual, but it isn't as bad as most would think especially if the graphics settings can be cranked up. Pixels can become visible if you look close enough, although visibility is excellent since tiny objects look larger. You also won't need to use scaling on this monitor, but it can get a bit cramped for productivity use.
The AOC C27G2Z is capable of eye-popping color since it can comfortably exceed 100% of the sRGB gamut or up to 91% in DCI-P3. Default accuracy it's at DeltaE 1.69 which is fantastic for a gaming monitor, so you won't need to calibrate it once it is out of the box. The color temperature slightly exceeds the 6500K point, but it won't be enough to skew the great hues of the screen.
Calibrating the AOC C27G2Z with a colorimeter gives negligible improvements, so buying the gadget to enhance its color quality further isn't recommended. It's not as good as some prosumer models out there, but you can still use this model for basic tasks such as editing or creating content for the web. The monitor is already well-tuned from the factory, so most would be satisfied with simply adjusting the brightness to their liking.
The AOC C27G2Z doesn't get very bright at 290 cd/m2, but that's sufficient for daily use at comfortable levels. The screen's contrast ratio reaches a mighty 2850:1 at 60% brightness so blacks are pleasantly deep while hues are well defined and saturated. This is the main advantage with VA panels over IPS which has better color consistency but considerably lower contrast results.
Panel uniformity for the AOC C27G2Z sample is great since the backlight spread is mostly even on all quadrants. You won't even notice drops in vibrancy or deviances in color temperature even if the screen is prone to these issues because of its curvature. Take note that this aspect varies between every unit, so make sure you can return and exchange yours if it exhibits worse symptoms.
The AOC C27G2Z's pixel response time is fantastic for a VA monitor thanks to its high refresh rate. The screen barely shows blurring at its maximum, but some persistence can still appear in a few instances. Setting the overdrive to its middle to highest levels can help, so we recommend playing around with the settings first to get a suitable output.
The AOC C27G2Z is a FreeSync monitor, but its also compatible with Nvidia's G-Sync compatibility mode. This makes it a great option if you regularly upgrade a GPU since you won't be stuck with one brand if in case the other releases something better performance and price-wise. Input lag sits at 3ms at 240Hz, so delays won't be an issue during your gaming sessions.
Thoughts on the AOC C27G2Z
The AOC C27G2Z is a fantastic choice if you want an agile screen with rich colors and a hint of immersion brought about by the curved screen. The monitor is well designed and it checks out in all aspects of a gaming monitor that we are looking for. It's also very affordable for a 240Hz model whose bracket still has plenty of $400 to $500 options.
Some characteristics such as the black and red scheme or the OSD buttons feel a bit ancient in this day and age, but they are mostly forgivable. Remember that you are paying for performance if you are shopping for a gaming monitor instead of its looks or included extras. The AOC C27G2Z offers tremendous value, so you should catch it as soon as it becomes available.
Pros:
Wide Color Coverage and Deep Contrast
Fast Pixel Response Time and Low Input Lag
Great Accuracy Out of the Box
G-Sync and FreeSync Compatible
Cons:
Still Uses OSD Buttons
Aging Red and Black Aesthetic
No Pivot Adjustment
-About the Author: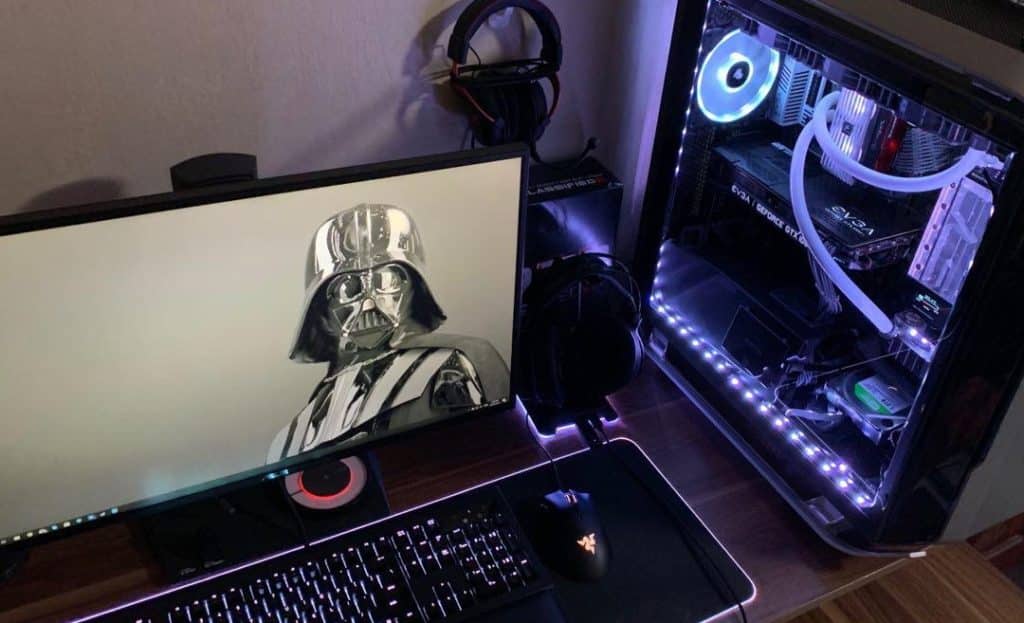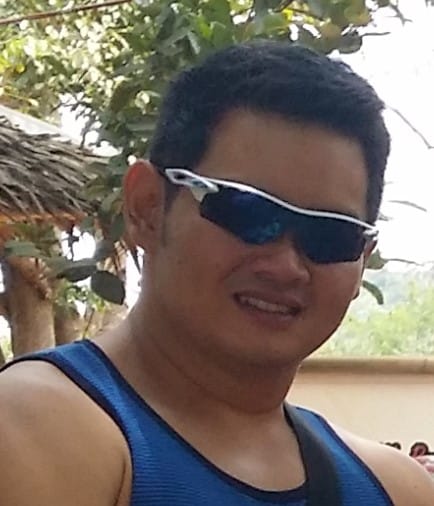 Paolo is a gaming veteran since the golden days of Doom and Warcraft and has been building gaming systems for family, friends, and colleagues since his junior high years. High-performance monitors are one of his fixations and he believes that it's every citizen's right to enjoy one. He has gone through several pieces of hardware in pursuit of every bit of performance gain, much to the dismay of his wallet. He now works with Monitornerds to scrutinize the latest gear to create reviews that accentuate the seldom explained aspects of a PC monitor.