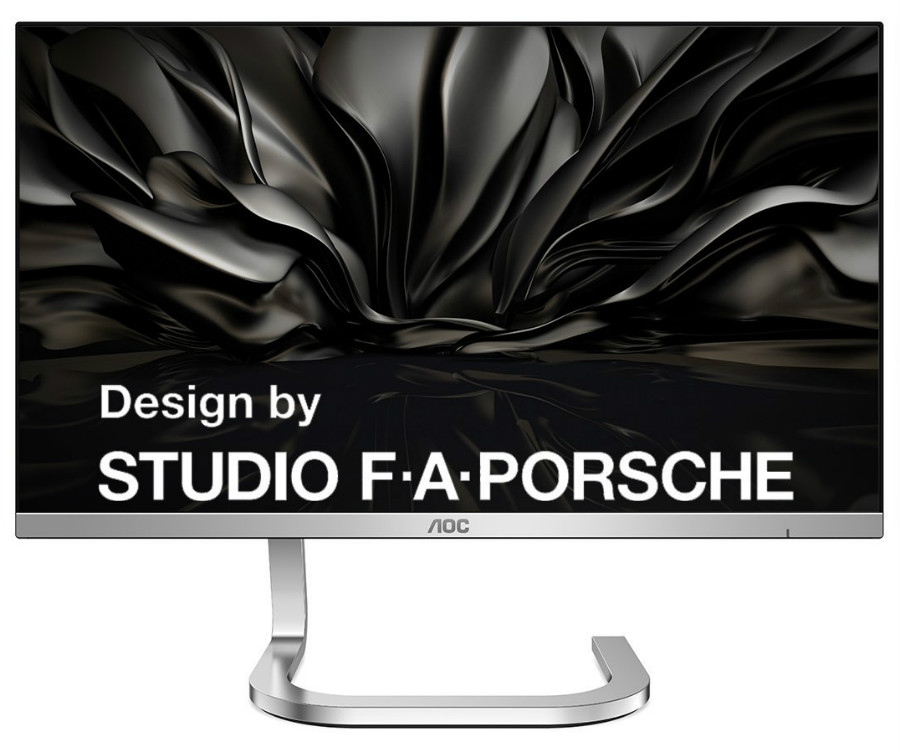 Check Latest Price for AOC PDS241
Check Latest PRice for AOC PDS271
The AOC PDS241 and PDS271 are stylish 1080p monitors designed to enhance both your home or office décor without sacrificing image quality and reliable performance. The market is ripe with affordable full HD screens, and the competition now veers towards enhancing aesthetics while perfecting the current standard of PC viewing. Both the AOC PDS241 and PDS271 are as attractively priced as their looks coined in by Studio F.A. Porsche, making them interesting options in an increasingly diverse industry.

AOC PDS241 and PDS271 Specifications
Screen Size: 24 Inches (PDS271 – 27 Inches)
Resolution: 1920 x 1080p FHD
Aspect Ratio: 16:9
Panel Technology: In Plane Switching (IPS)
Refresh Rate: 60Hz
Response Time: 1ms
Contrast Ratio: 1000:1 (Static)
Brightness: 250 cd/m²
Built-in Speakers: No
Stand: Height – No
Stand: Tilt – Yes (-3.5°/+21.5°)
Stand: Swivel – No
VESA Compatibility: No
Connectivity: HDMI x 1
Dimensions with Stand(WxHxD): 21.3" x 16.4" x 7" (PDS271 – 24.1" x 18.1" x 7")
Weight: 6.94lbs (PDS271 – 9.5lbs)

Design and Features
Both the AOC PDS241 and PDS271 were designed to look beautiful like works of art on any desk. The face is bezel free, although, we are expecting to see black inner borders which manufacturers have yet to solve for infinity-edge displays. Other than the silver bottom bezel which houses the logo, OSD buttons, and LEDs, there isn't much to see; and we think that's a good thing.
The metallic stand for the AOC PDS241 and PDS271 looks like a sculpture, although the best part about it is its modularity. Instead of messy cables and a bulky power brick, the designers opted for a small control box which connects via a single cable that runs from the base and stands. True enough, this gives the product a clean look without the ugliness of messy braids behind the screen.
The one downside to this design we can already see is the limitations it presents in connectivity because so far, it can only hold a single HDMI 1.4 slot along with the power line. While the product looks ultra modern, the lack of additional inputs for today's multi device setups is a backward decision. Although to be fair, this gives regular customers easy management of a basic computer build.
The stand doesn't look like it is removable, plus, it can only offer tilt. This does not come as a surprise since the furniture is too slim for mounting options. Studio F.A. Porsche handled the whole designed; the automotive company's premium design arm which often dabbles with electronics and appliance design which cater to the luxury crowd. One thing is for sure, the AOC PDS241 and PDS271 will display good quality images while looking sleek and sexy.
Display and Performance
The AOC PDS241 and PDS271 will feature IPS panels with 1920 x 1080 resolutions, 60Hz refresh rate, 4ms response time, and 1000:1 contrast ratios. The company is using an AH-IPS module from LG, so we are confident that when it arrives in your hands, these two new models will perform admirably. But from a starting view point, we can already see one issue.
AOC promises 100% sRGB coverage afforded by WLED backlighting with enhanced phosphors, but it can only go up to 250cd/m2 for illumination. Don't get us wrong, this limit is plenty for safe and comfortable use, but the picture might be too dim for some tastes. Users who work in well-lit environments or those who have desks near windows might not like the output of the AOC PDS241 and PDS271, plus vibrancy could be affected.
Both models do not have FreeSync or G-Sync, but 1080p is rather easy to run even on low-end setups. But to remind you, for the $200 the 24-inch is asking, you can already get a decent 144Hz FreeSync model like our favorite, the AOC G2460PF. Granted, it only has a TN panel, but smoother and blur-free images will always trump minuscule color advancements in our book.
The 27-inch model is better for viewing pleasure and gaming, although the hit on the pixel density aspect might turn off some sensitive users. The loose pixel pitch might be noticeable against the matte AG coating, essentially destroying the promise of high-quality pictures.
At this point, our opinions are mostly based on the available spec sheet, but we could be wrong. LG, the panel manufacturer, has a lot of success in the IPS panel industry so what AOC claims regarding image quality could be true or accurate. The Korean brand's creations almost never fail our expectations, as proven by their leading edge in the In Plane Switching segment of the industry.
Thoughts
The direct bottom line is that the AOC PDS241 and PDS271 are easily some of the best modern monitors we have seen to date. Studio F.A. Porsche's designs never failed to imbue a touch of high class and sophistication, as seen from the images and the control box concept. We love the idea of not having tangling cables or a clunky power brick, but we are hesitant to recommend something so limited in the technical aspect.
The price point is above market for a 1080p monitor, but the style is premium as well.  Both the AOC PDS241 and PDS271 are scheduled to ship to buyers next week, July 24th and you can pre order them from the links below.