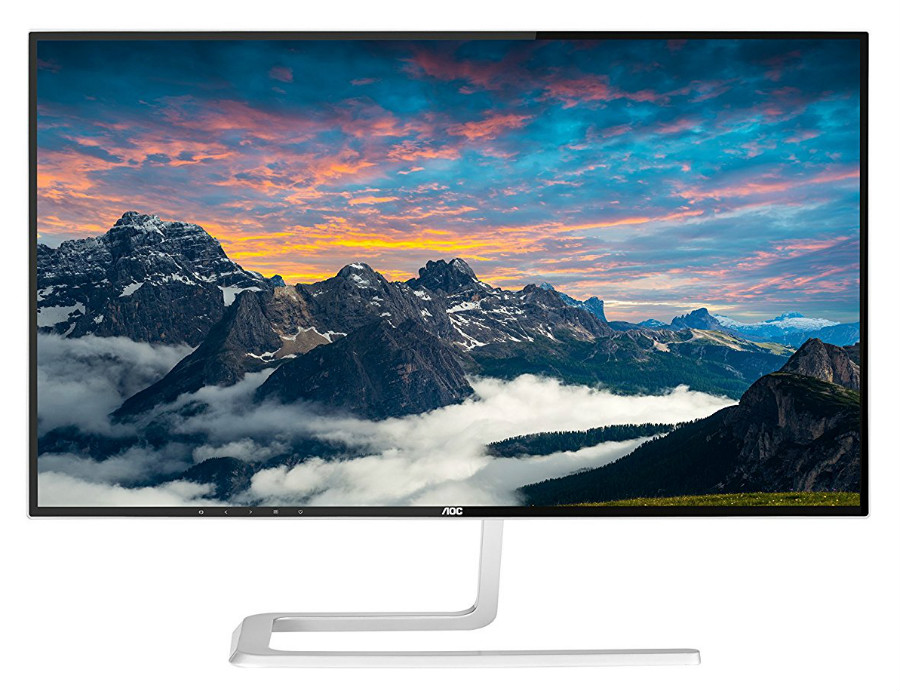 The AOC Q2781PQ is a beautiful 27-inch monitor designed to tickle the senses with its sexy lines and unique stand. Although looks can be deceiving, AOC is a reputable brand with excellent products such as the AOC G2460PF, which did not have an eccentric design but was quite the performer. The 1440p business is a lucrative segment and brands are busting out a new model now and then. The AOC Q2781PQ is vying for a spot in the premium home and office category with its capabilities, so it is worth a closer look.

AOC Q2781PQ Specifications
Screen Size: 27 Inches
Resolution: 1440p QHD
Aspect Ratio: 16:9
Panel Technology: In Plane Switching (IPS)
Refresh Rate: 60Hz
Response Time:4ms
Contrast Ratio: 1000:1
Brightness: 350 cd/m²
Built-in Speakers: No
Stand: Height – No
Stand: Tilt – Yes (-2°/+16°)
Stand: Swivel – No
Stand: Pivot – No
VESA Compatibility: No
Connectivity: DisplayPort 1.2 x 1, HDMI x 2, VGA x 1
Dimensions With Stand(WxHxD): 24.21″ x 17.80″ x 7.76″
Weight: 11.53lbs

Design and Features
The AOC Q2781PQ's contemporary design with slim bezels and an architectural stand make it suitable for posh environments. The bezel design allows users to enjoy 93% of the face for viewing, plus it gives the monitor a compact form in case your spot is a bit tight. The piano black finish accentuates all this, but it is dust, fingerprint, and scratch magnet so maintaining the exterior charm could be a chore.
For a 27-incher, the AOC Q2781PQ is compact since it only eats up less than eight inches of your desk's surface. From the sides, the cabinet's thinnest part is only at 15mm, and even if you take into consideration the discrete bulge, it still looks slim
The rear-facing I/O panel carries with it enough connector options for most uses since it includes two HDMI ports, a DisplayPort, and a VGA receptacle for legacy connections. You don't get USB slots for convenience, which is strange since there is enough space on the panel. There are also no speakers included, and in our opinion, for the price, they should be there even if they sound tinny or harsh.
One of the highlights of the AOC Q2781PQ is its sculpted stand with smooth, machined edges. The silver color matches with similar accents along the bezels, plus it adds a hint of class. The low profile base should allow any keyboard with risers to slide on top of it, so if your space is limited or you like typing with hands stretched out, this is a suitable model.We also like that you can place your bits such as keys and phone on the U-shaped pattern of the base, unlike other offerings who eat up space for no other reason.
However, you only get a limited tilt range with this mechanism. Ergonomics is a huge factor for us in recommending products because users are built differently. One way to work around this predicament is to use adjustable mounts or armatures, but sadly, the AOC Q2781PQ does not include VESA mounting because the cabinet does not have enough meat for VESA holes.
Display and Performance
The AOC Q2781PQ features a 27-inch IPS panel with a 1440p resolution accompanied by the standard 4ms response time and 60Hz refresh rate. What's great about it aside from the excellent viewing angles is the color reproduction. Out of the box, the display outputs 97% coverage of the sRGB gamut with a Delta E of 1.4, which is impressive for a mix use product.
Colors are sufficiently saturated while contrast is middling at around 800:1, so our test images appear vibrant, and games are enjoyable. There are times when images look a bit warm, so tinkering with color temps could solve this and help the AOC Q2781PQ reach the ideal range. But in our opinion, its best you leave the stock settings on and just select a comfortable brightness setting for your eyes' safety.
One issue we saw with the AOC Q2781PQ is that the unit had minor backlight bleeding near the top. The flaw is hard to notice if there are images or video on display, but annoyingly present if the screen is black. The leak gave our Overwatch test session a sort of aura or lens flare in some sequences, but it wasn't enough to make us switch the monitor off since it wasn't that bad. We reckon focusing on the game would make this problem go away, plus the lottery concept for IPS panel applies here as well.
The AOC Q2781PQ isn't a gaming monitor by any means, but the specs shouldn't stop anybody from enjoying their titles on this sexy display. The 4ms response time of the IPS panel became apparent as soon as we clashed with our opponents in Overwatch, with interlacing and blurring most noticeable when swiping the mouse.
Thankfully, AOC included an Overdrive function which somehow reduces the occurrence of these flaws, but we recommend using the lowest setting because the medium and high adds advanced ghosting to the picture. Another downside is you won't enjoy the benefits of adaptive sync with the AOC Q2781PQ, a feature sorely missed by the higher pixel count of the resolution.
Thoughts
The AOC Q2781PQ is impressive in both the looks and the stock performance department, but it does leave some things to be desired. Missing gamer features like FreeSync is a deal breaker nowadays, and even if 1440p monitors are selling like hotcakes, there is tougher competition out there. The price isn't expensive if you look at what you get with AOC's panache and reputation, but we expected extras like speakers to increase the value for consumers.
Still, we can't put down the AOC Q2781PQ because it still performs where it matters. Colors and contrast are excellent while responsiveness is within acceptable expectations. You can't go wrong with this product for basic home use such as browsing and movies, the native resolution allows multitasking, and the monitor looks gorgeous enough for the living room or executive office