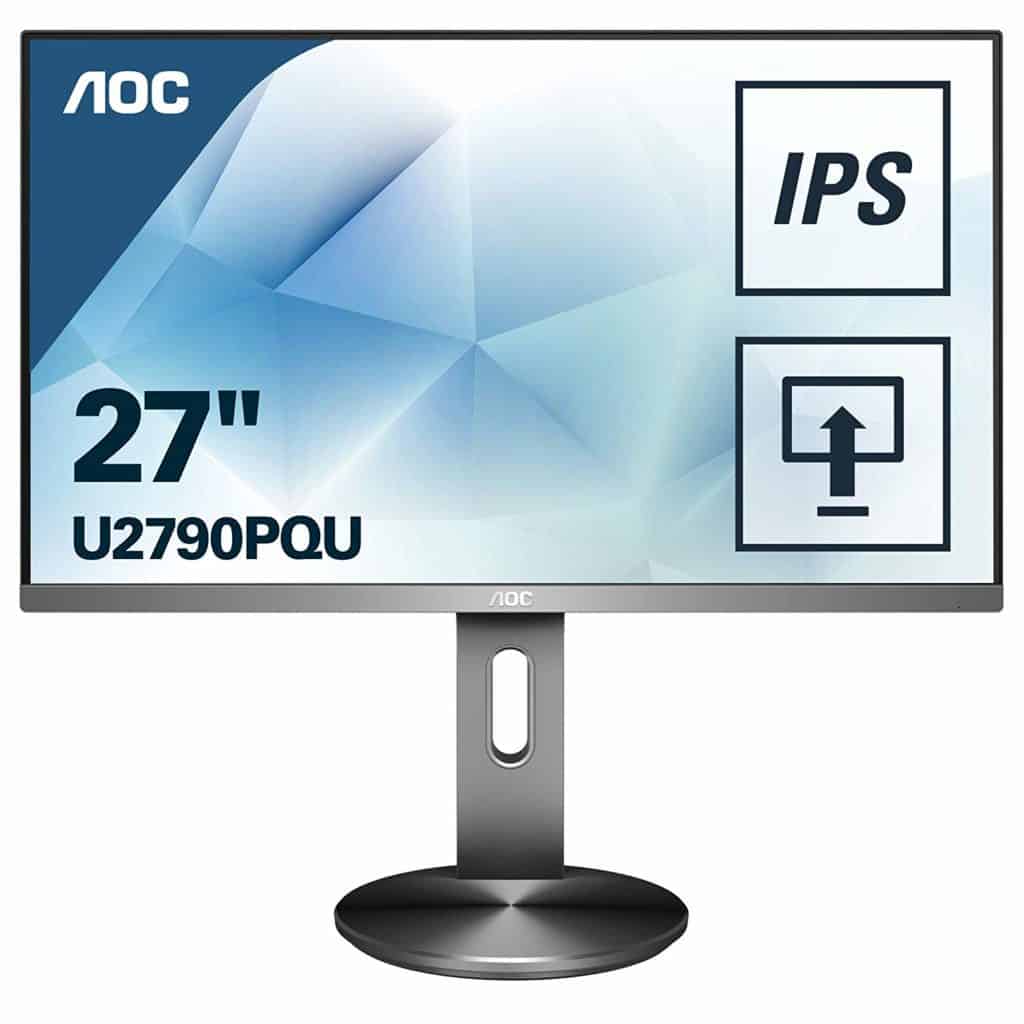 The AOC U2790PQU is a high-end 4K monitor designed for business executives which require a well-designed monitor that is functional and reliable. We like the unique look of the product, but we love the brand's excellent track record even better. The AOC U2790PQU faces tough competition like the LG 27UL650, so let's see if it can trade blows with the best we've seen.

AOC U2790PQU Specifications
Screen Size: 27 Inches
Resolution: 3840 x 2160 4K UHD
Aspect Ratio: 16:9
Panel Technology: In-Plane Switching (IPS)
Refresh Rate: 60 Hz
Response Time: 4 ms
Contrast Ratio: 1000:1 (Static)
Brightness: 350 cd/m²
Built-in Speakers: Yes (2 x 2 Watts)
Stand: Height – Yes
Stand: Tilt – Yes
Stand: Swivel – Yes
Stand: Pivot – Yes
VESA Compatibility: Yes 100 x 100
Connectivity: DisplayPort 1.2 x 2, HDMI 1.4 x 1, HDMI 2.0 x 1, USB 3.0 x 1,5mm Jack (In/Out) x 2
Dimensions with Stand(WxHxD): 24.21" x 21.06" x 7.85"
Weight 14.33lbs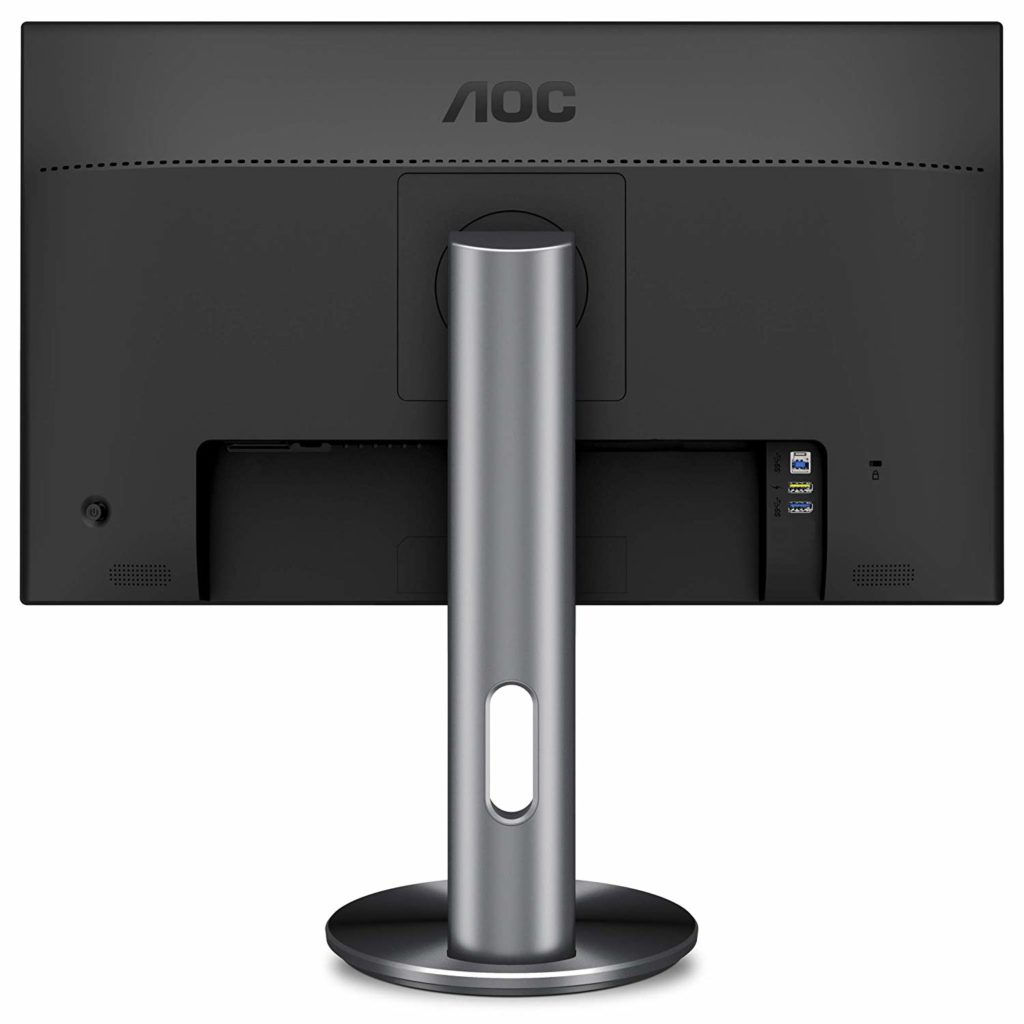 Design and Features
The AOC U2790PQU sports a stylish and sophisticated design that doesn't forget the essential functionalities and creature comforts. The rear of the chassis has a matte black finish, but the rest has a nice matte silver finish that is both elegant and unique in a sea of black monitors. The display is bezel-free on three sides, making this model ideal if you want a UHD multi-monitor setup.
The overall size of the AOC U2790PQU is bigger than your usual office monitor, but its slim and sleek proportions will not eat up your desk space. The upright's placement towards the rear of the disk-shaped base means you can place this closer to a wall. It also helps that the diameter of that part doesn't exceed eight inches, plus the flat surface is a good spot for your mobile phone and other small items.
The AOC U2790PQU's build quality is nothing short of impressive thanks to the excellent material choice. The plastic panels feel durable and thick, while there are no cosmetic defects such as uneven gaps on all corners. The adjustment mechanisms are smooth, and the monitor doesn't wobble that easily.
Another characteristic we like about the AOC U2790PQU and the rest of the monitors in its series is its use of an OSD joystick instead of buttons. Sifting through the device's menus is easy and user-friendly compared to buttons which can sometimes become annoying. Usually, they are hidden under bezels, plus it's hard to see which is which in the dark.
The stand with the AOC U2790PQU offers excellent stability, but its also very flexible so users can select their ideal viewing angles with ease. The mechanism offers tilt, swivel, pivot, and height adjustments which makes the product ideal for just about any setup. You can also swap this out with a VESA mount to save space, but frankly, it isn't entirely necessary unless you plan to have around three of this model.
The AOC U2790PQU is also well-equipped in the connectivity department to enhance its versatility further. The down-firing layout under the bulge includes DisplayPort 1.2, a slot each for HDMI 1.4 and 2.0 versions, and a trio of USB 3.0 connectors. There is also a pair of 3.5mm jacks for input and output to allow audio passthrough.
There is also a pair of 2-Watt speakers on the AOC U2790PQU, but we feel that AOC skimped out too much in this regard. They could have added a more powerful set to the product which would enhance its premium value and attractiveness for its intended targets. As always, you can't expect a jaw-dropping bass response or clarity from any built-ins, but it would be nice to have cleaner-sounding music while working.
Display and Performance
The AOC U2790PQU uses a 27-inch IPS panel with a 3840 x 2160 resolution, 60Hz refresh rate, and 4ms response time. The backlight is rated at 350 cd/m2, while the contrast sits at a typical 1000:1 static ratio. These specs aren't special by today's standards, but its great as an all-arounder for anything from document processing to casual gaming.
The pixel density in the 27-inch 4K screen of the AOC U2790PQU reaches as much around 157 pixels per inch so the screen is extra sharp. Images look crisp and well-detailed, while videos and game graphics appear cleaner and smoother. However, you might need scaling for text documents or excel files since the sharpness can make them smaller.
The AOC U2790PQU provides excellent color qualities right out of the box, starting with its 105% of the sRGB gamut. Accuracy out of the box could use some improvements with its DeltaE of around 2.81, although the discoloration won't be noticeable to the untrained eye. The color temperature is slightly too warm, so you might want to turn down the reds in the RGB controls.
You can tweak this down to DE 2.1 with a colorimeter, but we think it's not worth it for most users. We only recommend buying a colorimeter if you want to use this monitor for photo editing, but then again, the cost would buy you a pre-calibrated model with better out of the box performance.
The biggest weakness of the AOC U2790PQU's image quality is its contrast ratio which topped out at 915:1. This means you don't get the ideal black luminance found on Nano IPS and VA models, so the screen may look grayish at times. The color definition isn't affected, but movies or games will look slightly washed out in a dark room.
One of the issues that worsened the AOC U2790PQU's image quality is its panel poor uniformity. The screen has some clouding issues near the edges due to the backlight leaks, affecting the contrast for the respective quadrants. Color quality isn't affected at an immediately noticeable scale, but you will see some variances in dark scenes. Thankfully, not all IPS panels are made equal so getting a unit that does better in this regard is a must.
The AOC U2790PQU isn't a gaming monitor and it has a limited refresh rate, so it is prone to blurring in fast-paced scenes. The monitor's pixel response time isn't as smooth as we are used to, even if you use the overdrive feature. However, this limitation is forgivable since the monitor isn't designed for gaming, although its still suitable if you only play casually.
The AOC U2790PQU doesn't support FreeSync or G-Sync, so you have to make sure your framerate is steady to avoid stuttering. You are either going to need to drop your graphics settings or get a powerful GPU to run this resolution optimally. The good news is that input lag is limited to 9ms, so you won't feel any delays while playing.
Thoughts on the AOC U2790PQU
The AOC U2790PQU is a well-designed premium monitor for home and office use, but it does have a few limitations which might make you want to reconsider. The color quality is decent, but some aspects like the default color temperature and contrast ratio could use a boost. Gaming performance is middling at best, but the product was not designed for that kind of use anyway.
Thankfully, the AOC U2790PQU isn't overly expensive even if it belongs to a higher tier that's reserved for the business-oriented. We love the design and functionality as well, but we know many will look to better-performing models like the LG 27UL650 at more or less the same price range.
About the Author: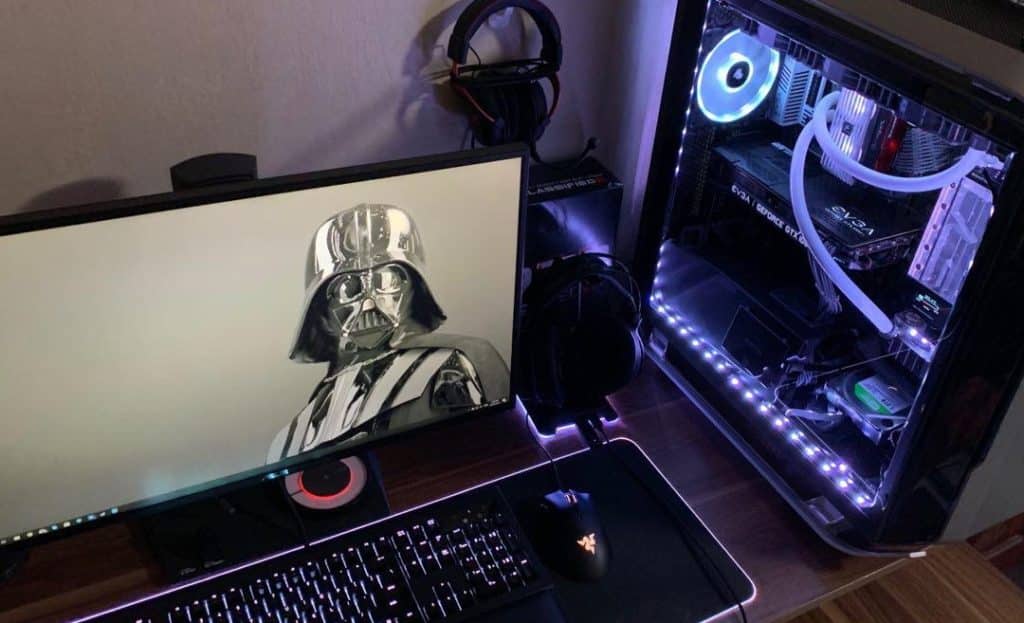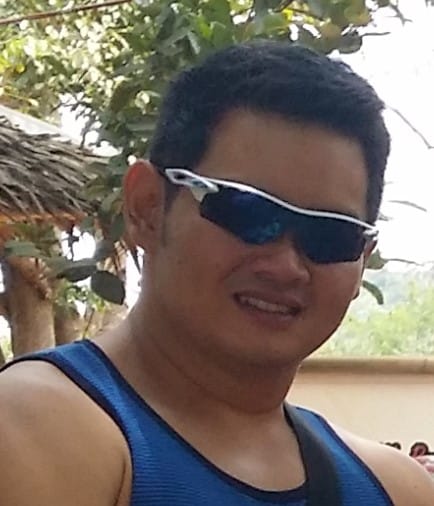 Paolo is a gaming veteran since the golden days of Doom and Warcraft and has been building gaming systems for family, friends, and colleagues since his junior high years. High-performance monitors are one of his fixations and he believes that it's every citizen's right to enjoy one. He has gone through several pieces of hardware in pursuit of every bit of performance gain, much to the dismay of his wallet. He now works with Monitornerds to scrutinize the latest gear to create reviews which accentuate the seldom explained aspects of a PC monitor.