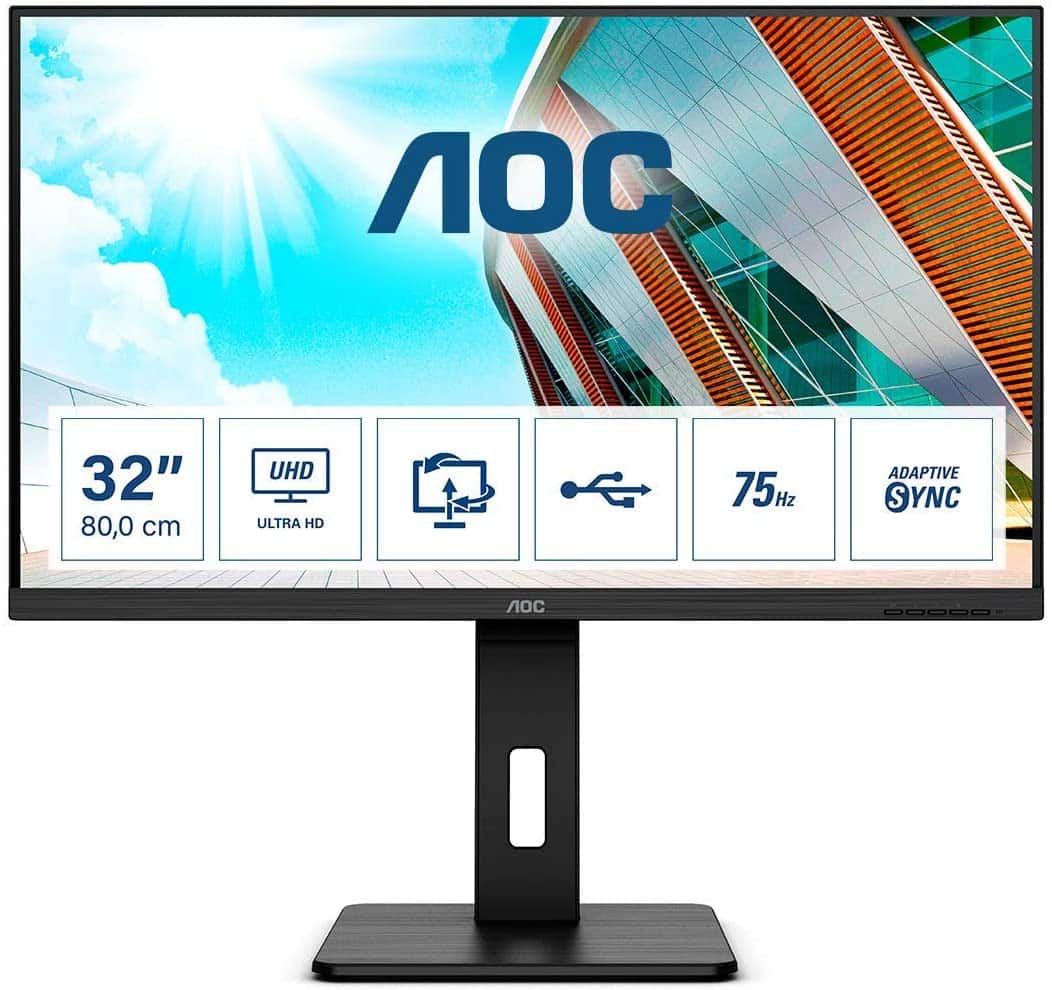 The AOC U32P2CA is an upgraded business monitor that's great for users who want a versatile and reliable 4K monitor. It's the latest version of the U32P2 we reviewed earlier, but it now has a USB-C slot which expands its usability. Let's take a closer look at the AOC U32P2CA to know if it has more improvements over its predecessor.

AOC U32P2CA Specifications
Screen Size: 32 Inches
Resolution: 3840 x 2160 4K UHD
Aspect Ratio: 16:9
Panel Technology: Vertical Alignment (VA)
Refresh Rate: 60Hz
Response Time: 4ms
Contrast Ratio: 3000:1 (Static)
Brightness: 350 cd/m²
Built-in Speakers: Yes (2 x 3 Watts)
Stand: Height – Yes
Stand: Tilt – Yes
Stand: Swivel – Yes
Stand: Pivot – Yes
VESA Compatibility: Yes 100 x 100
Connectivity: DisplayPort 1.2 x 1, HDMI 2.0 x 2, USB-C PD65W x 1, USB 3.2 x 4, 3.5mm Jack
Dimensions with Stand(WxHxD): 28.14" x 19.86" x 10.83″
Weight: 21.61 lbs

Design and Features
The AOC U32P2CA is all business when it comes to aesthetics, so it simply looks like any business or home use monitor with slim proportions. It has a matte black aesthetic that's easy to maintain, so it will always look new after a few gentle wipes. The display is bezel-free on three sides so the screen looks even bigger while viewing it.
This model isn't an ultrawide, but you still have to keep its width and depth in mind since it is bigger than the usual you see at work or in school. It needs almost a foot of depth, so you might have to make way for its large, square base. It is quite heavy at 21.61 pounds, so extra care while handling it during setup or assembly is a must.
Its build quality is just as good since it uses good materials with decent reinforcement in its key parts such as the stand. The plastic panels won't flex or crack with moderate force, and there were no cosmetic defects on them when it was unboxed. The included stand is firm and stable despite the size of the display, so it won't wobble or sag on you during use.
One aspect that didn't get upgraded during the refresh is the monitor's OSD controls. You still have to deal with OSD buttons which are prone to wrong inputs and confusion, unlike the joysticks you get with premium or gaming variants. The layout is located on the front of the bottom bezel for easy access, but it is still not the most user-friendly option out there.
The stand included with the AOC U32P2CA offers tilt, swivel, pivot, and height adjustments for your convenience. It is easy to get a comfortable viewing angle so you don't have to spend the extra on a VESA mount. It will only become necessary if space is limited or if you have multiple screens that are common now for productivity setups.
The main upgrade with this model is in its connectivity layout which includes the same DisplayPort 1.2 and dual HDMI 2.0 ports. What's new with this model is the 65-Watt USB-C slot that supports DP Alt Mode which allows modern laptops like MacBooks to dock using a single cable. There are also four USB 3.2 ports for accessories and a 3.5mm jack for headphones.
You also get speakers in the package, although they are limited to 3 watts of power each. They work great for basic tasks but lack the range for gaming or entertainment use. However, we're always happy to have essential add-ons like this on reasonably priced options, so we can't really complain.
Display and Performance
The AOC U32P2CA boasts a 32-inch VA panel with a 3840 x 2120 4K resolution, a 60Hz refresh rate, and a 4ms response time. The backlight has a 350 cd/m2 brightness while the contrast ratio is listed at 3000:1 like most VA panels. This new variant doesn't have HDR capabilities since its focus is for general use rather than entertainment.
4K is more comfortable to view on 32-inch models since the pixel density is a bit more relaxed compared to the 27-inch alternatives. However, that doesn't mean that you lose the crispness and cleaner details offered by 4K since the extra pixels are still there. Games and movies will look great, but you won't have to squint at walls of text if you don't want to use scaling.
The AOC U32P2CA renders more than 100% sRGB and around 85% DCI-P3, resulting in great vibrancy for games and movies. default accuracy is slightly better than the predecessor's results since the deltaE average is at 3.15. However, that's far from the ideal, so those who work in content creation or editing will need some calibration.
Calibrating it reduced the dE average to 1.14 which is considerably better and more balanced. However, you need a colorimeter to improve it to this level and make it suitable for professional use. We can only recommend spending the extra on the gadget if you are indeed using it for multimedia work.
Its backlight managed to reach 349 cd/m2 at 100% brightness so it can fight off glare in well-lit rooms or during daytime use. its contrast on the other hand peaked at 2791:1 at 60% brightness so it's capable of deep blacks during night scenes. This makes it more suitable for movies or games compared to IPS variants that only have a fraction of that result.
The sample's panel uniformity was decent except for some tiny backlight leaks at the bottom edge of the screen. they aren't noticeable most of the time, but focusing on the area while dark images are on display will reveal minor clouding issues. Note that this could vary between every unit, so there are better or worse ones out there.
Responsiveness isn't a particular strength of the AOC U32P2CA since it uses a 60Hz VA panel. You won't have major issues in casual games or movies, but titles with faster pacing like Valorant will reveal the limitation. You need to max out the overdrive to get around it, but it will add minimal overshoot as a trade-off.
The AOC U32P2CA supports FreeSync, but G-Sync did not work smoothly when it was forced via Nvidia Control Panel. This is acceptable since it's a business monitor, but dual compatibility is now more crucial for PC enthusiasts. Input lag sits at 10ms at 60Hz, so it is still very responsive since there is no slight hint of sluggishness during normal use.
Thoughts on the AOC U32P2CA
The AOC U32P2CA is a decent choice if you want a daily driver with a large, high-resolution screen that includes attractive functionality. Its overall build is great and it already includes essential features like the robust and flexible stand. It also includes a 65-watt USB-C, so those with modern laptops will be happy with it.
It only has a few minor limitations, and we don't consider those as deal-breakers due to the intended use of the monitor. It is not the fastest nor the most accurate in its category, but there are workarounds that will boost its usability. It's a great buy, but you might need to look at specialized options if you are picky about specific characteristics.
Pros:
Great Gamut Coverage
High Contrast
FreeSync Compatible
Minimalist Design and Robust Build Quality
Cons:
Poor Default Accuracy
Prone to Blurring
USB-C Limited to 15 Watts
About the Author: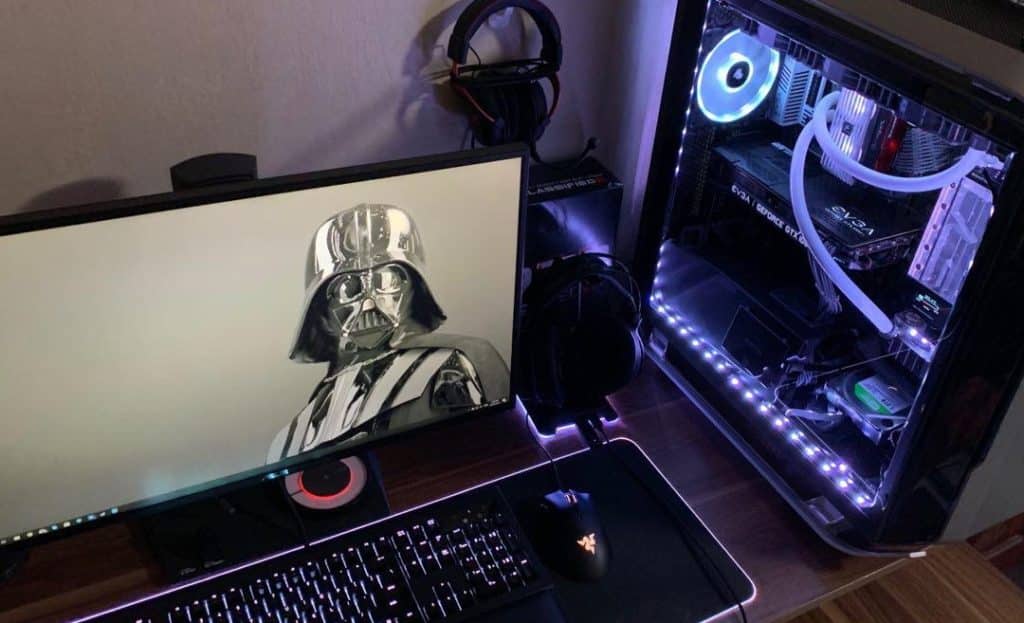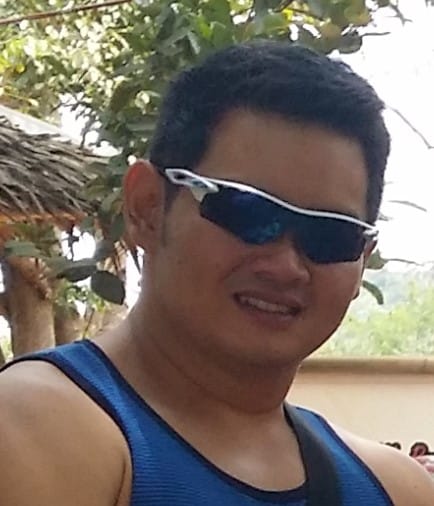 Paolo is a gaming veteran since the golden days of Doom and Warcraft and has been building gaming systems for family, friends, and colleagues since junior high. High-performance monitors are one of his fixations and he believes that it's every citizen's right to enjoy one. He has gone through several pieces of hardware in pursuit of every bit of performance gain, much to the dismay of his wallet. He now works with Monitornerds to scrutinize the latest gear to create reviews that accentuate the seldom explained aspects of a PC monitor.