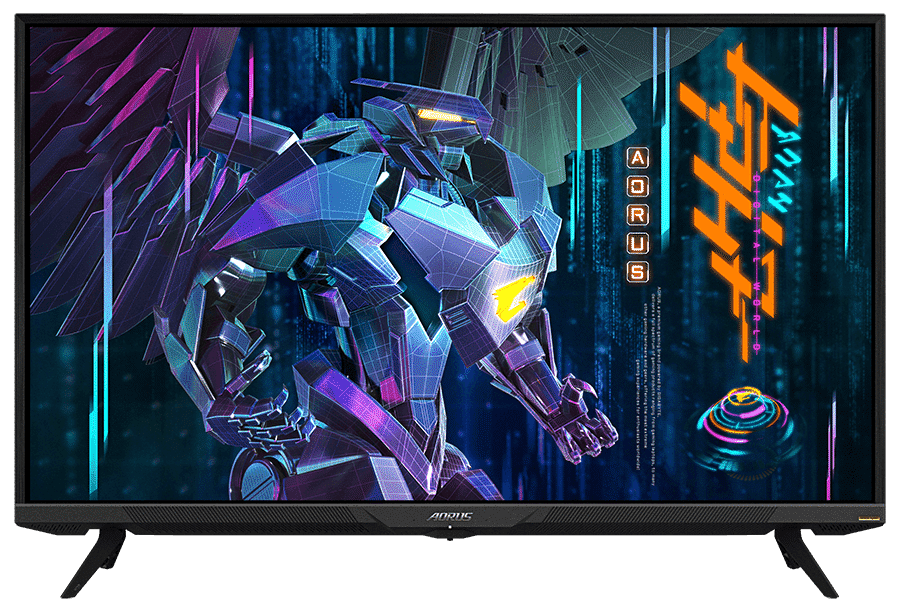 The Aorus FV43U is late to the party, but its specs also make it the most attractive LFGD or Large Format Gaming Display available today. It features an HDR 1000 VA screen with a 4K 144Hz refresh rate that's perfect for enthusiast-level gaming. Let's check out if the Aorus FV43U is worth the investment just like the brand's previous Tactical Monitors.

Aorus FV43U Specifications
Screen Size: 43 Inches
Resolution:3840 x 2160 UHD
Aspect Ratio: 16:9
Panel Technology: Vertical Alignment (VA)
Refresh Rate: 144Hz
Response Time:1ms
Contrast Ratio: 4000:1
Brightness: 1000 cd/m2
Built-in Speakers: Yes (2 x 12 Watts)
Stand: Height – No
Stand: Tilt – Yes
Stand: Swivel – No
Stand: Pivot– No
VESA Compatibility: Yes (200 x 200)
Connectivity: DisplayPort 1.4x 1, HDMI 2.1 x 2, USB 3.0 x 3, USB-C x 1, 3.5mm Jack (In/Out)
Dimensions With Stand (WxHxD): 38.1″ x25.1″ x 9.9 ″
Weight: 33.8 lbs

Design and Features
The Aorus FV43U looks just like any 43-inch TV, but its innards pack a meaner punch, especially for gaming. It has a matte black finished all over with a gamer-centric aesthetic at the back that resembles wings like other Aorus monitors. The display is bezel-free on three sides, but you will still see inner borders when using it up close.
The Aorus FV43U is a massive monitor, so it isn't constructed like most desktop monitors that have a base and a stand. It instead uses two V-shaped legs which keeps it upright while consuming less depth on your desk. It's heavy at 33.8 pounds, so setting this monitor up will be a two-man job from unboxing to placing it on your desk or stand.
Build quality for the Aorus FV43U is fantastic thanks to its premium nature and excellent material quality and craftsmanship. There are no cosmetic defects on the monitor and we didn't notice any flexing or uneven gaps on the panels. There is also no wobbling from the device so it won't easily topple over despite its size.
The Aorus FV43U has an easy-to-use joystick under the logo on the bottom bezel, but it also comes with a remote and OSD Sidekick compatibility for convenience. Navigating the OSD will be easy and quick whether if you are using the monitor on a desktop or viewing it from your couch. You need to sit at a good distance for optimal viewing at this size, so the remote will become extremely useful in the long run.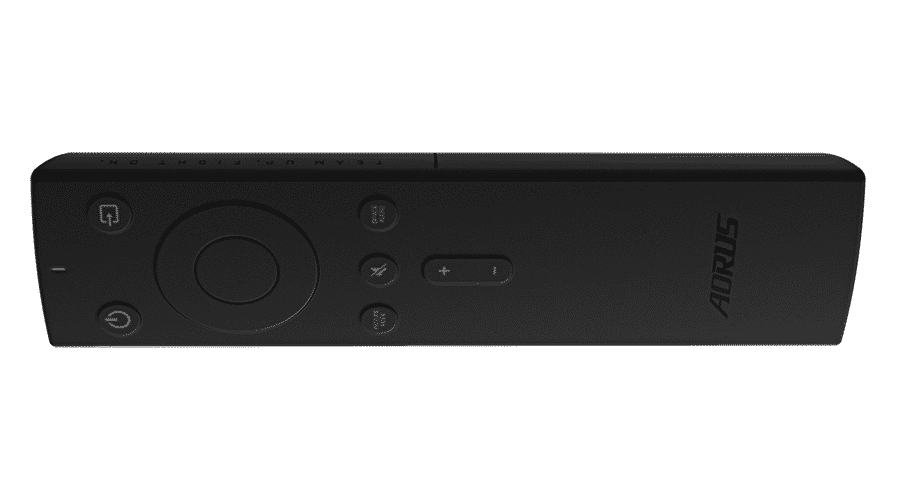 The Aorus FV43U doesn't have a stand so it relies on two metal feet that you have to bolt onto its bottom like most TVs. It doesn't offer ergonomics like some models such as the Asus PG43UQ which can at least tilt. You can use 200 x 200 VESA mounts if you need more flexibility, but make sure that they include the screws since the monitor doesn't have any in the package.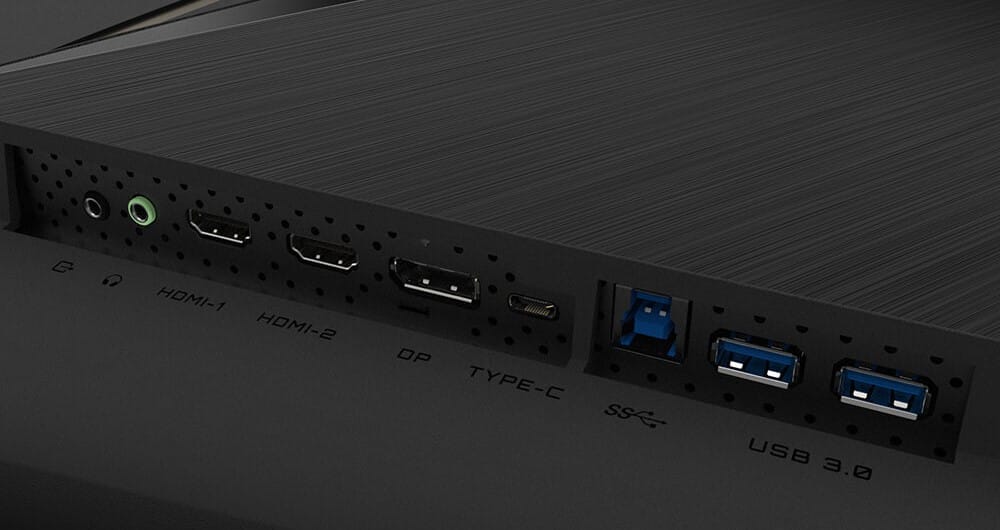 What's great about the Aorus FV43U is it includes plenty of connectivity features, unlike other exclusive variants. The monitor includes DisplayPort 1.4 with DSC and two HDMI 2.1 ports which support 4K 144Hz and 120Hz respectively. It also includes a USB-C port which is 4K 144Hz and KVM switching-capable, but it doesn't provide charging for laptops.
There is also a trio of USB 3.0 ports and two 3.5mm jacks for audio passthrough with the Aorus FV43U. You also get a pair of powerful 12-watt speakers with the monitor which sound great for a pair of built-ins. They have just the right amount of bass and clarity, but we know many will still prefer surround systems or headsets with a monitor like this.
Display and Performance
The Aorus FV43U boasts a 43-inch Quantum Dot VA panel with a 3840 x 2160 resolution, a 144Hz refresh rate, and a 1ms boosted response time. The backlight is rated to go up to 1000 cd/m2, while the contrast ratio is listed at 4000:1 which is higher than other VA monitors in the market. This model is certified with VESA's HDR 1000 specification, so it can provide accurate HDR representation when it's active.
The Aorus FV43U is great for productivity since you get a ton of space to work with while letters do not become microscopic. It's not as sharp as the smaller variants, but the trick is to sit a bit farther to enjoy what it has to offer. It's fantastic for gaming, but do take note that you need flagship cards if you want to maximize the monitor's high refresh rate.
Color performance is fantastic on the Aorus FV43U since it manages to produce over 100% sRGB and DCI-P3 for stunning HDR performance. The default accuracy isn't perfect since the deltaE average is at 2.44, but that's quite good for a monitor with extended gamuts. The screen looks rich with some colors really popping out, making it fantastic for entertainment use.
Calibrating the Aorus FV43U with a colorimeter improved its dE average to 0.91 which is already within range of professional use. However, it's only necessary if you are going to use it for professional endeavors. Its HDR mode is fantastic for both movies and games, and you'll soon find that it's the only mode you will use on a daily basis.
The Aorus FV43U peaked at 845 cd/m2 in SDR and around 1091 cd/m2 when HDR is active. It reached a contrast of 5427:1 in SDR, but the backlight expanded that to around 40000:1 for superb HDR imagery and effects. Its capable of deep blacks and extreme levels of detail, so HDR-compatible games and media will look quite satisfying.
The Aorus FV43U's panel uniformity is great since there are no major backlight leaks, but there are some clouding issues due to the panel's local dimming feature. It's not as disturbing as those we have seen on many monitors, but that could vary between every unit. It's important to buy a monitor like this from a seller that will readily honor refunds or exchanges if yours has dismal panel quality.
The Aorus FV43U's pixel response time isn't as fast as the other 43-inch 4K 144Hz monitors, so it shows a bit of smudging if you look close enough. Extremely fast or contrasting transitions will reveal these minor flaws, but they are difficult to see if you are sitting at least 4 feet away from the screen. Selecting the overdrive's Balance setting which offers the best solution to it without inducing overshoot or locking down the monitor's VRR.
The Aorus FV43U is compatible with FreeSync and G-Sync which are essential for gaming at this resolution. Both GPU brands and the latest consoles support Adaptive Sync, so having the freedom to choose is always nice for those with multiple systems. Input lag sits at 5ms at 144Hz, so there is no need to worry about delays while enjoying your games.
Thoughts on the Aorus FV43U
The Aorus FV43U is one of the best monitors you can buy if you want to enjoy 4K gaming at 120Hz for console and 144Hz for PC. It's an extremely capable monitor with the proper features and a vibrant screen, so it's a worthy investment. It's expensive, but you get the best the gaming monitor market has to offer for your gaming pleasure.
There's very little we dislike from the Aorus FV43U and most of them are minor such as the TV-styled stand which doesn't even tilt. We were also expecting picture-perfect accuracy from a monitor at this level, but the default setting isn't particularly a deal-breaker. The Aorus FV43U is one of the best monitors you can buy if you want the best visuals for PC, Xbox Series X, and the PS5.
Pros:
Wide Gamut Coverage
Fantastic HDR 1000 Performance
FreeSync/G-Sync Compatible
Plenty of Features with USB-C Included
Functional Design with Remote
Cons:
Poor Stand Design
Expensive
Limited Availability
About the Author: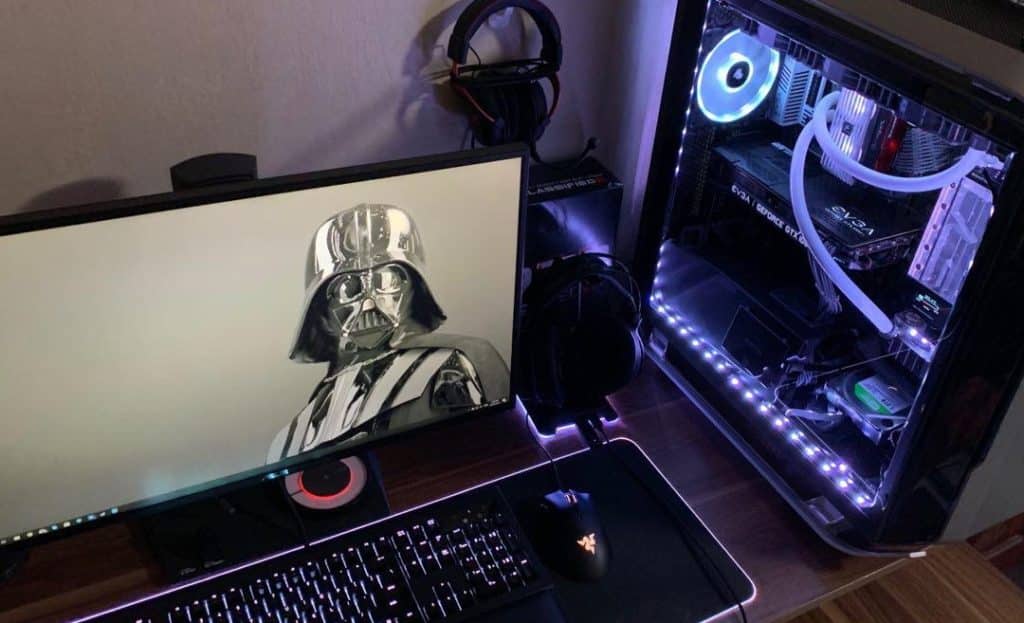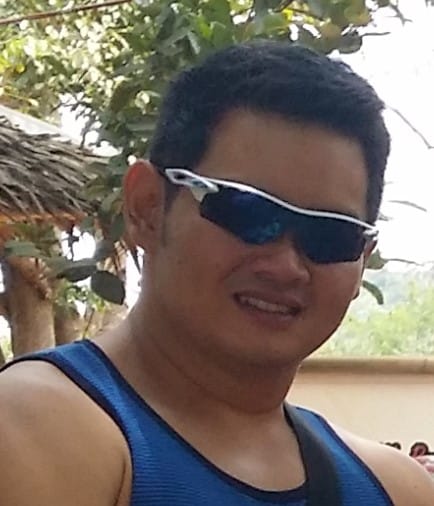 Paolo is a gaming veteran since the golden days of Doom and Warcraft and has been building gaming systems for family, friends, and colleagues since junior high. High-performance monitors are one of his fixations and he believes that it's every citizen's right to enjoy one. He has gone through several pieces of hardware in pursuit of every bit of performance gain, much to the dismay of his wallet. He now works with Monitornerds to scrutinize the latest gear to create reviews that accentuate the seldom explained aspects of a PC monitor.