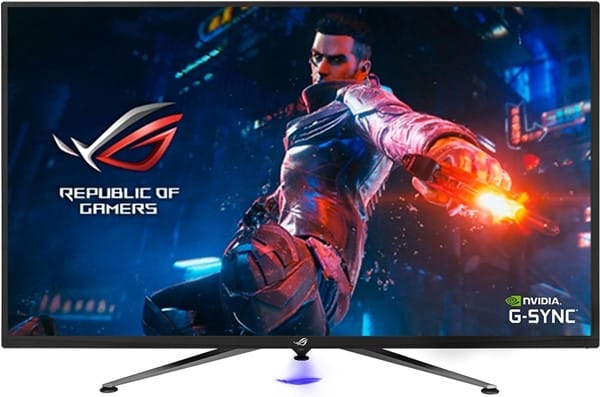 The Asus PG43UQ offers top of the line specs that aims to impress and bring you the best possible performance in PC or Console gaming and entertainment. This new variant is a TV-sized variant of the PG27UQ, but it's also FreeSync compatible, unlike the latter which is locked with G-Sync. The Asus PG43UQ offers everything enthusiasts would want in a monitor, but is it worth spending more or less $1500 on it?

Asus PG43UQ Specifications
Screen Size: 43Inches
Resolution:3840 x 2160 UHD
Aspect Ratio: 16:9
Panel Technology: Vertical Alignment (VA)
Refresh Rate: 144Hz
Response Time:4ms
Contrast Ratio: 4000:1
Brightness: 750 cd/m² (1000cd/m2 Peak)
Built-in Speakers: Yes (2 x 10 Watts)
Stand: Height – No
Stand: Tilt – Yes
Stand: Swivel – No
Stand: Pivot– No
VESA Compatibility: Yes (200 x 200)
Connectivity: DisplayPort 1.4x 2, HDMI 2.0 x 2, USB 3.0 x 3, 3.5mm Jack (In/Out)
Dimensions With Stand (WxHxD): 38.4″ x24.8″ x 9.5″
Weight: 33.7 lbs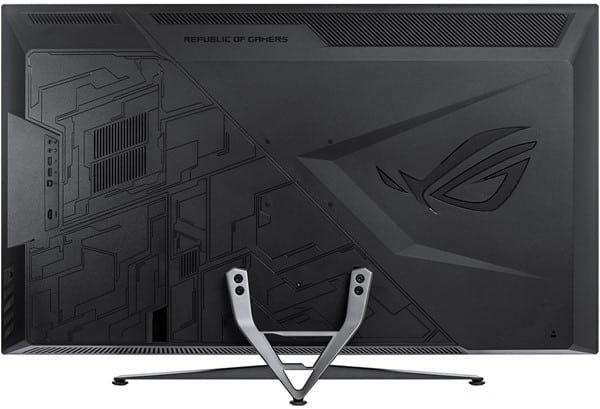 Design and Features
The Asus PG43UQ is physically identical to the XG438Q since it focuses more on improvements that will drive its performance up. Its as big as a TV, but its matte black chassis and ROG markings all over set it apart from the usual. The display isn't bezel-free, but the inner borders are too thin to be noticeable at this size.
Another characteristic of the Asus PG43UQ is it doesn't have and LED logo at the rear for lighting effects. Instead, it uses a lipstick style projector that emits the ROG logo in RGB colors on any surface you desire. It connects via a USB slot and can be manipulated via the monitor's OSD or with Asus Aura Sync if you want to coordinate it with your other Asus ROG parts and peripherals.
Take note that the Asus PG43UQ is massive, so you will need a lot of desk space for it if mounting is not an option. The display is more than three feet across, but its stand doesn't eat up a large area thanks to its tri-pronged design. It's also heavy at almost 34 pounds, so glass tables may not be suitable to hold it without breaking.
Build quality for the Asus PG43UQ is nothing short of impressive for the Asus PG43UQ like many of its siblings in the entire gaming line up. The chassis feels thick and sturdy, while the unique stand does a good job of holding the massive screen up. We also did not notice any sharp or uneven edges and seams, and even the markings on the rear panel are perfectly molded and clean.
You also won't have trouble navigating the Asus PG43UQ's OSD thanks to its control layout that includes hotkeys and a multi-directional joystick. Asus gaming monitor users are already familiar with it, so there shouldn't be too much trouble in adjusting the monitor accordingly. The only difficulty we can see is that you really have to stretch your arms to reach the buttons since the monitor is very wide.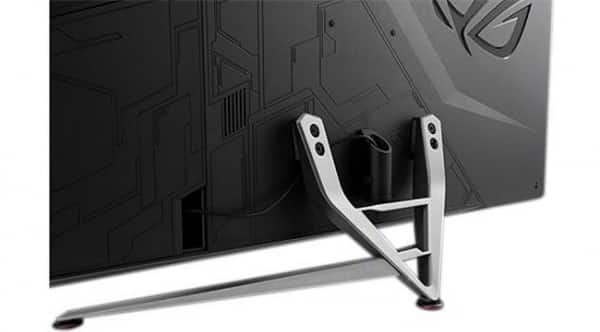 The stand for the Asus PG43UQ looks very attractive, but it can only offer tilt for ergonomics which is limiting as far as gaming monitors are concerned. However, you have to remember that this model's size isn't common in the gaming niche. You can opt for VESA mounts if you need more flexibility, but we don't think it's unnecessary in this case.
The brand split the I/O layout into two parts to make it easier for users to set cable management without having to flip the massive monitor over. The bottom row includes two DisplayPort 1.4, an HDMI 2.0 slot, while the side panel has the USB 3.0 connectors, a single HDMI 2.0 slot, and the 3.5mm jacks for audio input and output. This allows you to connect your main gaming machines to the bottom, while the side can be reserved for secondary 4K devices and peripherals.
There is also a pair of 10-watt speakers that are good enough for the gaming sessions where you just sit back and relax. They can produce a bit of bass, but the thump provided by a separate subwoofer will still be a different aural experience. We think this is a nice upgrade for those who do not want to add soundbars or speaker sets to their already packed setup.
Display and Performance
The Asus Asus PG43UQ boasts a 43-inch VA panel with a 3840 x 2160 resolution, 144Hz maximum refresh rate, and a 1ms boosted response time. The contrast is rated at 4000:1, and the backlight can provide a whopping 750 cd/m2 for SDR and up to 1000 cd/m2 for HDR. This model is compliant with VESA's DisplayHDR 1000 standards, so it can produce massive improvements in image quality and effects.
The pixel density of the Asus PG43UQ isn't as tight as its smaller siblings, so common sense would suggest that it should be great for other tasks such as office work. However, the display can feel overwhelming if you are sitting at nearfield range, and it can strain your eyes or induce headaches during extended use. Gaming and movies won't be an issue, whether if you are sitting on your desk or a couch a few feet away.
The Asus PG43UQ is capable of reproducing 91% of the DCI-P3 color space and around 99.8% sRGB if you use its sRGB filter. The default accuracy sits at around deltaE 2.4 due to some oversaturation in reds, but that is still decent and balanced for daily use. The color temperature is slightly off, but it is not bothersome even when viewing all-white backgrounds.
Calibrating the Asus PG43UQ will lessen the dE average to around 1.29 which is fantastic for a gaming monitor with this much vibrancy. Doing so will also push the gamma closer to the ideal 2.2 to help with some grayscale errors in some scenes. However, buying a colorimeter isn't worth it since the default setting only needs a bit of work on the OSD if you find something wrong with it.
The backlight on the Asus PG43UQ is its most impressive feature since it can reach up to 830 cd/m2 in SDR and around 1090 cd/m2 in HDR mode. This affects its contrast ratio positively, going from 4300:1 all the way up to more than 20000:1. The screen is capable of superbly low black luminance which makes dark scenes all the more engrossing.
HDR gaming performance is great on this model as a result, even if it's not as precise as the PG27UQ since it lacks a full-array local dimming backlight. Some scenes may have halos or coronas surrounding bright objects against a darker background, but that's because the backlight cannot dim or boost that specific area accurately. However, this model outperforms some TVs in this regard, so we think it's a good investment versus the latter.
The Asus PG43UQ's other big addition is its DSC or Dynamic Stream Compression feature which eliminates the need to use both DisplayPort slots for full 144Hz operation. The Asus PG43UQ doesn't show any banding or drops in color quality when doing so unlike its older siblings which needed two ports if you wanted the maximum refresh rate.
Panel uniformity for the Asus PG43UQ is decent since there are no readily visible deviances in brightness from the center of the display. The corners have a slight variance that can be detected by a colorimeter, but it only becomes minutely noticeable in very dark scenes. It won't be an issue for most users and situations, but it can also vary between every unit due to manufacturing tolerances.
On the other hand, the Asus PG43UQ is still prone to blurring, so using its overdrive feature is a must if you play fast-paced games. Setting the overdrive to its 3rd level is the best since anything higher can induce overshoot. Some traces can still become visible, but they aren't as noticeable when the monitor is set to its default.
The Asus PG43UQ is surprisingly compatible with both FreeSync and G-Sync, unlike the other PG monitors which were dedicated to the latter. This characteristic is great since you don't have to change your monitor if in case you switch between the GPU brands to chase the best performance. Input lag sits at a little under 6ms so games will be lag or delay-free.
Thoughts on the Asus PG43UQ
The Asus PG43UQ is a fantastic gaming monitor that offers excellent image quality, HDR performance, and responsiveness in one giant package. The screen offers top of the line specifications which makes it an investment and a massive upgrade at the same time. Its DSC capability is very handy in reducing the necessary cables, while its screen size and qualities make it a great entertainment platform for all your 4K HDR-capable systems at home.
However, what's prohibitive about the Asus PG43UQ is its massive price tag which sits at around $1500 and inflates to around $2000 at the time of this review. However, that premium pays for the size, capabilities, and design of the product, so we think it is still a great buy if you have the budget for it.
Pros:
Large 4K Display
HDR1000 Backlight
Excellent Image Quality and HDR Performance
FreeSync/G-Sync Compatible
Low Input and Lag and Response Time
Cons:
Expensive
Tilt Only Stand
Asus XG438Q is Considerably Cheaper
About the Author: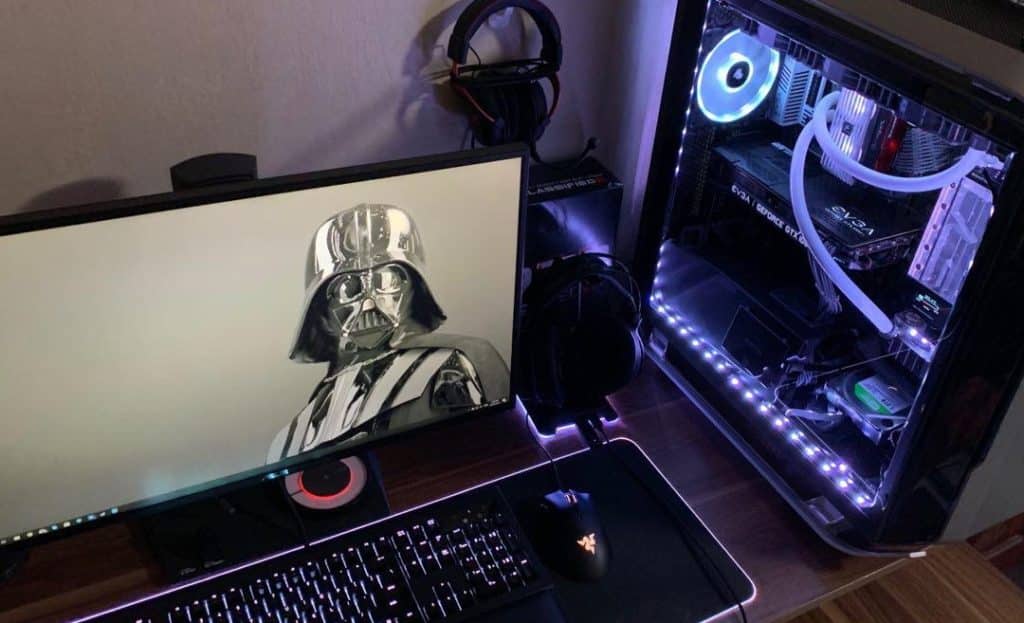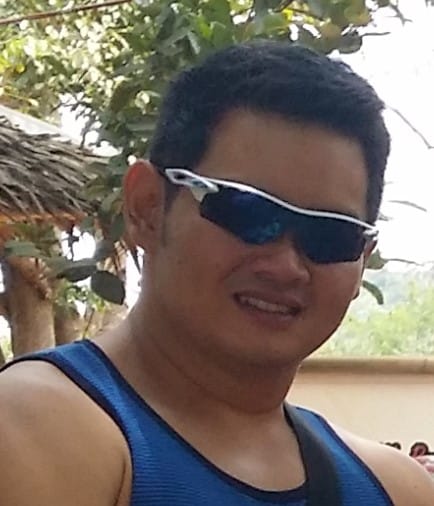 Paolo is a gaming veteran since the golden days of Doom and Warcraft and has been building gaming systems for family, friends, and colleagues since his junior high years. High-performance monitors are one of his fixations and he believes that it's every citizen's right to enjoy one. He has gone through several pieces of hardware in pursuit of every bit of performance gain, much to the dismay of his wallet. He now works with Monitornerds to scrutinize the latest gear to create reviews that accentuate the seldom explained aspects of a PC monitor.