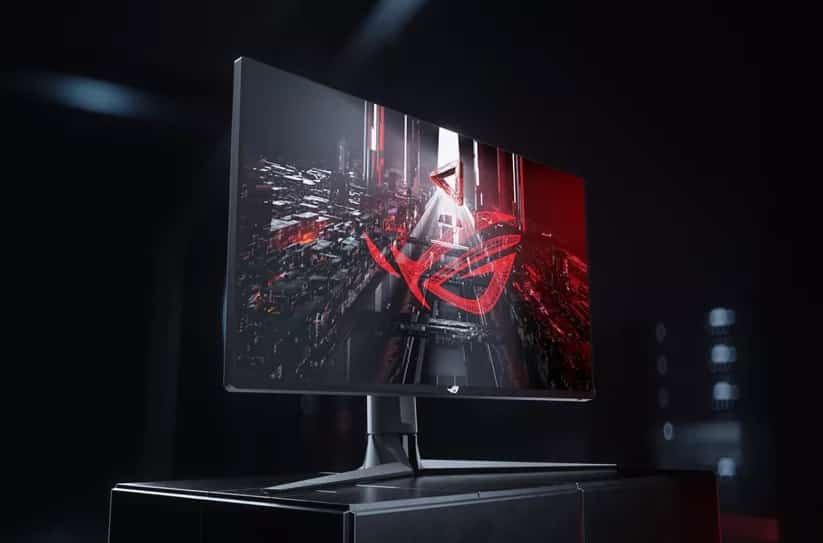 Asus HDMI 2.1 4K monitors have been teased since summer last year so we're glad their CES 2021 launch has shed some light on the trio. Details have been missing since then, but we now have model codes or names, panel specs, and which series each model belongs to. The brand started their teasers mentioning that there is a 28-inch, 32-inch, and 43-inch option with 4K IPS and VA screens.
Why Asus HDMI 2.1 4K Monitors Matter and Should I Buy Them?
4K 144Hz gaming monitors aren't new, but their HDMI 2.1 connectors open up new possibilities and capabilities for gamers. HDMI 2.1 is capable of 4K 120Hz without compression, whereas the older HDMI 2.0 which your monitor probably has is limited to 60Hz. For PC gamers this doesn't mean much except if you want to play 4k 120Hz on your high-end TV, but only the latest GPUs have HDMI 2.1 outputs.
HDMI 2.1 also introduces HDMI VRR (Variable Refresh Rates) and ALLM or Auto Low Latency mode which are included with the Asus HDMI 2.1 4K monitors. HDMI VRR basically enables adaptive sync via the slot, while ALLM drastically lowers input lag if the display detects a game on the screen. These two features are part of the highlighted improvements the PS5 and Xbox Series X bring to the table.
PC users can also enjoy HDMI VRR and ALLM, but their TV must have HDMI 2.1 and the latest firmware that includes support for it. It's also important to have the latest Radeon or GeForce GPUs from both brands since their previous generations only have HDMI 2.0.
That is why Asus HDMI 2.1 4K monitors and other offerings from competing brands are important. Monitors are, in many ways, better than a full-sized TV for focused gaming, and HDMI 2.1 bridges the gap between the two display types. You can now build a 4K 144Hz PC system, get the latest gaming consoles, and use any one of these monitors as an all-in-one display that offers the best possible performance in latency and pixel response time.
Asus HDMI 2.1 4K Monitors – Tale of the Tape
| Model | Size and Panel Type | Resolution, Refresh Rate, and Response Time | VRR/Adaptive Sync | Color and HDR Certification | Connectivity | Exclusive Features |
| --- | --- | --- | --- | --- | --- | --- |
| Asus TUF Gaming VG28UQL1A | 28 Inches Fast IPS | 3840 x 2160 4K, 144Hz, 1ms | AMD FreeSync Premium Pro/G-Sync Compatible | 125% sRGB, 90% DCI-P3, DisplayHDR 400 | 2x HDMI 2.1, 2x HDMI 2.0, DisplayPort 1.4 DSC | ELMB Sync, Variable Overdrive |
| Asus ROG Swift PG32UQ | 32 Inches IPS | 3840 x 2160 4K, 144Hz, 1ms | G-Sync/FreeSync Compatible | 98% DCI-P3 DisplayHDR 600 | 2x HDMI 2.1, Display 1.4 DSC | ELMB Sync, Variable Overdrive |
| Asus ROG Strix XG43UQ | 43 Inches VA | 3840 x 2160 4K, 144Hz, 1ms | AMD FreeSync Premium Pro/G-Sync Compatible | 90% DCI-P3 DisplayHDR 1000 | 2x HDMI 2.1, 2x HDMI 2.0, DisplayPort 1.4 DSC | ELMB Sync |
Asus TUF Gaming VG28UQL1A – Affordable HDMI 2.1 4K TUF Gaming Monitor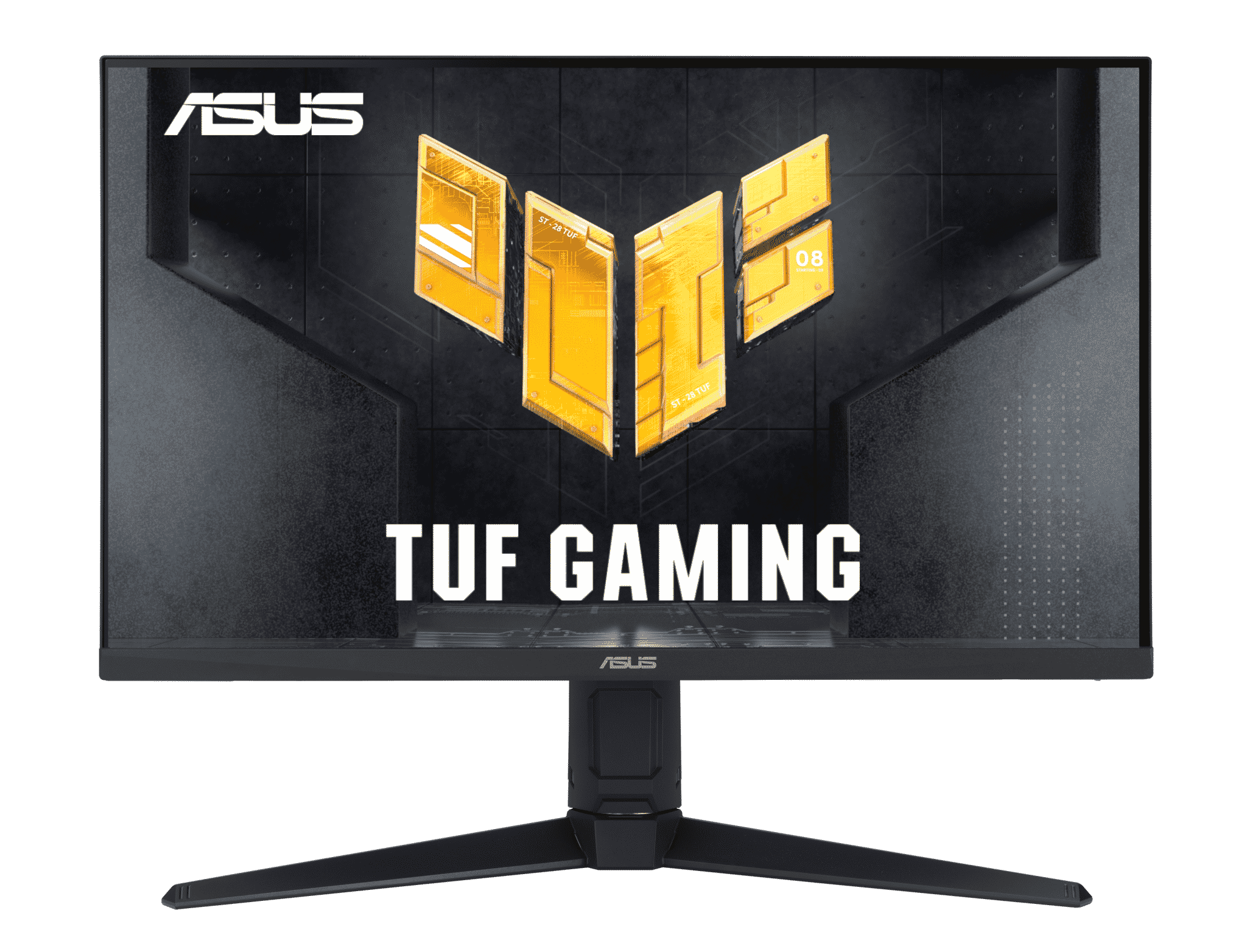 The Asus TUF Gaming VG28UQL1A represents the more affordable side of the Asus HDMI 2.1 4K monitor portfolio. It doesn't have the upper-market specs of the other two, but we all know by now how good TUF gaming monitors are, as proven by the likes of the Asus VG27AQL1A which has our Editor's Choice award. It is, however, comparable to the other variants in gaming performance minus a few extras meant for eye-candy and visuals.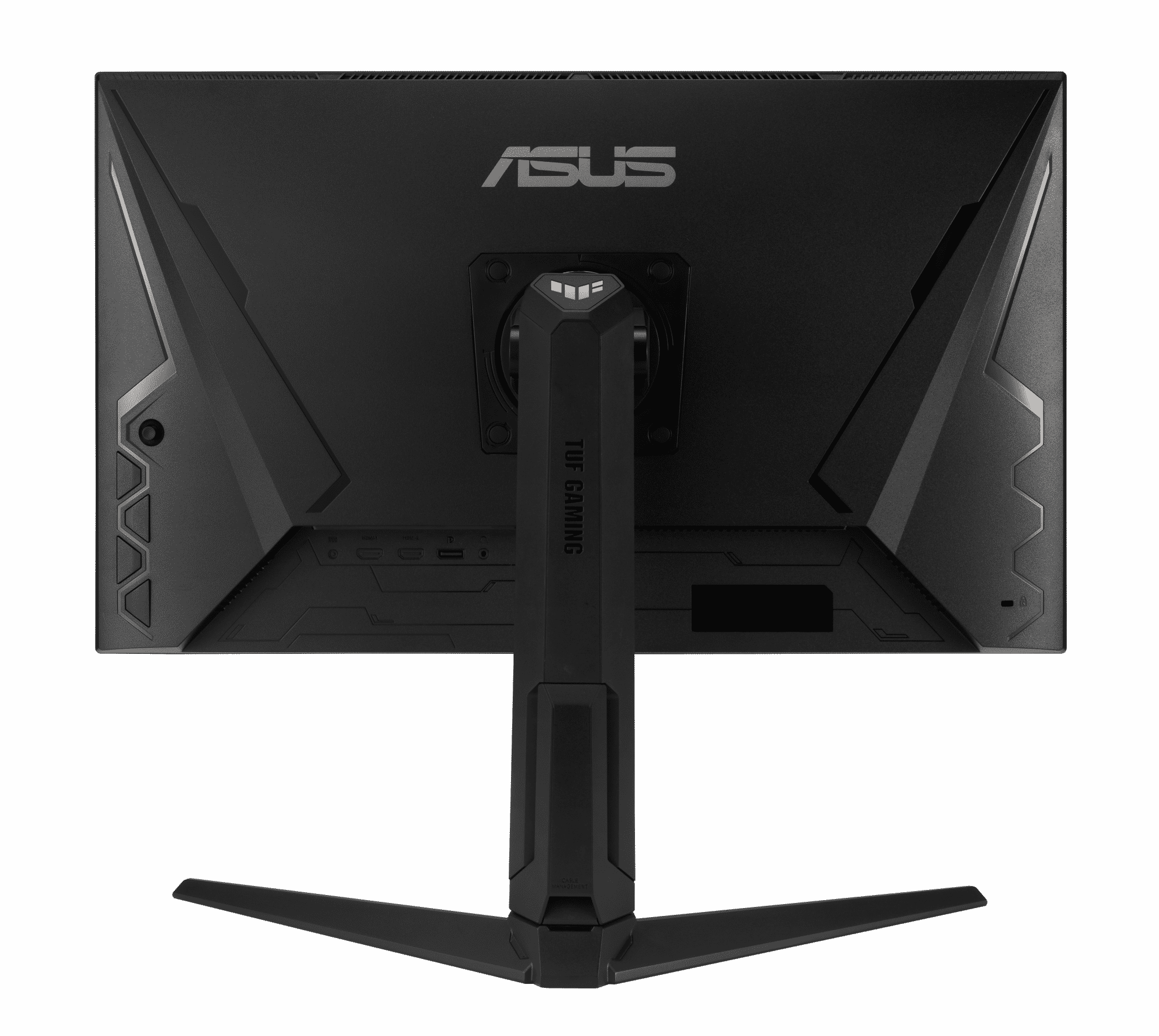 What's attractive about the Asus TUF Gaming VG28UQL1A is its 28-inch IPS panel with a 3840 x 2160 resolution, a 144Hz max refresh rate, and a 1ms boosted response time. Its also HDR 400 certified, and it has a quoted 125% sRGB and 90% DCI-P3 coverage. Other important features listed are its ELMB Sync and Variable Overdrive feature, plus we like that it retains the functional design of the current TUF gaming monitors.
Asus ROG Swift PG32UQ – HDR 600 G-Sync Gaming Monitor with HDMI 2.1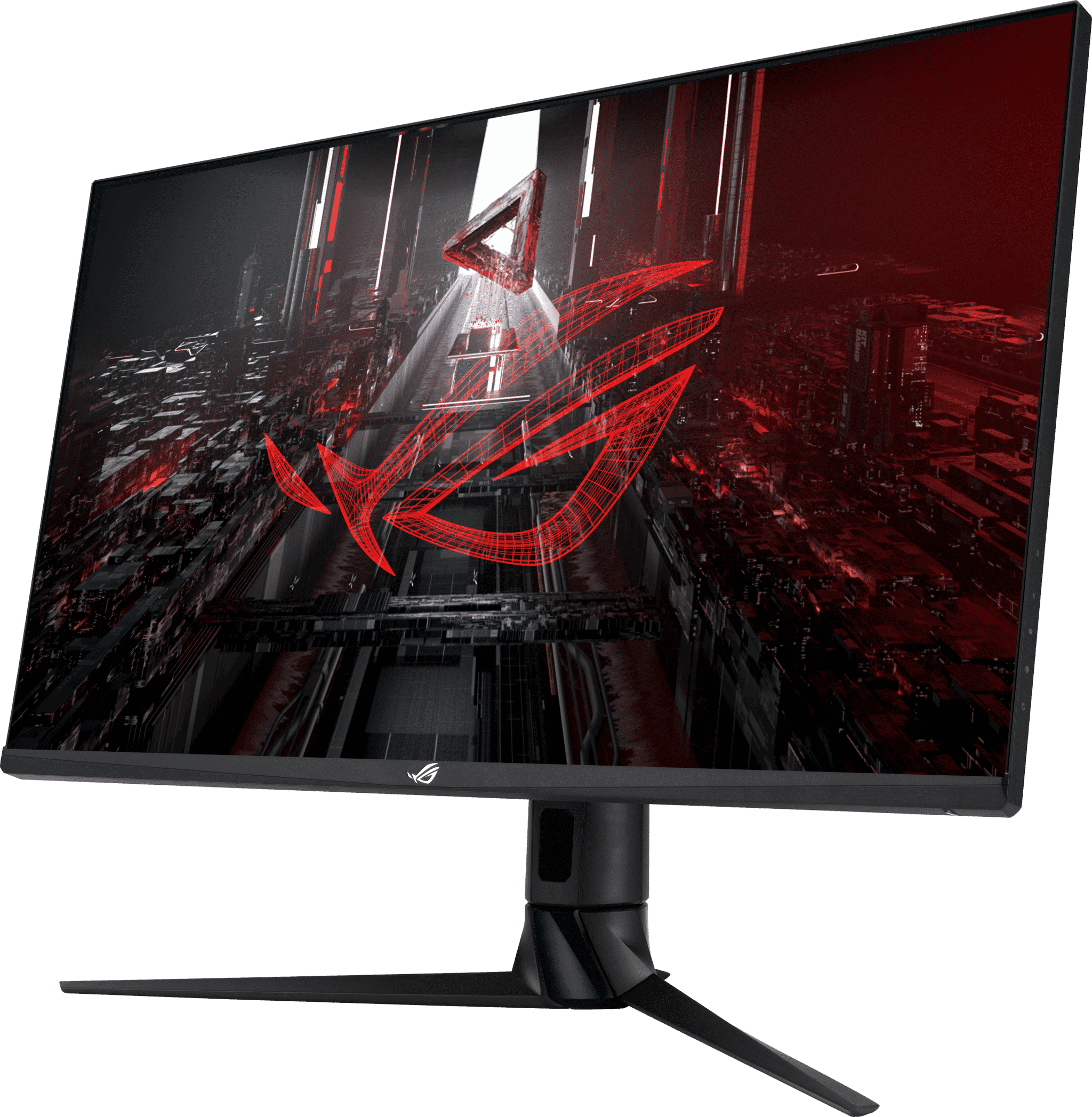 The Asus ROG Swift PG32UQ ups the ante over the VG28IQL1A by offering a larger 4K screen with higher-grade specs.  This model belongs to the top of the line ROG Swift branding, so it comes dressed for the part. The signature Aura Sync ROG eye logo is present in the back, along with the ROG aesthetic which we think has improved and matured over the years.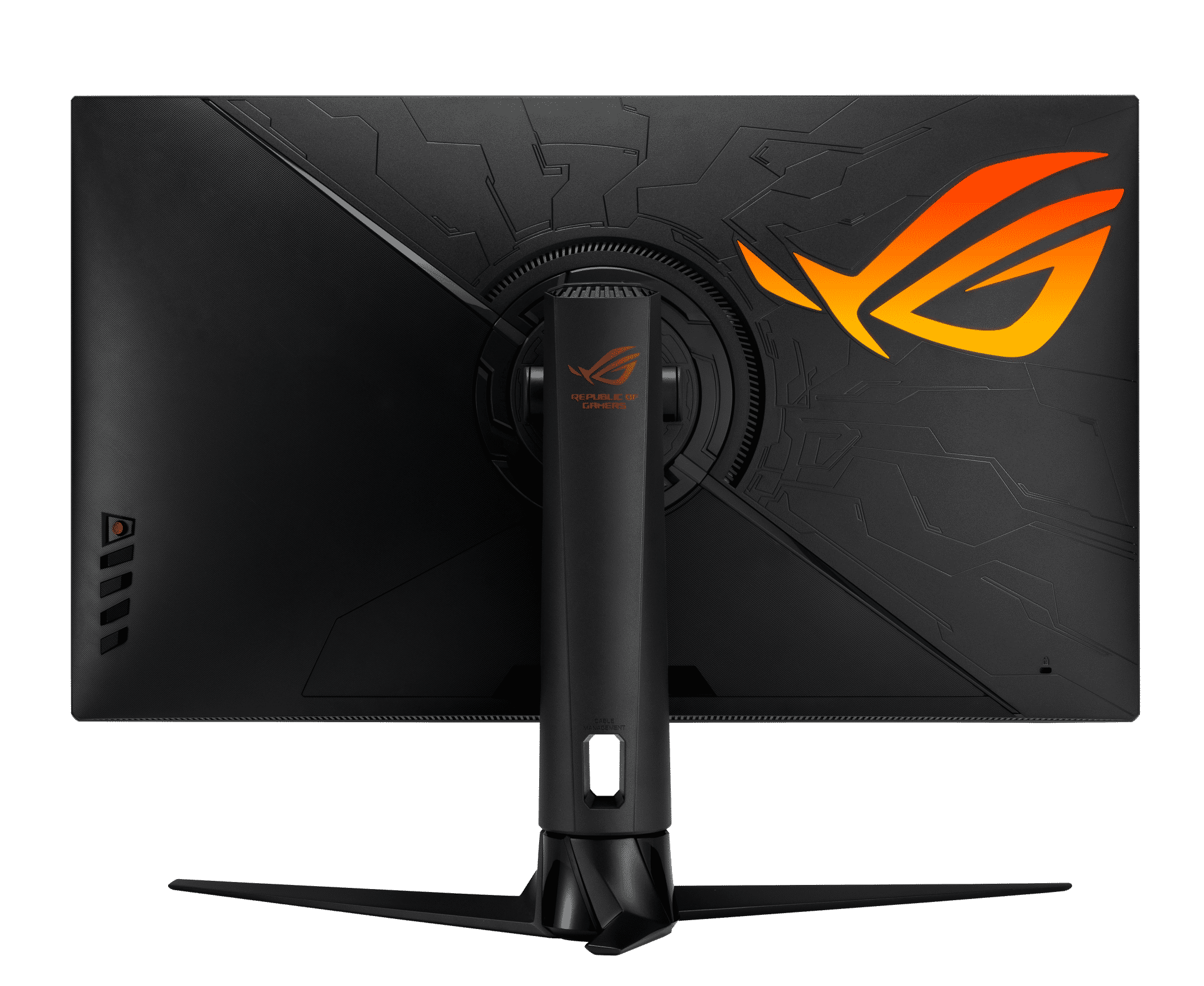 The Asos PG32UQ's 32-inch 4K IPS screen is advertised to be capable of 98% DCI-P3 coverage, aside from its 144Hz 1ms performance. Its also VESA Display HDR 600-certified, meaning its capable of better HDR emulation. It's a G-Sync monitor, but its not exclusive to Nvidia since it doesn't come with an FGPA module so VRR will work with FreeSync.
Asus ROG Strix XG43UQ – 43-Inch LFGD with HDMI 2.1 and Display HDR 1000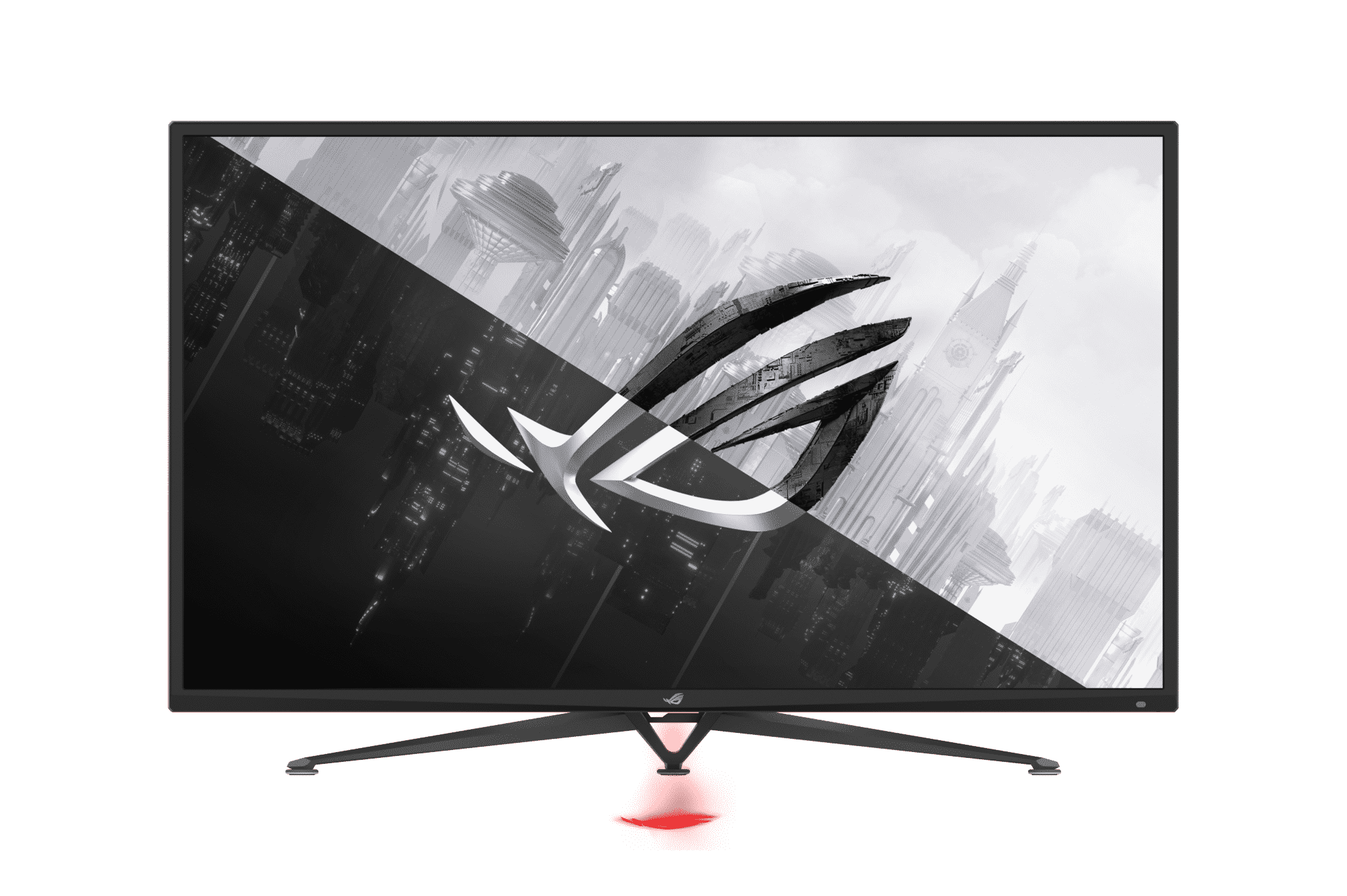 The big daddy of the HDMI 2.1 trio by Asus is the Asus ROG Strix XG43UQ which is arguably the best looking and the most exciting. The large screen is based on VA instead of IPS, so its capable of better contrast ratio at the expense of some vibrancy. This model advertises 90% DCI-P3 coverage, but its HDR 1000 certification means it will be capable of better HDR rendering, brighter highlights, and local dimming.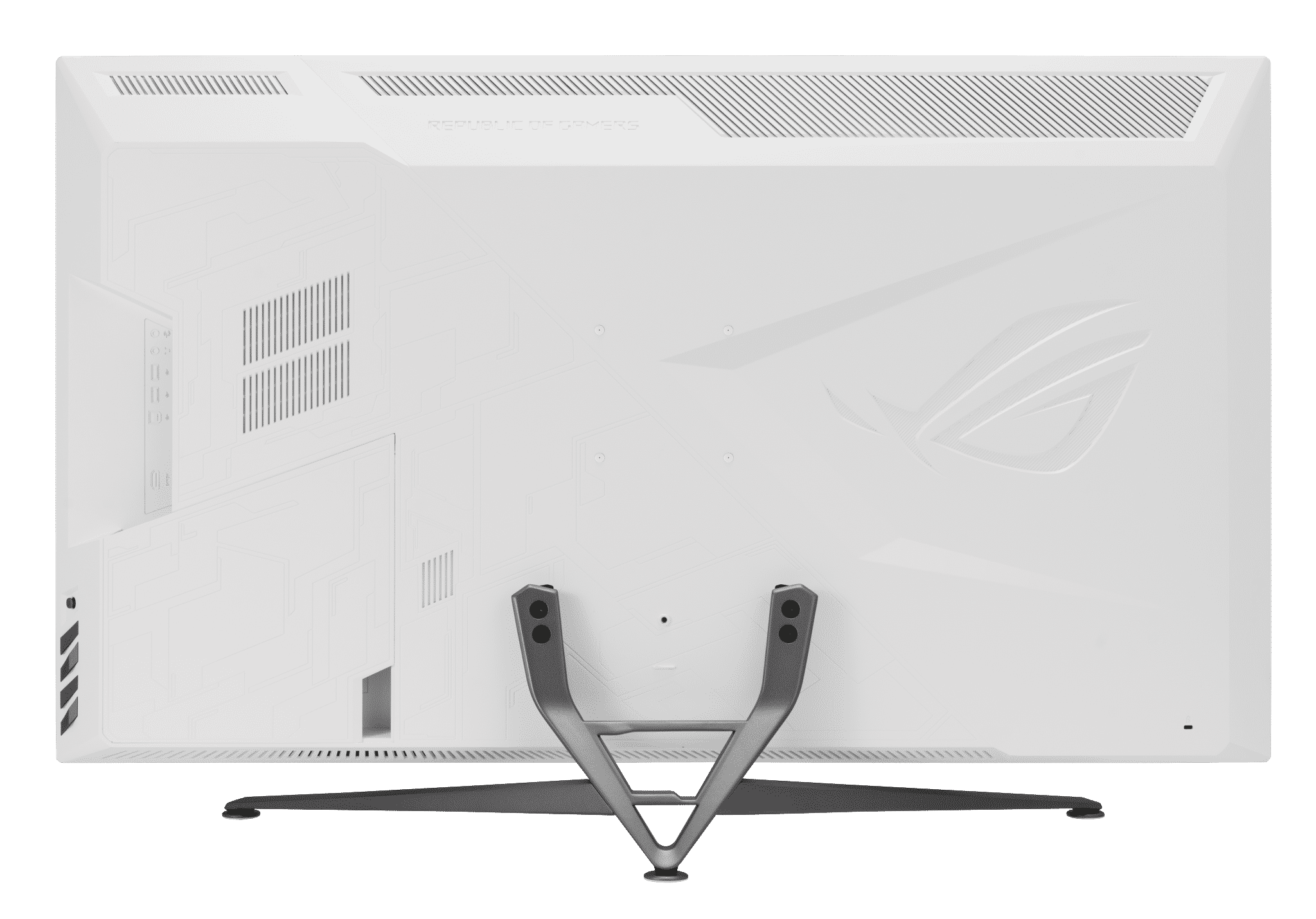 The size and the specifications of the Asus ROG Strix XG43UQ make it the most ideal for console gaming since it's basically a replacement for your TV. It's not as ergonomic nor does it have the viewing angles of the IPS models above, but its still a 4K 144Hz monitor with two HDMI 2.1 slots. This new model can be distinguished by its white and silver combination which Asus only uses on its most exclusive offerings.
Thoughts on the Asus HDMI 2.1 4K Monitors
It looks like Asus is keeping HDMI exclusive to a few select monitors in its portfolio for 2021 where it will release a whole lot more. There are the Asus ROG Swift PG279QM 240Hz QHD monitor and the Asus ROG Strix XG16AHP-W which is presumably a more affordable version of their 240Hz portable that released last year. Both of these new monitors do not have HDMI 2.1, but that's reasonable since nothing other than 4K 120Hz needs it at the moment.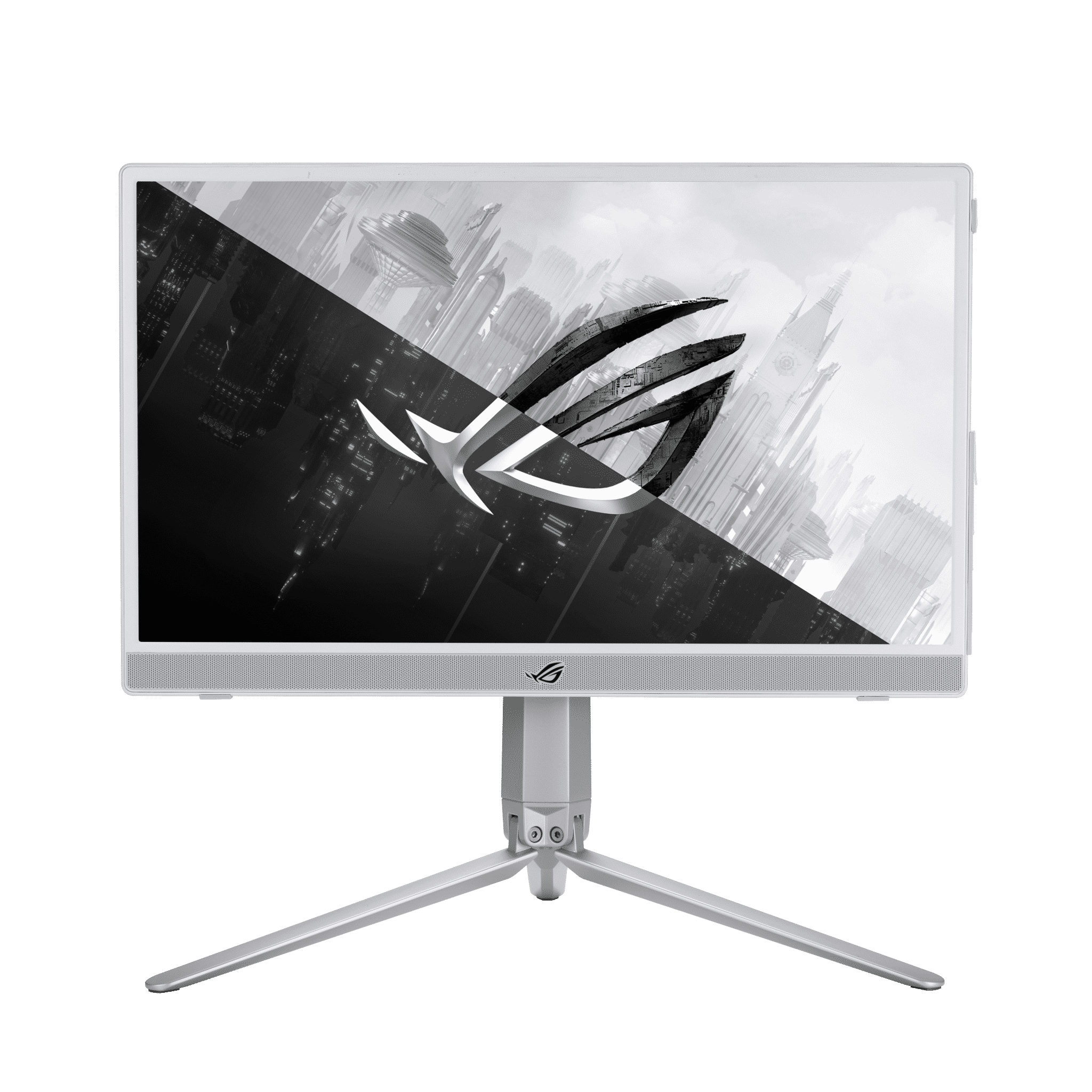 HDMI 2.1 will eventually replace HDMI 2.0 on most of the future monitors, but right now, it's a luxury that's bundled with premium displays. What we do know, however, is that these three will be more affordable than various OLED or high-end TVs in the market which are also gatekeeping the connector standard. Pricing for the three Asus HDMI 2.1 4K monitors are still forthcoming, but we do know now that they will drop by May or the 2nd Quarter of this year.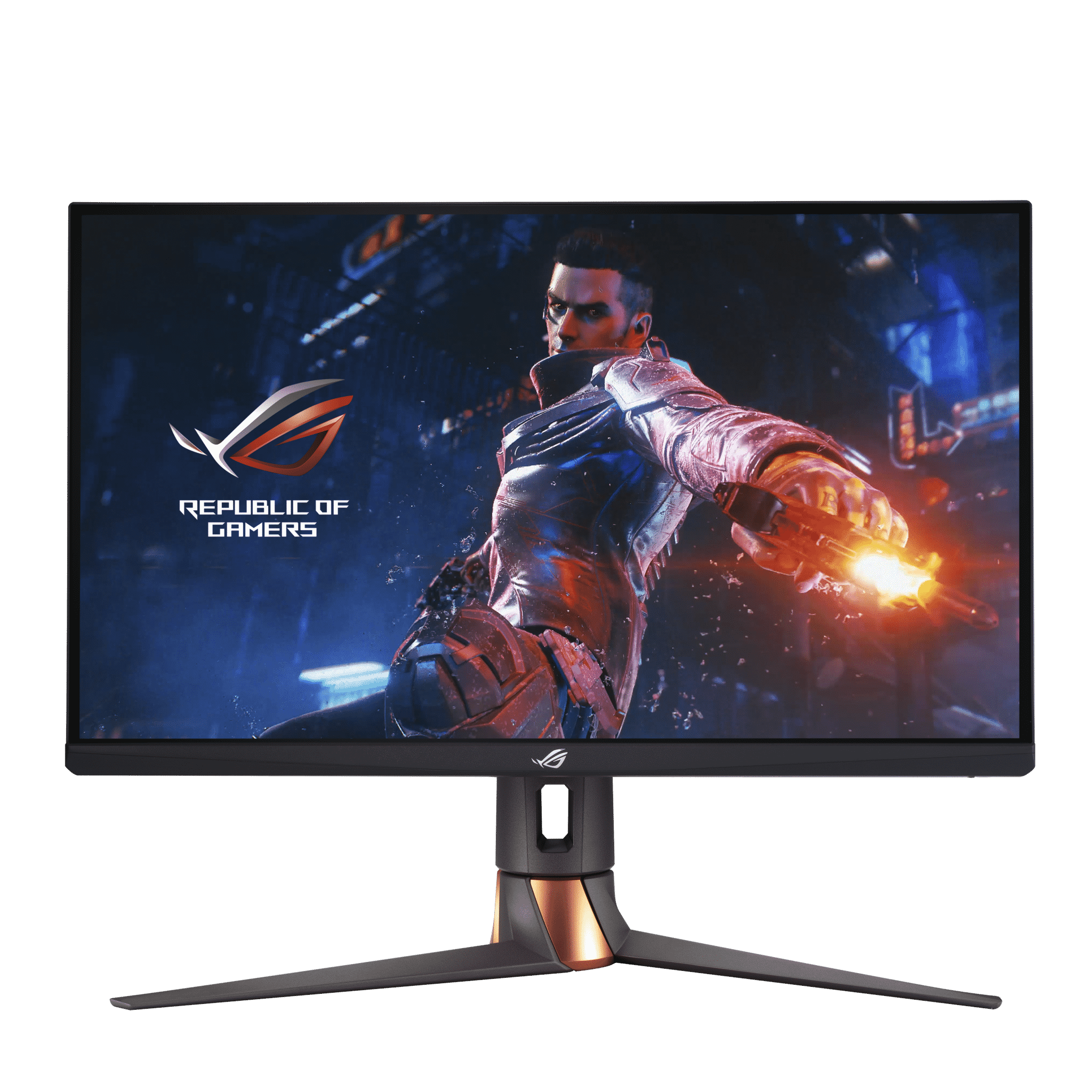 Standby for the latest updates as we will share them with you as soon as they become available to us. You can also shoot us a message or keep tabs on this page for the latest news if you are interested in these new gaming monitors.
About the Author: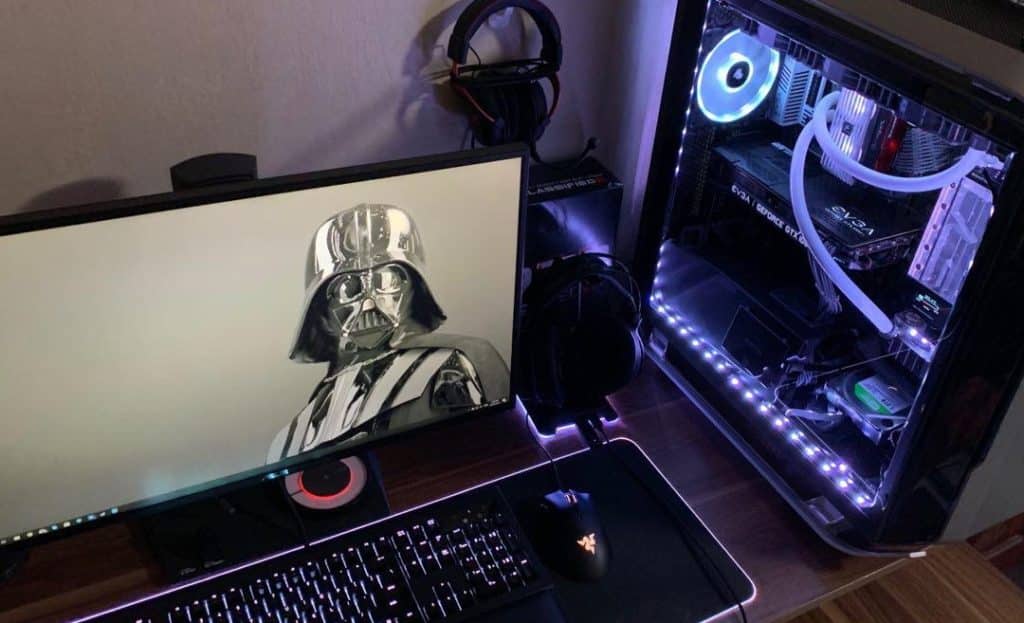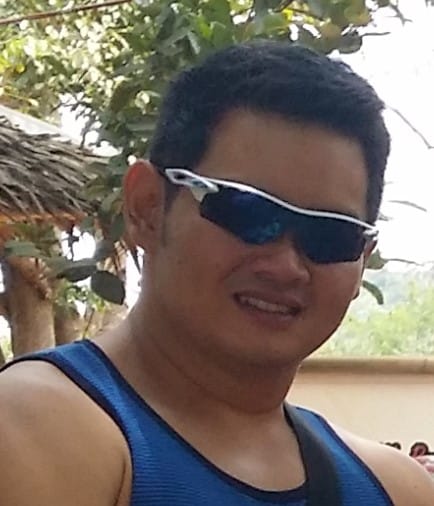 Paolo is a gaming veteran since the golden days of Doom and Warcraft and has been building gaming systems for family, friends, and colleagues since his junior high years. High-performance monitors are one of his fixations and he believes that it's every citizen's right to enjoy one. He has gone through several pieces of hardware in pursuit of every bit of performance gain, much to the dismay of his wallet. He now works with Monitornerds to scrutinize the latest gear to create reviews that accentuate the seldom explained aspects of a PC monitor.