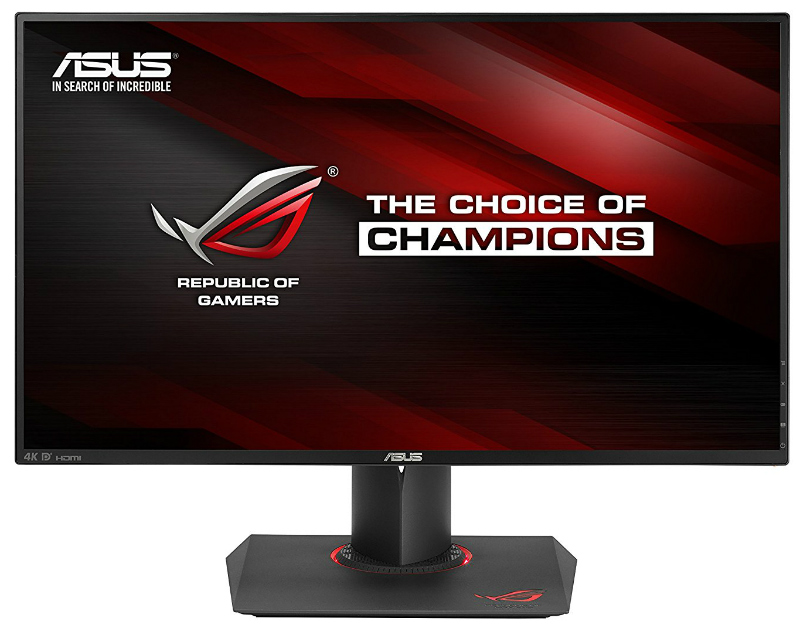 ---
Review of Asus PG27AQ
When it comes to excellent detail and a stunning visual performance, there is no doubt that 4K UHD is the top choice, despite the monstrous graphics horsepower requirement it needs. But if you already own a CPU with the top of the line specs with the latest and greatest graphics card, then for sure, 4K gaming monitors are your best bet for an out of this entertainment experience. But even if you are a proud owner of such a computing beast, frame rates may still occasionally dip, especially in intense scenes where multiple things are going own, effects are flying everywhere, or when several enemies are mobbing you. The frames won't always stay static at 60FPS at 4K, so in times like this, Nvidia's G-Sync is the answer to smoothen out your adventures on the screen. There are already a lot of UHD products available, but only the few and the proud carry Nvidia's VRR tech in their high-tech innards. One excellent example is the Asus ROG Swift PG27AQ. This gadget has a 27-inch 4K IPS panel capable of 60Hz refresh rates, G-Sync and a lot of other gamer-centric features found in the ROG Swift line.
Asus PG27AQ Specifications
·       Screen Size: 27 Inches
·       Resolution:4K UHD
·       Aspect Ratio: 16:9
·       Panel Technology: In Plane Switching (IPS)
·       Refresh Rate: 60hz
·       Response Time: 4ms
·       Contrast Ratio: 1000:1
·       Brightness: 300 cd/m²
·       Built-in Speakers: Yes 2 x 2w RMS
·       Stand: Height – Yes (4.7 Inches)
·       Stand: Tilt – Yes (-5°/+20°)
·       Stand: Swivel – Yes (-60°/+60°)
·       Stand: Pivot – Yes (90°)
·       VESA Compatibility: Yes (100 x 100)
·       Connectivity: DisplayPort 1.2 x 1, HDMI x 1, USB 3.0 x 3, 3.5mm Audio Jacks
·       Dimensions With Stand(WxHxD): 24.40″ x 21.75″ x 9.37″
·       Dimensions Without Stand(WxHxD): 24.40″ x 14.29″ x 2.60″
·       Weight: 15.87lbs
Design and Features of PG27AQ
The Asus PG27AQ features the distinct aesthetics of its other ROG Swift siblings which has very thin 8mm 2-stage designed bezels and angular design hints on both the matte black cabinet and the stand. The base also has LED lighting which Asus calls the Light in Motion feature, which glows red when G-Sync is activated, White when operating at a fixed rate, or amber when on standby. This decoration comprises of the led ring on the rim of the stand and the ROG eye logo beside the G-Sync sticker. The screen has a light matte AG coating, which does an excellent job at avoiding glare while being unnoticeable at a fair distance.
From the back, the angled design pattern is once again prevalent, and under the bottom part, the I/O ports are neatly tucked in in a down firing position, making it convenient to slide the cables into the cable tidy slit on the neck of the stand. There are four buttons and a 5-axis joystick for OSD navigation visible on the left when looking at the back, and accessible on the right when using the PG27AQ. The three buttons are for hot swapping between presets, and the fourth one is the power switch.
The stand for the Asus PG27AQ is one of the best the market has to offer, its robust build and a high degree of articulation makes it particularly easy to find a comfortable position. Raising or swivelling the monitor feels smooth and stiff enough not to slip or slide, so moving the screen is quite satisfying. The Light in Motion feature is located on the base, and you can turn it off via the OSD. There is also a quick detach option that reveals 100 x 100 VESA holes for aftermarket mounting. Overall, the build quality is excellent and sturdy, and the matte black finish used in the rog swift PG27AQ feels great to the touch and does not attract fingerprints. The outstanding look and feel is a particular characteristic of the ROG Swift line, and also one of the qualities that make Asus' products very popular with the enthusiast crowd.
Display and Performance
The Asus PG27AQ features a 27-inch, 4K IPS panel with a 60Hz refresh rate, 4ms response time and 1000:1 contrast ratio. The 8-bit +FRC dithering support of this screen gives this product 100% coverage of the sRGB colour space, resulting in accurate shade representation in most games and movies we have tested. The IPS panel from AU Optronics also does a fantastic job, since viewing angles are as extensive as is expected from high-quality IPS screens. In Battlefield 1, the gradient shades of the sand in the Sinai Desert map appeared accurate and vibrant, without being too reddish. Once we switched to the Argonne forest map, the lush greens did stand out from the murky and shadowy atmosphere without saturation. In this regard, the Asus PG27AQ is a stunning performer, mostly enhanced by its 4K native resolution.
As for contrast, the Asus PG27AQ produces an average of around 1150:1 by only adjusting brightness, and this is a key factor in the game performance described above. There are some losses in detail near the corner of the screen, mainly due to IPS glow. Although we found that the actual maximum illumination intensity was in the 265cd/m2 range, a few units short of the advertised 300cd/m2. This fact isn't a deal breaker, however since most users would never use high levels for their eye safety. The PG27AQ's luminance uniformity is also at acceptable levels, except for a slight light leak at the top left corner of the screen. Keep in mind that each panel varies from product to product, and you may get a unit that has better or worse light leaks. If you do, consider returning it for another shot at the IPS lottery.
This 4K offering from Asus is capable of 60Hz refresh rates and a standard 4ms response time. When it comes to gamer-centric displays, that is quite slow. But since this product has a massive 4K native resolution, it would be difficult to find a graphics card that can continuously pump 60FPS, especially on AAA titles such as Battlefield 1. For the dips in FPS, this product incorporates G-Sync into its functionality. Once activated, the stutters we experienced in big battles in Battlefield 1 become much friendlier for the eyes, although there were instances of blurring when twitch aiming or running around in the huge maps. Asus incorporates their Trace Free feature in the PG27AQ, but in tests, we found that It did cure some of the blurrings, but on the contrary, added artifacts and advanced ghosting. So for most purposes, it is best to leave this off and let G-Sync work its magic since the PG27AQ is capable of a respectable 6ms input lag, which is excellent regarding responsiveness and connective feel.
We always recommend new owners to tweak their monitors to their preferred output or to find suitable ICC profiles to use which will match their visual taste. But interestingly, Asus has a selection of gamer presets for every genre available. There are modes for Racing, RTS/RPG, and FPS. Most of these settings provide a correct 2.2 gamma level, but we found that most of them oversaturate or undersaturated the picture in one way or another. So far, only the Racing mode is suitable, allowing out of the box users to have vibrant and balanced colors. Be warned that this setting is too bright for most. There is also an sRGB mode for a supposed enhanced display of color, but the only change apparent when using this method is that the brightness is substantially lower than the ideal level. There are also five levels for Blue Light Filter to keep your eyes safe, and each level further changes the color temperature and saturation to reduce blue light further. Finally, the Asus PG27AQ is flicker-free, since its system favors using DC power as a source instead of Pulse Width Modulation (PWM)
Conclusion
As far as 4K gaming monitors go, the Asus rog swift PG27AQ is one of the excellent choices you can buy with your hard earned moolah. This product incorporates the outstanding gaming features from the ROG Swift line apparent both on the build quality and the functionality of the screen.  The inclusion of G-Sync is highly ideal for a product like this since most GPUs are still hard-pressed to produce the required pixels and adequate frame rates at this resolution. The 60Hz refresh rate is a thing of the past, but currently, there are no connection ports out in the market with higher standards to operate 4K at 120Hz or more. Maybe when the graphics technology catches up with UHD, we may see more and more of these newer displays.
The build quality and performances are excellent, but the biggest hindrance is pricing. Asus is no stranger to dominating the gaming scene, but their pricing is also at the top bracket across several peripheral offerings. If you have a monster rig, and quite a bit of cash to part with, the Asus PG27AQ is currently the top choice.