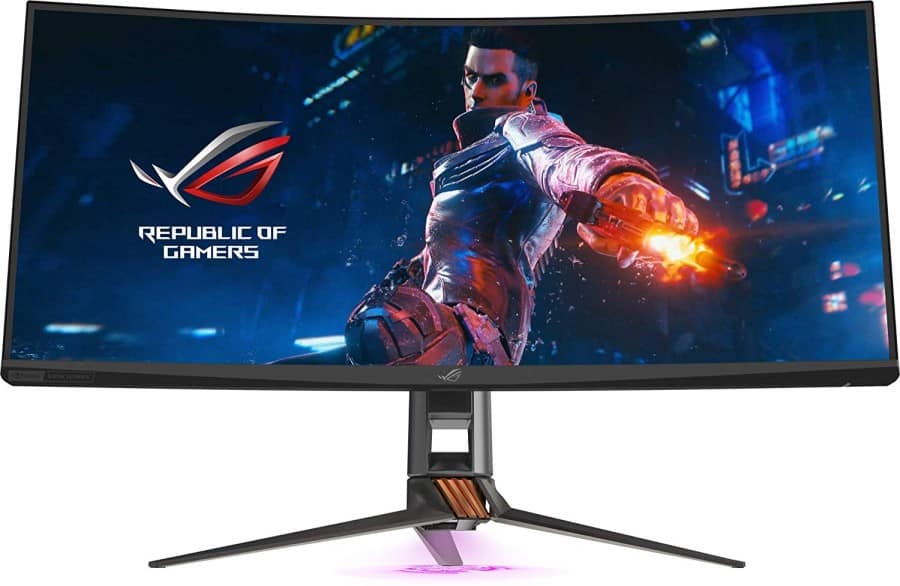 The long-awaited Asus PG35VQ is finally on our doorsteps to offer a 3440 x 1440 200Hz screen with Display HDR1000 capabilities. The monitor is also equipped with G-Sync Ultimate technology to make visuals silky smooth without delays or input lag. The Asus PG35VQ still costs an arm and a leg even if we had to wait two years for it, but can it offer the jaw-dropping performance which will make it worthy of its price?

Asus PG35VQ Specifications
Screen Size: 34Inches
Resolution: 3440 x 1440 UW-QHD
Aspect Ratio: 21:9
Panel Technology: Vertical Alignment (VA)
Refresh Rate: 200 Hz
Response Time: 4ms
Contrast Ratio: 2500:1 (Static)
Brightness: 500cd/m² (750 cd/m² – 1000 cd/m² HDR)
Built-in Speakers:No
Stand: Height – Yes
Stand: Tilt – Yes
Stand: Swivel – Yes
Stand: Pivot – No
VESA Compatibility: Yes(100 x 100)
Connectivity: DisplayPort 1.4x 1, HDMI 0 x 1, USB 3.0 x 3, 3.5mm Audio Jacks
Dimensions (WxHxD): 380″ x 17.68″ x 12.05"
Weight: 298 lbs

Design and Features
The Asus PG35VQ doesn't stray too far from its other ROG Swift ultrawide siblings when it comes to design. The device still comes in a very familiar matte black and gunmetal combination along with a hint of bronze on the base. The display is bezel-free, but slender panel borders will still be visible when the screen is turned on.
Make sure that you have enough desk space for the Asus PG35VQ which is considerably larger than some models we've seen to date. The device will eat up 32 inches of width, while the three pegs or feet on the base requires a foot of depth in total. You can opt for VESA mounting to save space, but doing so ruins the beauty of the product.
Build quality is fantastic for the Asus PG35VQ which has all the premium goodies and treatment the brand could offer. The plastic panels are perfectly molded without any warping or uneven seams, plus the device doesn't creak or wobble with minimal force. It also feels like a tank at thirty pounds, so if you haven't been hitting the weights lately, you might need a second person to help you set up.
The Asus PG35VQ sports a large, RGB LED at the rear shaped in the ROG eye logo from the brand. This feature synchronizes with Asus Aura Sync, allowing you to integrate the monitor into your ROG ecosystem. It's bright enough to be a bias light, but its off-center position creates a poor spread for the viewer at the front.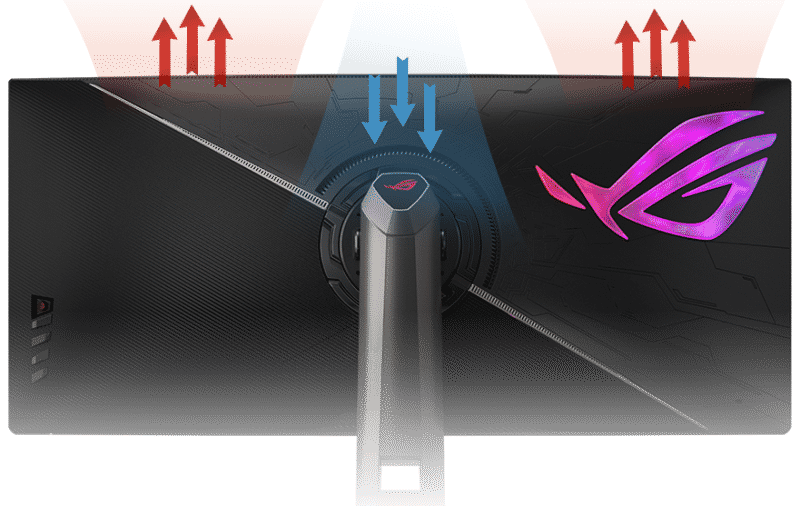 Another distinct feature of the Asus PG35VQ is the circular vents surrounding the stand's attachment points which conceal a cooling fan. HDR monitors like this model and the PG27UQ require a cooling solution since the innards tend to overheat due to the complexity of the system. Fortunately, the embedded Smart Fan Control into the PG35VQ has introduced improvements, although playing at max refresh rate and HDR will set the fan at max with a slight hum in the background.
The signature helix stand is still used in the Asus PG35VQ since it has excellent functionality. The mechanism offers tilt, swivel, and pivot, plus a firmness that equates to superb stability. There is also a projector LED at the bottom which allows for customizable features so you can set a theme or use your clan logo.
The Asus PG35VQ is a G-Sync ultimate monitor, so it comes with proprietary I/O layout. The limited panel only includes DisplayPort 1.4 and HDMI 2.0 plus three USB 3.0 slots for your accessories. There is also no speakers with the package, but those are rarely missed and unsuited for a monitor of this caliber.
Display and Performance
The Asus PG35VQ boasts a 35-inch AU Optronics VA panel with a 3440 x 1440 resolution, 200Hz refresh rate, and 4ms response time. The 512-zone FALD backlight produces 500 cd/m2 in SDR, but it can shoot up to around 750 cd/m2 to as much as 1000 cd/m2 for HDR content and gaming. These specifications offer top-notched immersive gaming which, when paired with the refresh, places it among the various E-Sports options as well.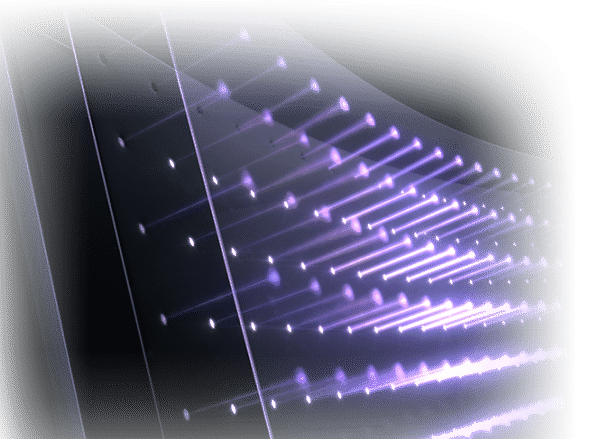 The Asus PG35VQ doesn't have any issues when it comes to crispness and detail. The pixel pitch is tight enough to decrease the need for Anti-Aliasing, but scaling isn't necessary like on many 4K panels. QHD is still the best and most efficient if you want sharp images that aren't tiring for your eyes.
The Asus PG35VQ offers impressive color capabilities like the PG27UQ whose performance makes it ideal for color-critical work. The AMVA panel produces 105% sRGB gamut volume or around 77% DCI-P3 coverage. These fall short of the manufacturer's claims, but the Delta E average of only 1.2 out of the box more than makes up for it.
You can still get a bit more accuracy out of the display to decrease its Delta E, but we don't think it's necessary. The display's gamma sits perfectly at 2.2, although the color temperature could use a bit of tweaking to push it closer to the ideal 6500K. We recommend using the Racing Mode preset if you want the best accuracy out of the lot outside of a calibrated output.
The VA panel on the Asus PG35VQ reaches up to 2100:1 contrast ratio, providing us with the satisfying blacks and superb grayscale performance you'd want in an HDR display. This characteristic expands exponentially if the FALD backlight starts doing its job in HDR, although testers were not able to measure its peak since the variance in each quadrant is too high due to the backlight.
Blooming isn't an issue for the Asus PG35VQ since the 512-zone FALD backlight offered a decent and well-controlled spread. Take note that you need an HDR source to make use of this feature, plus it will lock out brightness controls if the mode is active.
Gaming in HDR is a fantastic experience with DisplayHDR 1000 monitors like the Asus PG35VQ. The premised extensions in contrast and better lighting control are visible, allowing gamers to enjoy upgraded visual in compatible titles like Battlefield V. This model is also noticeably better in this regard compared to IPS variants like the PG27UQ thanks to its panel technology's qualities and capabilities.
Uniformity on the Asus PG35VQ suffered a bit since there are a few leaks on the edge of the display. Colors and the overall picture remain unaffected, but the defects are visible in black image tests. We think this issue will be negligible while gaming in HDR, plus its extent always varies between unit to unit.
The Asus PG35VQ doesn't include ULMB, but its extended refresh rate works wonders to cure defects like smudging and ghosting. Some trails do appear in fast-paced action at frames below 144Hz, but anything higher produces a sharper, more detailed image. The extra headroom comes at a hefty price tag, but we can say that you will love this product if you can maximize its potential.
The Asus PG35VQ is a G-Sync Ultimate gaming monitor, making it a perfect pair for Nvidia's most powerful GPUs. You are going to need two RTX 2080 Tis in NVLink if you want to reach this product's full power, but we think the price makes the setup less enticing. Input lag is limited to 6ms, so there are no delayed or "de-synced" instances while gaming.
Thoughts on the Asus PG35VQ
The Asus PG35VQ is definitely worth the wait if you consider its performance results and HDR capabilities. The product provides an improved, if not the same image quality and gaming prowess like the PG27UQ, but in a more cinematic, and less demanding screen. The device's features did not fall short of our expectations, although we know a few users who might miss ULMB which goes hand in hand with very high refresh rates.
The only issue we have with the Asus PG35VQ is its unfathomable price tag due to all the goodies it offers. Pre-orders are starting to become available starting with the UK, but you have to shell out £2699.99 for it. It's one hell of a monitor, but its pricing reserves it for the financially blessed.
About the Author: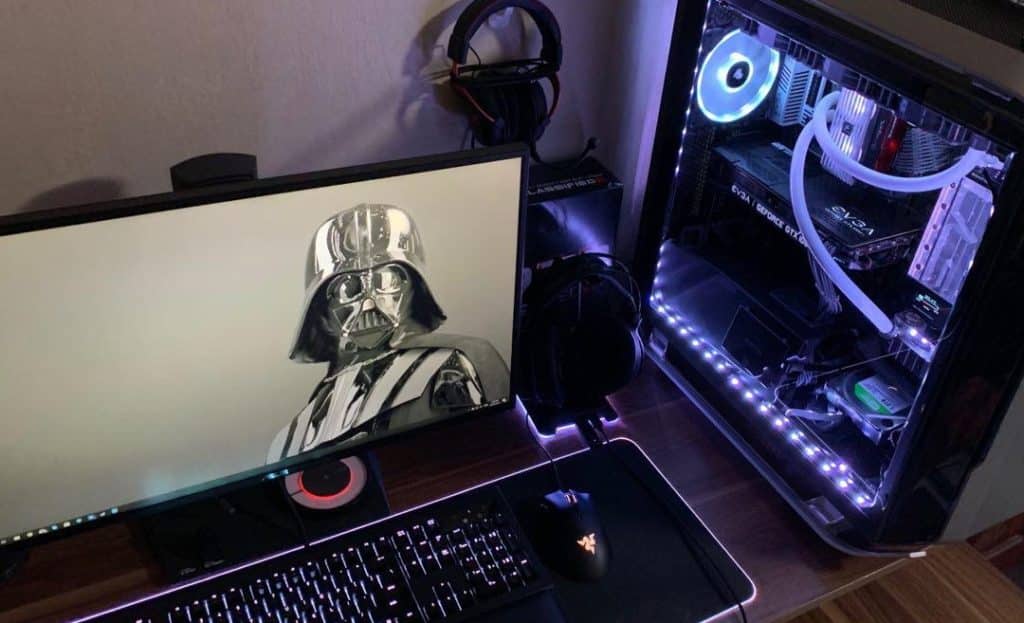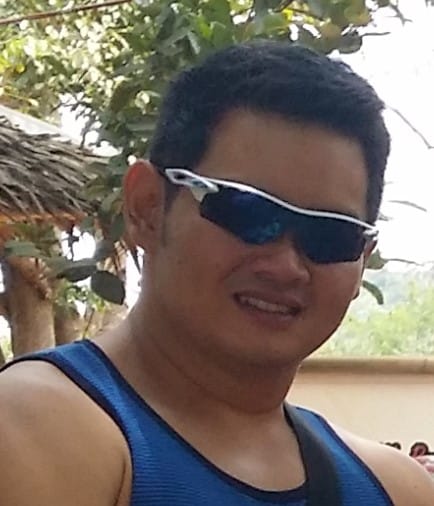 Paolo is a gaming veteran since the golden days of Doom and Warcraft and has been building gaming systems for family, friends, and colleagues since his junior high years. High-performance monitors are one of his fixations and he believes that it's every citizen's right to enjoy one. He has gone through several pieces of hardware in pursuit of every bit of performance gain, much to the dismay of his wallet. He now works with Monitornerds to scrutinize the latest gear to create reviews which accentuate the seldom explained aspects of a PC monitor.