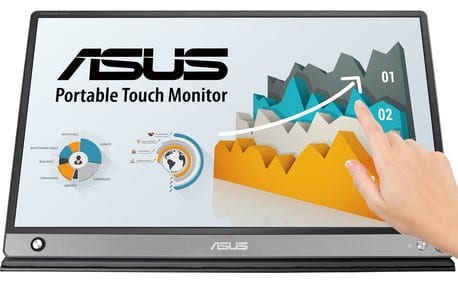 Pros:
Thin and Light
Accurate IPS Panel
USB-C Single Cable Operation
Micro HDMI and Speakers Included
Lower Price
Cons:
Low sRGB Coverage
Washed out Colors
The Asus MB16AMT is a new and improved portable monitor variant that incorporates more features along with touchscreen capability. The device features a 15.6 screen built into an ultraslim chassis that will slide into your laptop sleeve easily. The Asus MB16AMT has a higher price tag and a few more features, but let's check out if it performs better than the Asus MB16ACE.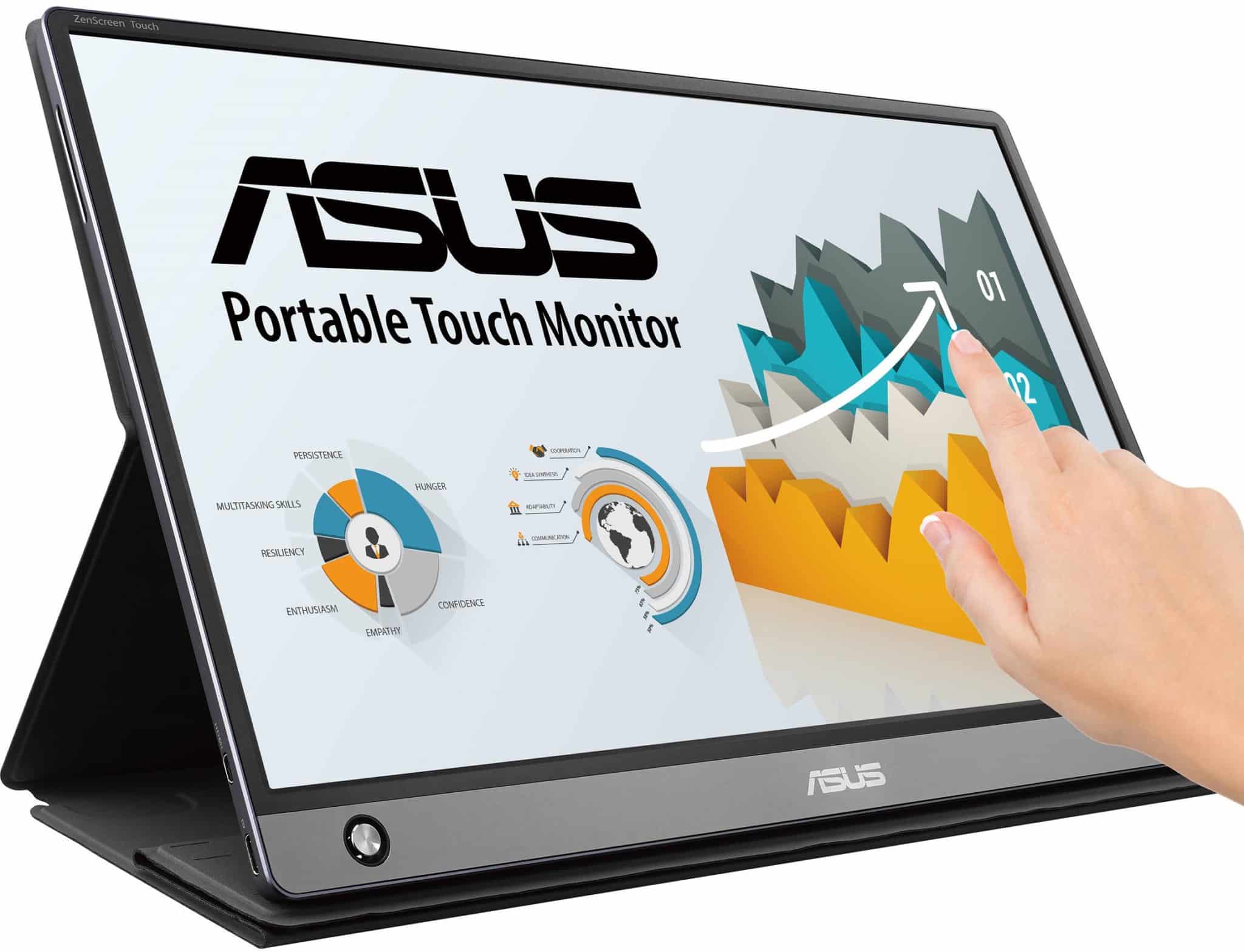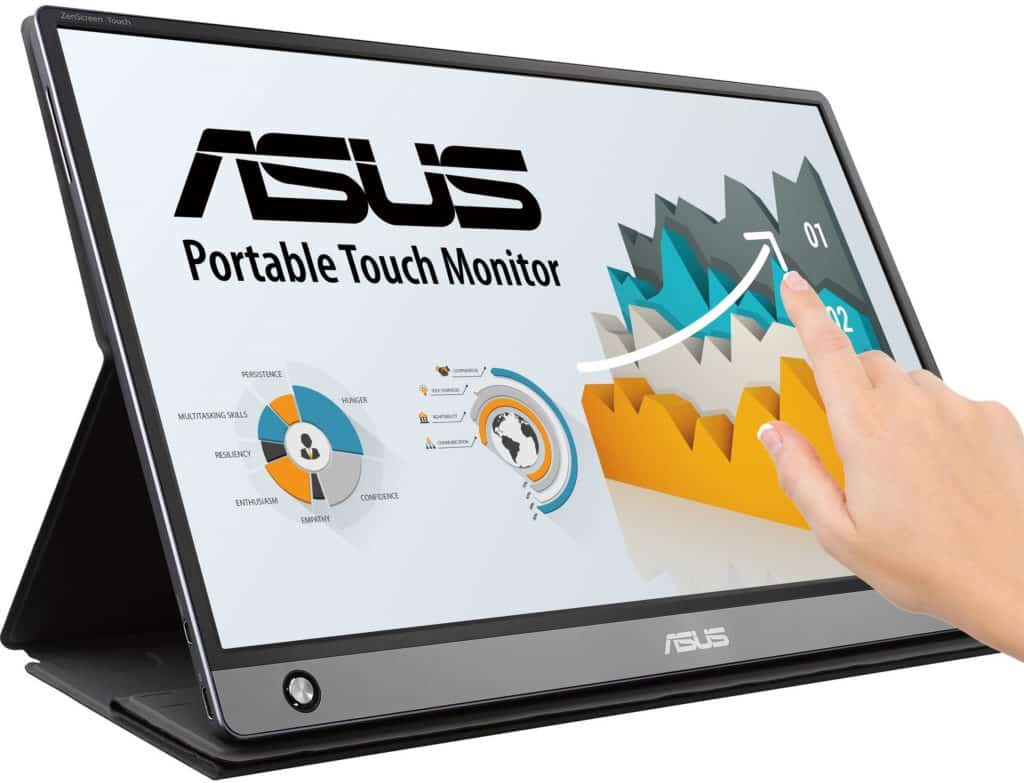 Asus MB16AMT Specifications
Screen Size: 16 Inches
Resolution:1920 x 1080 FHD
Aspect Ratio: 16:9
Panel Technology: In-Plane Switching (IPS)
Refresh Rate: 60Hz
Contrast Ratio: 700:1
Brightness: 250 cd/m²
Built-in Speakers: Yes (2 x 1 Watt)
Stand: Height – No
Stand: Tilt – Yes
Stand: Swivel – No
Stand: Pivot – No
VESA Compatibility: No
Connectivity: USB-C x 1, Micro HDMI 1.4 x 1
Dimensions With Stand (WxHxD): 14.16″ x 8.9″ x .4″
Weight: 1.98lbs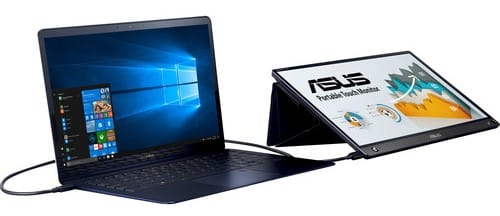 Design and Features
The Asus MB16AMT uses the same attractive aesthetic as the rest of the MB16 portable monitors in the series. The device looks like a pro tablet while it's charcoal gray exterior offers a nice look that is easy to pair with most laptop designs. The display isn't bezel-free, but the flushed borders are minimal and it isn't enough to distract users.
The Asus MB16AMT's size is identical to its more affordable variants, but it's slightly thicker by a few millimeters and heavier at almost two pounds. This model has an internal rechargeable battery pack that will last up to four hours on maximum brightness. This adds more weight to the total of your portable workstation, but it's a welcome trade-off which will help your laptop last longer.
Another aspect we love about the Asus MB16AMT is it has an OSD joystick on the bottom bezel. Its easier to tweak the settings, plus the position feels comfortable for your thumb if you are holding the screen like a tablet. The button on the opposite side is a dedicated power switch, so there is nothing on the control layout that can make the product difficult to manipulate.
There's also the option to use the Asus DislayWidget app which lets you control the OSD directly in your OS. Its easier to use for minor adjustments such as brightness, but the OSD joystick feels more satisfying to employ.
The Asus MB16AMT comes with the familiar tri-fold protective cover that doubles as the screen's stand. You can fold it in several ways so you can prop up the monitor in both portrait and landscape orientations. This part attaches to the rear of the chassis via a magnet strip that sticks strongly to the surface.
There is also a pen hole on the Asus MB16AMT so you can insert your pen to keep the display upright. Any type of pen should be suitable, but we recommend using the metal ones for extra rigidity and stability. However, this variant already comes with a 3-in-1 pen that you can use as a stylus, write on paper, and insert as a secondary stand for the monitor, so you don't have to bother.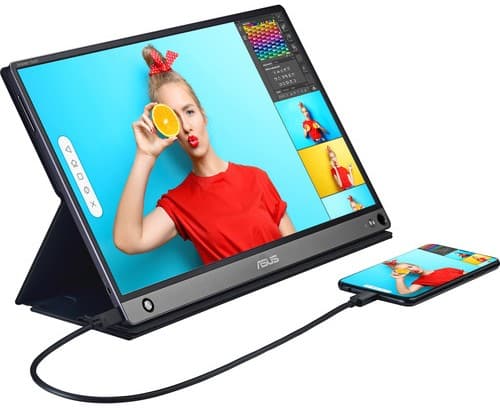 The Asus MB16AMT also uses the USB-C with DP Alt Mode combination for single cable operation. However, this model also includes a Micro HDMI port which will allow users to connect more devices which has the more common connector type. You may have to use an adapter since it's a micro slot, but that will only add a minor inconvenience compared to the flexibility you are getting.
There is also a pair of 1-watt speakers on the Asus MB16AMT which becomes useful if you are watching content from smaller devices like your phone. However, it doesn't have enough power to sound even slightly better than most laptop built-ins, so it becomes somewhat useless. Don't get us wrong; it's a nice to have a feature that extends the value and versatility of a product that emphasizes such qualities.
Display and Performance
The Asus MB16AMT sports a 15.6-inch IPS panel with a 1920 x 1080 resolution, 60Hz refresh rate, and 10-point capacitive multi-touch input. The backlight is limited to 250 cd/m2, while contrast is also lower than the typical at 700:1. These specifications are not specialized for high-end applications like editing but are designed to improve the convenience of having a second display on the go.
The Asus MB16AMT's pixel density sits at a little over 142PPI, so the screen looks sharper and cleaner than your typical office monitor. It's also great for reading since the text isn't too small and comparable to most 1080p laptops. The only downside to it is it's still very limited when it comes to virtual space, but that's what a secondary display is designed to solve.
The Asus MB16AMT is quite responsive when you use its touchscreen, whether if you are using your fingers or the included pen-stylus. Just about any gesture you would use on a tablet works on this model, but that depends on where it's connected. Windows and Android-based products did not show any limitations, but MacBooks and iOS devices like the iPad had limited touch functionality.
Display performance for the Asus MB16AMT is comparable to its lower-tier siblings, starting with its 70% coverage of the sRGB gamut., Accuracy slightly better at 1.1, so you get consistent colors despite the lack of vibrancy from the panel. The color temperature is slightly off from the ideal 6500K point, but the deviance isn't enough to induce an imbalance in the overall appearance of images.
The Asus MB16AMT managed to hit 240 cd/m2 out of its 250 cd/m2 claim which is, to be honest, too bright for regular use. The only situation where the extra backlight headroom comes in handy is when you are outdoors or in a brightly lit room since it can help fight off the resulting glare. We recommend starting at 50% to be safe, then adjust higher or lower depending on your needs from there.
One strong imaging aspect of the Asus MB16AMT is its contrast ratio which reached as much as 1280:1. The screen can still show grayish blacks like all IPS panels, but there is a noticeable improvement in grayscale and color rendering. The definition between colors and shades are also visibly better in this model compared to the older MB16AC variant.
We also did not notice any uniformity issues or backlight leaks on the Asus MB16AMT which means it has excellent consistency across its quadrants. The screen is smaller, so the chances of having defects are lesser. However, take note that this is still IPS based, so there is a chance that you could run into a unit with worse performance in this regard.
The Asus MB16AMT isn't designed for gaming and it's limited to 60Hz, so blurring becomes visible in fast-paced games. Playing casually on consoles the Nintendo Switch won't be an issue, especially with story-based single-player games. There are no motion enhancement features like ELMB on the monitor, so you are stuck with this limitation if in case you are looking for a gaming display.
The Asus MB16AMT does not support FreeSync, so naturally, G-Sync compatibility is also out of the question. The monitor was engineered for productivity, so it's not surprising or a deal-breaker if the monitor doesn't have the feature. Input lag could not be measured accurately, but it feels comparable to the MB16ACE.
Thoughts on the Asus MB16AMT
The Asus MB16AMT is a better buy if you are after thanks to its multitude of extra features such as its additional micro HDMI port. We also love the added pen which is functional and essential to the monitor and for your work. The built-in battery helps a lot with usage, and when combined with these extras, make the MB16AMT feel like an improved variant from its product line.
However, the Asus MB16AMT is considerably more expensive since you have to shell out more or less a hundred more for it. It also doesn't improve the image quality further since sRGB coverage is still very limited. It's an excellent buy for professional or business use, but we wish Asus pumped up the screen's colors further.
About the Author: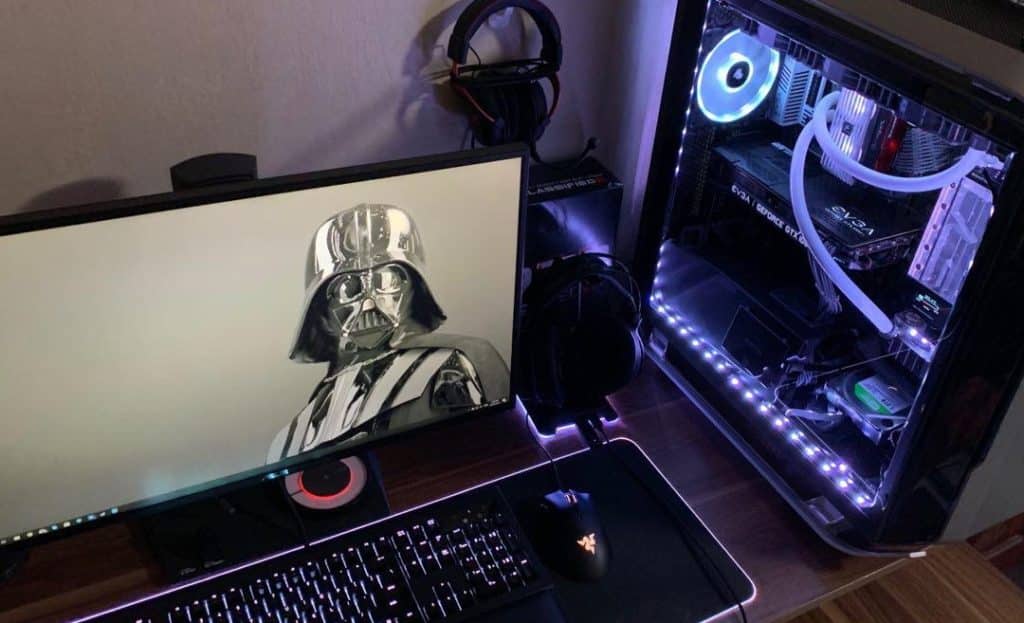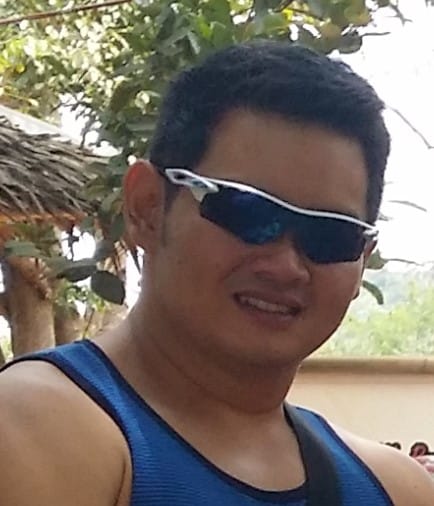 Paolo is a gaming veteran since the golden days of Doom and Warcraft and has been building gaming systems for family, friends, and colleagues since his junior high years. High-performance monitors are one of his fixations and he believes that it's every citizen's right to enjoy one. He has gone through several pieces of hardware in pursuit of every bit of performance gain, much to the dismay of his wallet. He now works with Monitornerds to scrutinize the latest gear to create reviews that accentuate the seldom explained aspects of a PC monitor.