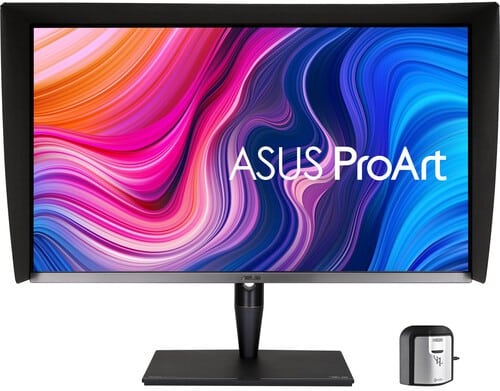 The Asus ProArt PA32UCG is a stunning piece of kit that offers the ProArt treatment with a 4K 120Hz HDR display that's great for gaming. It is more expensive than the Asus PG32UQX, but it features sophisticated add-ons such as ProArt hardware calibration and Thunderbolt 3. Let's check if the five grand you need to sink into the Asus ProArt PA32UCG is an investment or a splurge on a luxurious product.

Asus ProArt PA32UCG Specifications
Screen Size: 32 Inches
Resolution:3840 x 2160 UHD
Aspect Ratio: 16:9
Panel Technology: In-Plane Switching (IPS)
Refresh Rate: 120Hz
Response Time: 5ms
Contrast Ratio: 1000:1
Brightness: 440 cd/m2 (1700 cd/m2 Peak)
Built-in Speakers: Yes (2 x 3 Watts)
Stand: Height – Yes
Stand: Tilt – Yes
Stand: Swivel – Yes
Stand: Pivot– Yes
VESA Compatibility: Yes (200 x 200)
Connectivity: DisplayPort 1.4 x 1, HDMI 2.1 x 1, HDMI 2.0 x 2, USB-C Thunderbolt 3 x 1, USB-C (Upstream) x 1, USB 3.1 x 3, 3.5mm Jack x 1
Dimensions With Stand (WxHxD): 28.6″ x 23.6″ x 9.4″
Weight: 32.1 lbs

Design and Features
One of the things that set the Asus ProArt PA32UCG apart from its gaming sibling is its refined aesthetic. The device has a matte black chassis with gunmetal gray access, highlighted by an attractive metal stand. The display is bezel-free on three sides, although this monitor has a calibration or shade hood that replaces them.
32-inch monitors are quite big even if they aren't as wide as 34-inch variants, so you have to ready your desk space to accommodate it. It doesn't need as much depth as the PG32UQX thanks to a more modest base that looks cleaner. However, keep in mind that this monitor is heavier (and pricier) than most monitors, so extra care when handling it would be wise.
The Asus ProArt PA32UCG's build quality is phenomenal thanks to its ultra-premium nature and robust design. The stand is gorgeous as it is sturdy, and the plastics used on the chassis are thick and very durable without any cosmetic defects. You also won't experience any shaking or sagging since the stand and its mechanism are firm and steady.
You also get a calibration or shading hood with the Asus ProArt PA32UCG to fight off unwanted glare. It also has an ambient lighting sensor which can help the monitor adjust according to your environment. However, we know that professionals often leave features like this out since fluctuating brightness levels can affect the color's consistency.
The Asus ProArt PA32UCG has specialized features, but it still uses a familiar layout comprising an OSD joystick and some hotkeys. You are going to need an easy-to-use navigation tool for a monitor like this since it has plenty of options in its submenus. You even get an integrated ProArt Calibration 2.0 feature which lets you adjust common specifications easily to ensure that the colors are always consistent.
The stand included with the Asus ProArt PA32UCG offers a complete range of ergonomics for your convenience. You can tilt, swivel, pivot, and adjust the height of the screen so getting a comfortable view angle is doable by default. It's still VESA compatible, but buying a monitor arm is only necessary if space is limited or if you have multiple screens.

Another distinct characteristic of the Asus ProArt PA32UCG is its connectivity layout which includes a bevy of options. You get a slot each for DisplayPort 1.4 and HDMI 2.1, two HDMI 2.0 slots, and a USB-C Thunderbolt 3 port for MacBooks and other modern devices. That's plenty for modern setups, but that HDMI 2.1 slot can be used with the PS5 and Xbox Series X and their 4K 120Hz capabilities.
You will also find three USB 3.1 ports and a USB-C upstream port which needs to be connected to your PC for data transfers. The only downer here is the built-in speakers which only have 3 watts of power. They sound decent enough for basic audio like calls, but they aren't powerful enough for games and movies.
Display and Performance
The Asus ProArt PA32UCG boasts a 32-inch Quantum Dot IPS panel with a 3840 x 2160 4K resolution, a 120Hz refresh rate, and a 5ms response time. The backlight has a 440 cd/m2 typical brightness and a 1600 cd/m2 peak, while the contrast ratio is listed at 1400:1, unlike many IPS panels. Asus claims that this monitor is DisplayHDR 1400 certified thanks to its impressive full array Mini LED backlight.
4K works better on larger screens since the pixel density isn't too tight so it's fairly comfortable for reading and browsing. Games and movies will always make the extra sharpness welcome, but viewing walls of text on an extra crisp screen will hurt after a while. We prefer 4K monitors at this size due to this, but 27-inch variants are still more common and considerably more affordable in most cases.
The Asus ProArt PA32UCG renders 100% sRGB and around 95% DCI-P3 for vibrant colors in games and color-critical work. Its default accuracy is even more impressive since the deltaE average is only at 0.91, fulfilling the brand's claims. It is ready to use out of the box, but it also supports hardware calibration for an even better imaging output.
Calibrating the Asus ProArt PA32UCG reduced its dE average to 0.37 which is even better than the default setting. The results could vary depending on panel quality and the colorimeter that you use, but this is a good representation of how the monitor will perform in the real world. Asus cherry-picked and tweaked the panel to bring out its potential, and that helps explain the very steep price tag.
The Asus ProArt PA32UCG has a 451 cd/m2 SDR brightness, but its peak reached as much as 1711 cd/m2 when HDR is active. Its contrast sits at 1455:1, but it expands exponentially when the mini LED backlight starts working its magic. It is capable of one of the best HDR performances we've seen, and only some OLED panels are better than it.
Its panel uniformity is also equally impressive since there were no backlight leaks even if it still basically uses IPS technology. We're not sure if this is isolated and some models are worse in this regard, but it looks like Asus cherry-picked these panels for it. However, that doesn't mean that the model isn't prone to these issues, so make sure you can return yours if in case some problems show up.
The Asus ProArt PA32UCG's pixel response time is surprisingly as good as the PG32UQX, although that's not the fastest in the 4K 144Hz category. It's still prone to blurring in some scenes, especially when HDR is running. Using the overdrive moderately helps in this regard, but maxing it out isn't recommended since it will induce overshoot.
The Asus ProArt PA32UCG is a FreeSync Premium Pro and it's compatible with G-Sync, unlike the other ProArt monitors before it. Having VRR is great since the monitor is also ideal for high-end gaming thanks to its specifications. Input lag is slightly higher at 6ms at 144Hz, so there is no need to worry about it being sluggish.
Thoughts on the Asus ProArt PA32UCG
The Asus ProArt PA32UCG is a fantastic monitor for those who want the ultimate display solution money can buy. It offers top-notch accuracy and panel qualities, plus its 4K 120Hz output and HDMI 2.1 make it perfect for multi-platform gaming. Asus squeezed in the best possible specs into this model, but that comes with a cost many will look away from.
And that price is probably the biggest deal-breaker for the Asus ProArt PA32UCG even if includes a slew of impressive specifications and capabilities. Five grand for a monitor isn't logical for gaming or practicing your editing skills. It is an investment for the most discerning, but keep in mind that you can get the PG32UQX or an OLED TV if you are only after excellent HDR performance for gaming and entertainment.
Pros:
Great Gamut Coverage and Accuracy
Excellent Design and Quality
Superb HDR Performance
120Hz 4K Fit for Gaming
FreeSync and G-Sync Compatible
Cons:
Very Expensive
Higher Input Lag
Limited Availability
About the Author: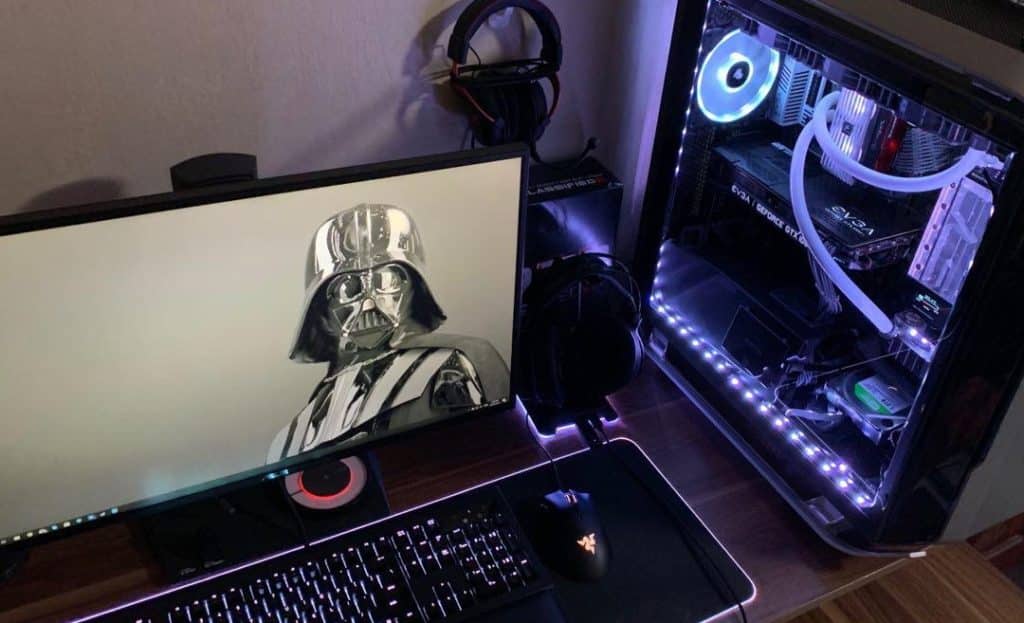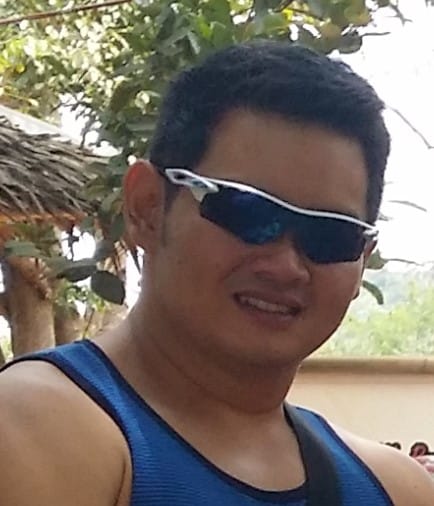 Paolo is a gaming veteran since the golden days of Doom and Warcraft and has been building gaming systems for family, friends, and colleagues since junior high. High-performance monitors are one of his fixations and he believes that it's every citizen's right to enjoy one. He has gone through several pieces of hardware in pursuit of every bit of performance gain, much to the dismay of his wallet. He now works with Monitornerds to scrutinize the latest gear to create reviews that accentuate the seldom explained aspects of a PC monitor.