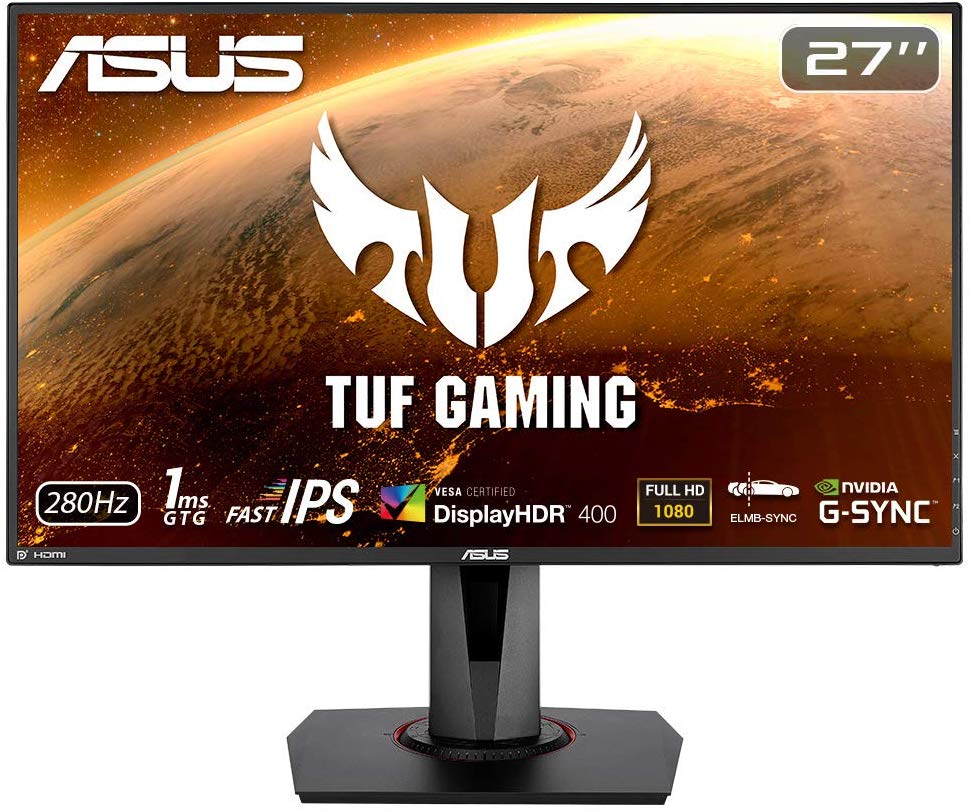 The Asus VG279QM is a unique piece of kit, beating the latest 240Hz IPS and TN monitors via a potent overclock that pushes it to a jaw-dropping 280Hz. It's also worth noting that Asus achieved this feat with an IPS panel type instead of TN which translates to better viewing angles and color reproduction. The Asus VG279QM is one of the most exciting products of Q1 2020, but can it live up to the hype?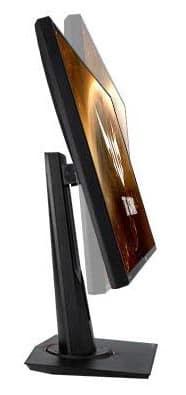 Asus VG279QM Specifications
Screen Size: 27 Inches
Resolution: 1920 x 1080 FHD
Aspect Ratio: 16:9
Panel Technology: In-Plane Switching (IPS)
Refresh Rate: 280Hz (240Hz + Overclock)
Response Time: 1ms
Contrast Ratio: 1000:1 (Static)
Brightness: 400 cd/m²
Built-in Speakers: Yes (2 x 3 Watts)
Stand: Height – Yes
Stand: Tilt – Yes
Stand: Swivel – Yes
Stand: Pivot – Yes
VESA Compatibility: Yes (100 x 100)
Connectivity: DisplayPort 1.2 x 1, HDMI 2.0 x 2, 3.5mm Jack x 1
Dimensions with Stand (W x H x D): 24.39" x 19.95" x 8.32"
Weight: 12.35 lbs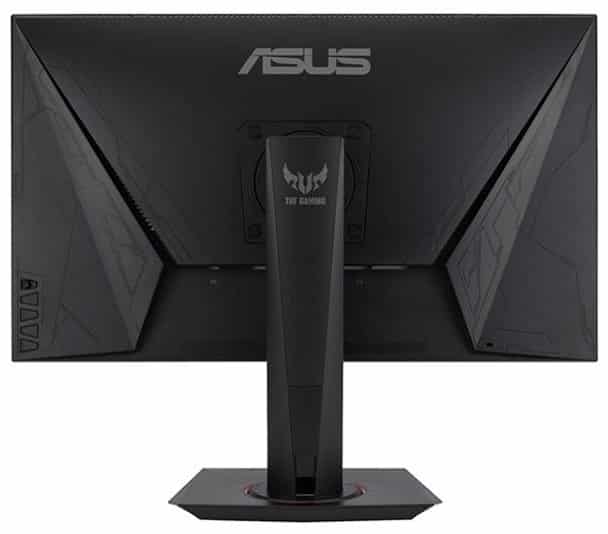 Design and Features
The Asus VG279QM shares the same aesthetic with the VG27AQ which makes the entire TUF Gaming monitor line look streamlined while keeping design and manufacturing costs down. The chassis has the standard matte black finish from the brand which is easy to maintain. The monitor isn't bezel-free, but the borders are slim so they won't be distracting.
Asus always manages to keep their monitor's proportions in check so it doesn't cause chaos when you are setting it up on your desk. The Asus VG279QM is only a little over eight inches deep, so you won't have space issues if you have a deep keyboard or streaming decks on hand. The product doesn't weigh much once fully assembled, so it shouldn't be too difficult to bring it with you to LAN parties and the like.
Build quality for the Asus VG279QM is fantastic due to sturdy plastics and sufficient reinforcement in the stand. There is also no wobble, while the adjustment mechanism feels smooth yet firm enough to hold the angle you prefer. There was also no sign of cosmetic defects such as uncut seams or scratches, indicating that the packaging was sufficient and manufacturing followed its QC measures strictly.
The Asus VG279QM sports the same control layout as older offerings from the brand like the Asus PG278QR. The combination of hotkeys plus a 5-way joystick makes tweaking the monitor or swapping presets easier for the user compared with the usual button implementations. The panel is accessible from the right, so you shouldn't have trouble utilizing it.
The included stand with the Asus VG279QM offers excellent flexibility, so you won't need to buy a VESA mount. The mechanism offers tilt, swivel, pivot, and height adjustments, so getting the most out of the screen's viewing angles is possible. 100 x 100 adapters are compatible, but we don't think it's necessary unless you are building a triple-display array.
The Asus VG279QM's connectivity layout isn't as well-equipped as most of the brand's variants since it only includes display signal inputs. The I/O only includes DisplayPort 1.2 and dual HDMI 2.0 slots, but only the former supports the 280Hz output of the device. There are no USB ports with this model, but that's forgivable since the TUF Gaming brand's goal is to keep its products as affordable as possible.
But despite that, the Asus VG279QM still manages to include a pair of 2-watt speakers for basic audio consumption. The duo doesn't have the necessary power or clarity for games, so we imagine it wouldn't get a lot of use. We'd happily trade this feature for a few USB slots, especially since many gaming headsets use it for signal and power.
Display and Performance
The Asus VG279QM boasts a 27-inch IPS panel with a 1920 x 1080 resolution, 280Hz maximum refresh rate, and a 1ms minimum response time. The backlight is rated at 400 cd/m2, while contrast sits at a typical 1000:1. This model also supports HDR10, but it doesn't have the necessary specifications to produce the requirements of true HDR performance.
The Asus VG279QM's screen is still limited to 1080p, so it can look less crisp than your usual 24-inch monitors. However, this won't be an issue for gaming since its not as pixelated as many claims it to be. Visibility will still be excellent, so e-sports gamers will be able to see small objects easier compared to a 1440p or 4K display.
The IPS panel on the Asus VG279QM is capable of fantastic color quality starting with around 109% coverage of the sRGB gamut. The default color profile named Racing in the SPLENDID settings already has an accuracy score of DeltaE 2.2, so users won't need to calibrate the monitor for gaming. Color temperature, on the other hand, is almost perfect, so you only need to adjust the brightness to your liking.
You can calibrate the Asus VG279QM with a colorimeter to further reduce the color errors to a DE of only .5, but the additional cost of the gadget isn't practical. The monitor's default setting is already perfect for its primary purpose, but its good to know that you can push it further if in case you are into editing as well.
The Asus VG279QM also provided us with a strong contrast ratio of 1180:1 which is more than most IPS panels can offer. Blacks aren't as deep as they are on VA-types, but this model provides satisfactory performance in black luminance and saturation. Gamma, on the other hand, is already at 2.2, but the monitor has presets which you can utilize as needed.
There is a bit of backlight bleeding on the Asus VG279QM sample which becomes visible when viewing an all-black image. They were not enough to induce clouding issues in games, but dark scenes can make them noticeable, especially on the top-left corner. Take note that every IPS-based unit will vary in this aspect due to manufacturing tolerances, so you can get a device that will show better results.
Responsiveness is another key strength of the Asus VG279QM even if it's based on IPS technology. The included overdrive feature works with the refresh rate you have, so we recommend using level 80 if you are at 280Hz. Anything higher will induce overshoot, but at that point, your only solution is the monitor's ELMB feature.
What we love about Asus' ELMB implementation is particularly effective in reducing blurs and ghosting, but it also doesn't lock out the key features. You can still operate the monitor's adaptive sync capabilities with ELMB turned on, unlike older monitors where you are left with almost nothing. The only downside is you get a lower brightness output, but it's still within the normal range for day to day use.
The Asus VG279QM is a FreeSync gaming monitor, but it also works with G-Sync compatibility for Nvidia users. It's always practical to go with a monitor that will not lock you with one GPU brand so your upgrade options will always be open when the time comes. Input lag sits at a little over 2ms, making the Asus VG279QM the fastest monitor we have reviewed.
Thoughts on the Asus VG279QM
The Asus VG279QM is a fantastic gaming monitor that combines image quality and speed into one very capable product. The IPS panel is already sufficiently accurate out of the box for daily use, so calibration isn't entirely necessary unless you do editing works. The monitor's responsiveness and very low input lag make it a must-have for competitive gamers who want the fastest without worrying over the lower resolution.
It's hard to think of a caveat or a deal-breaker for the Asus VG279QM since its so good, and it only has minor limitations such as the lack of USB ports. However, Asus is making you pay a premium tax for the elevated refresh rate, putting the price close to what the VG27AQ, which is a 1440p monitor, commands. Its definitely one of the best competitive gaming monitors around, but some might find the price a bit too high for a 1080p display.
Pros:
Good Factory Calibration
Lightning-Fast Gaming Monitor
Strong Pixel Response Time
FreeSync/G-Sync Compatible
Cons:
Pricey
Overdrive Needs to be Adjusted According to Refresh Rate
About the Author: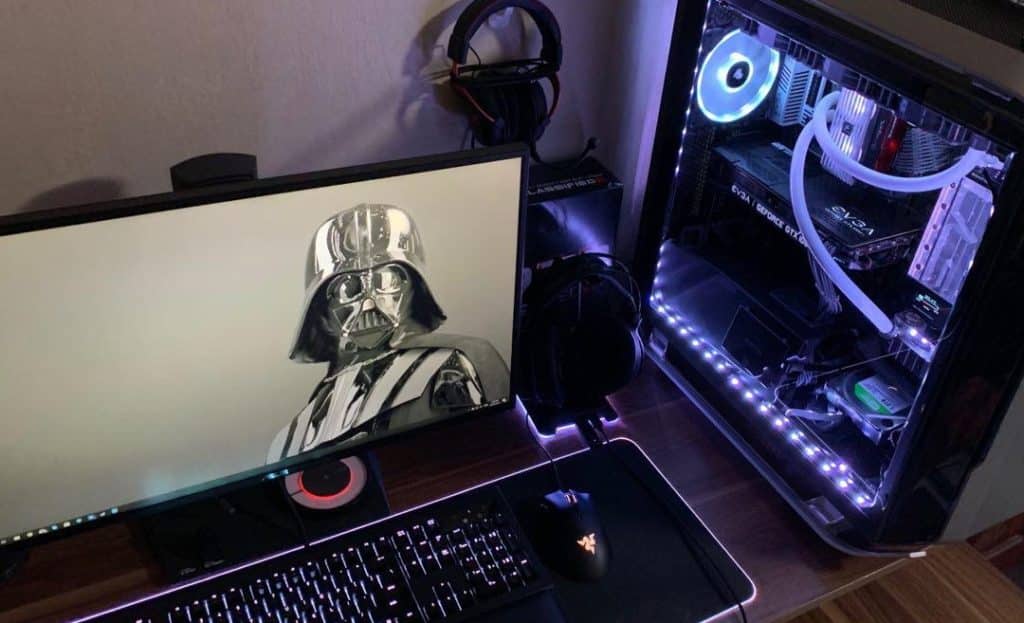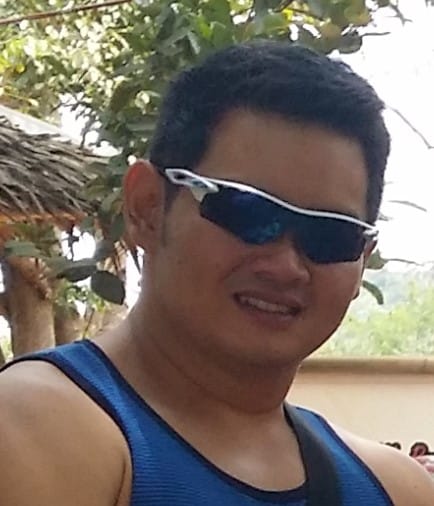 Paolo is a gaming veteran since the golden days of Doom and Warcraft and has been building gaming systems for family, friends, and colleagues since his junior high years. High-performance monitors are one of his fixations and he believes that it's every citizen's right to enjoy one. He has gone through several pieces of hardware in pursuit of every bit of performance gain, much to the dismay of his wallet. He now works with Monitornerds to scrutinize the latest gear to create reviews that accentuate the seldom explained aspects of a PC monitor.