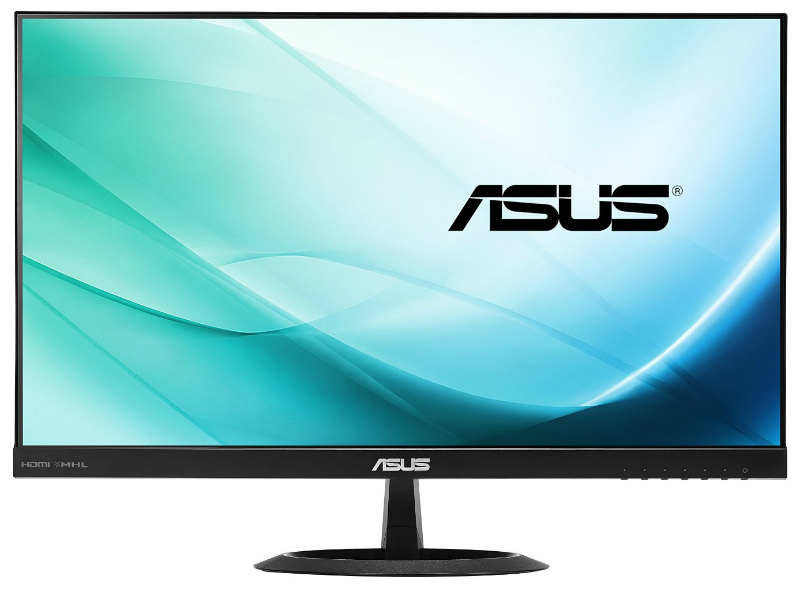 Review of Asus VX24AH
The current rush in the monitor business has left only a few niches where unique products may fit. There is a small market for individuals who are looking for a lot of window space but do not have the desk or space for large monitors which are more common today. A solution to this dilemma is the production of 24-Inch monitors, today's average display size, but with a higher resolution usually fit for bigger units. Asus' representative, the Asus VX24AH, fits the bill perfectly. It features a native resolution of 2560 x 1440 in a 24- inch frameless and sophisticated design with stunning attention to color accuracy and performance that covers a broad spectrum of uses.
Asus VX24AH Specifications
Screen Size: 24 Inches
Resolution: 2K 1440p
Aspect Ratio: 16:9
Panel Technology: In Plane Switching (IPS)
Refresh Rate: 60hz
Response Time: 5ms
Contrast Ratio: 100000000:1 (ASCR)
Brightness: 300 cd/m²
Built-in Speakers: Yes (2 x 2 watts)
Stand: Height -No
Stand: Tilt – Yes (-5°/+20°)
Stand: Swivel – No
VESA Compatibility: No
Connectivity: HDMI/MHL ports x2, D-Sub,  3.5mm Audio Mini Jack
Dimension with Stand(WxHxD): 21.28″ x 15.53″ x 8.27″
Dimension without Stand(WxHxD: 21.28″ x 326.3 x 1.58″
Weight with Stand: 1..46lbs
Weight without Stand: 7.72lbs
Design and Features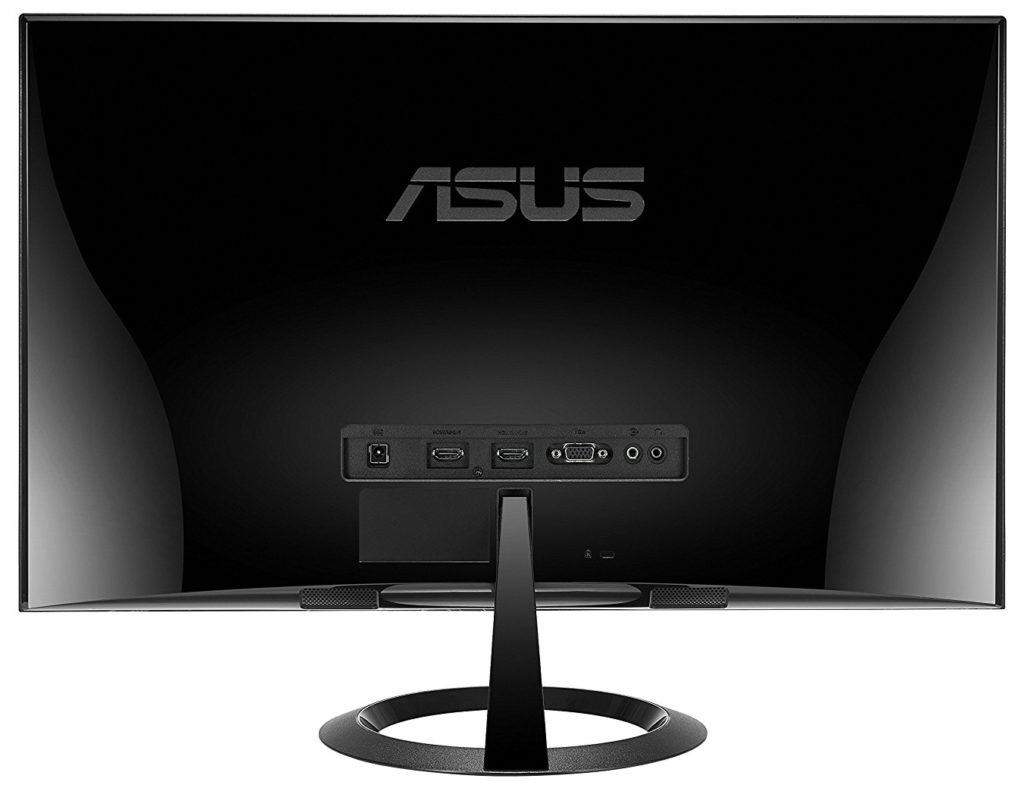 The Asus VX24AH comes in a glossy, plain panel that does not come with another cabinet piece. This enclosure gives the screen a virtually invisible border, adding to its stunning minimalist look. The bezel measures only a mere 3.94mm except for the bottom part which holds the Asus logo and the no-frills OSD buttons. This aesthetic is a look that I admire as compared to those with gaudy borders and this form also makes this ideal for a landscape multi-monitor setup. The panel in this model is an AHVA IPS technology panel from AU Optronics sporting a 2560 x 1440 resolution and a pixel pitch of .0206mm and a PPI four times the quantity found in regular 720p monitors. It has a semi-gloss anti-glare coating discrete enough not to affect the pixels on the screen.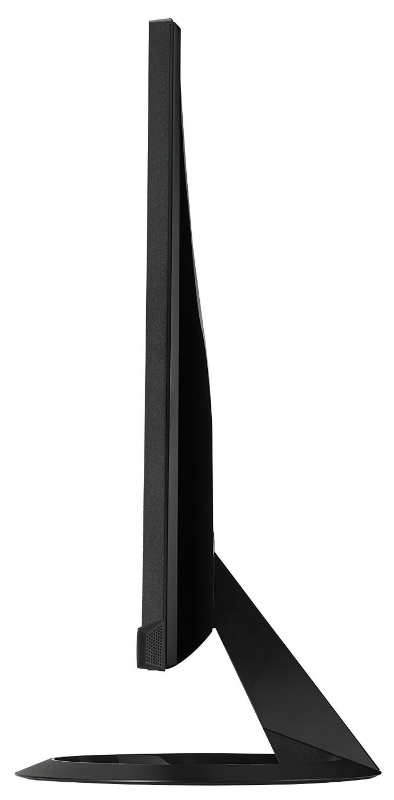 Judging from the regular-use poise of the product, Asus has only included a limited number of connectors such as two HDMI slots with MHL compatibility, a D-Sub port for legacy connections and a standard 3.5mm audio jack for the 2-watt pair of speakers. The speakers are of course a welcome addition, but as expected, they do not perform quite well except for a little music or quiet media playback. In the package, Asus was kind enough to include cables you need to operate this thing as soon as it pops out of the packaging. They have included a VGA cable, Audio cable, and an optional HDMI cable along with the power brick and cable plus the CD for utilities and the user manual.
The stand is a relatively basic mount with an oval shaped base which completes the minimalist look of the product. But since this is a very thin monitor at 1.58 inches, Asus could only afford to integrate tilting into the adjustment. Also, due to the slim nature of the plain panel rear cabinet, there are no available VESA mounts to be revealed as the mechanism for the stand does not detach entirely.
Display and Performance

There isn't a lot that can be said about the VX24AH's physical features, but the screen is quite unusual for a general purpose product. The total panel space of 23.8 inches does not hold a lot of space when compared to bigger products, but the resolution of 2560 x 1440 allows for more virtual real estate than your regular 1080p display has. This feature makes this product perfect for office applications wherein a lot of different programs come into use such as AutoCAD and Photoshop. The screen has an 8-bit color lookup table with 100% coverage of the sRGB space, the mainstream color standard widely used by consumers. Although this monitor performs poorly in the gamma range and out of the box, performance, Asus's SPLENDID OSD offers plenty of options to alleviate these issues. So minor adjusting is in line so you can maximize the performance this monitor provides.
The 60hz refresh rate and 5ms response time also make it adequate for home entertainment such as gaming, but running 2k requires an expensive and powerful setup. Most owners of such rigs would opt for higher-end models such as those found in the Asus ROG line. If your home PC does not pack a lot of firepower, Asus includes their proprietary scaling technology so downscaling your settings to 1080p to make it GPU friendly is easy and hassle-free. You can still enjoy games at 60hz with only minor ghosting and tearing which will not be an issue for casual usage.
Asus also offers eight SPLENDID modes for different viewing categories. They have Darkroom for low-light ambiance, Reading for low brightness in reading documents, Scenery for higher brightness and contrast in colored images, Theater for enhanced saturation and contrast in motion pictures, Game for contrast in dark spots and shadows in games, Nightview for low-light pictures, and the most important two, Standard and sRGB mode. While the presets given may be of some use to regular users, we still prefer the Standard mode as it is the only option that allows micro-tweaking of all the settings. Interestingly enough, sRGB mode brings to bear the 100% gamut coverage of the product if you have a need to use this monitor for digital imaging purposes.
Since the VX24AH will also receive a lot of long hours of usage due to its mixed-use nature, Asus has also included their proprietary eye care technology. The blue light filter is adjustable in four increments to suit different applications while keeping eyes free from strain caused by viewing image sources with a lot of blue light. The product is also flicker free since the IPS panel's brightness is controlled by a DC power supply instead of a PWM source, so it is always turned on with a steady glow. Despite that fact, this product only uses an environment-friendly 28 watts, lower than its leading competitors.
Conclusion
The VX24AH is Asus' representative for consumers who are looking for a no-frills mixed use solution for their needs. While it has a non-mainstream resolution of 2560 x 1440, it still is a good fit for most office and home needs. The versatility adds to the value, but to reach these viabilities, Asus has sacrificed critical performance specifically in gamma output. Even so, this is not meant to cater to techy individuals who are after cutting edge technologies for games or professional applications. This model instead offers an entry-level middle ground for up and coming businesses or homes that require an all-in-one deal.  As for the pricing, against the competition's offerings, the VX24AH is slightly more expensive. But one look at its physical form, maybe you could find yourself easily swayed into putting this monitor on your desk.