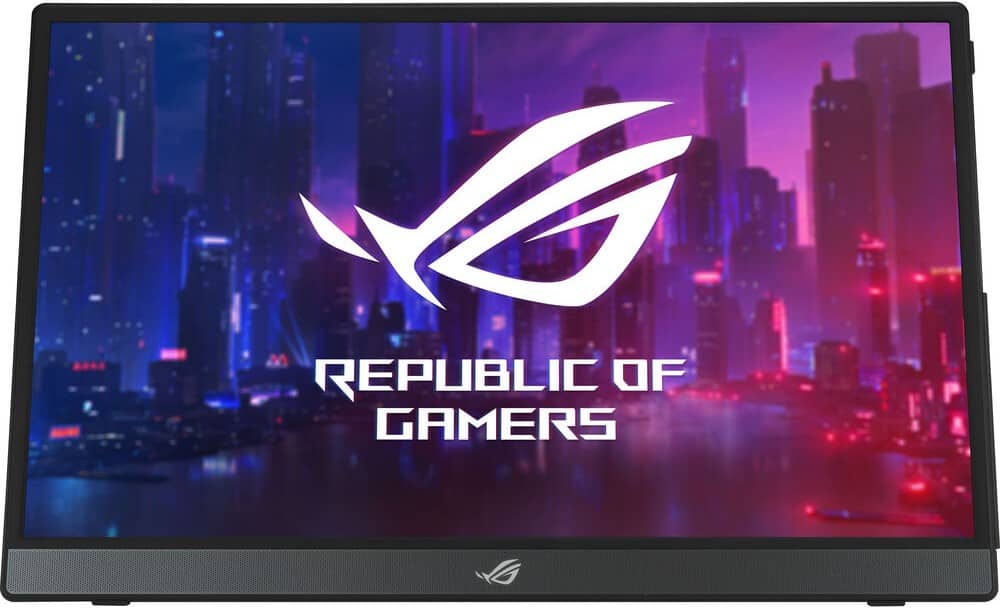 The Asus XG16AHPE is a premium portable monitor designed to elevate your gaming experience with desktop monitor-level performance while on the go. It's one of the few that has an extended refresh rate and it is riddled with gaming features you won't find on most portables like the MB16AMT. However, the Asus XG16AHPE is double the price of some popular options, so let's check it out first to see if it's worth the price.

Asus XG16AHPE Specifications
Screen Size: 16 Inches
Resolution:1920 x 1080 FHD
Aspect Ratio: 16:9
Panel Technology: In-Plane Switching (IPS)
Refresh Rate: 144Hz
Response Time: 3ms
Contrast Ratio: 800:1
Brightness: 300 cd/m²
Built-in Speakers: Yes (2 x 1 Watt)
Stand: Height – No
Stand: Tilt – Yes
Stand: Swivel – No
Stand: Pivot – No
VESA Compatibility: No
Connectivity: USB-C x 2, Micro HDMI 2.0 x 1, 3.5mm Jack x 1
Dimensions With Stand(WxHxD): 14.2″ x 8.9″ x 0.5″
Weight: 2 lbs

Design and Features
The Asus XG16AHPE doesn't look too departed from the brand's productivity variants, except it has ROG logos which dictate its true nature. The device has a matte black and gunmetal combination which looks clean, but you can also get a white version that looks sleeker. The display isn't entirely bezel-free, but the top and the sides have very thin borders which make them look less distracting.
It is also more compact than the XG17AHPE, but this model is slightly thicker by a few fractions of an inch. That doesn't matter too much though since the Asus XG16AHPE only weighs two pounds which is very light for a high-powered display. It is easy to slip it into your laptop bag or case and it won't too much weight on your kit.
One of the things that add to the heft of the monitor is it has a 7800mAh internal battery which lets you play without worrying about finding an outlet. Asus mentioned that it lasts up to 3 hours at 144Hz, but testing puts it at more or less 2 hours. That's pretty good for a slim internal battery, but we recommend bringing a charging cable along just in case.
Build quality for the Asus XG16AHPE is excellent and as it should be for a premium product that's meant for enthusiasts. The monitor is clean all over with no uneven seams or cosmetic defects just like the Asus monitors we've seen in recent years. The chassis doesn't flex and it doesn't look like it will crack easily, so you can slip it into your bag without worrying about breakage.
The Asus XG16AHPE doesn't have an OSD joystick, but that's okay since it's too slim so placement would be tricky. Instead, it has three OSD buttons and a scroll key for the monitor, along with its eight specific modes. It is easy enough to use since you can hold it with two hands, unlike desktop monitors where you need to reach in and exert more effort.
What we like about this portable monitor is its built-in multi-angle flip stand which lets you use it in both portrait and landscape mode. It seamlessly folds into the chassis so it doesn't add more unwanted thickness to the product. You also get a protective sleeve for the monitor, so flimsy flip covers aren't necessary with this model.
You can also use the ROG stand with the Asus XG16AHPE since it has a proprietary hole at the back. You can't use VESA mounts, but you can always go with the clamp-type stands if the ROG option is too pricey. However, the default stand works just as good so there isn't any necessity to spend more cash for this already pricey monitor.
The Asus XG16AHPE has a Mini HDMI slot and two USB-C ports which are designed to be used as the power and video inputs. You also get a 3.5mm jack if in case you want better sound and immersion from a headset. It lacks mini DP which is better suited for PCs, but you have to remember that most laptops have HDMI or USB-C today.
You also get a pair of front-firing speakers with the Asus XG16AHPE which are useful if you want to sit back and enjoy games. However, they only have 1 watt of power per channel, so they won't be able to get loud enough. They do sound cleaner than some built-ins we've heard, but that's only appreciable if you use the screen at close range.
Display and Performance
The Asus XG16AHPE sports a 15.6-inch IPS panel with a 1920 x 1080 resolution, a 144Hz refresh rate, and a 3ms response time. The backlight has a 300 cd/m2 maximum while the contrast ratio is listed at 800:1. This model doesn't list HDR compatibility, but that's understandable since its main goal is to let you bring 144Hz performance anywhere.
The Asus XG16AHPE has a 141 PPI pixel density so it will look considerably sharper than a regular 1080p monitor. It's comparable to what laptops offer, so you won't get the feeling that the screen looks fuzzy while you are gaming. It's a joy to play at a level of sharpness that's close to 27-inch 4K's 163 PPI without the hassle of needing a powerful GPU to get to 144Hz.
The Asus XG16AHPE renders 98% sRGB with a deltaE average of 2.89 which isn't the best, but good enough for gaming. Other Asus portable monitors barely reached 80% coverage, but they use different panels. The screen looks sufficiently saturated and balanced, so calibrating it isn't entirely necessary.
Manually calibrating the Asus XG16AHPE using its OSD improved its delta E coverage to 1.97 which is an improvement. However, most gamers won't notice massive advancement in the color fidelity versus the default setup. Take note that results may vary, so these scores aren't guaranteed for each unit.
The Asus XG16AHPE sample produced 291 cd/m2 at 100% brightness with a contrast that went up to 1096:1. That's decent for IPS and above the rated contrast ratio, but the screen still cannot produce deep blacks. The backlight can fight a decent amount of glare, but it might not be enough if ever you decide to use the display in sunny spots like parks or alfresco areas.
Panel uniformity for the Asus XG16AHPE was excellent since there were no signs of backlight bleeding or clouding issues. There are some variances in the backlight's spread, but it's too little to be notified when it's in use. This result is more common on smaller IPS screens, but every unit will still vary due to tolerances.
One of the strengths of the Asus XG16AHPE is its pixel response time which is certainly a cut above what other portable monitors offer. the screen barely shows any blurring, so the screen doesn't need massive amounts of overdrive. There is still some persistence in contrasting transitions, but it is not as noticeable compared to VA monitors.
The Asus XG16AHPE is compatible with both FreeSync and G-Sync, provided that your laptop's output supports Adaptive-Sync over HDMI and USB-C. Both GPU brands have compelling options in the laptop market, so it's nice to be free to choose whichever suits your budget and requirements. Input lag sits at 6ms at 144Hz, so the monitor is still fast-enough for competitive play.
Thoughts on the Asus XG16AHPE
The Asus XG16AHPE is an excellent choice for hardcore gamers who are always on the move on business trips or for those who live in small spaces like dorms. The screen works great for gaming and it offers better image quality than some portable monitors we've tested. We like how gaming features are integrated into this model without sacrificing portability and flexibility.
The Asus XG16AHPE is quite expensive for a 1080p display since you can get a decent-sized desktop display for half the price. This makes the monitor a special-case purchase, limiting its suitability for the vast amount of gamers. However, it's still the best choice if you want a fast portable screen, and only the more expensive XG17AHPE is better.
Pros:
Fast and Responsive
Decent Color Performance
Built-in Kick Stand and Battery
USB-C
FreeSync and G-Sync Compatible
Cons:
Expensive for 1080p 144Hz
Limited Portable Gaming Devices can Maximize 144Hz
Not as Accurate as XG17AHPE
ROG Stand Sold Separately
About the Author: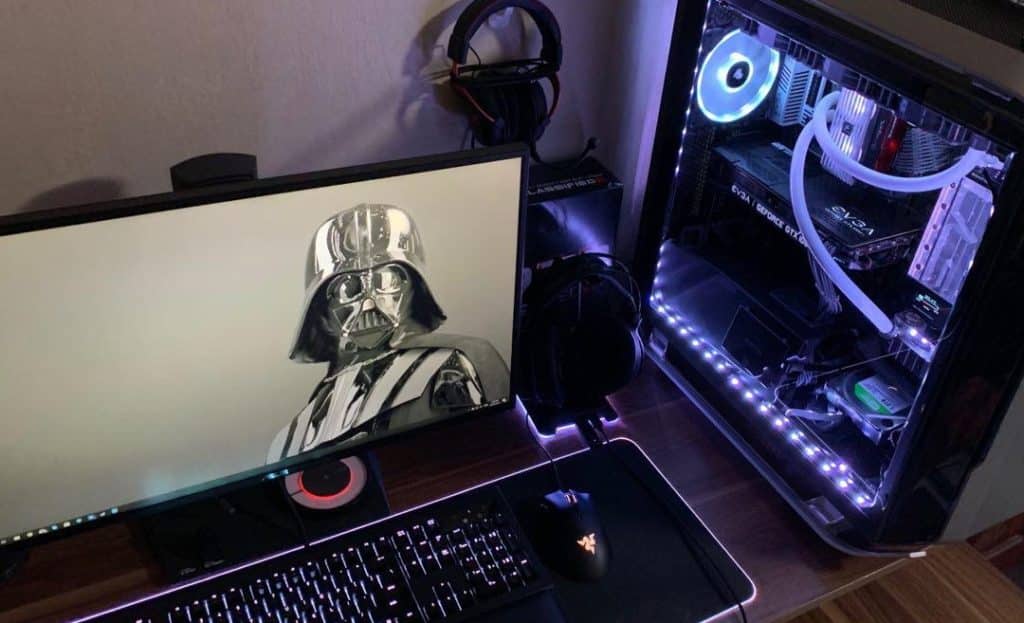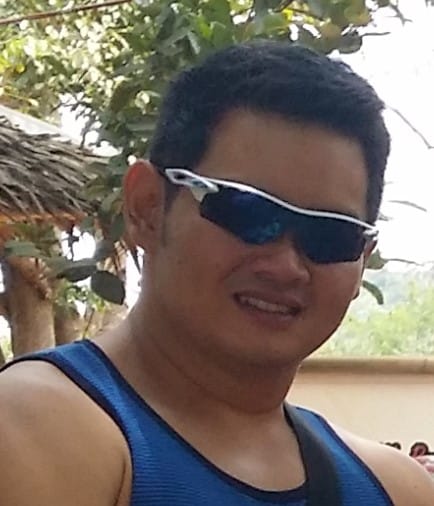 Paolo is a gaming veteran since the golden days of Doom and Warcraft and has been building gaming systems for family, friends, and colleagues since junior high. High-performance monitors are one of his fixations and he believes that it's every citizen's right to enjoy one. He has gone through several pieces of hardware in pursuit of every bit of performance gain, much to the dismay of his wallet. He now works with Monitornerds to scrutinize the latest gear to create reviews that accentuate the seldom explained aspects of a PC monitor.