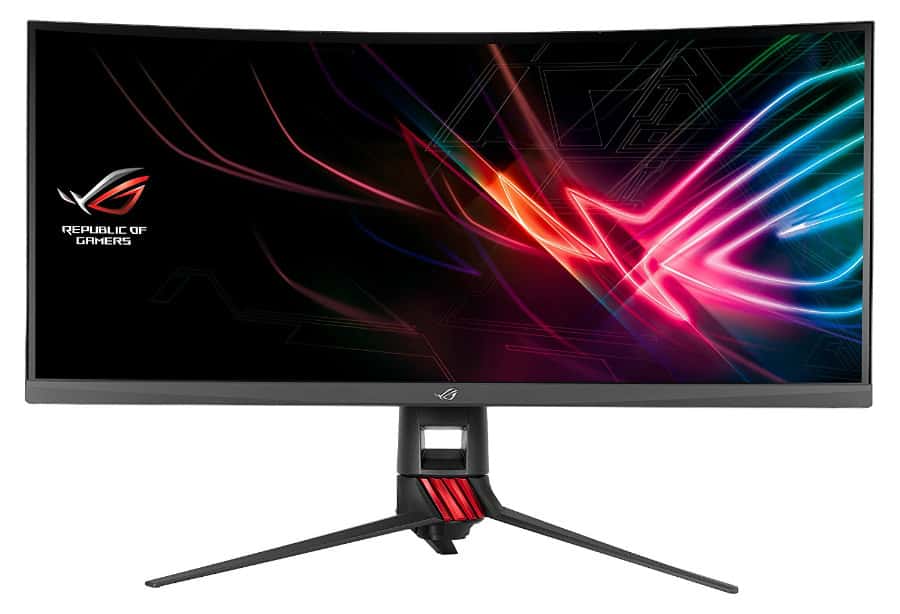 The Asus XG35VQ aims to bring smooth and fast visuals into the ultrawide with FreeSync segment with its 100Hz UWQHD screen and stylized exterior. Many enthusiasts waited for this beast to release to pair it with AMD's powerful GPUs for high-end gaming. The 100Hz ultrawide combination has worked quite well in existing models, but how does the Asus XG35VQ separate itself from its already impressive competitors?

Asus XG35VQ Specifications
Screen Size: 35 Inches
Resolution: 3440 x 1440  UW-QHD
Aspect Ratio: 21:9
Panel Technology: Vertical Alignment (VA)
Refresh Rate: 100Hz
Response Time: 4ms
Contrast Ratio: 2500:1 (Static)
Brightness: 300 cd/m²
Built-in Speakers: No
Stand: Height – Yes (5.12 Inches)
Stand: Tilt – Yes (-4°/+35°)
Stand: Swivel – Yes
Stand: Pivot – No
VESA Compatibility: Yes
Connectivity: DisplayPort 1.2 x 1, HDMI 1.4 x 1, HDMI 2.0 x 1, USB 3.0 x 3, 3.5mm Audio Jacks
Dimensions (WxHxD): 33.24″ x 23.80″ x 12.16"
Weight: 27.56lbs

Design and Features
The Asus XG35VQ sports the second generation ROG treatment, although we could consider this as a third iteration due to some new cool stuff. The cabinet is predominantly matte black all around which gives the product a stealthy appeal while being dust and smudge free. The 35-inches of screen real estate is free from bezels on three sides save for the bottom, making this device suitable for a crazy triple monitor setup.
We prefer the Asus XG35VQ's black and red scheme over the gray and orange of the Asus PG348Q simply because it is easier to match with other gamer products. We understand the struggle of building a color-coordinated system everytime, and there simply isn't enough orangey accessories out there to keep options open. Even if this product belongs to the Strix series which sits a tier lower than the ROG Swift line, there is no apparent cost cutting in material and build quality.
On the expansive rear panel, the Asus XG35VQ has a unique angular design with a futuristic etching design on the right side. But perhaps, the most prominent feature on this part of the monitor is the LED ring that surrounds the stand's attachment point which works with Aura Sync for RGB illumination with several effects. The gentle glow of this feature can also act as bias lighting aside from aesthetics to help keep your eyes comfortable for extended usage.
Most of the the Asus XG35VQ's functionalities are featured on this side, keeping the front exclusive for unobstructed eye candy. On the lower corner accessible from the right, you will find the OSD joystick and hotkeys for easy navigation of the settings and included filters and game modes. Reaching out to the controls is easy without the need to turn the screen over, although for some the size of the chassis could be troublesome.
We expected more connectivity from this gaming monitor, but the concealed I/O layout for the Asus XG35VQ leaves something to be desired. The product includes DisplayPort 1.2, HDMI 1.4 and 2.0. and three USB 3.0 slots along with a 3.5mm earphone jack. Asus could have easily added a convenience hub since this is a premium monitor, although for everyday use, the ports are sufficient even if you add a gaming console into the mix.
Another prominent feature of the Asus XG35VQ is its helix-shaped stand which is built out of aluminum for durability and reliability. The mechanism includes height, tilt, and swivel, but there is no pivot since you won't need it for a curved ultrawide like this one. This fully detachable part also includes an LED logo projector at the bottom with customizable caps for added gamer-centric flair to your setup.
Display and Performance
The Asus XG35VQ features a 34.5-Inch VA panel from AU Optronics with a 3440 x 1440 resolution, 100Hz refresh rate, 4ms response time, and a 2500: 1 contrast ratio. We've seen a rise in VA monitor releases especially for the gaming segment for their excellent contrast and saturation properties which make gaming much more immersive. It also helps that this tech is less prone to dreaded issues such as backlight bleeding which become prominent in curved screens.
Out of the box, the Asus XG35VQ reveals a gamut volume of 115% sRGB with an accuracy average of Delta E .1.8 which are excellent for day to day use. This makes the product ideal for out of the box users who don't own a colorimeter or would rather not bother with the OSD settings. We only suggest users to adjust the brightness which sits at 90% from the factory and is too bright for extended and everyday use.
Once calibrated, the Asus XG35VQ can reach a Delta E of .6 with a corrected 2.2 gamma which sets color temps to 6520K, as opposed to the 6800K by default. This model is capable of functioning as a monitor for color-critical work which doesn't require anything over sRGB. After going through calibration, the improvements are barely noticeable save for the screen becoming slightly warmer which some gamers prefer over the previous setting.
Gamma in actual use sits at 2.3 when the 2.2 setting is selected in the OSD, since there is a .1 offset for every available setting according to the colorimeter. For gaming, 2.3 is much more ideal since it adds a slight noire or coolness to the image that enhances effects in games like Destiny 2. Another fantastic capability of the Asus XG35VQ is its contrast ratio which reaches 1950:1 at 20% to 50% brightness, helping vibrancy and details in dark settings pop out.
However, panel uniformity on the Asus XG35VQ review model wasn't as impressive as the imaging scores presented above. There is a maximum of 30% illumination deviance on the far sides from the center of the screen which we can expect from curved monitors. This could be detrimental if you are using the screen for photo editing or if you focus on the sides which isn't ideal either due to the limited viewing angle.
The Asus XG35VQ is prone to blurring and interlacing due to the accompanying limitations of its VA panel. Thankfully, you can solve this issue by selecting setting 5 in the Overdrive (OD)tool in the OSD which eliminates most of the artifacts along with the 100Hz refresh rate. You can also use the included ELMB that doesn't affect contrast, but it does introduce some noticeable ghosting and crosstalk.
We tested the Asus XG35VQ with Destiny 2 with pleasing results thanks to its excellence in image quality and responsiveness. This model clocks in at only 4ms which is brilliant for an ultrawide monitor, making it a bit more suitable for E-Sports-level gaming. Using FreeSync with a Vega64 GPU improves gameplay by smoothening out the tears and stuttering, although the 48Hz to 100Hz range could be a bit short for some.
Thoughts on the Asus XG35VQ
The Asus XG35VQ is one hell of a ultawide gaming monitor with the brand capturing every crucial performance point with excellence. Even if used in its factory state, gamers can still enjoy superb color accuracy and image quality, along with FreeSync and a latency-free output. The exterior design adds an aggressive, RGB-equipped touch to your battle station without forsaking durability and functionality.
There are only a few flaws that we can find such as the middling panel uniformity, limited ELMB effectiveness, and slow pixel response, although these are easily solvable for the most part. The Asus XG35VQ is also competitively priced and we highly recommend this monitor if you are looking for an 100Hz ultrawide for your AMD Vega GPU.