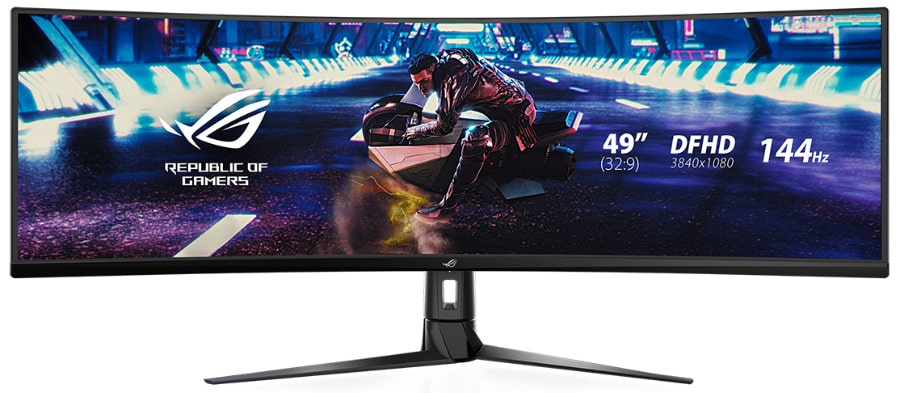 The Asus XG49VQ offers an expansive, 49-inch screen with the resolution and refresh rate of two fast gaming monitors rolled into a single display. The top-ranking brand has included the best specifications in the package, along with a design that will favor the gamer's tastes and preference. The Samsung C49HG90 first launched this category with brilliant success, so let's check out how the Asus XG49VQ stacks up against it's established rival.

Asus XG49VQ Specifications
Screen Size: 49 Inches
Resolution:3840 x 1080 DFHD
Aspect Ratio: 32:9
Panel Technology: Vertical Alignment (VA)
Refresh Rate: 144Hz
Response Time: 4ms
Contrast Ratio: 3000:1 (Static)
Brightness: 450cd/m²
Speakers: Yes (2 x 5 Watts)
Stand: Height –Yes
Stand: Tilt – Yes
Stand: Swivel – Yes
VESA: Yes (100 x 100)
Connectivity: DisplayPort 1.2 x 1, HDMI 0 x 2, USB 3.0 x 3, 3.5mm Jack
Dimensions with Stand(WxHxD): 46.98" x 16.11" x 57"
Weight:32lbs

Design and Features
The Asus XG49VQ doesn't steer too far away from the brand's current gamer product designs, especially those in its Strix line. The monitor has a matte black finish all over which we prefer over the orangey streaks of variants like the Asus PG258Q or even the PG27UQ. The monitor is bezel-free on three sides, but in reality, it is a dual stage design with very thin panel borders.

The rear panel looks much simpler with a smooth, matte black cover, but it has a large Asus logo and a circular accent at the middle finished in gunmetal. We think this aesthetic direction is best since it will fit more system builds without trying too hard to match colors. Also, the overall appearance would not look out of place in work-oriented spaces since it lacks the garishness of its siblings.
The build quality imbued into the Asus XG49VQ doesn't differ from the company's other premium products that passed through our hands. The plastic panels feel flat and sturdy and are manufactured perfectly to fit together seamlessly. We also did not notice any creaking from the device despite its 30-lb weight, indicating that each of the parts melds together perfectly.
We're glad that the Asus XG49VQ uses a tiny joystick for OSD control right under the bottom bezel at the center. This layout makes it convenient for users who want to tinker with the product's various features which will come in useful one way or the other. There is also a lone USB 3.0 slot to the side which is great for peripherals such as keyboards or USB speakers.
The rest of the Asus XG49VQ's connectors are concealed behind a removable panel at the rear of the chassis. The layout includes DisplayPort 1.2, dual HDMI 2.0 slots, and two more USB 3.0 connectors. There is also a 3.5mm jack and a pair of 5-watt speakers, but frankly, Asus could have added more options since the price and the size of the device can accommodate some more.
The Asus XG49VQ is supported by a massive stand with a semi-helix shaped base that isn't as twisted as the PG258Q's. The all-matte black finish is a welcome change of pace, but some might find the asymmetric design a bit disturbing. You can tilt, swivel, and adjust the height of the display or you can also opt for a VESA mount with a 100 x 100 adapter to get a perfect view.
Display and Performance
The Asus XG49VQ sports a massive, 49-inch curved VA panel with a 3840 x 1080 resolution, 144Hz refresh rate, and a 4ms response time with 1ms MPRT boost. This model also includes a specified 3000:1 contrast ratio for excellent blacks and a 450 cd/m2 backlight which is more than adequate for daily use. The device is also certified with VESA DisplayHDR 400, which is the entry-level category for HDR monitors.
What's great about the 3840 x 1080 resolution is it's neither too sharp nor soft, making it perfect for games. The screen is comparable to dual 1080p displays, so there is a lot of room for workflows and extended FOVs. DFHD also isn't as difficult to run as a 4K monitor, so many games will run at high framerates with most GPUs.
The Asus XG49VQ posts impressive color results once scrutinized with a colorimeter, thanks to its high-grade VA panel. It's able to produce around 110% of the sRGB gamut or around 84% of the Adobe RGB for eye-popping color and vibrancy. Accuracy is equally fantastic since DeltaE did not exceed 2.0, which means colors are natural and there are almost no noticeable deviances.
Contrast ratio reaches up to 2000:1 giving us the deep satisfying blacks and shade definition anyone would expect from a VA panel. The panel's backlight reaches a searing 455 cd/m2 in tests which is too bright for daily use. These scores fall in line with DisplayHDR 400 specifications, but unfortunately, the changes it brings to visuals isn't as considerable as anyone would hope.
Compatible games like BFV show a bit of detail and lighting enhancement if HDR mode is active, but it would hard to tell the difference compared to running it in SDR. You will need a display with higher certification like the Asus PG27UQ if the extended depth and light blooms are a priority.
Panel uniformity is where the Asus XG49VQ requires massive improvements since the upper corners had a brightness variance of up to 20%. The screen's edges look noticeably dimmer, but colors remained within reasonable limits with deviations staying within DE 2.7 from the D65 standard. Take note that this could change between unit to unit, but curved displays have always had these problems ever since.
Motion handling is more than just decent on the Asus XG49VQ despite its disadvantages in pixel response time. The display shows minor smudging in fast-paced scenes, but it will not disturb your gaming on a detrimental scale. A TN variant like the PG278QR will always have snappier transitions, but we know its a small price to pay for a deeper contrast ratio and richer color.
The Asus XG49VQ is a FreeSync gaming monitor making it a perfect match for the latest AMD GPUs like the Radeon VII and the upcoming Navi flagships. G-Sync compatibility isn't certified and we may have to wait for more driver updates from Nvidia, but it should work on paper. Input lag tops out at 5ms when running at full refresh rate and low input lag mode activated, so there is no need to worry about delays or "de-synced" instances.
Thoughts on the Asus XG49VQ
The Asus XG49VQ is a fantastic option if you want an immersive experience that's bundled with an agile screen. The 144Hz refresh rate and low input lag combine to give users the feel of a competitive gaming display, while the expansive display area engrosses your visual senses. We love the product's simpler design which makes it fit easier into various tastes and setups.
The Asus XG49VQ can provide accurate and vibrant colors, but there are some aspects which require improvements. This model has a friendlier launch price than its competitors, but it could use a few critical improvements on aspects such as its panel uniformity.