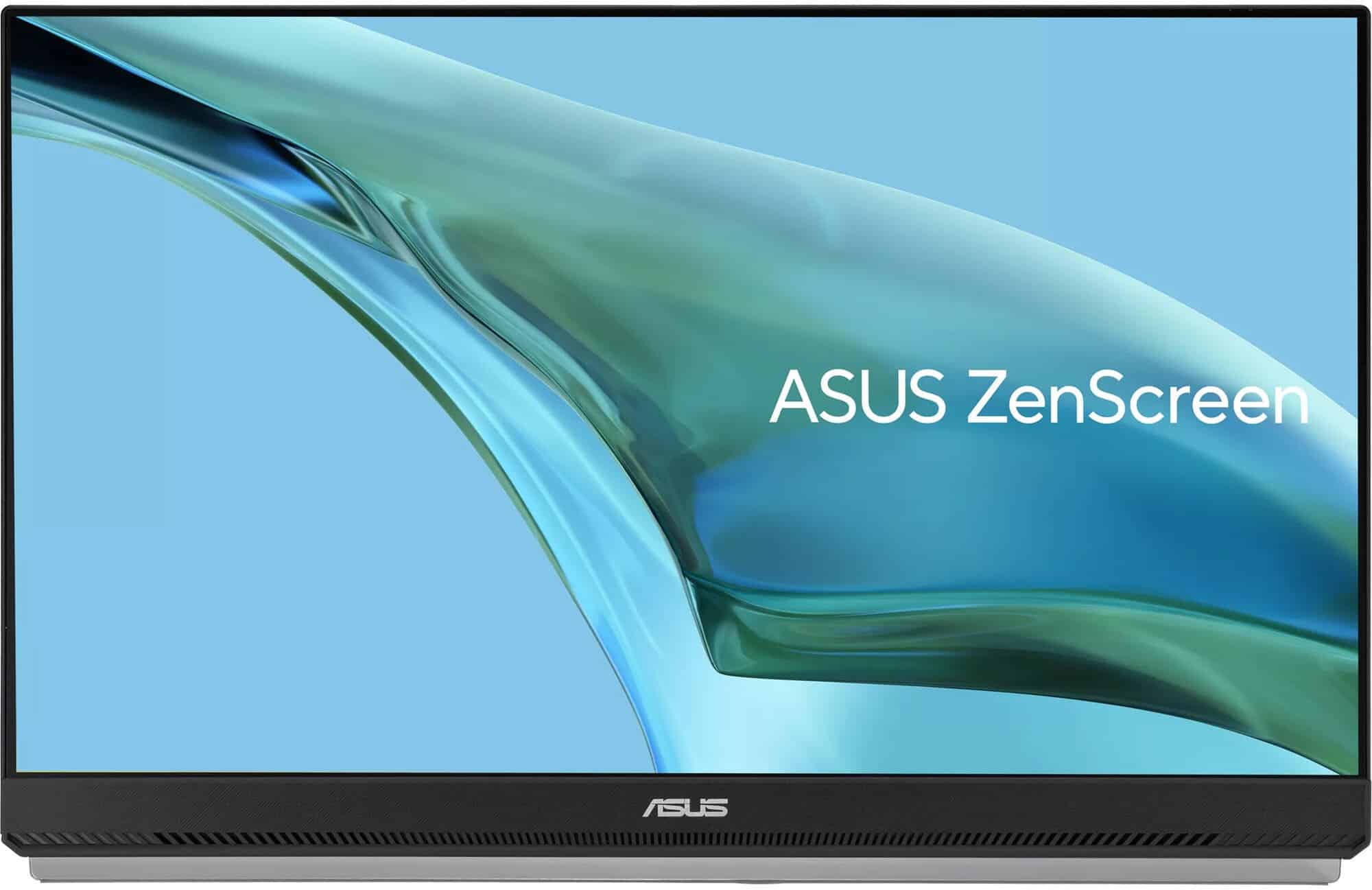 The Asus ZenScreen MB249C is one of the brand's many attempts to one-up its sea of competitors in the portable display category. What makes it unique is its 24-inch diagonal which is close to what a typical desktop monitor at the office uses. That means it's less portable, but let's see if it's worth lugging around based on its performance.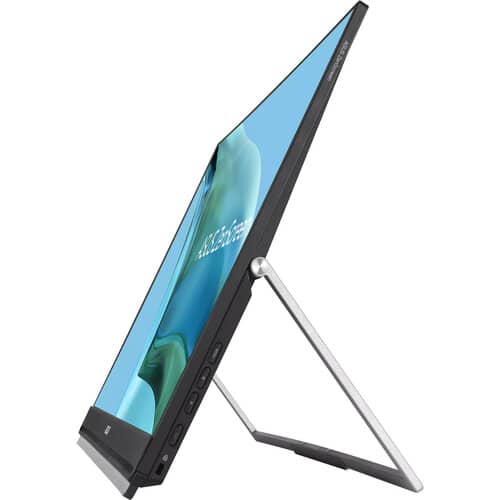 Asus ZenScreen MB249C Specifications
Screen Size: 24 Inches
Resolution: 1920 x 1080 FHD
Aspect Ratio: 16:9
Panel Technology: In-Plane Switching (IPS)
Refresh Rate:75Hz
Response Time: 5ms
Contrast Ratio: 1000:1 (Static)
Brightness: 250 cd/m2
Built-in Speakers: Yes (2 x 1 Watts)
Stand: Height -Yes
Stand: Tilt – Yes
Stand: Swivel – Yes
VESA Compatibility: Yes (100 x 100)
Connectivity: HDMI 1.4 x 1, USB-C PD60W x 1, 3.5mm Audio Jack x 1
Dimensions with Stand(WxHxD): 21.2″ x 13.6″ x 0.92″
Weight: 6.28 lbs

Design and Features
The Asus ZenScreen M249C looks like any modern 24-inch display, but its extra slim frame and unique mounting options set it apart. It has a textured black finish that's accented by the silver kickstand. It's free from bezels on the top and side edge, although you still get inner borders and the thicker bottom strip on it.
It may be the same size as a regular desktop monitor, but the chassis is considerably slimmer. It is less than an inch thick, so it will slide into a large laptop bag or backpack without question. However, it is heavy for a portable monitor at 6.28 pounds, so we recommend using the latter for carrying it to avoid straining one shoulder.
Its build quality is quite nice and comparable to the other Zen premium business products in the brand's portfolio. It's solid, and the plastics feel like they won't flex or crack easily. The kickstand isn't flimsy at all, especially since it has the help of a rubber strip at the bottom of the chassis that prevents it from sliding around.
The Asus ZenScreen M249C has buttons for its OSD instead of a quicker and easier-to-use joystick. However, we find it more comfortable to use buttons on portables since they are small enough to be held with two hands like a table. We think that it could use a convenient software or application for quicker adjustments to basic settings.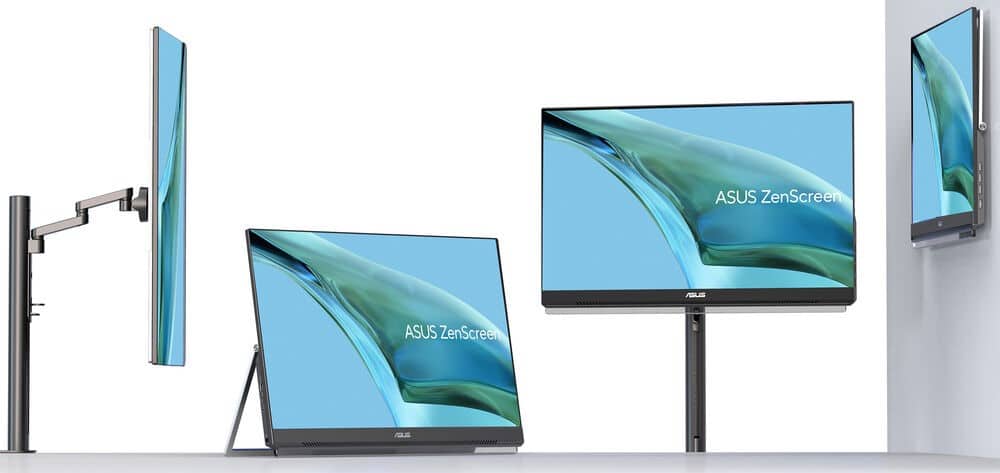 Our favorite thing about the Asus ZenScreen M249C is it includes three options in the box for ergonomics. The first one is the integrated kickstand which gives you 60 degrees of tilting while doubling as a carry handle. You also get a C-clamp arm which lets you tilt, swivel, and pivot the screen without taking up too much space from your work desk.
There is also a wall partition mount in the box and the monitor's HDMI, USB-C, and power cables. It's nice of Asus to include everything needed to make full use of the product, unlike its gaming portables, where the tripod was sold separately. Note that the device uses a proprietary attachment mechanism, so you can't simply use VESA mounts on it.
Its connectivity layout, on the other hand, is simplified compared to what you will typically see on similarly-priced desktop monitors. You only get a full-sized  HDMI 1.4 slot, a USB-C port with 60 Watts, a 3.5mm jack, and a power socket. That's fine in most cases, especially since you can use USB-C passthrough to your laptop when the screen is plugged in.
But our least favorite part of the Asus ZenScreen M249C is its 1-watt speakers, which are practically useless. They are too quiet with weak sound quality, so most will probably use the laptop's speakers more. This is usually fine, but portable gaming with devices like the Nintendo Switch could use a more powerful set.
Display and Performance
The Asus ZenScreen M249C sports a 24-inch IPS panel with a 1920 x 1080 resolution, a 75Hz refresh rate, and a 5ms response time. The backlight has a 250 cd/m2 maximum, while the contrast is listed at 1000:1. This model doesn't have HDR certification since it isn't meant primarily for entertainment or gaming purposes.
Its pixel density is common on desktop setups, but it can look grainy or pixelated next to a considerably smaller laptop display. It would look nicer if it had a 1440p resolution, but we know that it will become more expensive. The good news is that it's very easy to read off the screen so you won't have trouble with your work.
The Asus ZenScreen M249C covered more than 100% sRGB and 86% of the DCI-P3 gamut. It's more vibrant than other office displays, so it's suitable for other tasks like content creation or entertainment. Its default accuracy has a deltaE average of 2.09, so it's decently accurate and ready for use immediately.
Calibrating it or creating an ICC profile using a colorimeter reduced that dE average to 1.24. It is more balanced this way, although it might look warmer next to most laptops which are usually tuned to a 7000K color temperature. Note that colorimeters aren't easily accessible or cheap, so we can only recommend purchasing one if you do color-critical work.
The Asus ZenScreen M249C's backlight was mediocre since it only reached 201 cd/m2 at 100% brightness. That's plenty for indoor use, but it will struggle to fight glare when the monitor is used outdoors. The screen's contrast is also unimpressive since it only reached 851:1 at 100% brightness.
Panel uniformity was decent, but it wasn't perfect since there were noticeable variances in some of its quadrants. The upper edge also had some backlight bleeding, although they were minimal and noticeable only when a dark image was on display. Note that this can change with other units due to tolerances, so it's possible to get a better one with fewer issues.
The Asus ZenScreen M249C isn't a gaming display, but it's not the blurriest screen out there when it's used for gaming. The 75Hz refresh and overdrive can help reduce smudging and persistence, but fast-paced and contrasting transitions will still reveal some of them. However, this is forgivable, especially if you only play immersive titles that are usually common on platforms like the Switch.
The Asus ZenScreen M249C is compatible with FreeSync and G-Sync for tear-free gaming. It's not entirely necessary for playing at 1080p since it's very easy to run, but it is nice to have it either way. Input lag sits at 9ms at 75Hz, so it's responsive enough not to give you a sluggish or delayed feel.
Thoughts on the Asus ZenScreen M249C
The Asus ZenScreen M249C is an intelligently-designed portable monitor that enhances your mobile workstation with its larger screen and mix of mounting options. It is bigger and heavier than the more common 16-inch options, but it's still very sleek compared to a regular display. It has decent image quality out of the box, so it's usable for more complex tasks like content creation.
However, it leaves something to be desired when it comes to its audio setup, brightness, and contrast. It is tough to use a dim portable monitor outside, like when you are working on an alfresco table in a café. It's also quite pricey for a 1080p display, so it might not be the best and most practical portable for everyone.
Pros:
Large and Vibrant IPS Display
Three Mounting/Ergonomic Options
Simple and Easy to Use
Sleek Alternative to 24-Inch Desktop Monitors
Cons:
Heavy and Too Big for Most Laptop Bags and Sleeves
High Price for 1080p Display
Poor Contrast
About the Author: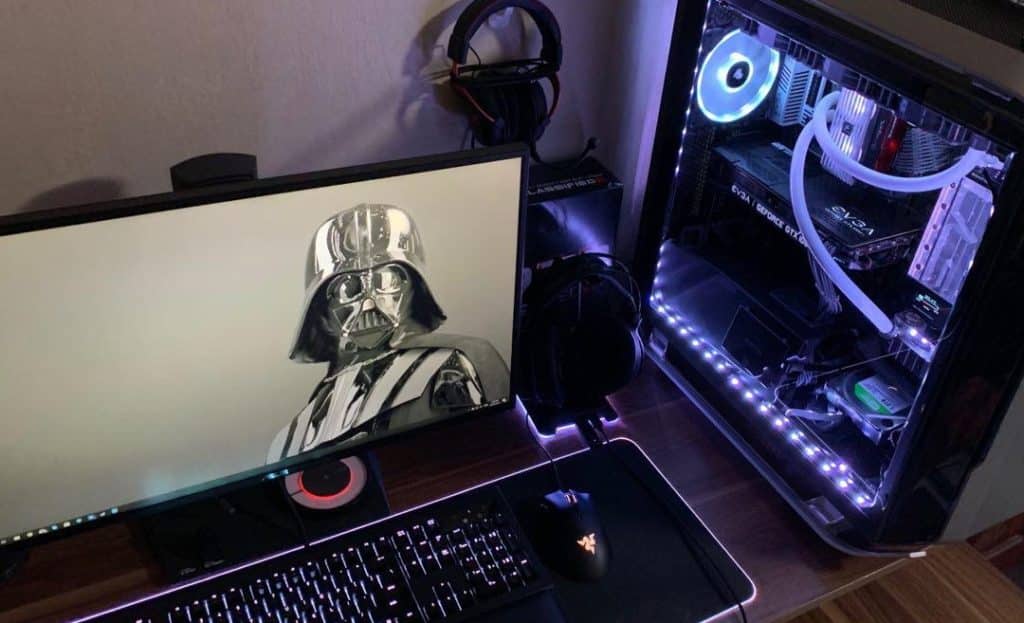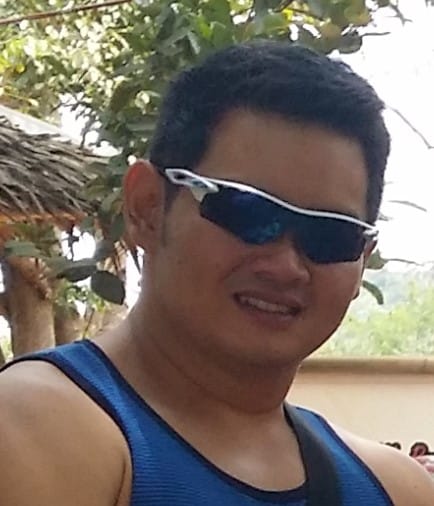 Paolo has been a gaming veteran since the golden days of Doom and Warcraft and has been building gaming systems for family, friends, and colleagues since junior high. High-performance monitors are one of his fixations; he believes that every citizen's right to enjoy one. He has gone through several pieces of hardware in pursuit of every bit of performance gain, much to the dismay of his wallet. He now works with Monitornerds to scrutinize the latest gear to create reviews that accentuate the seldom explained aspects of a PC monitor.