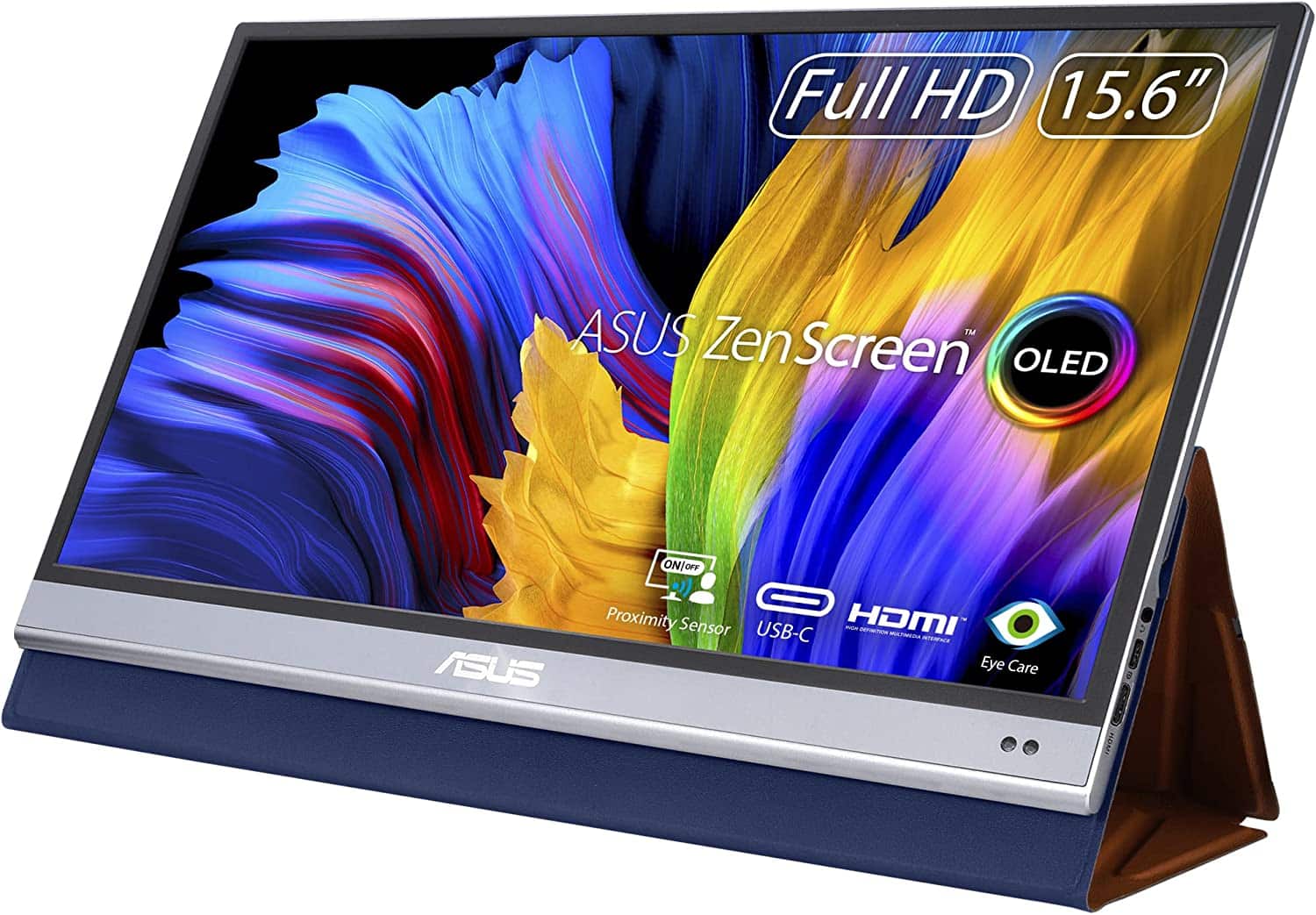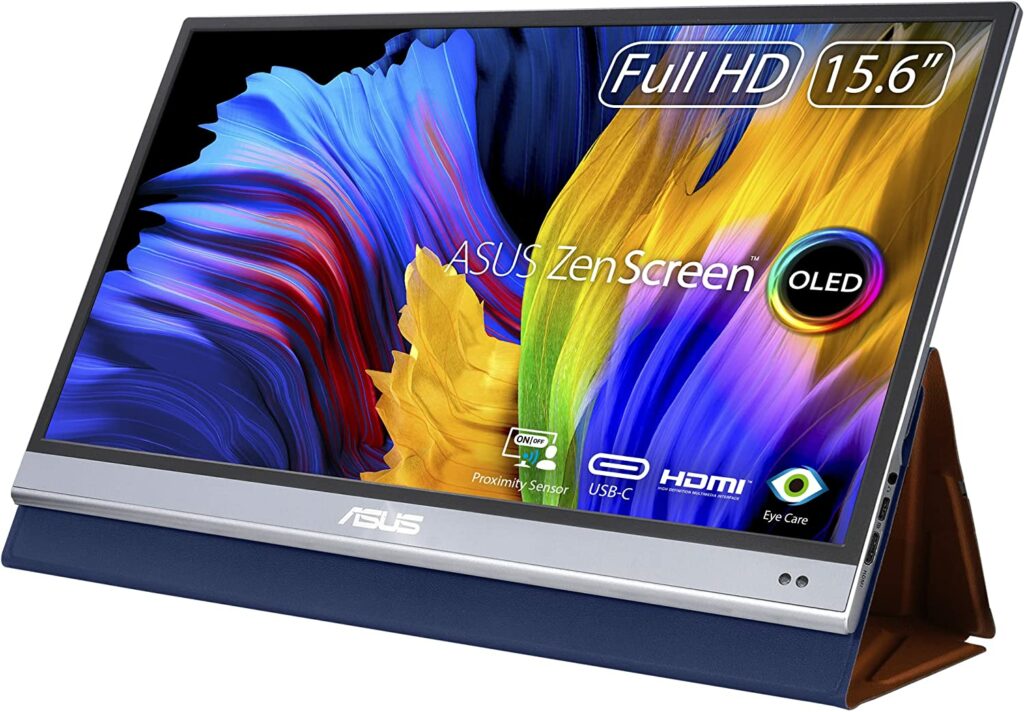 The Asus ZenScreen MQ16AH represents the brand's flagship in its portable monitor lineup for professionals and business use. Most of the brand's ZenScreen models have been excellent so far, but this is the only current model that offers OLED technology. However, the Asus ZenScreen MQ16AH isn't cheap so it deserves a deeper look to find out if it is worth it.

Asus ZenScreen MQ16AH Specifications
Screen Size: 15.6 Inches
Resolution:1920 x 1080 FHD
Aspect Ratio: 16:9
Panel Technology: OLED
Refresh Rate: 60Hz
Response Time: 1ms
Contrast Ratio: 100000:1
Brightness: 360 cd/m² (400 cd/m² Peak)
Built-in Speakers: None
Stand: Height – No
Stand: Tilt – Yes
Stand: Swivel – No
Stand: Pivot – No
VESA Compatibility: No
Connectivity: USB-C x 2, Mini-HDMI x 1, 3.5mm Jack x 1
Dimensions: 14.12 x 8.90 x 0.35
Weight: 1.43 lbs

Design and Features
The Asus ZenScreen MQ16AH doesn't look any more special than its IPS-based counterparts from the brands, but that doesn't mean that it doesn't look good. The monitor has a silver finish that looks good besides any premium laptop. The display isn't bezel-free, but its black borders are thin enough to be unnoticeable.
It's a 15.6-inch model, so it can be bigger than some laptops like those with notebook form factors. However, its no bigger than a real notebook so it should fit right into your laptop messenger bag or backpack. It only weighs 1.43 pounds so you shouldn't feel its added strain while bringing it.
This model is comparable to the Innocn 15A1F, but one of the things that are better with the Asus is its build quality. The materials feel more expensive and durable and it looks more refined thanks to the brand's proven build quality. However, we're not particularly impressed with its flip cover that doubles as its stand since it is easy to topple the screen over.
We also usually dislike buttons, but we prefer them now on portable monitors since it's easier to use them when you are holding the device with two hands. It has a dedicated power key that doubles as the back or cancel button, along with three others that can be used to manipulate the OSD. It takes some getting used to, but it is less confusing than a scroll wheel and in some cases, faster to use.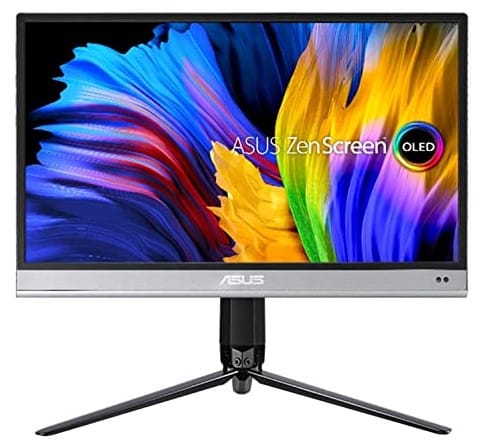 The Asus ZenScreen MQ16AH doesn't have a proper stand so it only has a flip cover that you can fold up and use as its pedestal. However, you can also use the brand's portable monitor stand that attaches to the slot at the back. It offers better ergonomics, but the downside is that it's a separate purchase.
Its connectivity layout is standard for most portable displays so you won't have difficulty utilizing it for numerous device types. The monitor has two USB-C slots and a mini-HDMI port, along with a 3.5mm jack for audio equipment. It doesn't have speakers, but that's okay since something as thin and light as this model won't be able to pack a decent pair anyway.
Another feature we'd like to point out is the two sensors that protrude from the bottom bezel on the front. They are used to detect if the user isn't in front of the display so it can turn off the display. This is essential since the Asus ZenScreen MQ16AH uses your laptop's battery and it prevents unwanted screen standby time that can damage the OLED panel with burn-in.
Display and Performance
The Asus ZenScreen MQ16AH has a 15.6-inch OLED panel with a 1920 x 1080 resolution, a 60Hz refresh rate, and a 1ms response time. The backlight has a 360 cd/m2 output and a 400 cd/m2 peak, while the contrast is listed at 1000000:1. it is not certified by VESA, but you can bet that you will get better HDR performance with this versus many desktop monitors.
1920 x 1080 isn't as popular due to its lower pixel count, but that matters less since the screen is smaller than your usual desktop display. This portable monitor is comparable to laptops when it comes to sharpness so that shouldn't be an issue. It doesn't offer screen space that's like what 1440p and 4K laptop display panels have, but its purpose is to extend your screen real estate anyway.
The Asus ZenScreen MQ16AH renders impressive gamut coverages that cleanly exceed 100% of the sRGB and DCI-P3 gamuts. Its default accuracy had a deltaE average of 1.97 which is close to what the company claims. Most users won't have to calibrate it so it's ready to use right away, even if you are creating content.
We couldn't calibrate it with a regular colorimeter, so we thought it was best to just adjust the backlight to get a suitable output. The dE average isn't perfect, but it is still considerably better than what other monitors with very wide gamuts can offer. It can be used for professional endeavors, but it would have been better if it had full calibration features like a regular display.
OLED panels don't have backlights so they have the natural advantage when it comes to contrast, pixel response time, and uniformity. The Asus ZenScreen MQ16AH reached 371 cd/m2 at 100W%, but it peaks up to 405 cd/m2 when HDR10 hits the monitor. It may not be as bright, but it's capable of considerably better HDR performance thanks to the individually dimming pixels.
Panel uniformity for the review sample was perfect thanks to OLED technology. OLED monitors and TVs do not use WLED backlights, so there is no leaking since the illumination comes from individual pixels. Smaller displays are less prone to issues like these but using this panel type seems to make them immune from them as well.
Its pixel response time is also considerably better than what an IPS variant can offer you. This model is rated to be slower than your typical OLED monitors, so it's understandable that there will be some persistence or minor smudges in some scenes. It's also limited to 60Hz, but that's usually sufficient for the type of games most will play on a portable display.
The Asus ZenScreen MQ16AH doesn't have FreeSync and G-Sync compatibility since it was not designed for gaming purposes. That's okay since most systems can run 1080p at 60Hz comfortably even if they are using discrete graphics processors. We couldn't measure its input lag properly, but it is comparable to a 10 or 15ms desktop monitor.
Thoughts on the Asus ZenScreen MQ16AH
The Asus ZenScreen MQ16AH is one of the best choices in the limited but very competitive portable monitor market. Its OLED panel's imaging qualities are fantastic, and only a few like the Innocn 15A1F can challenge it. Its build quality and overall design are also great, but we think Asus should include its portable monitor stand in the package.
There are only a few downsides to this model such as its use of OSD buttons, but they are all understandable. The only hindrance we see for many is the Asus ZenScreen MQ16AH's price which is twice of what an IPS variant would require for ownership. It has brilliant advantages over the latter, but it comes at a higher price.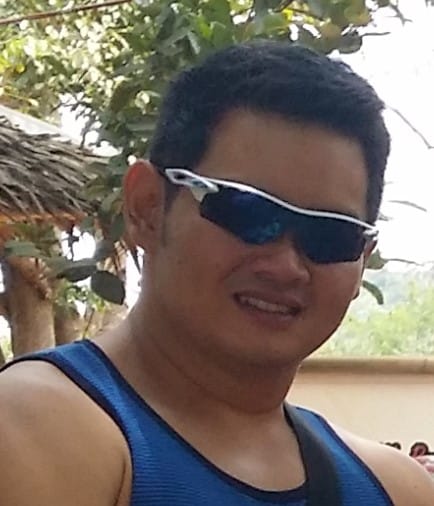 Paolo is a gaming veteran from the golden days of Doom and Warcraft. Since junior high, he has been building gaming systems for family, friends, and colleagues. High-performance monitors are one of his fixations; he believes that every citizen's right to enjoy one. He has gone through several pieces of hardware in pursuit of every bit of performance gain, much to the dismay of his wallet. He has also spent half a decade researching, reviewing, and writing about these products and now has over 1400 articles about the best gaming tech under his belt.