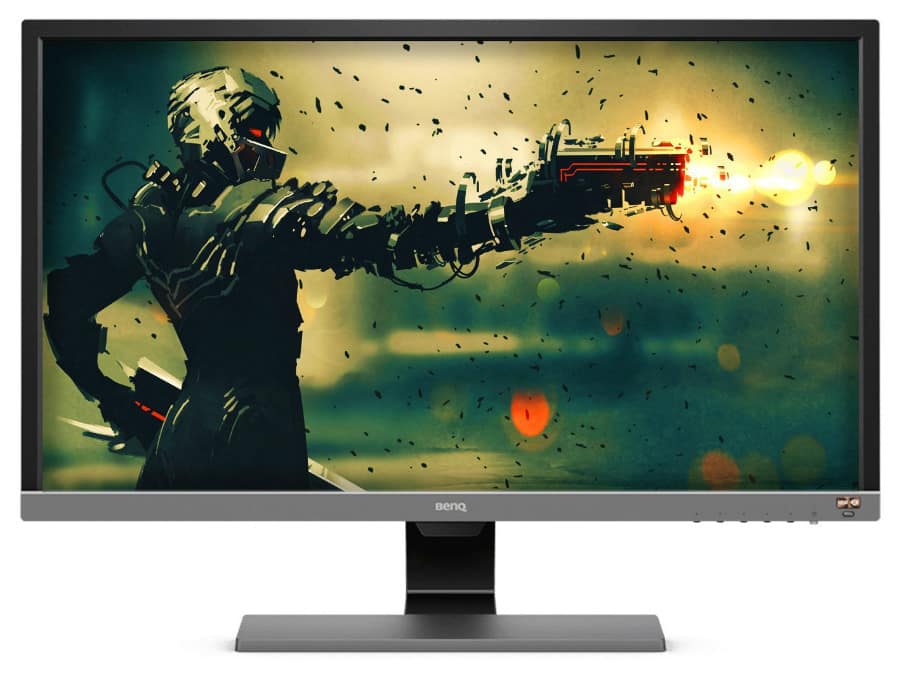 The BenQ EL2870U aims to provide breathtaking visuals with its 4K display that is augmented by HDR compatibility and the brand's Brightness Intelligence Plus technology. This model's spec sheet makes it ideal for all types of uses for both PC and 4K HDR console gaming on devices like the PS4 Pro. We loved the BenQ EW3270U despite its forgivable flaws, so an in-depth peek at the BenQ EL2870U is a must.

BenQ EL2870U Specifications
Screen Size: 28 Inches
Resolution: 3840 x 2160 4K UHD
Aspect Ratio: 16:9
Panel Technology: Twisted Nematic (TN)
Refresh Rate: 60Hz
Response Time: 1ms
Contrast Ratio: 3000:1 (Static)
Brightness: 300 cd/m²
Built-in Speakers: Yes (2 x 2 Watts)
Stand: Height – No
Stand: Tilt – Yes (-5°/+20°)
Stand: Swivel – No
Stand: Pivot – No
VESA Compatibility: Yes 100 x 100
Connectivity: DisplayPort 1.4 x 1,, HDMI 2.0 x 2, USB-C x 1, 3.5mm Jack
Dimensions with Stand(WxHxD): 26" x 19" x 3″
Design and Features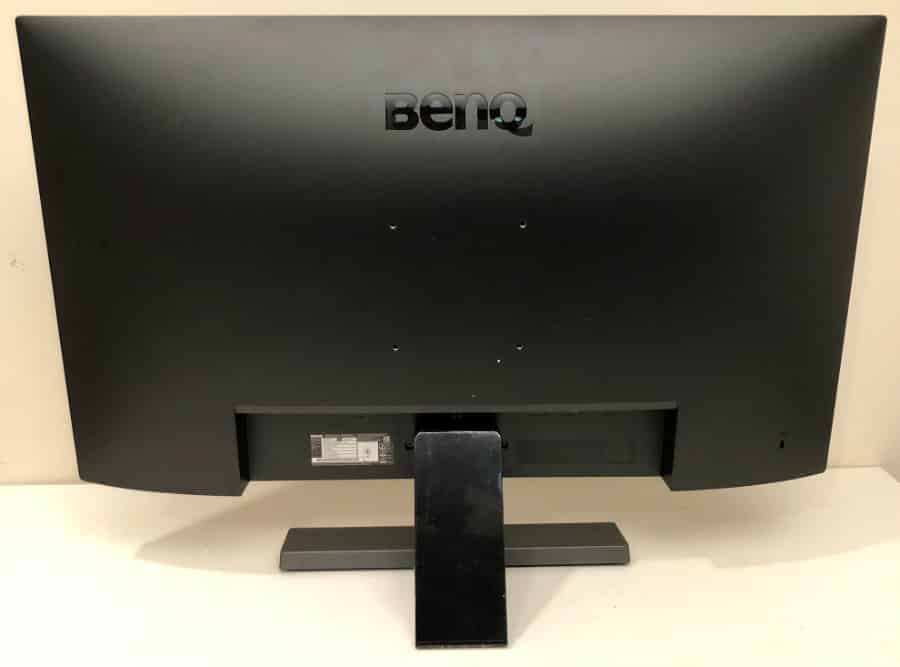 The BenQ EL2870U looks like the smaller sibling of the EW3270U since it copies every physical aspect except for the size. The contemporary black and gray scheme is always a positive design approach for any monitor, but most like infinity edge designs like those on Dell's offerings. The plastic strips on this variant are more noticeable than on a 32-inch screen, but they aren't that much detrimental to the viewing experience.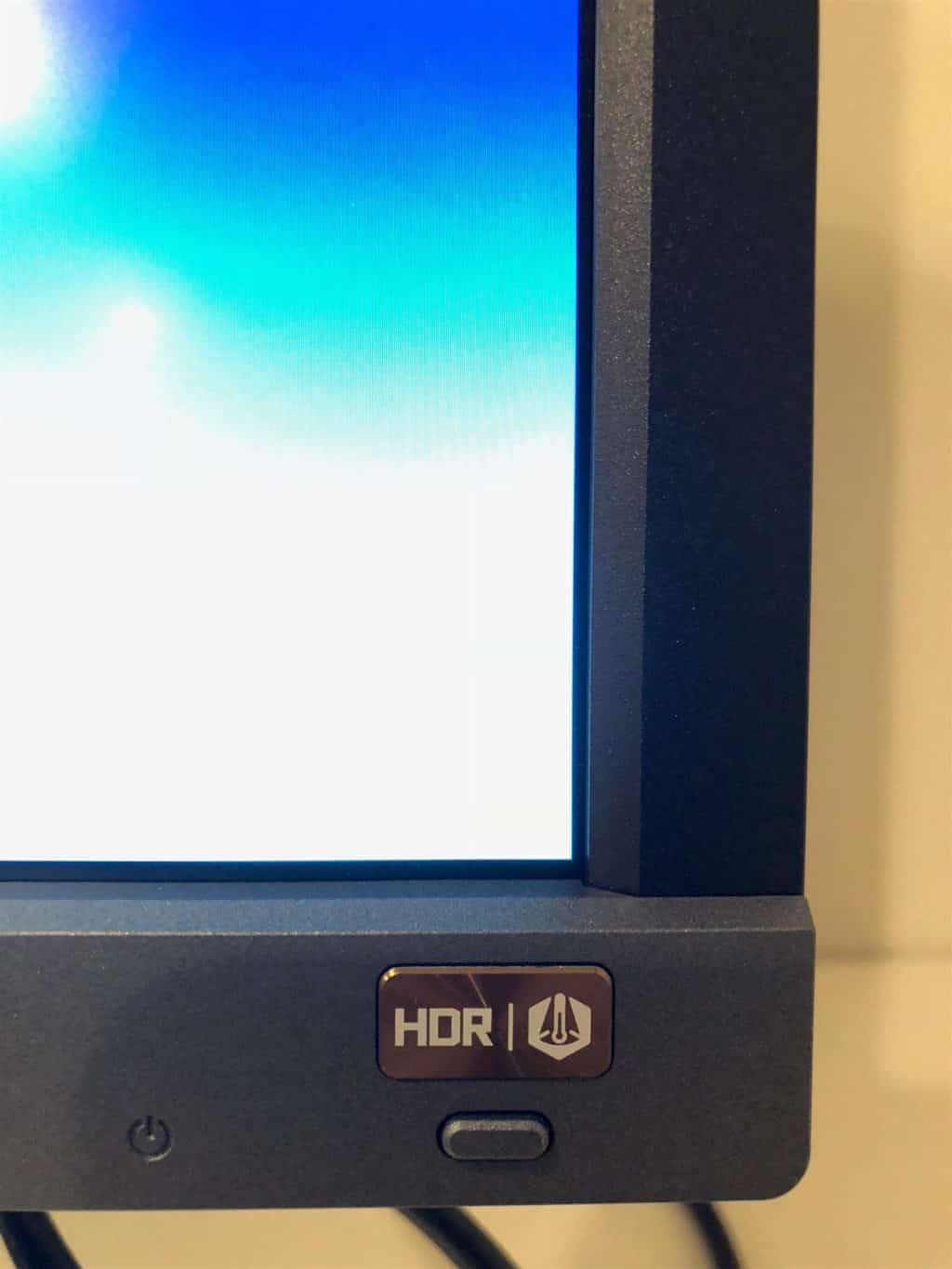 The BenQ EL2870U's most prominent features are found on the bottom bezel, making the thickness a necessary aspect of the design. The gold button on the lower corner activates the HDR feature on demand so you won't have to tinker around in the OSD. There is also a peeking sensor in the middle which dictates how the monitor's Brightness Intelligence Plus feature will react to your environment.
We like the BenQ EL2870U's manageable proportions which makes it easy to place on a desk or mount on a wall. On the smooth back panel of the chassis, the 100 x 100 VESA bolt pattern is readily available, so less fiddling is required. The stand easily slides off in case you want to go with this configuration.
Like its bigger brother, the BenQ EL2870U lacks a broader range of ergonomics since the mechanism only includes tilt. By today's standards, flexibility is a huge selling point because it allows users to customize the monitor according to individual preferences and anthropometrics. Articulated armatures are readily available in case you deem it necessary, but purchasing one adds to the total cost of the product.
The BenQ EL2870U belongs to the upper echelon of the brand's budget line, so there are some cut corners in the design. However, don't get us wrong, the product's build quality is impeccable at this price range. There are no unwanted flexing and creaking from the plastics, plus the monitor can stand with reliable stability.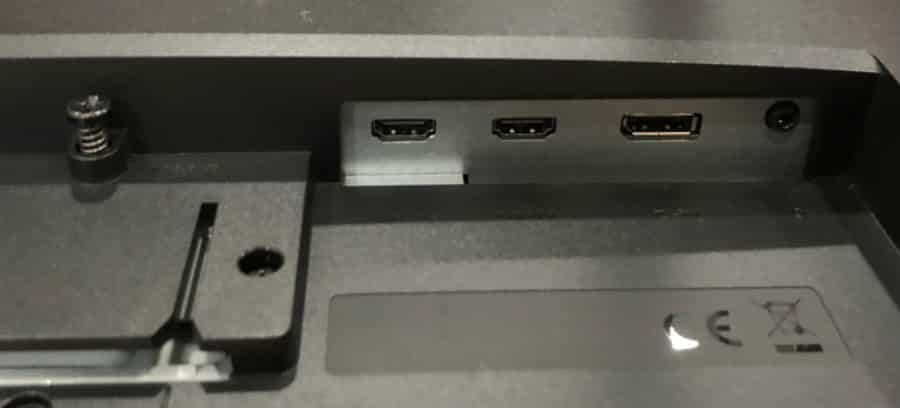 The I/O layout in a down firing position lacks the usual extras such as USB slots and whatnot, but we think it suffices for the ideal purposes of the BenQ EL2870U. You get a standard DisplayPort 1.4 and two HDMI 2.0 slots for video inputs and a 3.5mm audio jack with a pair of 2-Watt speakers. More is always better, but the panel can sufficiently handle a PC and up to two 4K HDR consoles like the Xbox One X and PS4 Pro at the same time.
Display and Performance
The BenQ EL2870U is rocking a 28-inch TN panel with a 3840 x 2160 resolution, 60Hz refresh rate, 1ms response time, and 1000:1 contrast ratio. It's surprising that BenQ packaged this model to be HDR compatible despite having a TN panel which is limited in terms of vibrancy and contrast. This is where the bigger BenQ EW3270U leads since it includes VA panel which has deeper and richer imaging characteristics than the latter.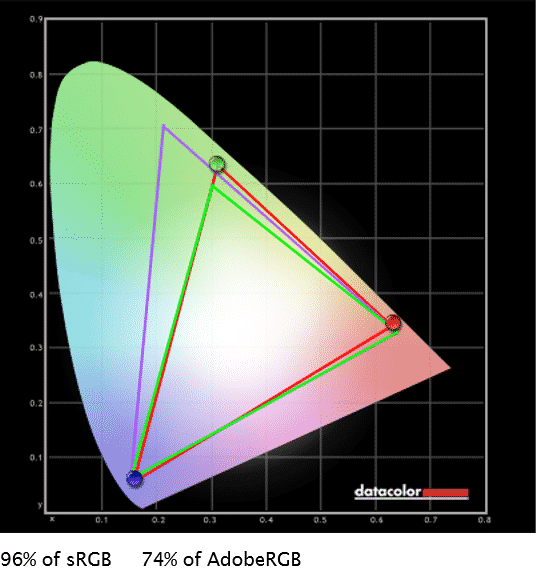 The size and resolution are perfect for each other, however, we can't help but notice some graininess when tiny text is involved. At glance, this flaw isn't noticeable, but viewing a Retina display or even a high-quality IPS-equipped model will spell the difference. If you are sensitive or are annoyed by visible pixels, this monitor isn't for you.
Our Datacolor Spyder Elite 5 revealed contradicting results which may question how effective it is as a display solution that is capable of HDR. The TN panel is one of the most vibrant we have seen, but sRGB gamut volume is limited to 96% which is short of what HDR requires. Color accuracy isn't perfect as well since Delta E played around the 3.0 mark instead of the ideal 2.2.
Contrast also falls short of HDR's targets since the BenQ EL2870U can only reach a maximum of 900:1. Black luminance isn't as deep as we would like, and it gave way to some inconsistencies which are contradictory to the main selling points of HDR visuals. In this regard, once again the  EW3270U is the better option thanks to its VA panel's properties.
However, these misgivings do not entirely dictate that the HDR function on the BenQ EL2870U doesn't work. Activating it did add an overlay of some sort that gave compatible games such as Rise of the Tomb Raider did add some noticeable improvements. However, the benefits are minimal at best making it a tough decision to choose this model if you are after HDR gaming.
What does work wonderfully on the BenQ EL2870U is its Brightness Intelligence feature which feels much more responsive and accurate than on older models. The automatic adjustments may seem weird at first, but the tech grows on you and becomes more effective as you get used to having it. Gaming for a few straight hours or working on this monitor feels more comfortable and easy on your eyes thanks to BIP.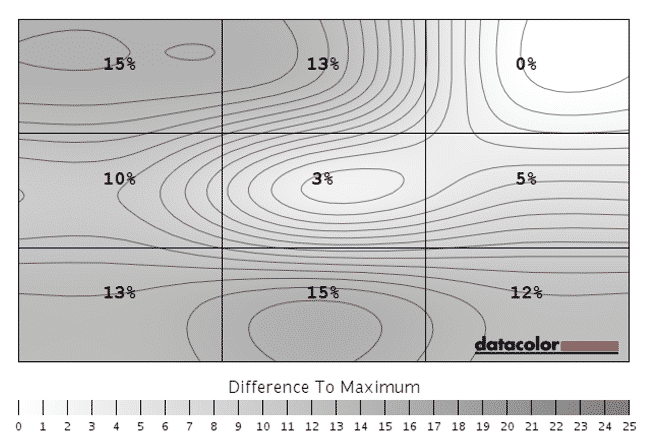 Another quality of the monitor where it could use some improvements is its panel uniformity. Our colorimeter saw maximum variances of 15% in luminance on the corners. Unfortunately, this also affected color uniformity, giving birth to high deviations against the ideal D65 color temperature. Take note that these results may vary from unit to unit.
Lastly, the BenQ EL2870U is a viable gaming monitor since it supports FreeSync which is beneficial at a 4K resolution (If you have a top end AMD card). Input lag was virtually non-existent since the BenQ EL2870U posted a delay time of only 10.4ms which is ignorable even for competitive gamers. This result makes the monitor suitable for both PC and console gaming at an enthusiast or competitive level.
Thoughts on the BenQ EL2870U
The BenQ EL2870U is an excellent all-around monitor if you discount the fact that it is being marketed as an HDR-ready display. TN technology has reached its limitations in contrast and vibrancy, making the product unable to reach the necessary qualities for HDR visuals. If it weren't for this feature and the mark up that it incurs, we'd rate the product as one of the best 4K TN monitors in the market.
On the plus side, the BenQ EL2870U still is built with quality and superb implementations that gamers and enthusiasts look for. The product's HDR mode added a hint of extra pop for games and movies while the Brightness Intelligence Plus feature was flawless at its job. The BenQ EL2870U is nice to have to the right buyer, but if you are after HDR visuals, the bigger and better BenQ EW3270U is a much better option all around.