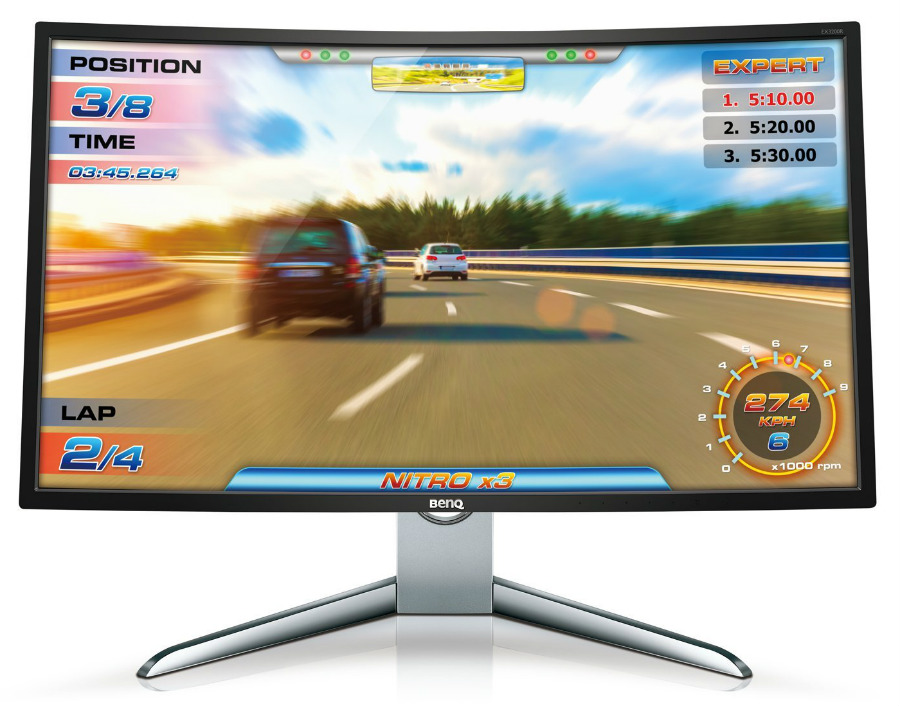 The BenQ EX3200R and its 144Hz large sized 1080p screen make it perfect for PC and console gaming, plus enjoying movies and other media content. The product is furnished with a premium design making it suitable for luxurious offices or rooms, but its specs separate it from high-end business class models which often do not have a gaming pedigree in their innards. The BenQ EX3200R could be the next perfect upgrade for your entertainment needs, but what kind of performance numbers is this multi-use display capable of in practice?

BenQ EX3200R Specifications
Screen Size: 32 Inches
Resolution:2560 x 1440 QHD
Aspect Ratio: 16:9
Panel Technology: Vertical Alignment (VA)
Refresh Rate: 144Hz
Response Time:4ms
Contrast Ratio: 3000:1
Brightness: 300 cd/m²
Built-in Speakers: No
Stand: Height – Yes (2.36 Inches)
Stand: Tilt – Yes (-5°/+15°)
Stand: Swivel – No
Stand: Pivot – No
VESA Compatibility: Yes
Connectivity: DisplayPort 1.2 x 1, Mini DP 1.2 x 1, HDMI 1.4 x 2, USB 3.0 x 2, 3.5mm Audio Jacks
Dimensions With Stand(WxHxD): 28.6″ x 20.9″ x 8.8″
Weight: 20.1lbs

Design and Features
The BenQ EX3200R looks more like it is for an extravagant office than a game room or a typical bed room with its gorgeous gray finish and metal base. The screen isn't bezel free, as it includes reasonably thin strips in matte black which don't distract users from the broad view. The display's 1800r curvature makes it feel a bit more engrossing which is one of the senses the product is providing its users.
The cabinet's thickness is within reasonable limits as well, but the tighter curve makes it appear thicker than it is on paper. This makes it difficult to flush mount the BenQ EX3200R using VESA 100 x 100 mounts, whose bolt pattern can be revealed by removing the included stand. In all honesty, removing this part and opting for mounting sort of ruins the aesthetic of this product.
The stand included for the BenQ EX3200R comprises of a boomerang-shaped metal base with a minimalist upright which features an accented cable tidy hold. It isn't as ergonomic as its upmarket cousins in BenQ's line, but this model can tilt up to 25 degrees and raise up to 2.36 inches. The designers did not care for swivel or pivoting articulation which is useless with a big and curved screen.
We like how the brand implemented the BenQ EX3200R's I/O layout by hiding it behind a removable plastic panel for neat cable management. All of the connectors which include DisplayPort 1.2, Mini DP 1.2, HDMI 1.4 and 3.5mm audio jacks are located under the curving section of the back panel in a down firing position. Sadly, there are no USB hubs or slots for convenience or even built-in speakers, but these are rarely missed for most.
Display and Performance
The BenQ EX3200R features a 32-inch curved VA panel with a 1920 x 1080 resolution, 144Hz refresh rate, 3000:1 contrast ratio, and 4ms response time. The first thing we noticed upon powering up this device is the lower pixel density which is even more apparent if you are used to higher-resolution screens. While not bad, the pixel grain becomes a bit more evident if you sit too close, so it is best to view at more than two feet away for eye safety and to avoid this issue.
Other than the loose PPI, there is nothing much to complain about the BenQ EX3200R. It's 1920 x 1080 native resolution isn't the best in the market, but it does have its merits. For starters, it would be easier for a wider audience to maximize the refresh rate ceiling with numerous mid-range to high-end GPUs. You can also think of the BenQ EX3200R as a smaller LED TV for your consoles and movies which offer enjoyment at 1080p, which is still acceptable and plentiful for this day and age.
Since this model is equipped with a VA panel, we expected fantastic color range and accuracy from the BenQ EX3200R. Tests show that the screen is capable of 96% sRGB gamut coverage with an average Delta E of 2.0, which is decently accurate by slightly less vibrant than competitors with 100% or more. The excellent contrast ratio of 2050:1 did not help to add more punch to the color capabilities of this model, but it would be difficult to notice the minor difference without a side by side comparison.
At least, you don't have to put in the extra work to get these superb averages from the BenQ EX3200R, since these are all out of the box results. We tried different tweaks and methods with the help of a colorimeter, and still, the screen was ideal at default. You only need to adjust brightness for comfortable use, making this product perfect for a plug and play all in one display for your entertainment setup.
Despite its specs which could put to shame a few other 32-inch models, the BenQ EX3200R isn't marketed as a gaming display. It does include FreeSync to complement its 144Hz refresh rate, plus it's plenty responsive at an average of 12ms input lag making it close to the ideal for e-sports players. BenQ is introducing the BenQ EX3200R as a premium everyday display for your enjoyment, whether it's pc or console gaming or simply watching movies.
Thoughts
The BenQ EX3200R is an excellent all-rounder as far as premium monitors go, but it doesn't excel at one performance aspect either to beat its competitors. Its 144Hz refresh rate and respectable input lag make it suitable for serious PC gaming, but its low pixel density only makes it great for watching 1080p movies or playing on consoles.
The color range is average at best, so you can't expect a performance worthy enough for professional editing applications. But when it comes down to comparing these capabilities with its current market price, the BenQ EX3200R is a steal. There are only a few choices that can compete with this mix-use model, but you have to live within its limits if you choose it for your system.