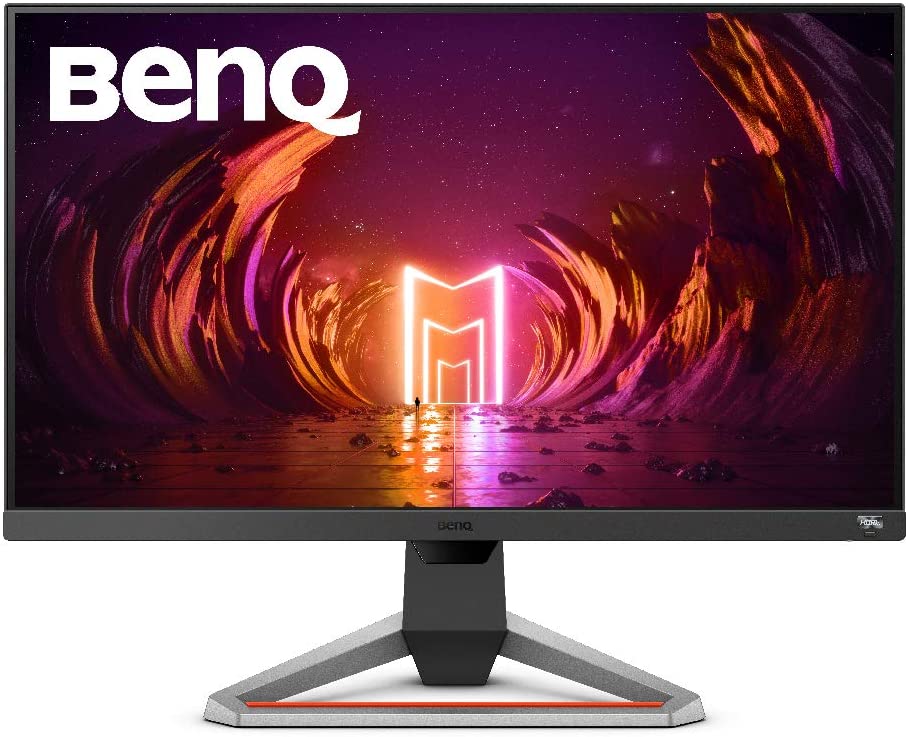 The BenQ Mobiuz EX2710S is an upper-tier E-Sports monitor with a 165Hz refresh rate and a Fast IPS panel for blur-free performance. It's an upgraded version of the EX2710 we really liked from last year, but the only boost on paper you get is the extra refresh headroom. Let's check out if the BenQ Mobiuz EX2710S is a worthy buy or if its predecessor at a discount is a much better alternative.

 BenQ Mobiuz EX2710S Specifications
Screen Size: 27 Inches
Resolution:1920 x 1080 FHD
Aspect Ratio: 16:9
Panel Technology: In-Plane Switching (IPS)
Refresh Rate: 165Hz
Response Time: 1ms MPRT
Contrast Ratio: 1000:1 (Static)
Brightness: 400 cd/m²
Speakers: Yes( 2 x 2.5 Watts)
Stand: Height -Yes
Stand: Tilt – Yes
Stand: Swivel – Yes
Stand: Pivot – No
VESA Compatibility: Yes (100 x 100)
Connectivity: HDMI 2.0 x 2, DisplayPort 1.2 x 1, 3.5mm Jack x 1
Dimensions (W x H x D): 24.18" x 21.24" x 8.53"
Weight: 13.7 lbs

Design and Features
We like the BenQ Mobiuz EX2710S's aesthetic since it is not too aggressive, but its unique aesthetic will instantly tell you that it's from the BenQ Mobiuz series. The monitor has a matte black finish all over except for its base that has a metallic base with a red garnish. The display is bezel-free on three sides to give an impression that it's a bigger screen even if there are inner borders.
It is larger than your usual E-Sports monitor, but the BenQ Mobiuz EX2710S doesn't take up too much space. its base covers an area that's larger than necessary, but it's hollow and designed to hold peripherals like controllers or stream decks in the middle. It's heavy for its size, but it is still portable, and setting up isn't a two-man job.
Build quality for the BenQ Mobiuz EX2710S is superb as expected just like all the other BenQ monitors we received. The plastics are solid and sturdy so they will resist flexing and cracking for as long as the monitor is in use. The included stand is firm and it doesn't wobble, so you get a steady monitor that will not sag after some time.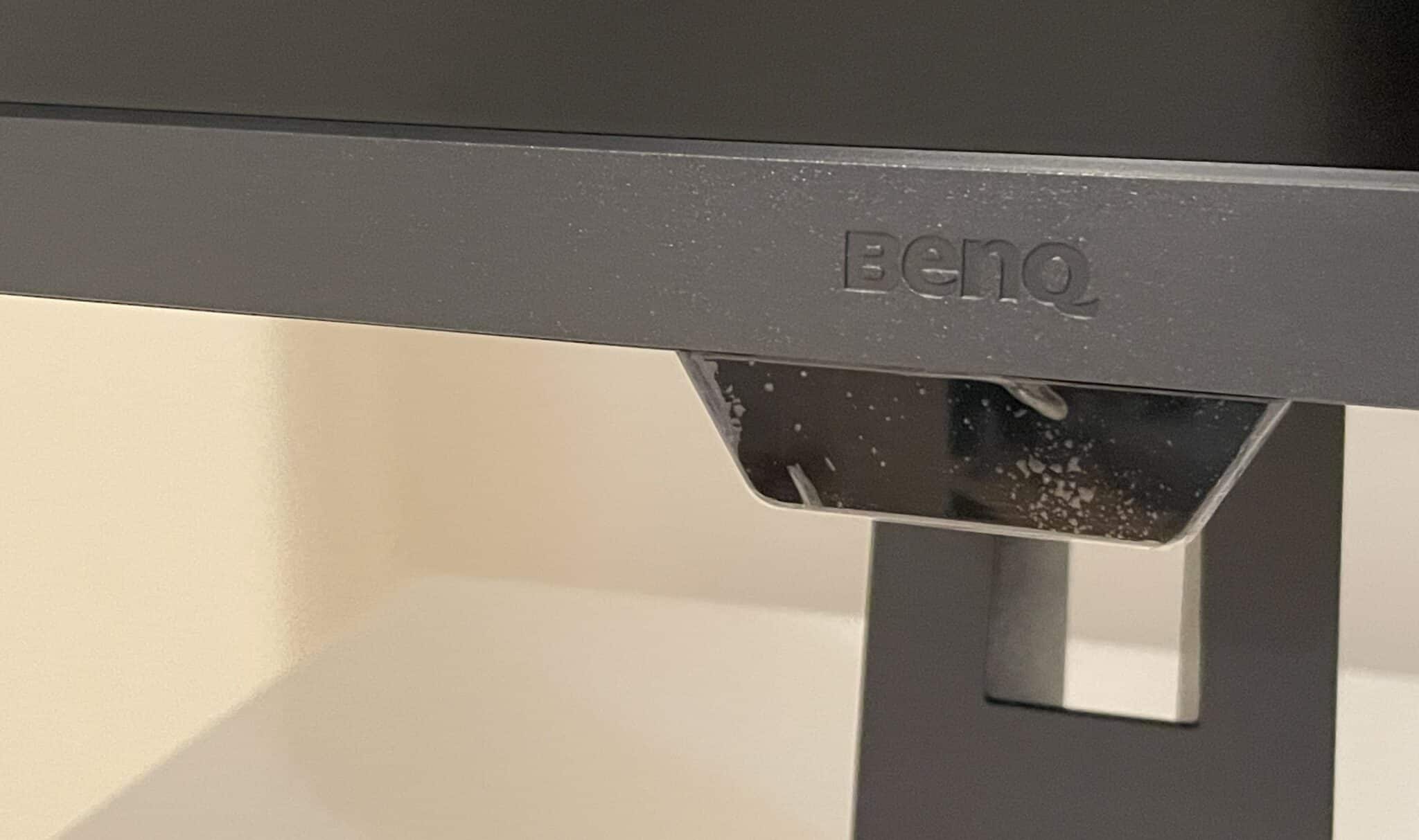 Another specific feature the BenQ Mobiuz EX2710S has is its sensor that hangs out from the bottom bezel. It's not decorative, so what it does is it detects your ambient lighting and adjust the screen accordingly. The technique is called Brightness Intelligence Plus, but its HDRi feature also utilizes it to create its effects.
Some of BenQ's gaming products include the S-Switch remote, but the BenQ Mobiuz EX2710S settles with an OSD joystick for its controls. Frankly, there's nothing wrong with it since it's quite easy and quick to use for adjustments on the fly. You can even set presets using the monitor's Extreme Control feature to dial in your favorite presets for faster access.
The stand included with the BenQ Mobiuz EX2710S provides tilt, swivel, and height adjustments for your convenience. You can't use the monitor in portrait mode, but it can give you a comfortable viewing angle for long hours of play. You can also use VESA mounts, but we think it is unnecessary unless you have a tiny desk or multiple displays for your setup.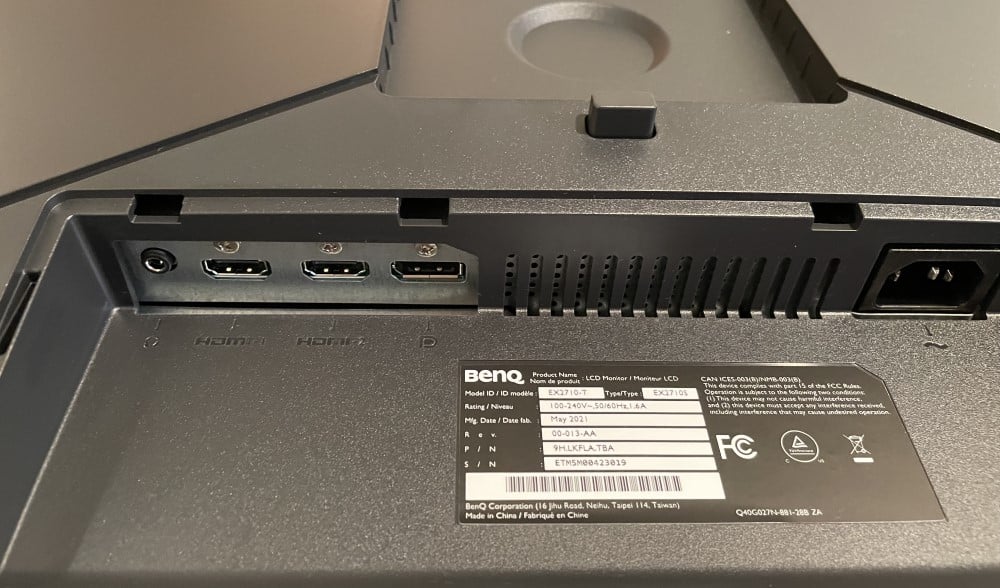 The BenQ Mobiuz EX2710S has DisplayPort 1.2 and two HDMI 2.0 ports, along with a 3.5mm jack for analog audio. That's all you will need for daily use, but we'd like to see extras considering the price is higher on this option. It's also worth noting that the two HDMI 2.0 slots support 120Hz modes on the PS5 and Xbox Series X which you can activate after a few key steps.
Another noteworthy feature of the BenQ Mobiuz EX2710S is its treVolo Speakers which sound considerably better than usual. The highs and mids are noticeably clearer, but the bass is still limited. They are nice to have for basic entertainment and productivity use, but headsets will still be the better solution for competitive gaming.
Display and Performance
The BenQ Mobiuz EX2710S sports a 27-inch IPS panel with a 1920 x 1080 resolution, a 165Hz refresh rate, and a 1ms boosted response time. The backlight has a 400 cd/m2 maximum, but the contrast is still stuck at 1000:1 like most IPS panels. This model is HDR10 compatible with its HDRi feature, but it doesn't have the necessary features like FALD units to provide impressive improvements.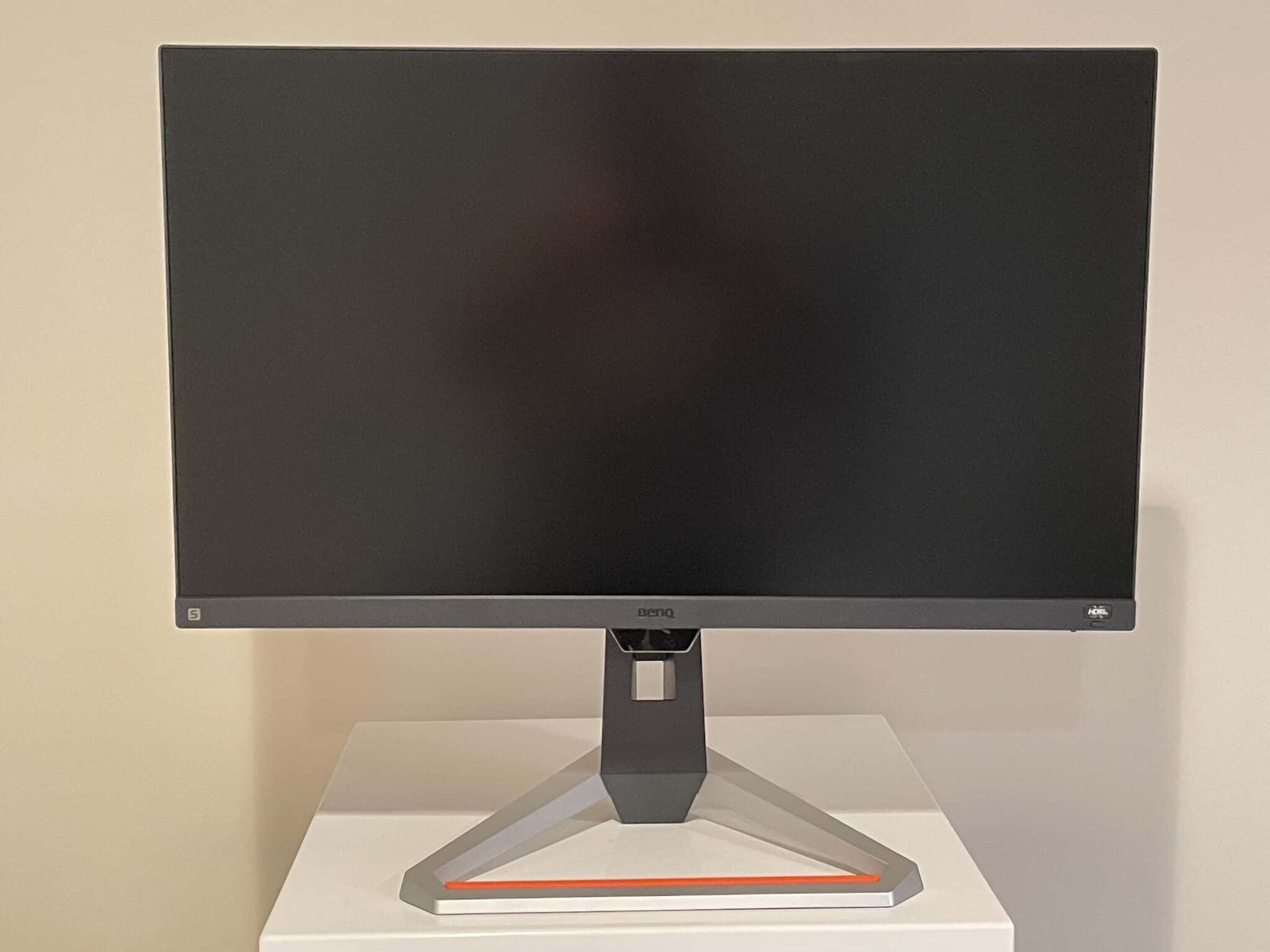 1080p monitors at this size are less sharp, but they are great for competitive gaming due to their better visibility. Objects aren't as crisp, but it's easier to see small objects from afar even if they are pixelated. Productivity doesn't suffer much, but the space is limited and some text might appear fuzzy compared to higher resolution monitors of the same size.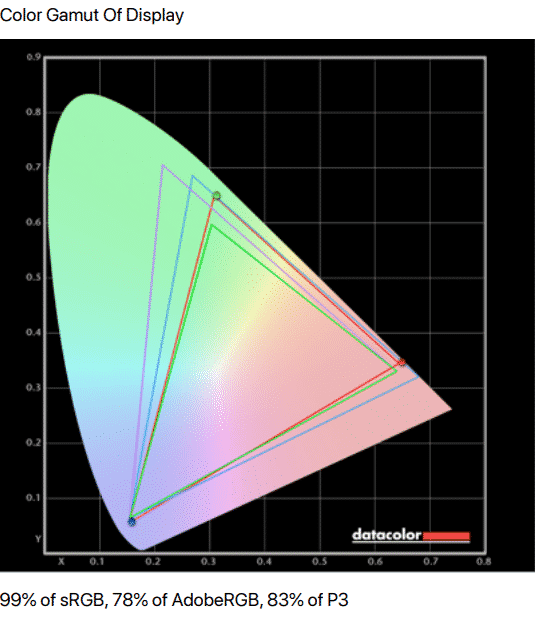 The BenQ Mobiuz EX2710S renders 99% sRGB and 83% DCI-P3 which isn't the most vibrant, but more than enough for E-Sports gaming. Default accuracy didn't meet our expectations since the deltaE average is too high at 3.95. the screen looks too cool or bluish by default, so some tweaking is necessary for a more balanced image.
Calibrating the BenQ Mobiuz EX2710S showed a different story since its dE average dropped to 0.79 which makes it usable for editing purposes. However, you need access to a colorimeter to refine the monitor to this level, and they aren't cheap. We recommend lowering the blue hue in the RGB settings until you get an output that looks correct, along with a few other tweaks to the monitor.
The BenQ Mobiuz EX2710S's backlight only reached 311 cd/m2 in SDR, but it peaked at 411 cd/m2 when HDR is active. It is not enough to produce the effects you'd want from a true HDR monitor, but there is some increase in details and lighting when it's active. The contrast ratio's top result is at 984:1 at 50% brightness, but it is also far from impressive and capable of producing deep blacks.
Its HDRi feature isn't what we'd compare to a heavily armed alternative like the Asus PG32UQ, but it's a nice to have option. It doesn't work great with dark games or gritty games since it just washes out the black backgrounds. Vibrant titles, on the other hand, have that extra color pop that its fans will appreciate after a while.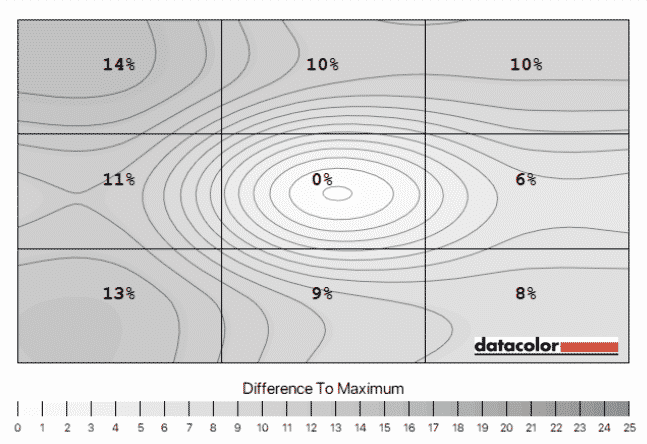 Panel uniformity on the BenQ Mobiuz EX2710S could be a bit better since the left of the screen has slightly visible deviance from the center and the right panels. Some clouding can become visible in low-light scenes, but it is not a problem with the opposite. Take note that this aspect varies between every monitor due to tolerances and the nature of IPS technology.
Pixel response time is fantastic on the BenQ Mobiuz EX2710S even it doesn't offer the highest refresh rate in the company. The screen is practically blur-free if you use the AMA feature's level 2 which further cleans up the already minor persistence in some transitions. It's one of the best in its category, and only a 240Hz or a 360Hz variant will be better in this regard.
The BenQ Mobiuz EX2710S is a FreeSync monitor, but it also works with Nvidia's G-Sync Compatible mode. This duality along with its guaranteed 120Hz output with the newest consoles triples its value per dollar since it's suitable for most platforms. Input lag sits at 4ms at 165Hz, so there is no need to worry about disadvantages in competitive gaming.
 Thoughts on the BenQ Mobiuz EX2710S
The BenQ Mobiuz EX2710S is an excellent gaming monitor for E-Sports use thanks to its speed and motion clarity. The screen is capable of great color coverage, but it needs to be tweaked to balance out its flaws. We also liked its functionality and aesthetic which doesn't try too hard to attract gamers with gaudy appearances that hide limitations.
However, the BenQ Mobiuz EX2710S doesn't have a massive advantage over its predecessor which performed similarly in tests. Both are decent monitors, but we wish BenQ tweaked it a bit more in the color quality department. We recommend buying it at a discount since there are more accurate monitors out there with lower price tags.
Pros:
Well-Designed and Attractive
Fast IPS with Blur-Free Performance
FreeSync, G-Sync, and 120Hz (PS5 and Xbox Series X) Compatible
Low Input Lag
Cons:
Poor Default Accuracy
Low Contrast
Higher Price than Closest Competitors
Negligible Upgrade Over the EX2710
-About the Author: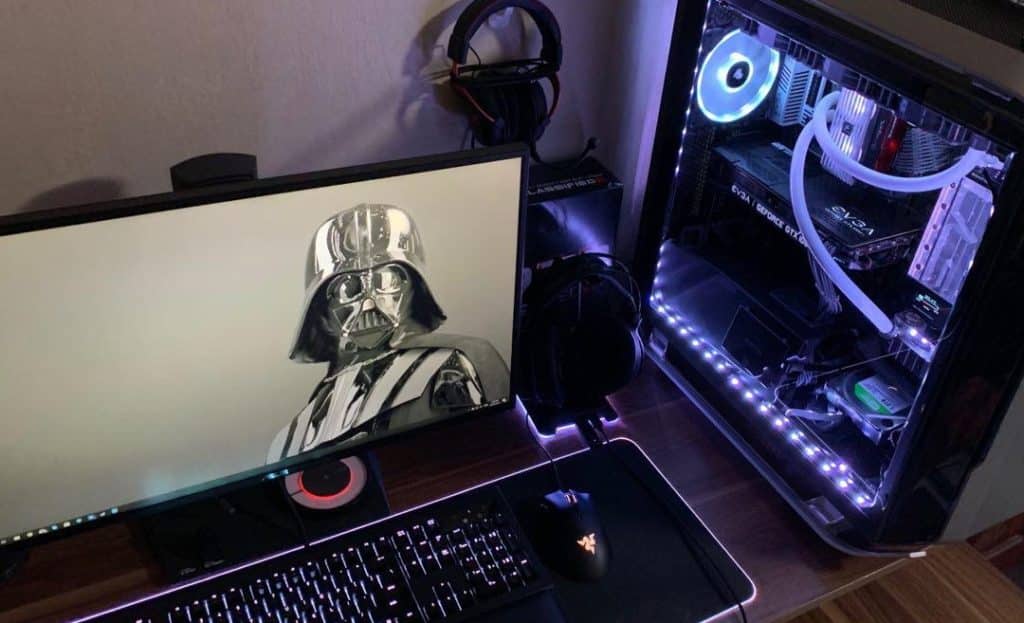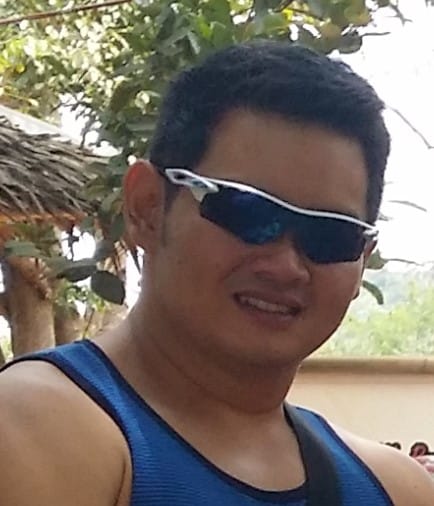 Paolo is a gaming veteran since the golden days of Doom and Warcraft and has been building gaming systems for family, friends, and colleagues since his junior high years. High-performance monitors are one of his fixations and he believes that it's every citizen's right to enjoy one. He has gone through several pieces of hardware in pursuit of every bit of performance gain, much to the dismay of his wallet. He now works with Monitornerds to scrutinize the latest gear to create reviews that accentuate the seldom explained aspects of a PC monitor.