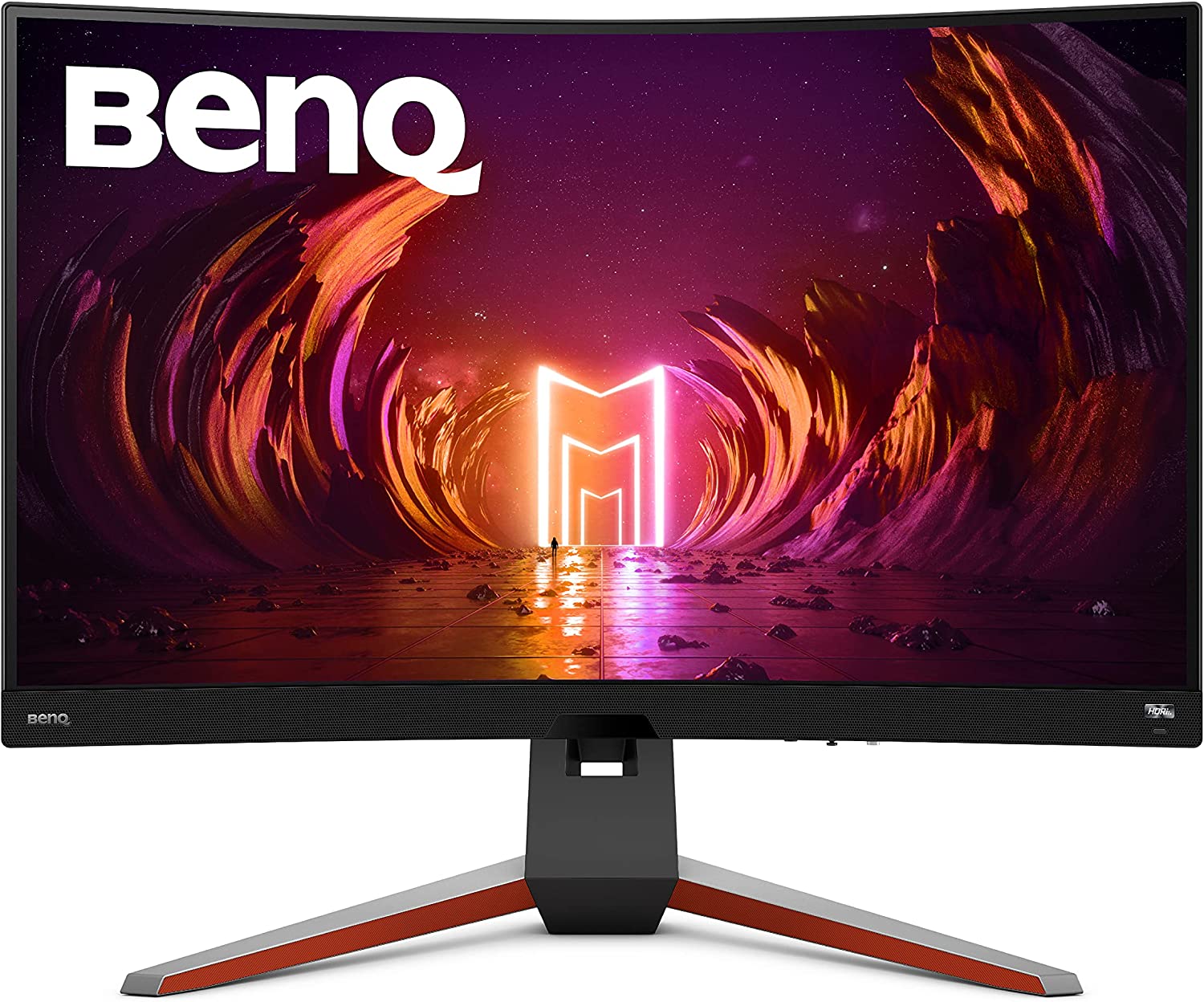 The BenQ Mobiuz EX3210R is a large gaming monitor with a high refresh rate and a deep curve for immersive gaming and entertainment. It has plenty of features like the other Mobiuz gaming monitors to improve the user's visual experience. Let's see if the BenQ Mobiuz EX3210R is worth its premium price in a market where 1440p displays have become more affordable.

BenQ Mobiuz EX3210R Specifications
Screen Size: 32 Inches
Resolution: 2560 x 1440 QHD
Aspect Ratio: 16:9
Panel Technology: Vertical Alignment (VA)
Refresh Rate: 170Hz
Response Time: 1ms MPRT
Contrast Ratio: 3000:1
Brightness: 300 cd/m² (400 cd/m² Peak)
Built-in Speakers: Yes (2 Watts x 2 + 5-Watt Sub)
Stand: Height – Yes
Stand: Tilt – Yes
Stand: Swivel – Yes
Stand: Pivot– No
VESA Compatibility: Yes 100 x 100
Connectivity: DisplayPort 1.4 x 1, HDMI 2.0 x 2, USB 3.0 x 3, 3.5mm Jack x 1
Dimensions With Stand(WxHxD): 27.7 ″ x 23.2″ x 10.6″
Weight: 21.4 lbs

Design and Features
The BenQ Mobiuz EX3210R sports the same aesthetic as the Mobiuz monitors, but it's bigger and more imposing. The device has a matte black finish, but it has red and silver accents on the base which could clash with some setups. The display is bezel-free, but it has a thick bottom border that accommodates its HDRi button.
It's a large monitor, so you must make sure you have enough space for it on your desk. The EX3210R needs almost a foot of depth when fully assembled and has some width. It can push off some of your peripherals such as bookshelf speakers, plus it isn't lightweight so it's not for carrying around.
Build quality for the BenQ Mobiuz EX3210R is excellent, thanks to its premium-grade craftsmanship and materials. there were no defects on its body and every panel was molded perfectly so there are no uneven gaps or seams. The stand is stable and firm so the display won't sag or shake while you are in the heat of battle.
It also has RGB LEDs at the back, matching it to your PC or peripheral's lighting theme and enhancing your build's aesthetic value. It can be controlled via the OSD which allows you to select lighting schemes and colors. However, it is not compatible with existing RGB ecosystems, and it's only bright enough to become a bias light if your room is dark.
The BenQ Mobiuz EX3210R has a joystick at the bottom edge of the chassis for easy access and control. It also includes a remote controller for even more convenience, especially if you want to use it for couch gaming. This implementation comes in handy for the product since it has a lot of features that you may need in some instances.
The stand included with the monitor offers tilt, swivel, and height adjustments for your convenience. It is easy to set a comfortable viewing angle or to center the screen to enjoy the benefits of the steep 1000r curve. You can use VESA mounts, but they are not needed unless space is limited or if you have multiple monitors.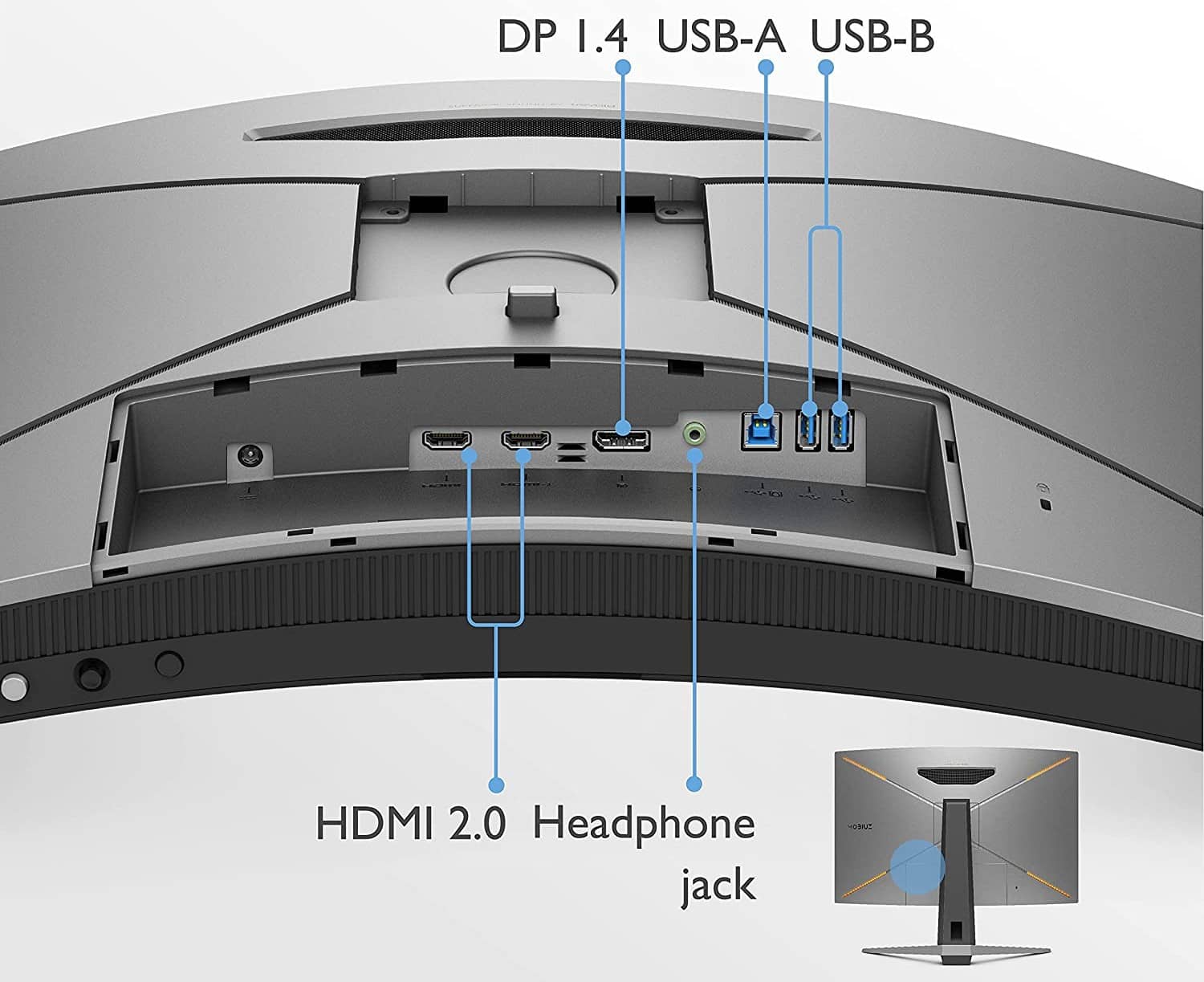 Its connectivity layout is pretty standard, and we wish it had more options considering its high price point. You get a DisplayPort 1.4 slot and two HDMI 2.0 ports, along with three USB 3.0 receptacles for data transfer. It could use a USB-C slot with enough charging for powerful laptops to balance out its premium nature and make it more flexible.
The monitor also includes a specialized audio package composed of a 2-watt pair with a 5-watt subwoofer. The 2.1 setup sounds surprisingly good and loud enough for entertainment use, unlike most built-ins which are tinny and mostly unusable. BenQ's treVolo tuning is nice to have, although we reckon most will still prefer headsets for better immersion.
Display and Performance
The BenQ Mobiuz EX3210R boasts a 32-inch 1000r curved VA panel with a 2560 x 1440 resolution, a 165Hz refresh rate, and a 1ms MPRT response time. The backlight has a 400 cd/m2 maximum while the contrast ratio is listed at 3000:1 like most VA panels. This monitor is HDR 400 compliant, and it has a tuned HDRi feature, but it is not comparable to units with special backlights when it comes to HDR performance.
It's not as sharp as the smaller 1440p variants, but the benefits of the extra pixels versus 1080p are still enjoyable. Games and movies look crisper while text and small objects are clearly visible and legible. A monitor like this is perfect as a daily driver for various computing uses.
The BenQ Mobiuz EX3210R renders 100% sRGB and 89% DCI-P3 which equates to great vibrancy in games and movies. its default accuracy isn't perfect with a dE average of 2.25, but that's already a great score for a gaming variant. It is not too far off from the ideal 2.2, so most users won't' see any difference and feel the need to calibrate it.
Tweaking it with a colorimeter improved its dE average to 1.09 which is excellent and close to what prosumer variants can offer. However, most users don't need to do this unless they also plan to use the monitor for editing work. Colorimeters aren't particularly cheap and accessible, so you might as well go with a prosumer variant if accuracy is of the utmost importance.
Its backlight managed 298 cd/m2 in SDR and around 405 cd/m2 when HDR mode is active, so the screen won't look dim during the day. Its contrast ratio reached 2105:1 at 60% brightness which isn't bad but one of the lowest results we've recently seen on a VA monitor. It's still great for games and movies, but it doesn't have the chops for excellent HDR effects and improvements.
Its panel uniformity isn't perfect either since there are some tiny backlight leaks at the upper edge of the screen. Although full-colored images can mostly conceal the issue, they show up as light clouding in dark scenes. Note that not all VA panels made will have this issue, so there are better specimens out there with perfect uniformity.
The BenQ Mobiuz EX3210R is fast and smooth, but it is not entirely blur-free like all VA gaming monitors. Some smudges and persistence can show up in quick or contrasting transitions, so you need to turn on its Blur Reduction and set AMA to 1 or 2. Doing this will reduce the blurs considerably, but they will not be eliminated completely.
Like most of the new BenQ Mobiuz offerings, this monitor is compatible with FreeSync and G-Sync. This functionality is a must-have right now since video cards are short on supply, and their prices are more than double if ever you manage to find one. Input lag sits at 5ms at 165Hz, so it is responsive enough for competitive play.
Thoughts on the BenQ Mobiuz EX3210R
The BenQ Mobiuz EX3210R is an excellent pick if you want a large screen with a distinct curve for immersive gaming. It is smooth and responsive, plus its image quality is generally great even if it's not the most accurate or has the highest contrast. We like its design, although we know some will not prefer the bold red accents.
The biggest flaw of the BenQ Mobiuz EX3210R is its high price which competes against options that are cheaper by a hundred or more. It doesn't have massive advantages over value-oriented monitors like the Gigabyte G32QC, although it's currently cheaper than the Corsair 32QHD165. It's a great buy if you want premium quality, but cheaper options will suffice if you simply want smooth and vibrant visuals.
Pros:
Vibrant and Accurate
High Contrast
FreeSync and G-Sync Compatible
Robust Design and Build Quality
Great Built-in Speakers
Cons:
Expensive
Limited Connectivity for the Price
About the Author: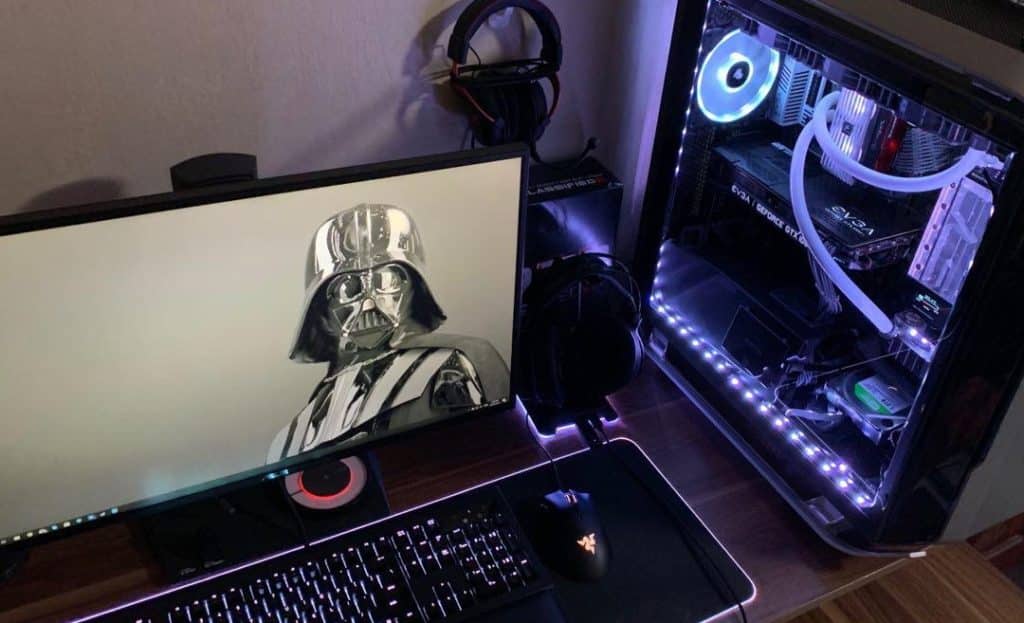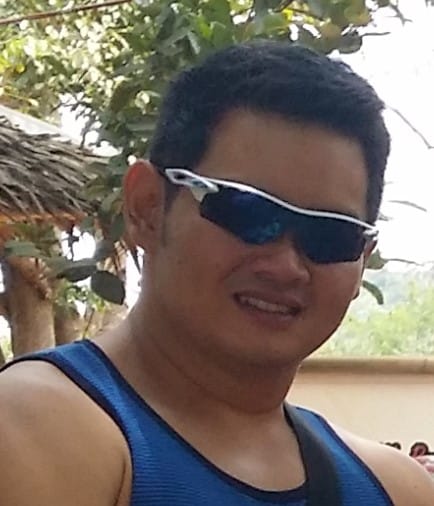 Paolo is a gaming veteran since the golden days of Doom and Warcraft and has been building gaming systems for family, friends, and colleagues since junior high. High-performance monitors are one of his fixations and he believes that it's every citizen's right to enjoy one. He has gone through several pieces of hardware in pursuit of every bit of performance gain, much to the dismay of his wallet. He now works with Monitornerds to scrutinize the latest gear to create reviews that accentuate the seldom explained aspects of a PC monitor.