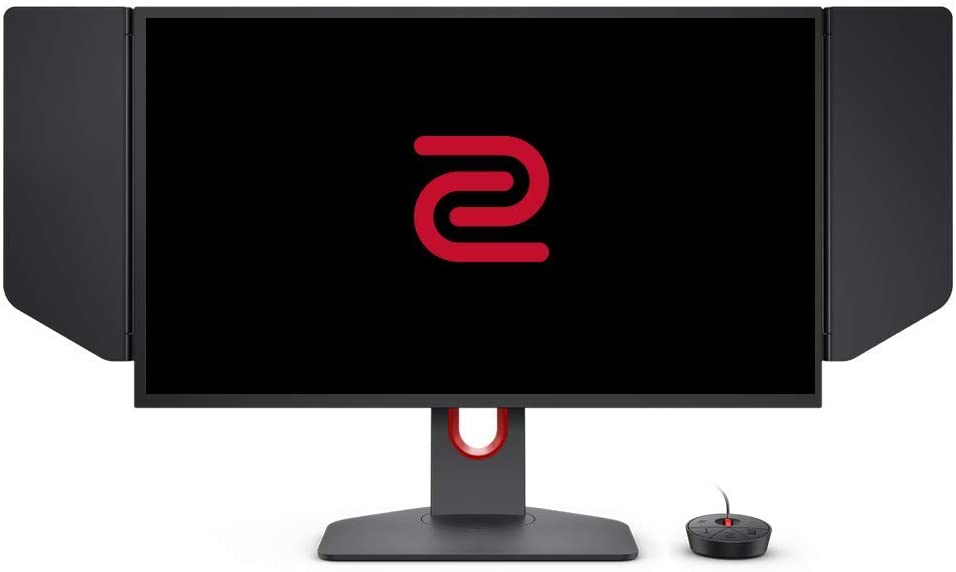 The BenQ ZOWIE XL2546K is designed for all-out competitive gaming with its lightning-fast and blur-free 240Hz screen. It's using a TN panel which seems outdated in a market flooded with Fast IPS models, but the tech still holds the crown for fastest pixel response times. Let's check out how the BenQ ZOWIE XL2546K compares to its IPS counterparts and if it has a valid advantage that makes the premium price worth it.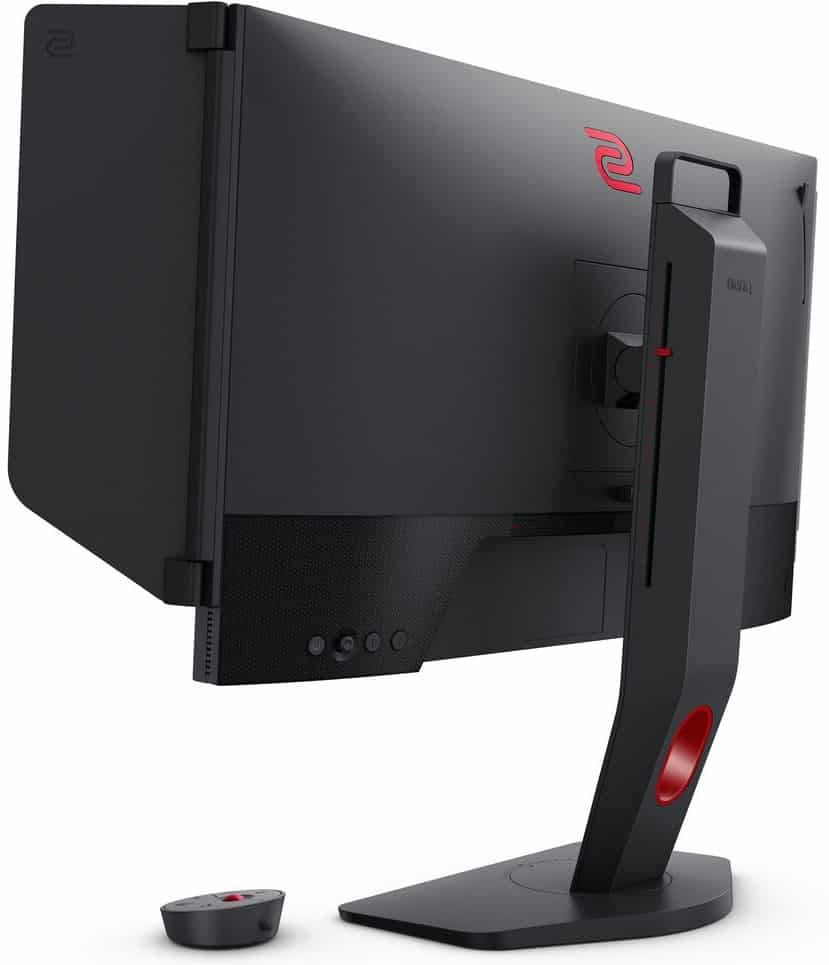 BenQ ZOWIE XL2546K Specifications
Screen Size: 25 Inches
Resolution: 1920 x 1080 FHD
Aspect Ratio: 16:9
Panel Technology: Twisted Nematic (TN)
Refresh Rate: 240Hz
Response Time: 1ms
Contrast Ratio: 1000:1 (Static)
Brightness: 320 cd/m²
Built-in Speakers: None
Stand: Height – Yes
Stand: Tilt – Yes
Stand: Swivel – Yes
Stand: Pivot – Yes
VESA Compatibility: Yes
Connectivity: DisplayPort 1.2 x 1, HDMI 2.0 x 3, 3.5mm Jack x 1
Dimensions with Stand (WxHxD): 22.5″ x 20.5" x 7.9″
Weight: 13.7 lbs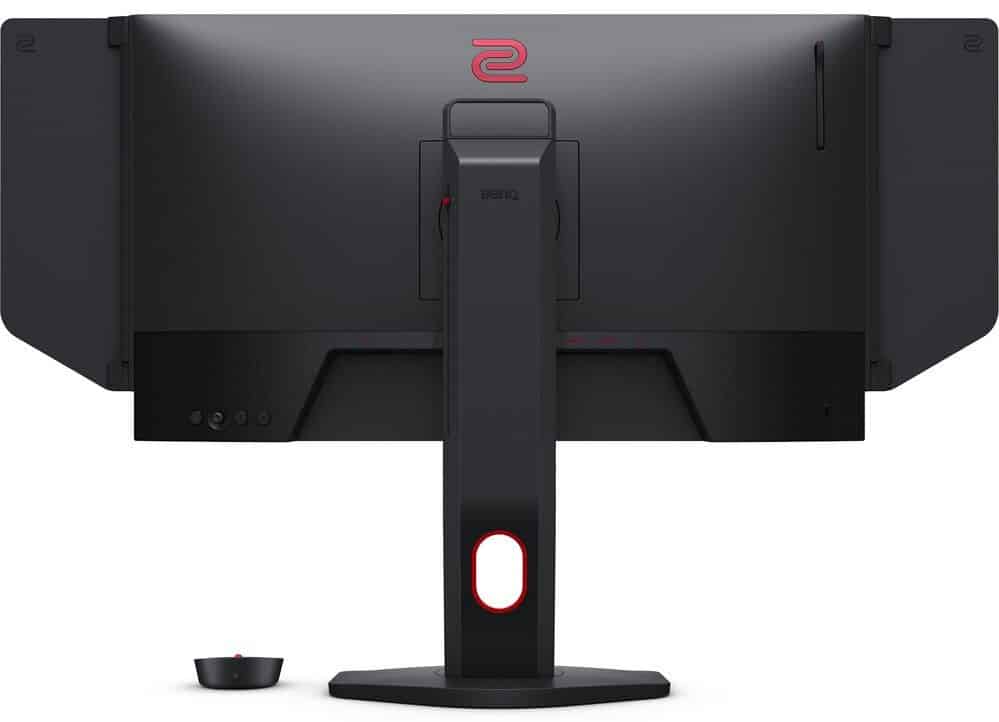 Design and Features
The BenQ ZOWIE XL2546K pretty much keeps the aesthetics of its predecessors save for a few subtle changes. The monitor has a matte black finish all over, but it has a red accent on its stand's upright. The display isn't bezel-free which can make the monitor look outdated against the competition, but they aren't distracting while gaming.
One of the distinct features of the BenQ ZOWIE XL2546K is its anti-glare shields on the left and right of the screen. its usefulness is debatable and on a case to case basis, but extras like this are always welcome, especially for expensive options. Some may find them annoying, so it's also a bonus that you can easily remove them if they bother you.
The BenQ ZOWIE XL2546K's cabinet changed its shape from an edgy design to a rounded, smooth back. Its dimensions are also noticeably more modest this time around since it shaved off almost an inch of depth compared to the XL2546. It doesn't mean a lot, but every inch is counted since gamers often have a lot of peripherals on their desk nowadays.
We also noticed that the BenQ ZOWIE XL2546K's build quality went down a few notches when compared to its predecessors. The monitor is mostly made of plastic, so it can seem as if it's less durable than the brand's previous offerings. The monitor wobbles if you nudge it hard enough, but it remains steady even if you are a heavy typer.
The BenQ ZOWIE XL2546K also has a few nifty features starting with the pop-out headset hanger at the back. But what we love about the product and the rest of the BenQ ZOWIE XL monitors is the S-Switch remote puck that gives users easy access to the OSD and hot-swapping between presets. This model now uses an OSD joystick, but it's easier to simply grab the remote than reach for the former at the back.
The stand included with the BenQ ZOWIE XL2546K offers tilt, swivel, pivot, and height adjustments so you can get easily get a comfortable view. Viewing angles are crucial for TN panels since you have to look at them straight up and dead-center to avoid their main weakness. They don't look pretty when viewed from the side so setting the monitor right is critical to your gaming experience.

The BenQ ZOWIE XL2546K's I/O layout has changed as well since the brand omitted USB ports entirely. The layout includes DisplayPort 1.2 as the primary, but the HDMI 2.0 slots have been raised to three this time around. That's enough for a gaming PC and up to three consoles, but we would have liked to have connectors for peripherals as well.
The BenQ ZOWIE XL2546K doesn't have speakers, but it does have a 3.5mm jack for your headphones. Gamers, especially those who are into competitive gaming prefer headsets anyway since they will sound more detailed and focused. Built-ins are handy for other purposes, but the monitor's primary purpose doesn't need them.
Display and Performance
The BenQ ZOWIE XL2546K sports a 25-inch TN panel with a 1920 x 1080 resolution, a 240Hz maximum refresh rate, and a 1ms response time. The backlight sits at 320 cd/m2, while the contrast ratio is listed at 1000:1 like most TN panels. This model doesn't offer special features like HDR since it focuses on speed and clarity.
The 24.5-inch screen and 1080p resolution should be comfortable to use for everyone since it's a format that's quite common. It is easy on the eyes for productivity especially when reading walls of text, plus it's easy to get high framerates with a lot of GPUs. 1080p is also the preferred format for E-Sports competitions so it's a good choice if you want to hone your skills.
The BenQ ZOWIE XL2546K covers 99% of the sRGB gamut, but its default accuracy could use some improvements. The default setting's deltaE average of 2.97 isn't the best, but it is acceptable for games where image quality isn't as important as speed. The color temperature exceeds the 6500K point, so there is a slightly cool tint on the screen.
Calibrating the BenQ ZOWIE XL2546K can improve accuracy to a superb 0.57 dE average and a more balanced color temperature. However, it is not worth buying the colorimeter for this monitor since it was not meant for color-critical work. it's great if you already have access to one, but most will be okay with tweaks to get a setting that fits your individual taste.
The BenQ ZOWIE XL2546K misses its brightness rating since it can only reach 301 cd/m2, but that's plenty for most users. What's mediocre about it, however, is its contrast ratio which maxed out at 850:1 at 60% brightness. The screen looks washed out especially in dark scenes, but it's easier to see opponents in low light environments.
Panel uniformity for the BenQ ZOWIE XL2546K is excellent since TN panels are mostly immune to backlight leaks. However, black uniformity is mediocre since the screen doesn't look black at all due to massive clouding. It's unnoticeable in full-color images, but dark scenes won't look as deep or rich as they are on VA panels.
Responsiveness is the BenQ ZOWIE XL2546K's main strength since it's practically blur-free even if you don't use overdrive. There is some very minor persistence in dark scenes, but it is mostly invisible at 240Hz. The monitor's overdrive feature doesn't offer any benefit since the screen is already very fast and even its minimum level adds overshoot.
The BenQ ZOWIE XL2546K has another secret weapon called DyAc+ which will further boost the screen's motion clarity. It works great at both 144Hz and 240Hz, but anything lower will result in noticeable crosstalk. Take note that using DyAC+ will lock out Adaptive Sync, so use it only as needed.
The BenQ ZOWIE XL2546K is a FreeSync gaming monitor, but it also works with Nvidia's G-Sync Compatible mode. This duality is great since both GPU companies have very powerful offerings now, so you are free to choose which card you will use now and in the future. Input lag sits at 2ms, making this model one of the fastest options in the market.
Thoughts on the BenQ ZOWIE XL2546K
The BenQ ZOWIE XL2546K is fantastic for competitive gaming since it doesn't compromise on speed and agility. The TN panel doesn't particularly excel in vibrancy, but its pixel response time and gamut coverage make it great for fast-paced titles like CSGO and Valorant. It is also a well-equipped gadget that has the gamer's comfort and convenience at the center of its considerations.
However, the BenQ ZOWIE XL2546K isn't perfect due to considerable flaws such as its poor contrast ratio. It also doesn't feel as durable and stable as its predecessors, although its extra features that we loved before are still present. The BenQ ZOWIE XL2546K is fantastic for competitive gaming, but we can only recommend it if that is your sole focus.
Pros:
Blur Free and Ultra Low Input Lag
DyAc+ Works Great
FreeSync/G-Sync Compatible
Functional Design
Package Includes Valuable Extras
Cons:
Mediocre Contrast Ratio
Monitor Wobbles When Nudged
Limited Viewing Angles
Expensive
-About the Author: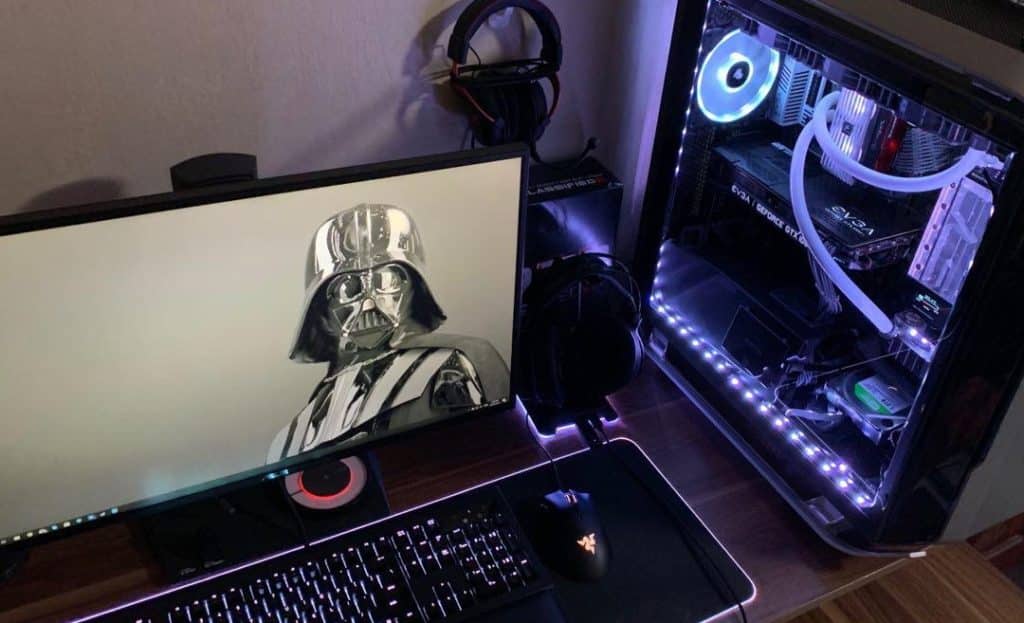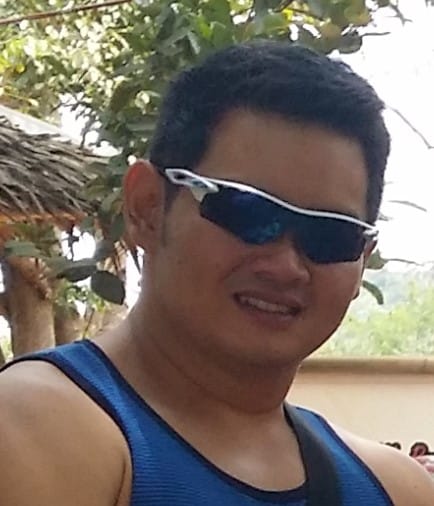 Paolo is a gaming veteran since the golden days of Doom and Warcraft and has been building gaming systems for family, friends, and colleagues since his junior high years. High-performance monitors are one of his fixations and he believes that it's every citizen's right to enjoy one. He has gone through several pieces of hardware in pursuit of every bit of performance gain, much to the dismay of his wallet. He now works with Monitornerds to scrutinize the latest gear to create reviews that accentuate the seldom explained aspects of a PC monitor.