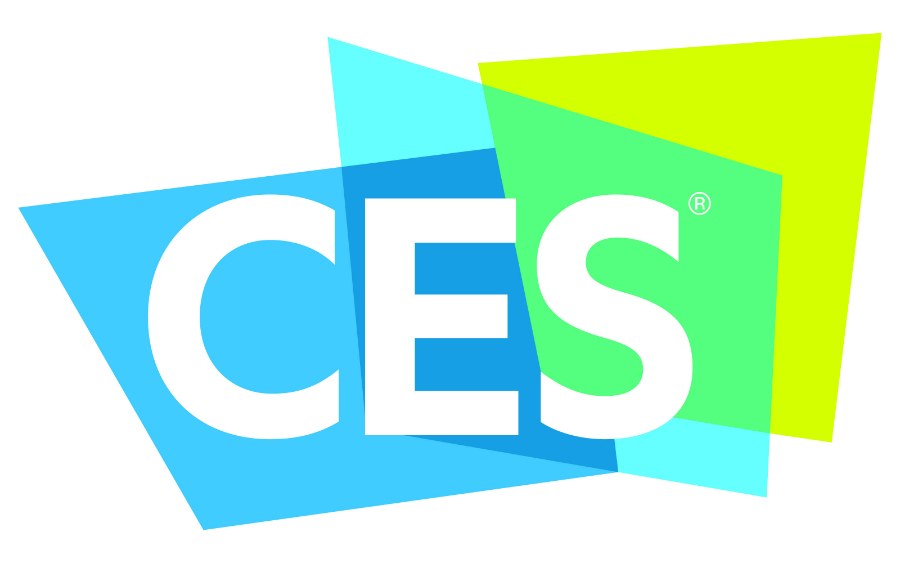 The best CES 2019 gaming monitors are currently on showcase at the Las Vegas Convention Center in Nevada, showing off what each brand and model can offer. This year's reveal has shown new models which many of our readers are waiting for to satisfy their visual needs. Let's take a peek at what these extremely interesting CES 2019 gaming monitors can do for the future of PC gaming.
Asus CES 2019 Gaming Monitors
Asus is firing up its ROG Strix line up with three game-changing displays that aren't comparable to their current offerings. All of these new models have enhanced VA panels which support FreeSync 2 and VESA DisplayHDR standards for improved visuals and gameplay.
Asus Strix XG438Q – 43-inch 4K HDR Gaming Monitor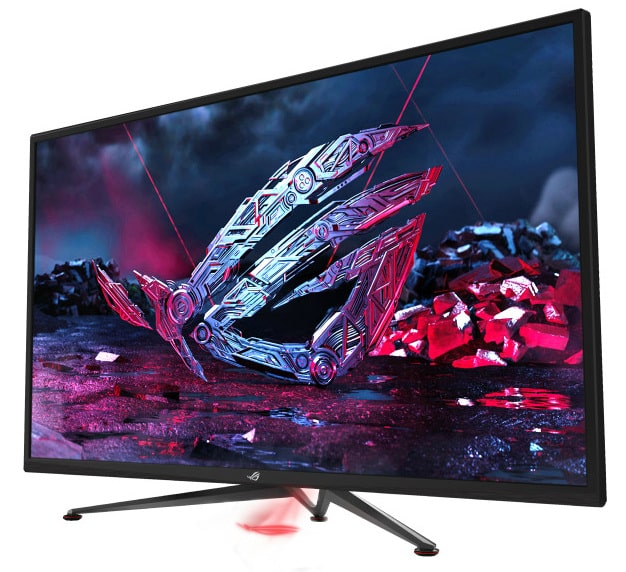 The Asus XG438Q offers a massive, 43-inch diagonal screen with an upgraded 120Hz refresh rate for stunningly smooth visuals. It's one of the few 4K displays we've seen that can go beyond 60Hz, placing itself beside the brand's Asus PG27UQ. This TV-sized model supports VESA DisplayHDR 600 and is advertised to be capable of 90% DCI-P3 for stunning range and color.
Asus Strix XG32VQR – 32-inch 144Hz QHD Gaming Monitor with HDR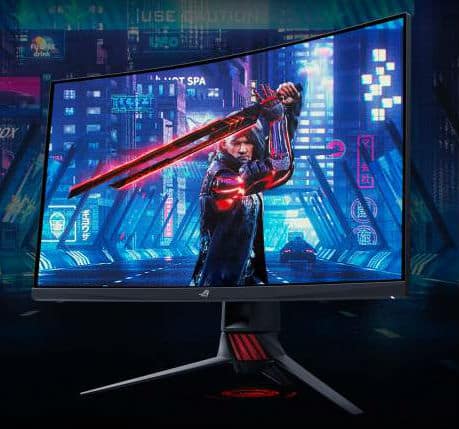 The Asus XG32VQR is one of the enhanced versions we are looking forward to from the brand due to the rise of demand for a larger, QHD screen. The curved gaming monitor refreshes at 144Hz, but it only supports DisplayHDR 400. The monitor is also equipped with the brand's latest gamer extras such as Aura Sync RGB and is due by the end of the month to the first weeks of February.
Asus Strix XG49VQ – Super Ultrawide Gaming Monitor with HDR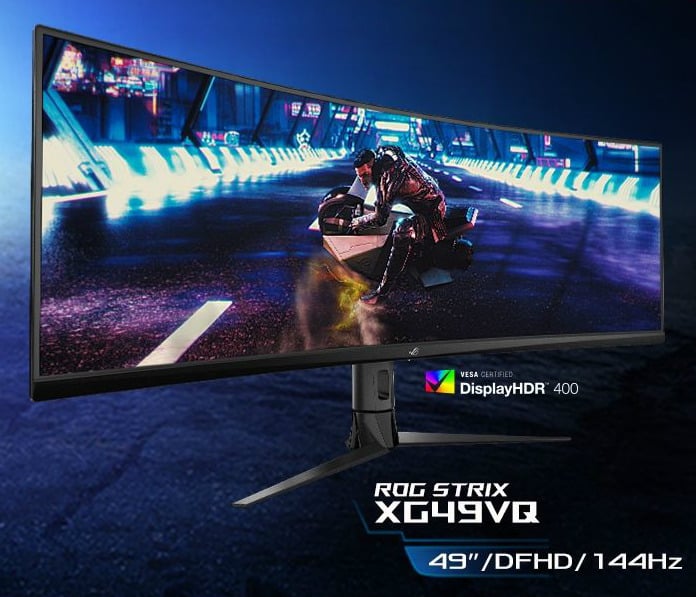 The Asus Strix XG49VQ is a super ultrawide gaming monitor that has a 32:9 aspect ratio and a 3840 x 1080 resolution just like the Samsung C49HG90. This model also boasts a 144Hz refresh rate along with FreeSync 2 and HDR compatibility. The V included VA panel is capable of putting out 90% DCI-P3, but the model also only supports DisplayHDR 400.
Note: The Asus Strix XG32VQR and the XG49VQ are scheduled to arrive on retailer shelves by the end of the month. The most exciting offering, the Asus Strix XG438Q, is listed for Spring 2019 and is expected to ask for a reasonable amount for ownership.
Lenovo CES 2019 Gaming Monitors
Lenovo is looking to make a comeback in the gaming monitor space with new displays that are shaping up to be competitive. The brand is revamping their 27-inch display which was previously disliked by many and is releasing two super ultrawides for work and play.
Lenovo Legion Y44W – 43-inch 144Hz Ultrawide Gaming Monitor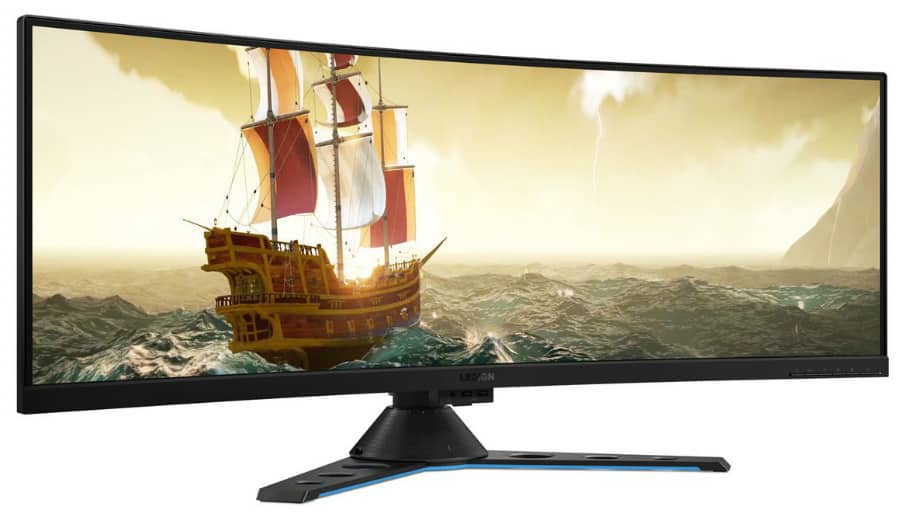 The Lenovo Legion Y44W offers an impressive, 43.4-inch screen with a 3840 x 1200 resolution that's designed to enhance the immersive aspect of games. This model provides the best specifications of the bunch, starting with a 144Hz refresh rate and FreeSync 2. This DisplayHDR 400 gaming display comes with modern connectivity features such as DisplayPort 1.4 and a USB-C 3.1 slot for flexibility.
Lenovo ThinkVision P44W

The Lenovo ThinkVIsion P44W is a redesigned, and in turn, repurposed version of the Y44W for professionals who want a smooth and spacious screen. This model shares identical specifications with the model above, but its priced higher and guaranteed by warranty for three years. You have to pay a hundred bucks more, but that gets you a sleeker-looking unit that is protected longer.
Lenovo Legion Y27GQ – 240Hz 2560 x 1440 G-Sync Gaming Monitor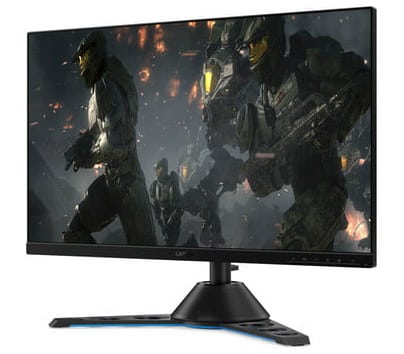 The Lenovo Legion Y27GQ is shaking up the high-speed QHD gaming monitor segment with its G-Sync capability and a 240Hz TN panel that's meant for E-Sports. Despite the panel type, this model is advertised to offer 90% DCI-P3 coverage for improved color output. The monitor will also ship with detachable Harman Kardon speaker set that's capable of drastically improved gaming audio.
Note: Lenovo's Gaming monitors are set to release by April of this year with Y27GQ starting at $1000, the YF44FW following at $1200, and finally the P44W at $1300.
Razer CES 2019 Gaming Monitors
Razer is famous for entering categories which they had not forayed into before, such as the smartphone space when they started selling the Razer Phone. The brand's bold products are always promising, and most of them such as the Razer phone have succeeded in the market.
Razer Raptor – Razer's First 144Hz Gaming Monitor with Razer Chroma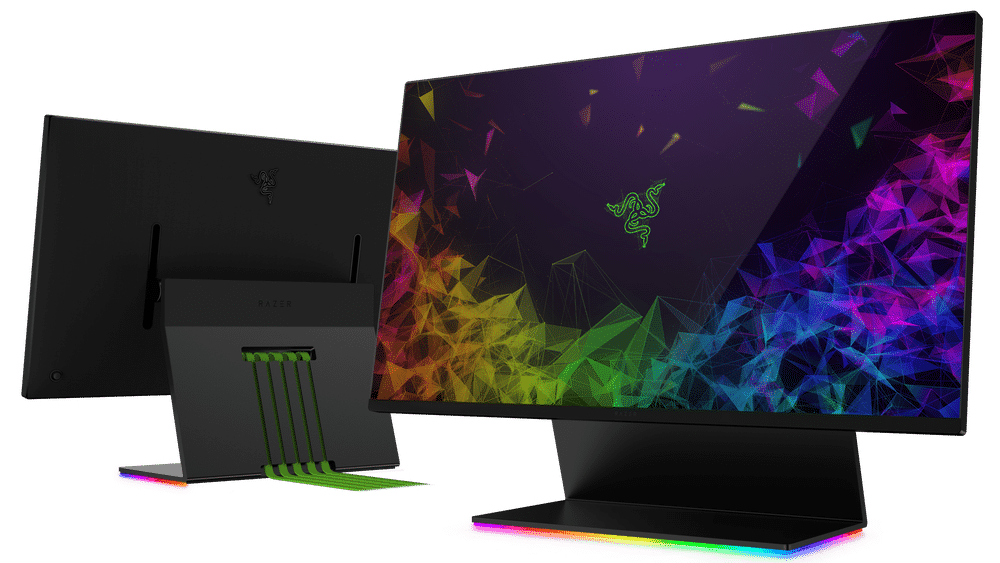 Razer, as always, is breaking into new territory by offering a 144Hz QHD Gaming monitor with an IPS panel dubbed as the Raptor. The monitor is based on FreeSync and is HDR400 compatible, but its most striking characteristic is its excellent design and functionality. The product includes a unique, Chroma-enabled stand with a duct for excellent cable management while the connectivity features include USB-C for Razer Phone connectivity.
Note: The Razer Raptor will become available in North America this year and will cost $700 at launch. Stay tuned for specific dates as they will follow shortly.
HP CES 2019 Gaming Monitors
One of HP's biggest and most exciting gadget at CES 2019 is its Omen X Emperium which is part of Nvidia's BFGD displays which were announced last year. The brand is the first to publish this highly-anticipated model which will be matched by other brands such as Asus and Acer shortly.
Hp Omen X65 Emperium – 65-Inch BFGD Monitor with G-Sync HDR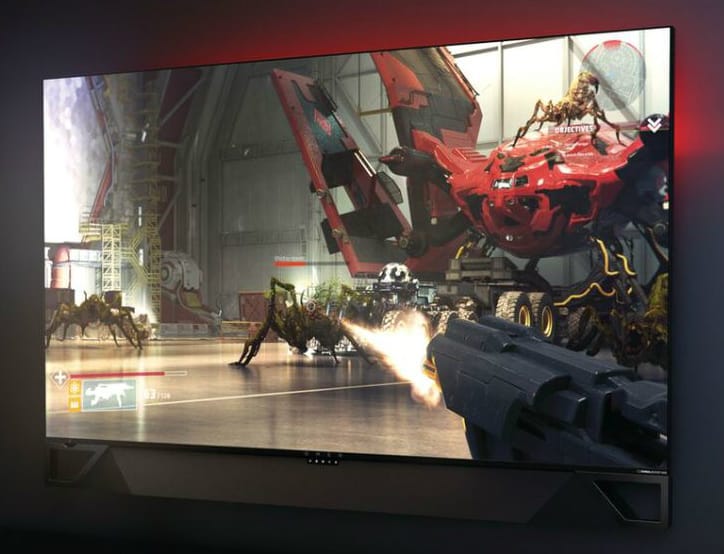 The HP Omen X65 is a five-grand gaming monitor that's designed to replace OLED TVs for couch gaming. This model offers the standard high-end feature set of the BFGD class, starting with a built-in Nvidia Shield and Google Assistant. The screen provides sophisticated specifications such as a 4K 144Hz spec and full G-Sync HDR support.
Note: The HP Omen X65 Emperium is scheduled for a Q1 2019 launch with an estimated retail price of $5000.
ViewSonic CES 2019 Gaming Monitors
ViewSonic's CES 2019 Gaming Monitors are low-key compared to the offerings above, but they are destined to be best-sellers in the market. The brand is now starting to explore RGB applications for their products, beginning with two attractive gaming monitors.
ViewSonic Elite XG240R – 144Hz Gaming Monitor with RGB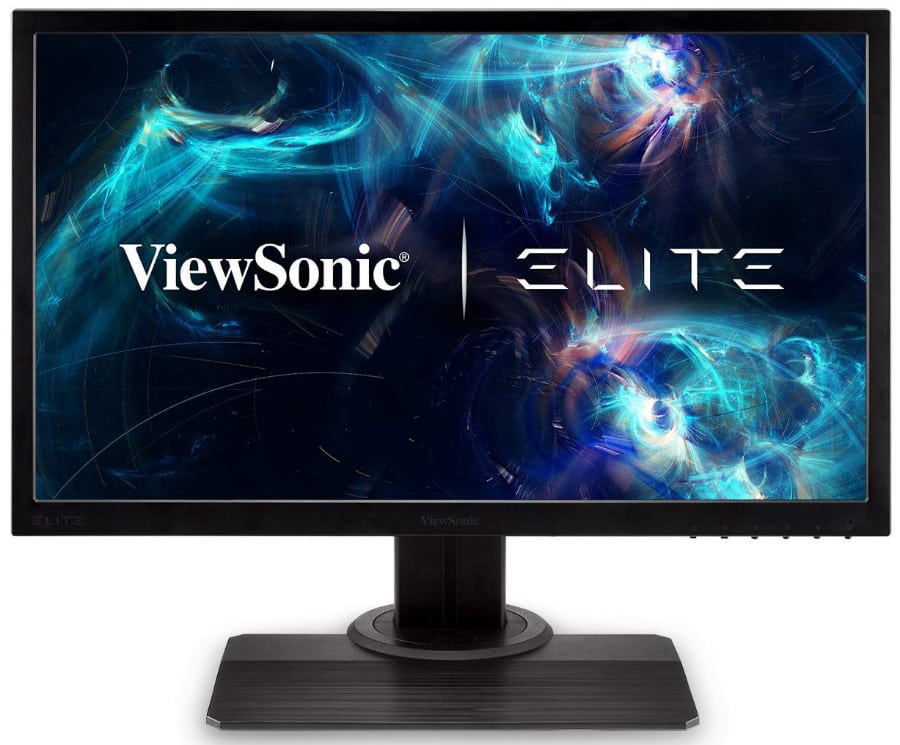 The ViewSonic Elite XG240R is marketed as a potent, yet affordable gaming monitor option for competitive users who want essential features with a bit of eye candy. This 144Hz FreeSync monitor takes hints from the successful XG2402 and fits it into a redesigned chassis that sheds the familiar red accents in favor of RGB lighting. It was previously announced that the RGB LEDs would only respond to the device's OSD, but ViewSonic has announced that they will RGB sync with Razer Chroma along with Thermaltake and Cooler Master's implementations.
ViewSonic Elite XG350R-C – 35-inch VA Ultrawide with RGB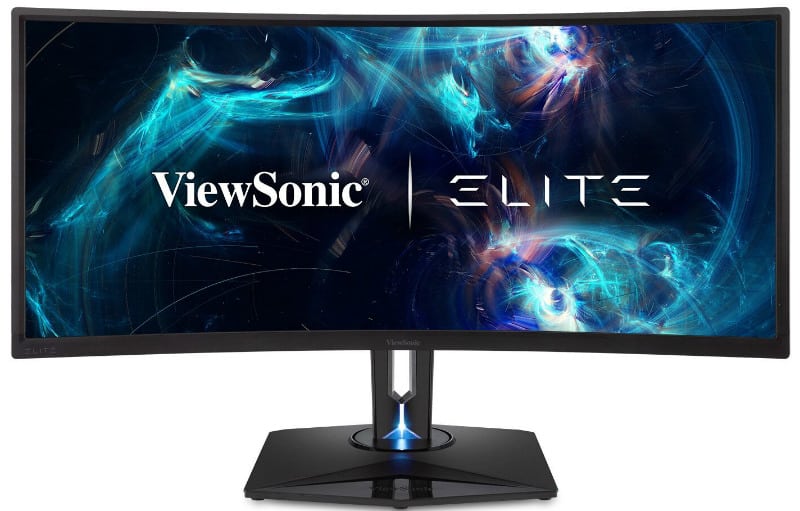 The ViewSonic Elite XG350R-C takes the Elite nametag to heart by offering enthusiast-level specifications to mix into the new line's concept. This 100Hz ultrawide gaming monitor supports HDR10 standards that will blend well with the screen's specifications such as its curvature. The XG350R-C will launch at an SRP of 789$ which is at least 30% lower than other brands when they first became available.
Note: The ViewSonic Elite XG240R is currently available for purchase globally, while the XG350R-C will start shipping by the end of this month.
Dell/Alienware CES 2019 Gaming Monitors
Alienware 55-Inch OLED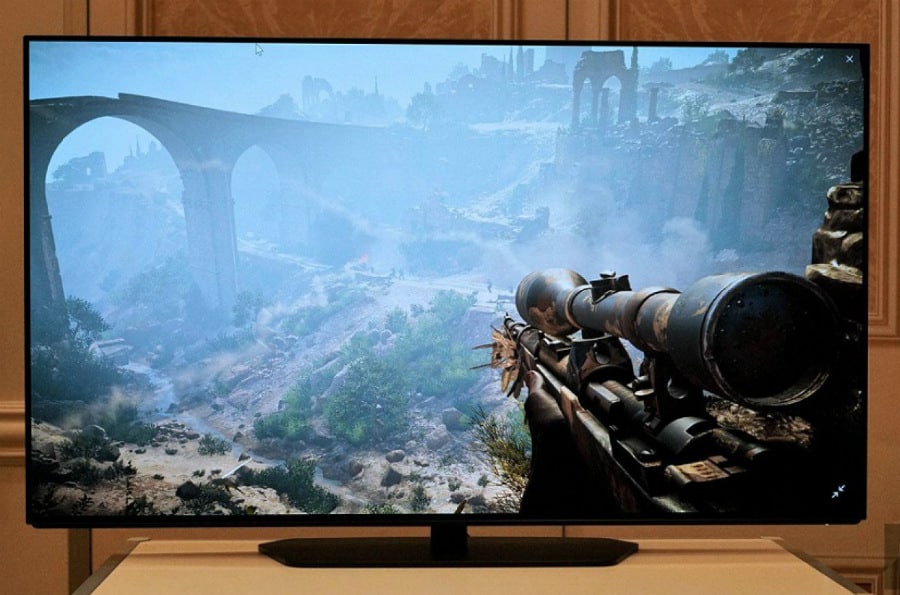 The Alienware 55-inch OLED gaming display is another attractive entry in this year's CES 2019 showcase of gaming monitors. This product is classified as a gaming monitor, but its also closely related to LG's OLED TVs. What sets the screen apart from the usual living room centerpiece is the monitor's refresh rate which goes up to 120Hz at 4K for buttery smooth, HDR visuals. The screen is, of course, capable of unrivaled vibrancy and contrast for extreme eye candy that's fantastic for any genre.
The Alienware 55-inch OLED has a few tricks up its sleeve to help users differentiate it from offerings made by LG or Sony. According to Dell, the product is still undergoing testing and certification for compatibility with FreeSync or G-Sync. It also sports the distinct Alienware aesthetic treatment composed of sleek lines and classy RGB lighting which sets it apart from its household rivals.
Note: The Alienware 55-inch OLED shown at the CES 2019 gaming displays exhibit is still in the prototypical stages, so details regarding its capabilities, pricing, and release are still forthcoming.
Gigabyte/Aorus CES 2019 Gaming Monitors
Aorus AD27QD Tactical Display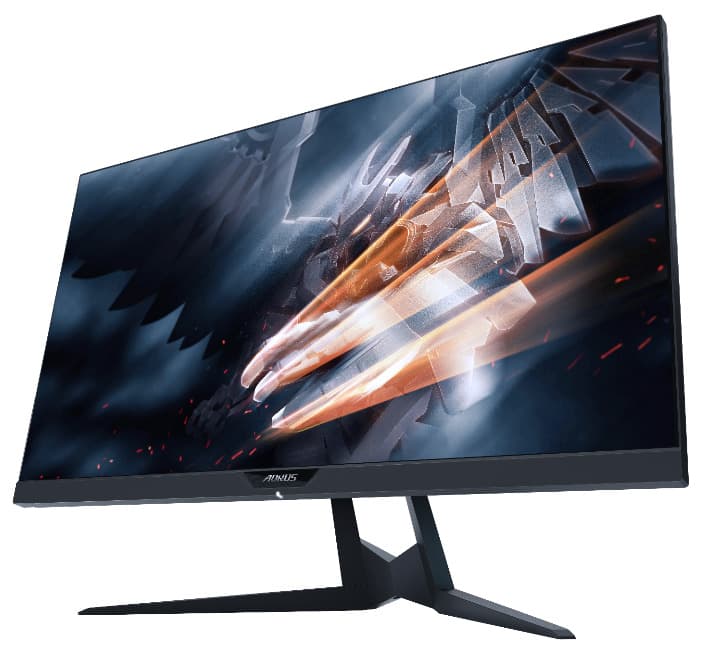 The Aorus AD27QD Tactical Display is the brand's first foray into E-sports gaming monitors to complete its line of premium peripherals. The device offers the current 144Hz QHD sweet spot for gaming via a 10-bit IPS panel. This module allows the product to produce 95% of the DCI-P3 color gamut for an HDR-ready output which enhances visuals and imaging detail.
We've seen this proposition before, but Aorus is bringing new features to the table to help entice the hardcore competitive gamers. The device is the first to offer a built-in active noise cancellation feature which cleans up your mic and headsets for crystal-clear cooms. The screen is also rated with DisplayHDR 400 certification and FreeSync for a substantially improved experience.
Note: The Aorus AD27QD Tactical Display will release on January 16th with a $600 MSRP.
MSI CES 2019 Gaming Monitors
MSI Optix MPG341CQR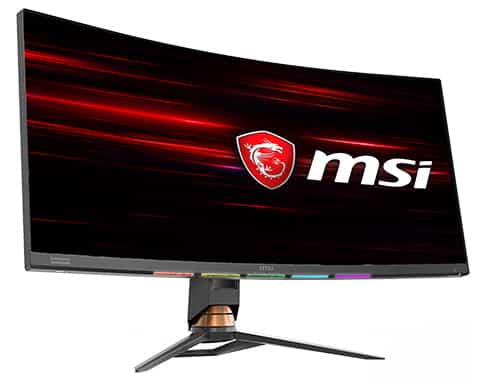 The MSI Optix is a fast-growing gaming display brand due to various offerings with high-end specs and competitive capabilities. The MSI Optix MPG341CQR ultrawide gaming monitor is the latest addition, offering a 120Hz 3440 x 1440 curved VA screen for eye-popping visuals. This new display is designed with streamers in mind thanks to the integrated camera mount, mouse bungee, and a built-in cam with mic for voice assistance.
The MSI Optix MPG341CQR also takes calibration and customization to the next level, since you can use the said mic for change monitor settings using voice commands. The device is clad in the brand's signature aesthetic composed of gunmetal finishes and distinct RGB lighting arrays at the rear and on the bottom bezel. The monitor's screen specifications aren't cutting edge at this point, but we love the gamer-centric design that isn't limited to mere red accents or aggressive angling.
Note: The MSI MPG341CQR will arrive at retailer shelves by summer with an estimated launch price of $900. The monitor has an unnamed twin for designers and professionals in the works that has a 5120 x 2160 resolution, but it will cost $1800 when released.
Editor's Note: Watch out for more updates on this article as more gaming gears are revealed from CES 2019. Feel free to message us for inaccuracies or your questions. You can also check out this articles to see LG and Samsung's CES 2019 gaming monitors announcement.