Dell Announces 8K Monitor-Plus All-New S and P Series to Expand their Portfolio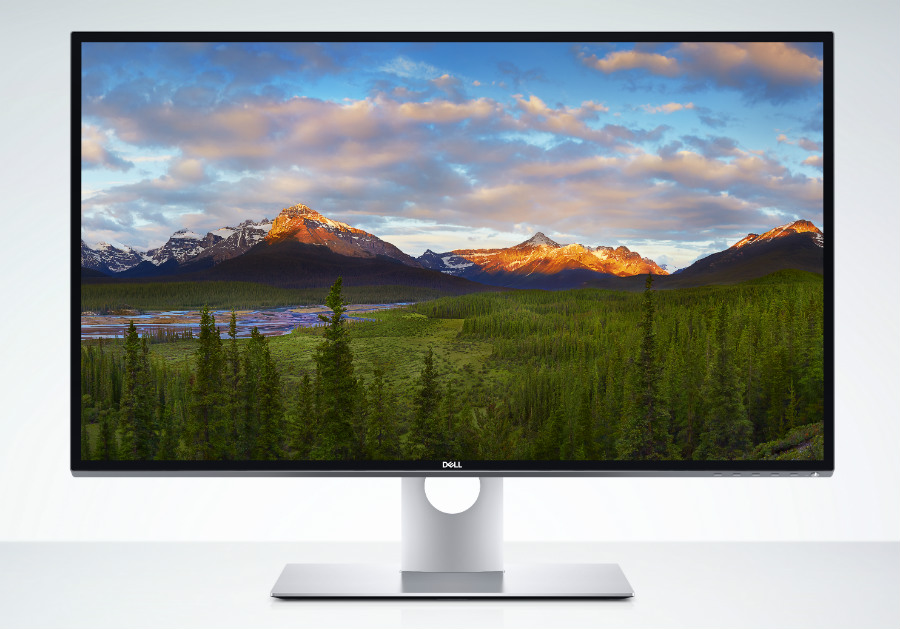 Dell UP3218K 8K Monitor
Dell primarily boasted of their impressively sleek S2718D HDR monitor with an InfinityEdge design. The product looks impossibly thin side profile which is reminiscent of the XPS 13's frameless screen, making the two products seem like they were meant for each other. But as the event progressed, the company revealed more of the best monitors they have to offer for the seemingly not so distant future. The first and most exciting product they introduced is the Dell UP3218K, a 32-inch behemoth with an 8K or 7680 x 4320 resolution (Which is going to make a lot of GPUs weep) which is equal to a 280PPI density or 33.2 million pixels. That amount is the same as sixteen 1080p or four UHD screens put together, so we could only imagine the resulting vastness of the virtual desktop this model will produce. As if this characteristic isn't enough, this ultra-premium display also exaggerates its swagger with 1.07 billion colors which will achieve 100% coverage of the sRGB and Adobe RGB gamuts.
The claimed contrast for the UP3218K will reach a 3000:1 ratio, made through the impressive panel and its maximum brightness of 400nits. The UP3218K has an all aluminum build, and a borderless InfinityEdge face on the outside and the stand will allow a maximum range of ergonomics so users can conveniently affix the screen at a comfortable angle. There is no doubt that this new flagship model is aimed at designers and professionals, so it has a whopping $4,999 price tag and will be available by March of this year. The price and the GPU horsepower required might be insurmountable for most of us, but the Dell UP3218K is the first of its class. Its 8K resolution is currently only rivaled by Sharp's 27 IGZO which is only in its prototype stages.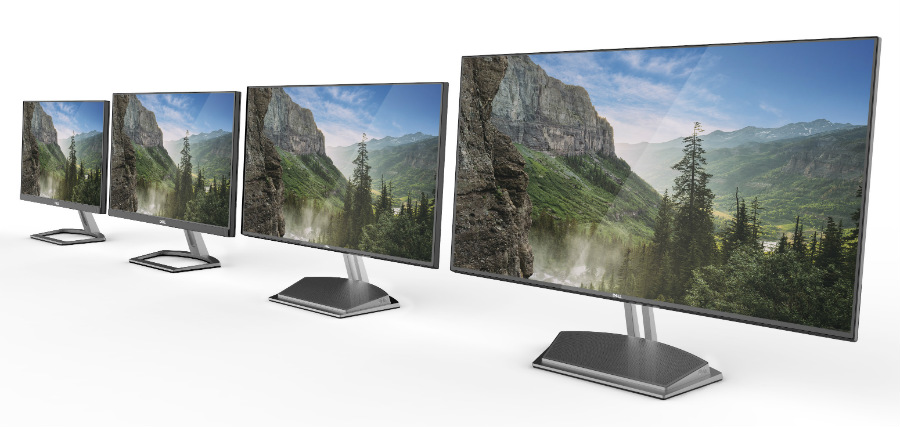 The All-New Dell S Family of  Displays
Of course, Dell did not forget those of us who have realistic budgets, so they are also bringing four new displays under the S range. This new group of screens will initially come in four sizes and is split into two niches. The first pair which will start at around $200 is the 22-inch S2218H and the 23-inch S2318HX which are both standard 1080p monitors for everyday use. These two also have slim profiles and bezels, but they do not sport the InfinityEdge design.  The bigger pair, the $290 24-inch S2418HX and $380 S2718HX will have also have 1080p resolutions, but with HDR10 support and Freesync. They will also have InfinityEdge screens, and all of the S Series products will have brand new aesthetics and stands which are far more attractive than the current design Dell is using for their past products.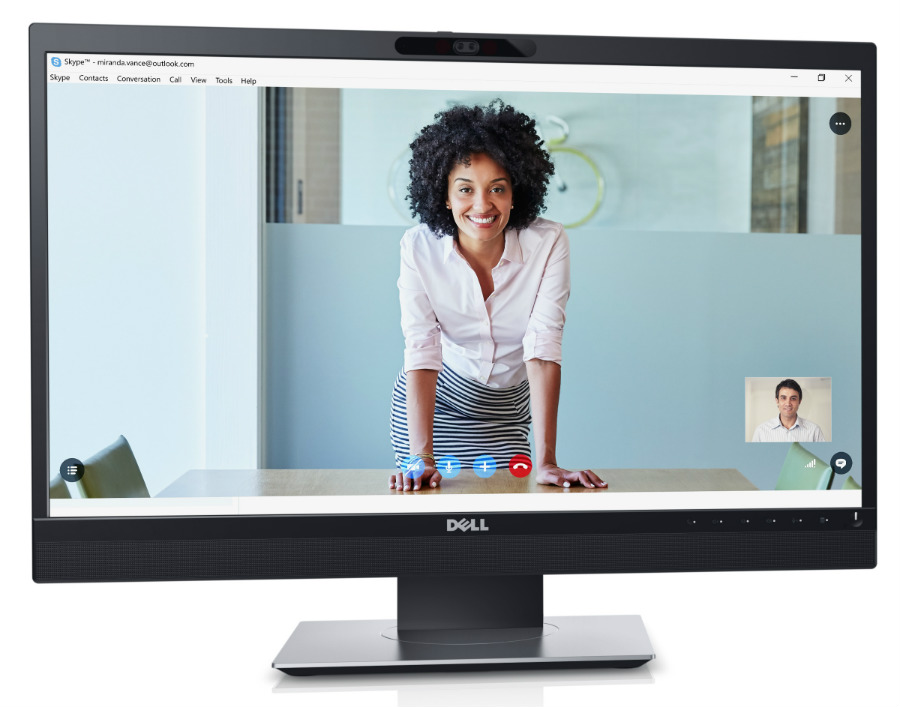 Dell P2418HZ
The last two P series offerings are mainly for the office or business use. The P2418HZ is a screen for users who rely on video conferencing in their line work, so this product will have a Full HD IR camera with a privacy cover so hackers can't peek at your "I'm busy at work" face. The screen will only have 1080p for its native resolution, but it will also have slim bezels, out of the box compatibility for Windows Hello, and a pair of 5-watt speakers for basic audio needs. The second model, the P2418HT, is also a business or office monitor with a 10 points simultaneous touch-sensitive panel. This product uses an adjustable armature so you can pivot the screen down to your desk and use it as a pen display, to mimic the functionality of the Microsoft Surface Studio.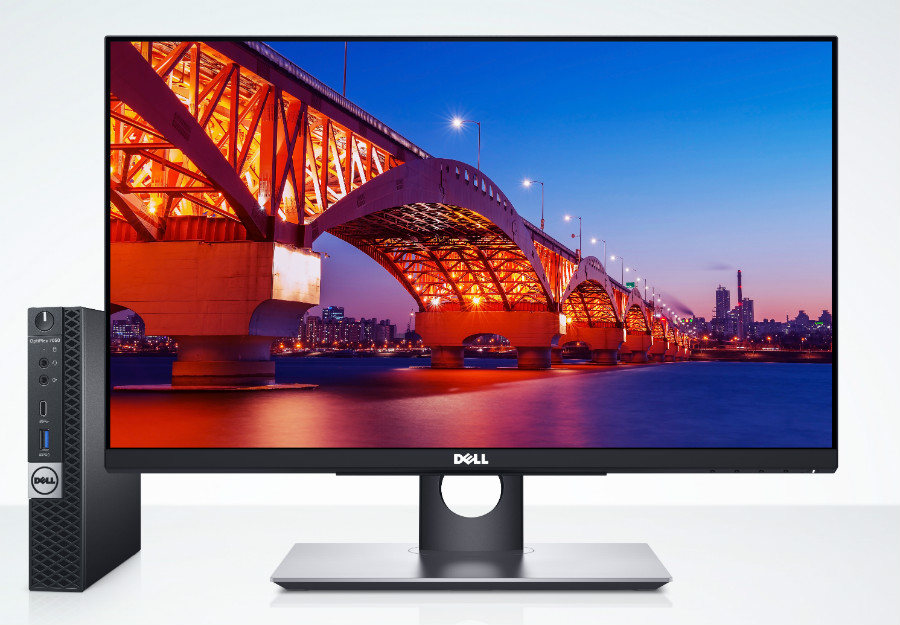 Dell P2418HT
Asus Adds a Wallet-Friendly Curved Monitor to its Impressive ROG Lineup
Asus already titillated the gaming community with their fantastic new ROG Swift offerings, with the lightning-fast PG258Q 240Hz display and the out of this world 144Hz 4K PG27UQ we mentioned in part one and two of our CES 2017 coverage. These cutting-edge offerings will amass a lot of buyers when they finally become available, but both will probably have budget-killer price tags. The third model they are about to unleash veers away from the Swift moniker and instead adopts the brand's mainstream gaming branding. This third version for this year's CES is called the Asus Strix XG27VQ, a 27-inch curved gaming monitor with 144Hz refresh rates. Asus is marketing the XG27VQ as an affordable gaming display.The company only mentioned Adaptive-Sync instead of specifying G-Sync for its VRR solution, so we are assuming that the ROG line will now have a Freesync model. Another factor for its budget-friendly orientation is its native resolution of only 1920 x 1080. The whole exterior of the XG27VQ will still get the new version of the ROG design treatment, with a helix-shaped stand with a ROG logo projector, orange accents, and the matte titanium finish.