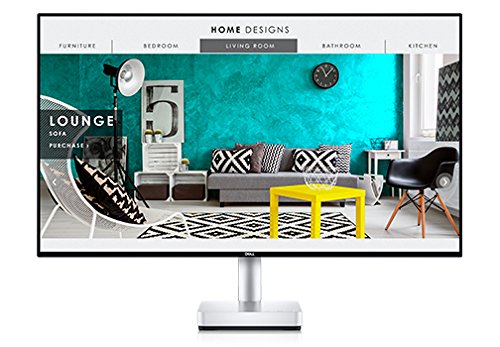 Check Latest Price
The Dell S2718D promises extreme color vibrancy and clarity in a thin package which makes slim tablets pale in comparison. This model is one of the pioneering consumer grade HDR monitors available, and considering Dell's excellent track record, we know we won't be disappointed. The computer display world does not have a fixed baseline of how HDR10 enhances color against the current norm, but it is exciting to see if the Dell S2718D is worth the plunge especially since it costs more than $500.

Dell S2718D Specifications
Screen Size: 27 Inches
Resolution: 2560 x 1440 QHD
Aspect Ratio: 16:9
Panel Technology: In Plane Switching (IPS)
Refresh Rate: 60Hz
Response Time:6ms
Contrast Ratio: 1000:1
Brightness: 300 cd/m²
Built-in Speakers: No
Stand: Height – No
Stand: Tilt – Yes
Stand: Swivel – No
Stand: Pivot – No
VESA Compatibility: No
Connectivity: HDMI x 1, USB-C x 1, USB 3.0 x 2, 3.5mm Audio Jack
Dimensions With Stand(WxHxD): 24.1″ x 17.4″ x 7.1″
Weight: 22.71lbs

Design and Features
The Dell S2718D looks like a discrete piece of furniture in a posh room with its ultra-slim profile with a bezel-free face. The company boasts that this model is thinner than most tablets, making it ideal for flush wall mounting. But the downside is you have to live with the metallic stand because this product isn't VESA compatible due to the super slim design.
The cabinet looks sexy as hell thanks to its metallic finish matched with the arcing upright and the square base which doesn't impose on your desk. The total depth of this product is 7 inches, which in our opinion defeats the ultrathin concept. On the back, the casing is clean looking with only the Dell logo visible. There is also no space for built-in monitors, although we hardly miss those clunky sounding ones manufacturers tend to use.
Most of the I/O ports are on the minimalist base making it impossible to separate the parts for mounting. Wiring passes through the neck to go into the control module, which in our opinion is the biggest limitation of this design. With the Dell S2718D, your input options are limited since you only get a USB-C and HDMI port for video, plus two USB 3.0 receptacles and 3.5mm analog jacks.
The Dell S2718D takes advantage of USB-C technology since the slot can alternate modes between DisplayPort 1.2 signal processing, USB 3.1 upstream, or 45 watts of power delivery. While this feature is suitable for modern laptops and tablets who rely on USB-C for all three purposes, 45 watts is not sufficient for bigger models like the 15-inch MacBook Pros which require 60 Watts or more.
Display and Performance
The Dell S2718D boasts a 27-inch IPS panel with a 1440p resolution, 60Hz refresh rate, and 6ms response time. Color performance is decent since this product covers 99% of the sRGB color space, although, for the price, we expected more. But on a positive note, accuracy is superb, and we did not notice any skewing or tinting despite not being able to measure Delta E scores.
It's difficult to describe in words how the proprietary HDR10 technology affects the Dell S2718D's output; you have to see it for yourself. Blues such as skies and water appear punchier without affecting other colors, while the rest like reds and yellows appear much more alive. Blacks seem deeper and oily without crushing or affecting grayscale performance, so shadows and dim images are still clear.
Games like Mass Effect Andromeda which have built-in HDR compatibility are even better. The dark reaches of space appear mysteriously darker while the gaseous effects of the planets and the stars are eye-popping. The only glaring flaw in gaming with the Dell S2718D is the slow response time. The panel has a native score of 8ms, but the included overdrive feature can improve it to 6ms.
While reasonable for typical usage, some ghosting and interlacing appear when the action becomes too fast. Sensitive or hardcore gamers often avoid monitors with these issues because they can distract your mechanical and visual senses if these defects are prominent enough. But in our experience, this observation shouldn't affect your overall usage unless you fit the criteria mentioned above.
The Dell S2718D can only go up to 60Hz.  It is only sufficient for casual gaming.  Enthusiasts will prefer the smoothness afforded by 75Hz or higher products which can reduce motion blur. You also don't get to enjoy FreeSync or G-Sync with the Dell S2718D, and in our books, the asking price for this model is too steep without VRR. The good news is this model clocks in at 10ms, making it snappy enough for FPS or competitive gaming.
Thoughts
As expected, the Dell S2718D is an excellent premium all-rounder for the home and office. Images, games, and movies appear stunningly crisp and vibrant thanks to HDR10, although, there are a few flaws which may turn off the regular user. The slow pixel response time is a huge trade-off because it produces ghosting and interlacing here and there. Choosing between fantastic colors or living with intermittent blurring is often a hard choice, but we think brighter, detailed, and crisp images trumps it all.
We can't rate the Dell S2718D accurately until we get a wider sample of HDR monitors, but in our experience, the promised improvements don't disappoint. Our biggest complaint here is the price tag which goes over $500 at the time of review. The steep cost always comes with new technologies, and if you are willing to swallow it, the Dell S2718D promises color and contrast, unlike anything we have seen before.